We continue our look at the top NBA draft prospects in the Big East with players ranked 6-10.
Peyton Siva
,
Roscoe Smith
,
Hollis Thompson
,
Maalik Wayns
, and
Ashton Gibbs
make up this group.
Freshmen have been excluded from these previews, as we'd like to wait and see what they have to offer on the NCAA level before we come to any long-term conclusions.
-
Top 20 Prospects in the Big Ten
-
Top 25 Prospects in the ACC
-
Top 15 Prospects in the Big 12
-
Top 15 Prospects in the Pac-12
-
Top 5 Prospects in the Big East
#6 Peyton Siva, 5-11, Junior, Point Guard, Louisville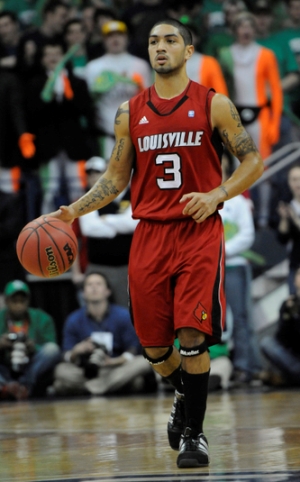 Jonathan Givony
After an inconsequential freshman season playing just 11 minutes per game,
Peyton Siva
took a large step forward as a sophomore, leading his Louisville team to a 25-10 record and a surprising run to the Big East championship final.
A former McDonald's All-American, Siva is very small for a NBA point guard at 5-11, but is an exceptional athlete to compensate. He's one of the fastest end to end players in college basketball, and shows a tremendous ability to change gears and just explode past defenders. A real crowd pleaser, he regularly finishes plays above the rim, sometimes in traffic even with a thunderous dunk.
As Louisville's best (possibly only) ball-handler and most prolific shot-creator, Siva was given a good amount of freedom in Rick Pitino's offense. He garnered almost 70% of his possessions in transition, isolation and pick and roll situations, showing the ability to drive left or right with strong ball-handling skills and terrific quickness. He gets to free throw line at a decent rate and finishes well inside the arc, converting 54% of his 2-point attempts, tops among point guards in our top-100 rankings.
Small and elusive, Siva penetrates the seams of the defense and gets into the paint at a terrific rate, but has problems finishing over bigger, longer players in traffic—something that will become more of an issue in the NBA. He needs to compensate for his lack of size by getting stronger, improving his floater, doing a better job of drawing fouls, and not double clutching around the rim unnecessarily like he tends to do at times. In addition, he doesn't possess much of an in-between game at the moment, as he almost never pulls up in the mid-range area for an off the dribble jumper, with virtually all his attempts either coming directly at the rim or from beyond the arc.
Siva also has significant work to do on his long-range shooting, converting on just 27% of his 3-pointers last season. That didn't stop him from showing a very quick trigger from beyond the arc, taking almost three attempts per game. Siva shows nice form but really struggles to make shots with his feet set, hitting just 12 of the 50 open catch and shoot jumpers he took last year, or 24%. Considering his size, this is something he must improve on.
On a Louisville team that was loaded with shooters, Siva was the one responsible for breaking down the defense and getting his teammates open jumpers with their feet set. He's an unselfish player who does a very good job of keeping his head up and finding the open man, ranking him 2nd in assists per-minute amongst all players in our top-100 behind only
Kendall Marshall
.
Still a work in progress in terms of his decision making, Siva is very turnover prone at this stage, coughing the ball up on 27% of possessions,
one of the worst rates
amongst our top 100 prospects. He tends to get out of control from time to time, looking very loose with the ball, trying to force his way through double teams, making risky passes and driving into brick walls. It will be interesting to see how he looks with another year of experience, as he was not very consistent at all with his playmaking last season, at times looking terrific and in others really struggling.
Defensively, Siva is similarly inconsistent. On one hand, he ranks as one of the best ball-thieves in all of college basketball, averaging 2.7 assists per-40 minutes pace adjusted, top amongst our top-100 prospects by a wide margin.
On the other hand, his lack of size, length and strength make it very difficult for him to offer a consistent presence in half-court man to man settings, as his fundamentals are just average and he gets pushed around quite a bit by bigger and stronger players.
Siva's lateral quickness and intensity level are both very good, but the fact that he's under six feet could really be a sticking point for NBA decision makers. He'll have to show better toughness and awareness in man to man settings this season to convince them otherwise, as too often last year it appeared that Siva was caught swiping at the ball while his opponent simply blew by him.
Louisville's penchant for playing a matchup zone might have something to do with this, but Siva faces an uphill battle to not emerge as a potential liability in the NBA, and anything he can do to improve his projection will go a long way.
Looking forward, Siva's jet quickness and distributing skills will surely garner him plenty of looks from NBA scouts as early as next season, especially if he can find a way to build off last year's campaign with a deep NCAA tournament run.
#7, Roscoe Smith, 6'8", Sophomore, Forward, Connecticut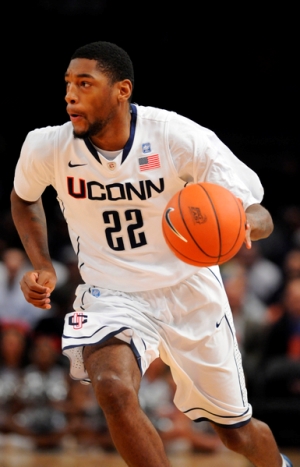 Derek Bodner
Despite struggling with his consistency offensively,
Roscoe Smith
found a starting spot and consistent minutes as a freshman during Connecticut's championship run, primarily due to his versatility on the defensive end. Standing at 6'8" with long arms, Smith had the length and quickness to effectively defend multiple positions for Jim Calhoun, and was often times tasked with defending the oppositions best offensive player.
Smith moves his feet well laterally, which when combined with his length and high effort level made him an effective defender off the bounce. He would be underdeveloped physically and would need to become stronger to defend the post at the next level, but he used his length to disturb post players when seeing minutes at the power forward spot for the Huskies.
He still tends to bite on pump fakes, and struggles at times fighting through pick and rolls, but both should be correctable with his physical tools and effort level.
On the offensive side of the ball, Smith struggled to find a comfort level. Taking a back seat to the dynamic scoring combination of
Kemba Walker
and
Jeremy Lamb
, Smith's primary role in the half-court offense came as a spot-up shooter, which isn't his forte. Smith struggled with consistency -- both in results and his form, as he often times appeared off balance on his jump shot attempts -- a problem made worse by questionable shot selection, as he settled for some contested jump shots early in the shot clock. According to Synergy Sports Technology, the 0.667 points per shot Smith scored on jump shots, and 0.755 points per shot he scored on catch and shoot jumpers, both ranked in the bottom 25% in college basketball.
To this point, Smith has not shown the ability to create much off the dribble, although he does have some physical tools that suggest he could down the line. He has a quick first step and takes long strides, and once he gets in the lane has good elevation and solid touch. At this point, his lack of a refined handle and ability to change direction are holding this part of his game back.
Most of the remainder of Smith's offense comes from getting out in transition, offensive rebounds, and cuts, where his athleticism and touch around the rim shine, and his lack of ball handling becomes less of a detriment.
With
Andre Drummond
joining
Alex Oriakhi
in UConn's front court, Smith is likely to be pushed further out to the perimeter for the bulk of his minutes. This may be good for his development as a prospect, as this is the role he's likely to see if he gets to the next level, but it's going to become even more paramount for Smith to further develop as a consistent set shooter and as a ball handler, particularly with highly touted recruit
DeAndre Daniels
joining
Jeremy Lamb
in a suddenly crowded UConn backcourt.
Smith's oustanding effort level and defensive versatility should continue to earn him minutes with Jim Calhoun. However, with the loss of
Kemba Walker
, the UConn offense is going to need somebody beyond
Jeremy Lamb
to step up and take on a bigger role. In order for
Roscoe Smith
to be that player, he's going to have to make significant strides in his skill-level on the perimeter.
#8 Hollis Thompson, 6'7 , Small Forward, Junior, Georgetown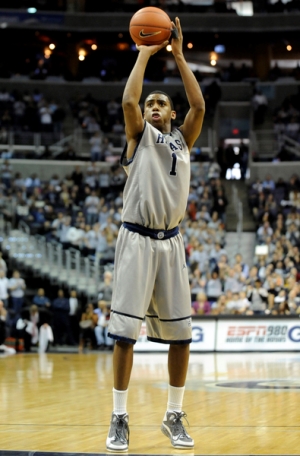 Kyle Nelson
Georgetown wing
Hollis Thompson
was a surprise early-entrant in the 2011 NBA draft, as rumors surfaced that he was unhappy with his role on the underachieving Hoyas. After his excellent individual performance in a first round NCAA Tournament loss to upstart VCU, Thompson impressed scouts in group workouts and, as he is Georgetown's best returning scorer, will likely face much higher expectations as a junior.
Thompson has an excellent physical profile for an NBA wing, standing around 6'8 with a long and wiry 205-pound frame that looks as though it will continue to develop. As we have written before, he is far more fluid than explosive as an athlete, but he is a tough and aggressive player, which allows him to compensate somewhat when he's focused.
Though he looks the part of an NBA player, his production failed to increase significantly as a sophomore, where he averaged just 8.6 points in 23.3 minutes per game and saw less than 10% of Georgetown's offensive possessions.
That being said, Thompson was an
extremely
efficient
scorer as a sophomore, particularly excelling as a spot-up shooter, where he found over 40% of his offensive possessions according to Synergy Sports Technology. Thompson was Georgetown's best perimeter shooter, connecting on 45.7% of his 5.1 attempts per-40 minutes pace adjusted while showing NBA range. His mechanics are solid and his size and length make it is very difficult for collegiate defenders to block his shot.
His game is less effective inside of the arc, though he showed potential as a sophomore that suggests that he will continue to improve as his role increases. Improving his handle significantly is essential if he wants to be more than a roleplayer at this or any other level. Though his handles are raw and he rarely drives right, his first step looks above average and he is a good finisher around the basket. Furthermore, he developed his mid-range game somewhat as a sophomore, looking far more comfortable pulling up and creating off of the dribble. Should he continue to improve as a shot creator, his stock will rise significantly.
It is difficult to evaluate Thompson defensively as he will likely not have to guard power forwards at the next level, but when he was dialed in, he was a tough and aggressive player despite his lack of ideal post size and strength. On the perimeter, his lateral quickness is just average, but he does a good job of keeping his man in front of him and closing out on perimeter shooters. His energy level and focus were rarely consistent, however, and improving his awareness in Georgetown's team defense is something that he must improve upon immediately.
It is worth noting that many of Thompson's frustrations were about his role: primarily, coming off of the bench as a power forward. In this light, it is difficult to determine whether or not inconsistency and, at times, passivity are significant issues or a product of playing out of position alongside of a trigger-happy backcourt. While Georgetown's frontcourt depth is still not great, its backcourt depth is equally lacking and Thompson should have more opportunities as a wing scorer in his junior season.
What is clear, however, is that scouts have not seen Thompson at his best in a Georgetown uniform and that he is primed for a breakout junior season. While his lack of elite quickness and explosiveness limit his potential at the next level, his combination of excellent size and shooting ability are both valuable assets that will allow him to remain in the NBA Draft discussion even if his skill set does not improve considerably.
#9 Maalik Wayns, 6'1, Junior, Point Guard, Villanova
Having profiled Wayns fairly late last season, we'll wait to update his scouting report until we've seen what kind of progress he's made this season.
#10 Ashton Gibbs, 6'2, Senior, Guard, Pittsburgh
Having already broken down Gibbs's game with a comprehensive scouting report in 2011, we'll revisit his evaluation during the season rather than rehashing many of the same observations we had in January.