Russian guard
Alexey Shved
has been on the NBA draft radar for what seems like forever now, but he is still quite an obscure prospect compared to his American counterparts.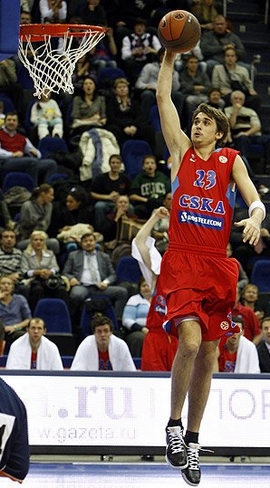 While Shved's first DraftExpress profile entry
came all the way back in 2006
, he has seen precious little playing time at the senior level until this season, after being loaned by the team that owns his rights, CSKA Moscow, to cross-town rivals Dynamo. Most of the intrigue surrounding Shved stems from a couple of excellent showings at the Reebok EuroCamp and in the U-20 European Championships in 2007 and 2008.
Shved flourished in a bigger role this season, averaging 10 points and nearly 4 assists in about 22 minutes per game--impressive numbers for a 21-year-old in the ultra-competitive Russian league. He got to the free throw line at a good rate, shot 55% inside the arc and ranked as the second best distributor per-minute in the Superleague. The assist numbers stand out in particular because he wasn't always Dynamo's primary ball handler in his time on the floor. He often shared those duties with fellow Russian backcourt mates
Sergey Bykov
and Dmitriy Khvostov.
Watching Shved play, it's tough not to be enamored with the terrific talent he displays, particularly his ability to play the pick-and-roll and operate in the open floor. He's got great size for either backcourt position at 6-5 and is an extremely fluid, creative player with the ability to create his own shot, which is rare for a European prospect. He has all the typical tricks you see from Euro-style slashers, relying heavily on timing, pace, change of speed and herky-jerky shakes and crossovers to get his man off balance, but he also has an extra gear he can go to to get by his man using either hand, particularly in transition.
In this regard, his style of play is very similar to the way
Goran Dragic
played for Phoenix this season. Shved is an even better passer, though. He instinctively makes smart, simple passes within the flow of the offense, but he can also wow you at times with his imagination and his ability to thread the needle and find the open man diving to the rim for an easy basket.
Shved has the ability to create shots for himself and his teammates, and he's capable of finishing lobs and transition plays above the rim, but he simply isn't strong enough to finish around the basket in traffic. Shved's frame is narrow and it hasn't seemed to improve much over the last few years. This creates a major problem for him because of the extremely physical league he plays in—the Russian league is one of the slowest-paced, most half-court oriented leagues in Europe.
Shved's lack of physicality forces him to rely on his jump shot a bit more heavily than you'd like, particularly in the mid-range area. He does have an effective off-the-dribble jumper, though, and he looks confident in his shot, using excellent shooting mechanics and terrific touch. This is a part of his game that should translate nicely to the NBA. Generally speaking, Shved has a pretty American-style game, likely a product of the years he spent practicing with
J.R. Holden
,
Marcus Brown
,
Trajan Langdon
and the other outstanding guards that have gone through CSKA's system.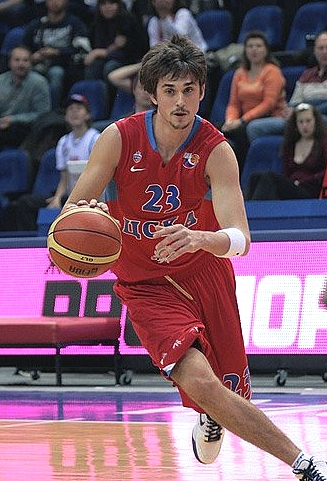 While Shved has a nice shooting stroke from the perimeter, he wasn't particularly consistent from beyond the arc this season, converting just 25 of 101 shots, or 25% of his attempts. Watching film of him, though, it's tempting to think he's a much better shooter than these numbers suggest and that his jumper should steady with time.
Part of the reason for his streakiness is his shot selection. It's not rare to see Shved take a jumper with a hand in his face and at times he's overly optimistic about his ability to make shots off the dribble.
Decision making in general is an area that Shved can still improve in. He makes some risky passes from time to time and seems to lose his focus on occasion. He also seems to fluctuate between being too passive and too emotional, which isn't surprising when you consider that he's only seen sparse playing time in the past few seasons at CSKA Moscow.
Defense is the biggest issue for Shved in terms of making the transition to the NBA. His skinny frame and below-average wingspan raise significant concerns about his ability to defend either backcourt position in the NBA. As it is, Shved is already a major target for opposing coaches to post up and run through a barrage of screens—doing so can be a pretty attractive option in the half court.
Shved also has issues holding his own in one-on-one isolation situations, biting on pump fakes and letting opposing players get by him with relative ease. If he is to see significant playing time in the NBA, he must improve considerably in this area.
Shved is a bit off the radar at this point due to the fact that few high-level NBA executives were able to make the long trek out to Moscow, and he was not able to accept the invite to the adidas EuroCamp in June because of his team's playoff schedule. But this is a shallow draft for both international prospects and point guards, which could make Shved an intriguing option for teams drafting in the second round. There's even an outside chance that a team with multiple picks, such as Memphis, will take a shot at him in the late first round.