Matt Williams
Working his way up the ranks of Spanish basketball over the last five years,
Daniel Diez
saved his breakout season for his draft eligible year, averaging 12.5 points and 7.1 rebounds per game for San Sebastian in the ACB.
---
Also See: Daniel Diez Interview at the 2015 adidas EuroCamp
---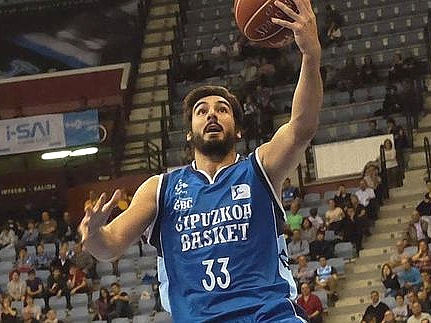 Identified as a national team caliber talent very early in his career, Diez made his debut for Spain at the 2009 FIBA U16 European Championships. Averaging 13 points and 5.3 rebounds per-game while leading Spain to a gold medal, the Madrid-born forward subsequently signed with Real Madrid playing primarily for their junior team in the 3rd and then 4th division until 2012. A staple of the Spanish junior National Teams over the years, Diez made his ACB debut in 2011. He didn't see significant playing time in Spain's top league until the 2012-2013 season when he was loaned to San Sebastian for the first time. Appearing in 30 games, mostly off the bench, the then 19 year old forward averaged 3.8 points over 12.4 minutes per game. After pouring in 18.7 points and pulling down 8.8 rebounds per game at the 2014 FIBA U20 European Championship, Diez went back to Madrid last season playing a small role for the Euroleague power, before once again being loaned to San Sebastian prior to the start of this season.
Taking on a very prominent role for the one of the worst teams in the ACB, Diez has gotten a chance to showcase his game for the first time this season. Playing power forward at the junior level before beginning to make the transition to the small forward position a few years ago, Diez was a bit stuck between positions early in his career, raising some questions about whether he'd develop the skill set necessary to plant himself firmly on the NBA Draft radar. However, with his increase in usage as San Sebastian's second leading scorer, he's shown marked improvement as a shooter, seemingly take the next step towards filling in at the small forward position full time and putting himself in position to hear his name called on June 25th.
Measured 6'8.5 with an inexplicably short 6'5.5 wingspan and a solid 216-pound frame at the 2013 EuroCamp, Diez has solid size for a small forward, but is just an average athlete by NBA standards, lacking great explosiveness and lateral quickness. As he has throughout seemingly his entire career, Diez compensates for his average athleticism with a very strong feel for the game, a knack for making hustle plays, and a rapidly improving skill-level.
Doing a bit of everything for an often out-manned Gipuzkoa squad offensively, the hard-working Spaniard sees most (41.8%) of his touches in spot up situations according to Synergy Sports Technology, but is otherwise a jack of all-trades. Not operating with the ball in his hands frequently due to his lack of great quickness and ball-handling ability, Diez is not a prolific shot creator. He's only recorded 15 assists this season, representative of how much time he spends off the ball.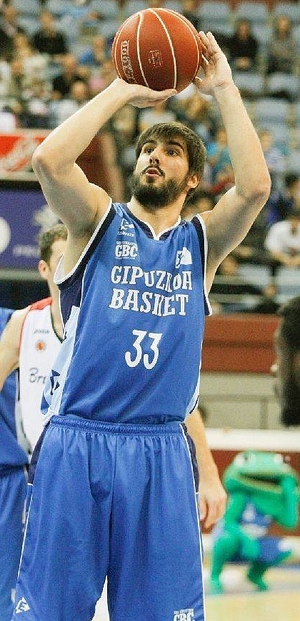 Diez was one of the most improved jump shooters in all of Europe this season. Making 34.3% of his catch and shoot jump shots a year ago for Real Madrid, the 22-year old forward knocked down an impressive 46% this season. Making up roughly half of his attempts in the half court, his development as a set shooter has played a key role in his emergence as a high level contributor in the ACB, and as an NBA prospect. Diez doesn't have the prettiest mechanics and tends to short arm some shots and shoot off balance at times, but his increased confidence as a shot maker and 43% shooting from beyond the arc are a very promising development for a player who has shot only 27% from deep over the previous two seasons, and wasn't even a factor from the perimeter early in his career.
Aside from his perimeter shooting ability, Diez does most of his damage right around the rim. He's a reliable finisher shooting 62% inside, even though he seldom plays above the rim. Diez made a name for himself generating looks inside with heady off-ball movement in the half court and with diligent effort filling lanes in transition. Finishing in the top-10 in the ACB in points per game and field goal percentage, this has been a breakout season from Diez offensively even if his role is more that of a high volume role-player by NBA standards.
Defensively, Diez's lack of length and lateral quickness are limiting factors on his NBA potential. In addition to his physical limitations, Diez also finds himself out of position lunging into passing lanes and doesn't always get low when he's defending one-on-one. On the plus side, he's extremely competitive and won't come up short in terms of effort. This shines through for him in the ACB on the defensive glass, where he ranks among the league leaders in the percentage of available rebounds he pulls in on this end of the floor when he's on the court. Gipuzkoa's defense was far stronger than its offensive, finishing in the middle of the pack.
A bit of a late bloomer in terms of his NBA potential, Diez's sudden viability as a small forward puts him in position to hear his name called in June as a draft and stash candidate. Considering how far he's come in the last 12 months, a team could take a flier on seeing how the next 12-24 play out for him. If he can continue his upward trajectory as a spot up shooter, he could provide some value as a roleplayer down the road. It will be worth keeping an eye on where he winds up playing though, as he's a player who would benefit immensely from another season of heavy playing time in the ACB regardless of how competitive his team is. If he winds up back in Real Madrid, it will be interesting to see what kind of role he's able to carve out. Being a free agent this summer, he could take a flyer on the NBA right away as well.