Enes Kanter
is one of the great mysteries of the 2011 NBA draft. He's a player who has looked incredibly dominant in small glimpses, but about whom little is known due to the unique circumstances of his arrival in the United States.
Using recently acquired game footage from his prep school days in the 2009-10 season, we've been able to learn more about his strengths and weaknesses as a prospect, which can hopefully shine some light on his ability as a player.
Prep school basketball is far from an ideal setting to evaluate Kanter's NBA prospects due to the weak competition he faced, but it's more than we previously had to work with, which was very little.
In writing this report, we looked at the following games:
-Four Stoneridge Prep games spanning from November 2009 to January 2010
-The Nike Hoop Summit on April 10, 2010
-Turkey vs. Lithuania, August 2, 2009 – Kanter vs
Jonas Valanciunas
at the U-18 European Championship
We also created two edits (offense and defense) to help illustrate some of the points we're making. Due to potential rights issues, only clips from his high school games were included.
Offense:
Defense:
Evaluation
The Positive
-Kanter is an extremely rare physical specimen – the type of prospect NBA teams have a difficult time acquiring outside of the draft. He's a legit 6-11 in shoes with a solid 7-1 ½ wingspan and a 9-1 ½ standing reach. He possesses a terrific frame, carrying 259 pounds with just 5.9% body fat. While not a terribly explosive athlete, he's a mobile player with solid agility who can get up and down the floor fairly well and displays good body control around the basket.
-Kanter has soft hands and displays good touch on his shots, both around the basket and from the perimeter. He's a reliable finisher who can score in multiple ways in the paint -- with a soft turnaround jumper for example.
-The mechanics he shows on his jumper leave plenty of room for optimism. He has a quick release, a nice arch and a solid follow through. He's already shown the ability to consistently hit shots in the 18-20 foot range and should continue to improve this part of his game as his career progresses.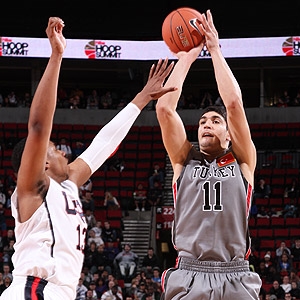 -When motivated and playing with a high level of energy, Kanter can really make his presence felt on the offensive end. He can move opponents around in the paint and will finish with powerful dunks on occasion. He has the ability to be a major factor on the offensive glass thanks to his size, strength and excellent hands.
-Kanter has been extremely productive at every level at which he has played, namely the U-16 European Championships in
2007
and
2008
, the U-18 European Championship in
2009
, and the Nike Hoop Summit in April 2010.
The Negative
-Kanter lacks significant in-game experience. He's seen fewer minutes of competitive basketball over the course of his career than possibly any lottery prospect we've ever evaluated. He played under 100 minutes for Fenerbache in 2008-09 and was deemed ineligible to play at Kentucky by the NCAA, forcing him to miss the entire 2010-11 season.
In 2009-10, he moved through a couple of different high schools before eventually settling at Stoneridge Prep, a school that has undergone quite a bit of turmoil, as a
last resort
. He played against weak competition there, which was clearly not ideal for his development.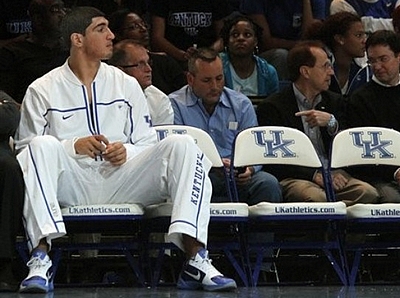 While weighing his obvious potential, NBA teams must also factor in the effect the last two years has had on his growth as a player. They should also consider the fact that an extended lockout could keep Kanter away from competitive basketball for a third straight season.
-This lack of experience shows up first and foremost on the defensive end, where Kanter was incredibly ineffective in the film we watched. His fundamentals, instincts and positioning leave a lot to be desired. He can often be found standing straight up in the paint with his arms down, putting in little to no effort. He rarely boxes out his opponent and generally looks disinterested in anything that has to do with defense. He rarely bends his knees and often fails to get back in transition--doing very little to protect the paint when he does.
While it's not unheard of to see high school players competing in this nature, there's no question that man to man defense is an area that will be a major transition for him at the NBA level, something the coaching staff of the team that drafts him must be prepared for. It's tough to know how much of Kanter's lack of effort is a product of environment and how much is simply a personality trait. If it's personality based, that's more of a concern. Would a high motor player allow himself to be exposed in this manner?
To his credit, we did see Kanter exerting far more effort in settings such as the Nike Hoop Summit and the NBA Combine. But was he simply willing to go full throttle in these instances because his livelihood depended on it? It's difficult to say, which is why not having a full season of film to evaluate really makes his projection on this end of the more more guess-work than anything.
-Offensively, Kanter has been the biggest, strongest player on the floor at every level he's competed at thus far, making him similar to
Kosta Koufos
(
U-18 2007
) and
Dejan Musli
(
U18 2009
) when comparing productivity at the European championship junior level. That won't always be the case in the NBA. Kanter's footwork, decision making and overall basketball IQ don't appear to be better than average. These are areas of his game that he didn't have the chance to work on in a serious way over the last few years. He doesn't show much in the way of a left hand, either, and he struggles to pass out of double teams, preferring to force the issue or rely on his brute strength rather than making the smart pass.
These are correctable issues for a 19-year-old prospect, but whoever drafts Kanter must be aware of his shortcomings and must be ready to address them, since he won't be able to simply out-jump opponents in the NBA.
-According to NBA teams in his draft range, Kanter hasn't helped himself with the way he's choosing to educate them about his abilities. His preference appears to be to leave teams in the dark and force them to make a decision based on limited information, which has frustrated them quite a bit from what they're saying in private conversations.
Kanter has not been consistent in the way he's approached the draft process, sending mixed messages and changing strategies seemingly on a daily basis. He initially planned on not doing competitive workouts, refusing to leave his home base of Chicago to visit either the Utah Jazz (drafting 3rd) or Toronto Raptors (drafting 5th). As we've gotten closer to the draft, though, he's adapted his plans, first electing to participate fully in the NBA Combine, then traveling to meet suitors and work out competitively.
Kanter's draft range at the moment appears to be anywhere from 2 to 6. In a little over two weeks we'll know exactly where Kanter will start his NBA career, but we have very little idea right now where he'll go. What type of NBA player will he be? No one can really say with any certainty, due to the large gaps in his resume. Even the most respected talent evaluators shrug their shoulders and hedge their bets. In the meantime, teams will continue to try and put themselves in position to make the best decision for their franchise.