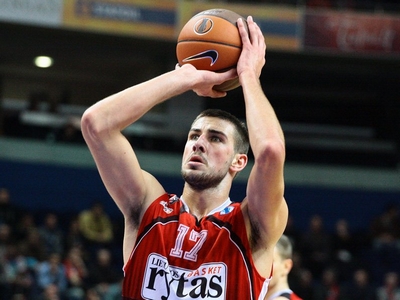 The second European player off the board in the 2011 NBA Draft,
Jonas Valanciunas
spent the summer continuing to build his resume across the pond by leading Lithuania to a U19 World Championship victory and playing rotation minutes for the nation's Senior National Team, which finished 5th at the 2011 Eurobasket.
Returning to Lietuvos Rytas for the 2011-2012 season, the Lithuanian 7-footer has continued to make small, incremental strides, leaving plenty of room for optimism for his future arrival in the NBA.
Though he could not help Rytas advance out of the Euroleague qualifying round and has not shown tremendous improvement in any one area, Valanciunas is having a solid season in a bigger role that better reflects what the Raptors are likely going to expect from him long-term.
His efficiency as a scorer has not wavered significantly this season despite playing next to a more scoring oriented guard in
Tyrese Rice
who doesn't create pick and roll opportunities quite as well as
Sarunas Jasikevicius
did a year ago.
Seeing a much higher rate of touches with his back to the basket compared with last season, Valanciunas continues to score both prolifically (19.5 points per-40) and efficiently (66% FG%, 83% FT%) through 20 games –a trend worth keeping an eye on as he matures offensively.
Valanciunas still hasn't had the time off needed to properly work on his body due to his incredibly busy summer schedule, and thus remains underdeveloped physically.
He continues to foul at a high rate as well, but is showing more flashes of midrange jump shooting potential—which will surely serve him well in the future. His new role has had somewhat of an impact on his proficiency on the offensive glass and passing numbers, but Valanciunas continues to stay true to his game, and execute, two big reasons why he was selected to play in last summer's Eurobasket.
Considering his increased playing time and usage this season, the fact that he continues to score with deft touch in the paint, make an impact with his work ethic on both ends, and play with impressive efficiency are all promising signs for a 19-year old only scratching the surface of his potential.