No player in Europe, bar none, has been as dominant this season as
the ACB's
and the
Euroleague's leading scorer
Igor Rakocevic
.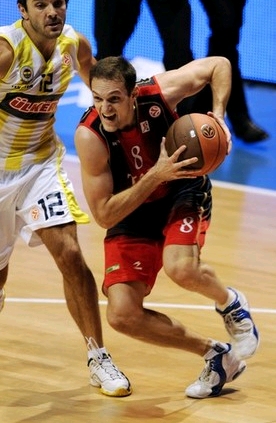 The Serbian guard is the best player on arguably the best team in Europe, and is statistically dominating both competitions in ways haven't been seen in quite some time. He's the clear go-to-guy on a Tau squad that features former draft picks
Tiago Splitter
,
Pete Mickeal
, and
Stanko Barac
in addition to Argentine National Team star
Pablo Prigioni
and ACB veteran
Will McDonald
. Through 29 games this season, Rakocevic has helped Tau compile an 18-1 record in the ACB and an 8-2 record in Euroleague play –good for first place in Spain and the top seed in their Euroleague group.
Despite the talent around him, Rakocevic's individual dominance has been the key to Tau's success. Statistically, he's having the best season of his career and easily ranks amongst the top players in a slew of categories in both domestic and international play. Though he's certainly had some impressive campaigns in the past, this season offered him an ideal chance to take his game to the next level.
Rakocevic has always been an undersized shooting guard whose passing skills allowed him to play some minutes at the point, a position he struggled to play efficiently during his one season in the NBA with the Timberwolves in 2002. Despite his ability to bring the ball up the floor and initiate the offense, running the show has always hurt his effectiveness –eliminating what he brings to the table as a scoring threat operating off the ball. Playing next to
Pablo Prigioni
for the last two seasons has allowed Rakocevic to slide over to the shooting guard spot, but it appears to have been the addition of Head Coach Dusko Ivanovic that has pushed Rakocevic into the upper echelon of European basketball.
Despite Rakocevic's alleged initial reservations about Ivanovic's notoriously tough practices, the outstanding improvements in his shooting efficiency and overall consistency can be attributed in part to the Montenegin coach. He's made a concerted effort to move Rakocevic off the ball permanently, utilizing him as a pure shooting guard by taking the ball out of his hands and trying to create more shot opportunities for him. Rakocevic has always had a rather polished offensive arsenal –he scored 26.3 points per 40 minutes for Pamesa Valencia in the 2004-2005 season, but it wasn't until this season that he put everything together. He's currently scoring an outrageous 31 and 30 points per-40 minutes in the ACB and Euroleague respectively, while putting up career highs in
nearly every efficiency metric out there
.
Offensively, Rakocevic has left little doubt that he is the most complete perimeter scoring threat in the ACB, and likely all of Europe. He's capable of knocking down spot up jumpers from the perimeter, creating space for his jumper off the dribble, or getting to the rim to finish or draw contact. Rakocevic has a textbook jump shot, highlighted by a very consistent release point and good elevation. He shows very good footwork on the perimeter, and is more than capable of creating some space with his first dribble and stepping into a mid-range jumper. When he can't get an open look from the outside, Rakocevic has no trouble using his strong frame to get to the rim, where he finishes consistently. His ability to draw contact is a key part of his offensive repertoire, as he marches to the line more than six times per game, where he is shooting over 95% in the Euroleague.
Obviously, Rakocevic is a very versatile threat; however, it has been his consistency this season that has made him a dominant force. According to Synergy Sports Technology's data, Rakocevic is scoring 1.30 points per possession on catch and shoot opportunities, 1.21 PPP on pull up jumpers, and 1.28 PPP at the rim. In essence, he's been extremely productive in taking what defenders give him. That variety and effectiveness have placed him amongst the most efficient shooters in the Euroleague and manifested itself in a recent 37 point outburst against fellow ACB powerhouse Unicaja Malaga. Over the course of the game, Rakocevic hit 7-11 2FG, 4-7 3FG, and 11-12 FT, a testament to his ability to score in a variety of ways.
Rakocevic's role in Ivanovic's offense highlights his strengths as a player and affords him the opportunity to take advantage of all the ways that he can score. In contrast to last season, where he got more than 40% of his touches as the primary ball handler in pick and roll or transition situations, Rakocevic has gotten most of his touches (a little under 30%) this season coming off of screens. He does a great job setting up his man to give himself space to catch and shoot, and even when he can't get an open look immediately, he consistently monopolizes on his recovering defender to get a step to go to the rim.
When driving, Rakocevic goes right almost twice as often as he goes left. While many players don't like pulling up while driving with their shooting hand, he actually prefers to do so. He's not a fancy ball handler, but he takes very good care of the ball. Rakocevic is incredibly good at creating space for himself, rarely having to lean or otherwise adjust his jumper. He elevates extremely quickly, and while he's not a fantastic leaper, that doesn't stop him from getting his jumper off when well defended –he needs little space to create a clean look. Though he doesn't struggle to get his shot off, he will drive too far into the lane at times, and will get stripped as he goes up for a shot, to the tune of 2.2 turnovers per game. Considering how much ball-handling he does, his coach will certainly live with that.
His lack of great leaping ability doesn't prevent him from finishing consistently at the rim either. Rakocevic is extremely decisive when he takes the ball to the rim, wasting no time in attacking the block and using the glass to finish. Ivanovic's system does a good job moving Tau's big men around the perimeter, allowing Rakocevic to use his physical strength to lower his shoulder and create some space at the rim against his own man rather than help defenders. When he does find himself presented with a defender at the rim, he never hesitates to take the ball right at him in an effort to go to the line.
Outside of his scoring ability, Rakocevic has shown in the past that he's a functional point guard, but that's a role that he no longer plays for Tau. He gets most of his assists on post entry passes these days, but no longer is asked to set the table for his teammates when he gets into the paint. On the defensive end, he doesn't make much of an impact, but plays within the team concept and gives an adequate effort. However, his lack of defensive ability is likely the biggest concern regarding his ability to return to the NBA. He isn't terribly undersized for a two in Europe, but his size would be an ever bigger concern to NBA decision-makers since his transition to that position has accounted for much of his success.
There is no question that Rakocevic brings some impressive tools to the table as a scorer, but at this point, he seems more likely to spend the duration of his career in Europe. His lack of size and athleticism make it harder to envision him translating his skills quite as effectively to the NBA game. He'll become a free agent this summer, and while NBA teams should undoubtedly take his name into consideration in their initial scouting process, it appears likely that the 30-year old Rakocevic will stay overseas considering the type of offers he'll likely draw. There is no question that he could be a solid rotation type player on a competitive playoff team, but it's doubtful whether in this landscape that type of offer will be enticing enough for him to return to the NBA. Whether he resigns in Vitoria to continue playing for Ivanovic remains to be seen, as he is likely going to be considered one of the top free agents on the European market.