Matt Williams
A prospect we've written about extensively over the last few years,
Mouhammadou Jaiteh
elected to keep his name in the 2015 NBA Draft coming off a strong year with EuroChallenge Champion Nanterre where he averaged 10.5 points and 6.2 rebounds per game in just 21 minutes of action.
A staple of the French Junior National Teams since 2010, "Mam" emerged as a prospect averaging 16.2 points and 9.7 rebounds per game for Boulogne in the French Second Division (Pro B) during the 2012-2013 season. Subsequently popping up at the Nike Hoop Summit, adidas Eurocamp, and finally the NBA Combine, Jaiteh has made the rounds the last few years, performing very well at some stops but not at others. Averaging 11 points and 9.5 rebounds in the competitive portion of the Combine, Jaiteh made a nice impression in his last opportunity to showcase his abilities (in a five on five setting in the US) in front of a horde of NBA General Managers in Chicago last month.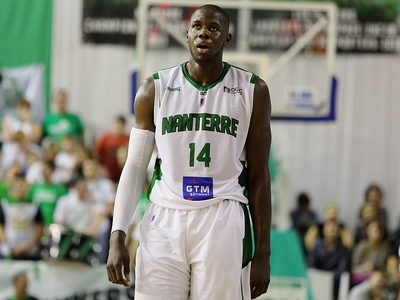 Standing 6'10.5 in shoes with a 7'4 wingspan and a 250-pound frame, Jaiteh has looked like a NBA player since he was 17. Not particularly explosive or fluid, Jaiteh remains an average athlete, but he's improved in a number of areas over the years, putting himself in position to hear his name called on draft night, possibly even in the late first round.
Offensively, Jaiteh saw his role expand significantly relative to last season. Averaging only 5.7 points per game off the bench in 2014, Jaiteh started all 50 games for Nanterre this season, seeing his post touches nearly double, while he continued to be involved in the pick and roll, on the offensive glass, and as a target for dump passes inside. One of a number of players averaging in double-figures for the club based on the outskirts of Paris, Jaiteh was a key cog in a balanced offensive attack that finished in second place in the regular season but were upset by 7th seed Nancy in the playoff quarterfinals.
Though he still lacks a degree of touch, Jaiteh does not look quite as mechanical as he appeared a few years ago when converting inside. Shooting on 50.9% inside the arc a year ago, Jaiteh improved to almost 60.2% this season as he struggled scoring one-on-one in the post at times, but finished very reliably at the rim. He does a better job scoring over and around defenders with both hands than he did in his youth, leaving some optimism that his touch may continue to improve over time.
Proving fairly effective operating one-on-one on the low block in the 2nd division, Jaiteh hasn't been particularly efficient scoring with his back to the basket over the last two seasons, despite seemingly having improved his footwork and doing a better job establishing deep position inside consistently. His sheer size allows him to be effective at times, but he also throws up some bad misses as well. He's grown more patient on the block as he's matured, which was obvious at times this season.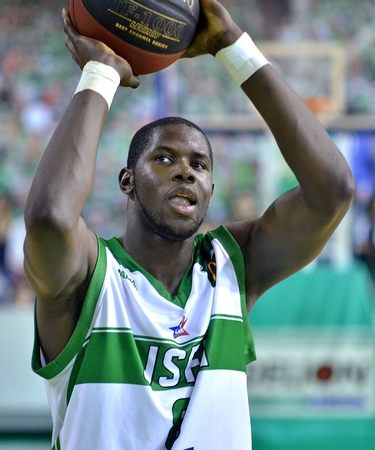 Attempting very few jump shots this season, questions remain about Jaiteh's ability to have an impact away from the rim offensively. His 58% free throw shooting remains a concern, and he clearly has a ways to go before he'll be able to function as a viable option outside the paint. Though Jaiteh isn't a great passer, he does an adequate job finding the open man, seeming to have a better understanding of the game offensively than he did a few years ago.
A very solid rebounder, Jaiteh can make an impact on both ends when he's dialed in. Averaging 11.4 rebounds per 40 minutes pace adjusted, he ranks among the more productive rebounders in this draft class thanks in large part to his combination of size, length, and strength.
Defensively, Jaiteh's lack of explosiveness hurts him. He struggles against quicker, more explosive players and doesn't provide much in the way of rim protection. Much like on the boards, his size can be an asset at times, but he has a lot of room to grow both as a post defender inside and when looking to help his teammates in the pick and roll and away from the rim. This is one of the bigger concerns NBA teams have about projecting a role for him at the next level.
This season was a coming of age of sorts for Jaiteh. He didn't take a massive step forward, but he consistently applied his tools against senior level competition effectively. His size and length is impressive, and his ability to finish and rebound the ball are strong selling points. A lock to hear his name called in the top half of the second round, at the very latest, Jaiteh is a player worth keeping an eye in the coming years. He won't turn 21 until November, and the strides he made this season leave plenty of room for optimism. He would likely be projected slightly higher if he were willing to be flexible about staying (being stashed) in Europe for another year or two rather than insisting on coming over right away, so it will be interesting to see how things play out for him on draft night.