Giuseppe Matarazzo
He is considered the most talented player in Italy and the next rising European star who will leave his mark on the NBA.
Danilo Gallinari
has not officially decided his future as far as next year is concerned, but he already shows the maturity of a veteran. His work ethic, as well as his incredibly versatility, has him regarded as a top ten pick in this year's draft. "I'm under contract for two more years with Olimpia Milano", Gallinari says, "but I have a clause that allows me to get out for free this year if want to leave for the NBA". Gallinari weighs his words carefully, we will know his decision and his future only in 2-3 weeks. While we wait, let's get to know him better.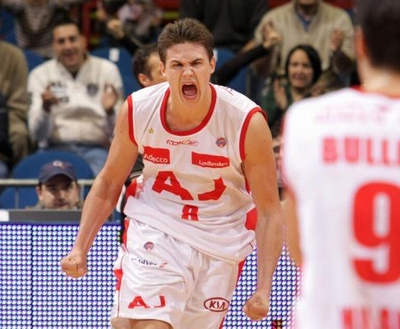 Giuseppe Matarazzo: You're in the midst of a long, hard season. Is fatigue starting to set in at all for you? You've played close to 40 games already this season, with more still to come, plus the playoffs. How is your body holding up at this point in the year?Danilo Gallinari:
I feel very good. I have no problem and I don't feel any particular pain. There's no trouble from fatigue and I'm sure I can end my season at 100% . Finally I can say that I'm fit.
Giuseppe Matarazzo: How hard is it to be the go-to guy of an important team like Milano in both the Euroleague and the Italian A1? Has it been tough having defenses key in on you all season long?Danilo Gallinari:
If they give you the responsibility, they know they can count on you, and more importantly, they believe in your capabilities. They trust in me, and I'm proud of that. Being the "franchise player" of a glorious and accomplished team like Milan is great honor. It doesn't matter at all: for me the main thing is to repay their confidence by working hard and getting results.
Giuseppe Matarazzo: How much time does your team put into the tactical side of the game in practices, compared with working on individual skills, like shooting, ball-handling, and the like? Are you worried about the physical training you should face overseas?Danilo Gallinari:
We spend lots of time on the tactical sides in order to prepare for the matches against our opponents and to fix our game. To get better, I practice with my staff on fundamentals and physical tools whenever I can. In case I decide to face the NBA, I know I have first of all to train harder, especially in the first months, if I want to make my body ready for a higher level.
Giuseppe Matarazzo: It's only on your physical tools that there are some doubts. There are people who say that you are not very athletic for an NBA player and that you will struggle to defend your position at that level. How would you respond to them?Danilo Gallinari:
They only make me to work harder, to improve my game in order to disprove them on the court.
Giuseppe Matarazzo: There have always been debates on your role. Do you see yourself as strictly a small forward in the NBA, or do you think you'd be able to play as a face the basket power forward in a small-ball system as well?Danilo Gallinari:
I don't like to limit myself. Well, I play as a small forward, but surely I can adapt my game: the important thing is to play even in a different role if the coach decides that way, maybe to open the court or play in transition; No problem, I always follow my coach's directions.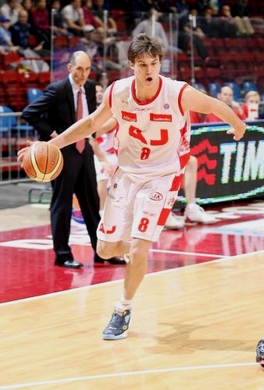 Giuseppe Matarazzo: What type of NBA team would fit you best? What kind of style? A fast team like Golden State or a slow-paced team like Utah or Detroit? What is best suited for you to play?Danilo Gallinari:
I can't say; it's not easy to compare them with the European systems. They're similar, but different in structure and players. I have no preference, I believe that a player can fully fit a team independent of the style of play. He simply has to train.
Giuseppe Matarazzo: Have you heard from Andrea Bargnani or Marco Belinelli lately? Have they advised you? Are you more worried by having expectations like Bargnani or being put on the bench and collecting a lot of "DNPs" like Belinelli?Danilo Gallinari:
We talked during the Italian national team meeting, but we didn't talk about the NBA. As I said, I'm not afraid of responsibilities, so I'd prefer to have a position like Andrea's. After all, not playing is hard for everyone.
Giuseppe Matarazzo: You are a few weeks from an important decision that could change your life. How does Danilo Gallinari spend his time when you're not busy with basketballDanilo Gallinari:
I don't like overdoing things, I like walking in the center of Milan, meeting some friends and staying with my family. Due to my career I don't see them a lot, so when I can, I spend my time with them, especially playing with my brother.
Giuseppe Matarazzo: This upcoming draft has other European young prospects such as Pekovic and Batum that you faced in the Euroleague. What do you think about them? Have you seen any NCAA matches? Has any talent impressed you?Danilo Gallinari:
Batum and Pekovic are very interesting players with great physical tools and skills who can play a role both in Europe and the NBA, but honestly, I feel I have nothing to envy of them. Concerning the NCAA, I couldn't see any matches, as I am too busy, and I don't know this year's draft prospects very well, but I know there are first class players. You know, every year the draft is absolutely surprising and brings out unbelievable players.
Giuseppe Matarazzo: You'll announce your decision only in a month, but if you declare for the NBA draft, what are your long term and short term goals?Danilo Gallinari:
My philosophy is to try and be the best in what I do. I don't like making long-term projects, but instead concentrate myself on daily work. Only at the end of my 'journey' I'll look back and see what I've been able to reach. Only then will I sum up what I've done.