Danilo Gallinari
STRENGTHS:
- Ability to get to free throw line
- Off-ball movement
- Versatility
- Ability to create own shot
- Ball-handling skills
- Ball-handling skills w/either hand
- Change of gears/Hesitation moves
- Basketball IQ
- Energy/Intensity
- Fundamentals
- Maturity
- Poise
- Winning mentality
- Work ethic
- High-level productivity
- Positional versatility
- Court vision
- Body control
- Frail frame
- Size for position
- Strength
- Undersized
- Pull-up jumper
- Shooting mechanics
WEAKNESSES:
- Footwork/Post-moves
- Ability to defend position at next level?
- Explosiveness
- Incredibly quick
- Excellent rebounder
- 3-point shooting
Recent Tweets
All Tweets
DraftExpress: #adidasEuroCamp Question and answer session with Danilo Gallinari and Nicolas Batum http://t.co/DNBNkSD2
2012-06-12 05:50:10
DraftExpress: Little private workout for Danilo Gallinari with Nuggets assistant Melvin Hunt. Kid might have a chance. http://t.co/ZJStY3cC
2012-06-11 01:11:36
DraftExpress: Danilo Gallinari showing his versatility. Put the ball on the floor and drawn a foul 6 or 7 times already. Plus pull-ups & spot-up jumpers.
2012-01-21 09:12:30
Top 25s - Full List
Team: Nuggets College Team: Nuggets
Physicals
Positions
Salary
Misc
H: 6' 9"
W: 209 lbs
Bday: 08/08/1988
(27 Years Old)

Current: SF
NBA: SF
Possible: SF/PF

Agent: Arn Tellem
Current Salary:$10,854,850

High School:
Hometown: Sant'Angelo Lodigiano, Italy
Drafted: Pick 6 in 2008 by Knicks
Best Case: Hedo Turkoglu
Worst Case: Mike Dunleavy Jr.




Basic Per Game Statistics

- Comprehensive Stats - Statistical Top 25s
| Year | League | Name | GP | Min | Pts | FG | FGA | FG% | 2Pt | 2PtA | 2P% | 3Pt | 3PtA | 3P% | FTM | FTA | FT% | Off | Def | TOT | Asts | Stls | Blks | TOs | PFs |
| --- | --- | --- | --- | --- | --- | --- | --- | --- | --- | --- | --- | --- | --- | --- | --- | --- | --- | --- | --- | --- | --- | --- | --- | --- | --- |
| 2015/16 | NBA | Danilo Gallinari | 18 | 34.2 | 17.4 | 4.8 | 12.7 | 38.0 | 3.2 | 8.3 | 38.9 | 1.6 | 4.4 | 36.3 | 6.2 | 6.7 | 91.7 | 1.4 | 5.2 | 6.6 | 2.4 | 0.5 | 0.7 | 1.6 | 1.8 |

Player Page&nbsp&nbsp| Player Stats | Related Tweets | Mock Draft History | Related Articles&nbsp&nbsp| Add to My Draft Express&nbsp
&nbsp
Video Interviews with Danilo Gallinari, Adam Filippi and Michael Born
June 10, 2008
[Read Full Article]

---
Roundup: Pekovic Reigns in the Adriatic League
April 30, 2008
Danilo Gallinari celebrated his Euroleague Rising Star award that honors him as this seasonís best youngster with another very productive outing in the Italian League. He had 19 points, 7 rebounds and 3 steals, in front of a large number of NBA scouts and executives, although his team couldnít beat Upim Bologna. Daniloís streak of double-digit games in the scoring department continues, and heís yet to fail reaching the 10-point mark this season in the Italian League, which sounds like unbelievable consistency for a 19-year-old player. With the regular season now in the books, Gallinariís team will face 4th seeded Montegrenaro in the playoffs, with his team Milano being the 5th seed.

[Read Full Article]

---
Danilo Gallinari: Iím not afraid of responsibilities
March 30, 2008
He is considered the most talented player in Italy and the next rising European star who will leave his mark on the NBA. Danilo Gallinari has not officially decided his future as far as next year is concerned, but he already shows the maturity of a veteran. His work ethic, as well as his incredibly versatility, has him regarded as a top ten pick in this yearís draft. ďIím under contract for two more years with Olimpia MilanoĒ, Gallinari says, ďbut I have a clause that allows me to get out for free this year if want to leave for the NBAĒ. Gallinari weighs his words carefully, we will know his decision and his future only in 2-3 weeks. While we wait, letís get to know him better.



Giuseppe Matarazzo: Youíre in the midst of a long, hard season. Is fatigue starting to set in at all for you? Youíve played close to 40 games already this season, with more still to come, plus the playoffs. How is your body holding up at this point in the year?

Danilo Gallinari: I feel very good. I have no problem and I donít feel any particular pain. Thereís no trouble from fatigue and Iím sure I can end my season at 100% . Finally I can say that Iím fit.

Giuseppe Matarazzo: How hard is it to be the go-to guy of an important team like Milano in both the Euroleague and the Italian A1? Has it been tough having defenses key in on you all season long?

Danilo Gallinari: If they give you the responsibility, they know they can count on you, and more importantly, they believe in your capabilities. They trust in me, and Iím proud of that. Being the ďfranchise playerĒ of a glorious and accomplished team like Milan is great honor. It doesnít matter at all: for me the main thing is to repay their confidence by working hard and getting results.

Giuseppe Matarazzo: How much time does your team put into the tactical side of the game in practices, compared with working on individual skills, like shooting, ball-handling, and the like? Are you worried about the physical training you should face overseas?

Danilo Gallinari: We spend lots of time on the tactical sides in order to prepare for the matches against our opponents and to fix our game. To get better, I practice with my staff on fundamentals and physical tools whenever I can. In case I decide to face the NBA, I know I have first of all to train harder, especially in the first months, if I want to make my body ready for a higher level.

Giuseppe Matarazzo: Itís only on your physical tools that there are some doubts. There are people who say that you are not very athletic for an NBA player and that you will struggle to defend your position at that level. How would you respond to them?

Danilo Gallinari: They only make me to work harder, to improve my game in order to disprove them on the court.

Giuseppe Matarazzo: There have always been debates on your role. Do you see yourself as strictly a small forward in the NBA, or do you think youíd be able to play as a face the basket power forward in a small-ball system as well?

Danilo Gallinari: I donít like to limit myself. Well, I play as a small forward, but surely I can adapt my game: the important thing is to play even in a different role if the coach decides that way, maybe to open the court or play in transition; No problem, I always follow my coachís directions.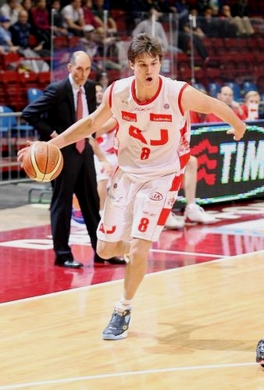 Olimpia Milano



Giuseppe Matarazzo: What type of NBA team would fit you best? What kind of style? A fast team like Golden State or a slow-paced team like Utah or Detroit? What is best suited for you to play?

Danilo Gallinari: I canít say; itís not easy to compare them with the European systems. Theyíre similar, but different in structure and players. I have no preference, I believe that a player can fully fit a team independent of the style of play. He simply has to train.

Giuseppe Matarazzo: Have you heard from Andrea Bargnani or Marco Belinelli lately? Have they advised you? Are you more worried by having expectations like Bargnani or being put on the bench and collecting a lot of ďDNPsĒ like Belinelli?

Danilo Gallinari: We talked during the Italian national team meeting, but we didnít talk about the NBA. As I said, Iím not afraid of responsibilities, so Iíd prefer to have a position like Andreaís. After all, not playing is hard for everyone.

Giuseppe Matarazzo: You are a few weeks from an important decision that could change your life. How does Danilo Gallinari spend his time when youíre not busy with basketball

Danilo Gallinari: I donít like overdoing things, I like walking in the center of Milan, meeting some friends and staying with my family. Due to my career I donít see them a lot, so when I can, I spend my time with them, especially playing with my brother.

Giuseppe Matarazzo: This upcoming draft has other European young prospects such as Pekovic and Batum that you faced in the Euroleague. What do you think about them? Have you seen any NCAA matches? Has any talent impressed you?

Danilo Gallinari: Batum and Pekovic are very interesting players with great physical tools and skills who can play a role both in Europe and the NBA, but honestly, I feel I have nothing to envy of them. Concerning the NCAA, I couldnít see any matches, as I am too busy, and I donít know this yearís draft prospects very well, but I know there are first class players. You know, every year the draft is absolutely surprising and brings out unbelievable players.

Giuseppe Matarazzo: Youíll announce your decision only in a month, but if you declare for the NBA draft, what are your long term and short term goals?

Danilo Gallinari: My philosophy is to try and be the best in what I do. I donít like making long-term projects, but instead concentrate myself on daily work. Only at the end of my Ďjourneyí Iíll look back and see what Iíve been able to reach. Only then will I sum up what Iíve done.

[Read Full Article]

---
Top Draft-Eligible Performers in the Euroleague Regular Season
February 4, 2008
The Euroleague competition has been a privileged witness of Gallinariís emergence as the go-to guy for Armani Jeans Milano, displaying a performance level very rarely seen in Europe from such a young player. A top-20 player in scoring, and eighth is efficiency thanks to his impressive ability to draw fouls, he has reached the 20-point mark 4 times out of the 11 games he has played.

Unfortunately for him, Armani Jeans Milano has completed a very underwhelming regular season, with only 3 victories in the easiest group. On the other hand, the poor level his team has shown, particularly during Galloís injury early in the season, paved the way for his emergence as the team offensive leader. No other player on the Italian squad could unbalance the opposing defense with his one-on-one game as Danilo proved to be capable of. On the other hand, his role on the team didnít help his shooting percentages, barely achieving a pretty modest 42% from the field. Still, his ability to add points from the charity stripe somehow compensated for it (he ranked second both in fouls drawn and free-throws attempted).

Often spectacular on the floor thanks to his impressive skill set, Gallinari has enamored basketball fans across Europe. Along Pekovic, heís the only serious candidate for the Euroleagueís Rising Star award (for under-22 players). Draft-wise, heís right now the top international prospect for the 2008 edition, and to hit the lottery should be a piece of cake for him.

[Read Full Article]

---
Roundup: Gallinari Dominates
January 29, 2008
Itís becoming increasingly usual to see Danilo Gallinari producing almost at will regardless of who he goes up against. His skill repertoire, knowledge of the game and physical gifts propose a devastating equation that hardly anybody can consistently contest. Just consider that heís living in the 20+ point mark for the last five games now, combining both the Euroleague and the Italian Lega. The run includes last weekís defeat against the Israeli powerhouse Maccabi Elite Tel Aviv, where Gallinari carried his teamís offensive load with 27 points, 4 rebounds and 3 steals, and the comfortable victory over Scavolini Spar Pesaro, that only required him to spend 26 minutes on court, but was still enough to come up with 20 points and 6 rebounds.

We could watch his Euroleague outing against Maccabi, a fantastic offensive show for him. He was the clear-cut go-to guy for his team, the one responsible for keeping them alive for much of the game, but unfortunately he didnít emerge as clutch as he often does. Anyway, again his superb slashing ability was responsible of much of the damage he caused on his opponents, both in the form of layups/dunks and forced fouls that sent him to the stripe multiple times.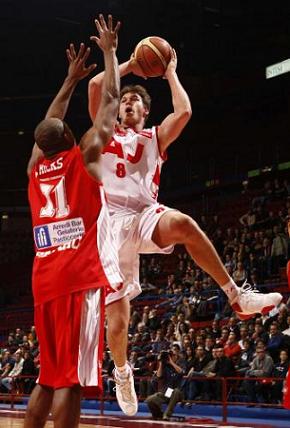 Photo: A.J.Milano



However, other stuff deserves attention too. Gallinari is a well-known solid shooter. Indeed he made a living off his perimeter stroke during his first year of serious veteran competition (in the Italian second division). In this game, it was interesting to see him creating his own shot in a pure face-up one-on-one setting, using a fake and a dribble to release a successful long-range bomb, but also from the low post with a turnaround jumper, cashing in off his size. He can be pretty quick displaying his mechanics, and he shows a great sense of timing to execute every move while always evaluating his match-upís reaction. Indeed, he often makes opponents bite on his fakes, forcing many fouls in the process or just paving his way to the basket. Thatís logically helped become the dual-threat that he is his with shooting and slashing abilities.

His body control also chimes in there. Itís funny, because at first sight you might get the feeling that his big body might somehow escape his control. But the reality couldnít be further, as his body perfectly follows his orders. For example, 6-10 guys (his likely size in shoes) running at full speed in transition tend to bump into opponents that step in their way to the basket, but Danilo has no trouble slashing by them, being able to easily change directions on the run. He actually delivered a spectacular coast-to-coast play that included a behind-the-back direction change he executed with his left hand between two opponents at almost full speed. If not the quickest and most reactive guy around, he is pretty fast when he starts moving, which looks obvious when he plays transition ball. His incredibly long strides help a great deal here as well. Just to emphasize that point, he got to the free throw line an astounding 17 times against Teramo last week.

Every game is a door open to amazement. Heís so skilled and fundamentally sound that remarkable plays are bound to happen on a regular basis.

[Read Full Article]

---
Blogging Through Europe (Part Six: France)
December 8, 2007
Gallinari on the other hand was spectacular, playing a massive role in his teamís eventual victory, sometimes just with pure grit and determinationóexactly what we wanted to see if you read our blog from earlier this week.

Offensively, he put a tremendous amount of pressure on the defense, creating his own shot time after time and making fantastic decisions with the ball in his hands. His slashing forays to the rim opened up Le Mansís defense considerably, and created numerous open looks for his teammates on the wingóresulting in a game-high 5 assists. He does a wonderful job keeping his man off balance on his heels with a series of jukes and shakes, never giving his defender any hint as to which direction heíll slash until itís basically too late. He uses screens exceptionally well and is constantly reading the defenseóshowing a mastery of picking optimal angles and never driving in a straight line thanks to his fluid body control. Thatís why despite the fact that his first step isnít prototypically explosive for an NBA small forward, he gets his shot almost whenever he wantsómore so with his skills and smarts. The fact that he doesnít explode into the lane at 100 miles (or kilometers) an hour means that there is a real under control nature to his drives, one that exudes patience and elegance and also allows him to finish superbly around the basket, or find the open man once the defense rotates. The fact that he drew 12 fouls in 31 minutes is a great testament to his effectiveness in this area.

Gallinari did a better job in the paint that we saw in the first two games. His team posted him up on a couple of occasions, and he delivered some really nice movesóonce with a pivot move (called for a travel), once with a terrific up and under, another time with an excellent spin, while also doing outstanding work on the offensive glass. He finished with a game-high 4 offensive rebounds (7 total), sometimes following his own miss for a put-back, always showing a lot of determination, and really looking passionate about coming away with a much needed victory here on the road.

Defensively, there was a lot to like this time aroundóan area that we had some criticism about in our previous blog. He looked more focused staying in front of his man, taking a lot of pride on this end of the floor, and even stepping in for a charge on one occasion. He guarded Batum most of the time that the two were on the floor together, and did not allow him to get past him, which is a good sign.

All in all, this was a very impressive performance from a 19 year old player at the top level of Europe. The fact that he was such an indispensable cog in his teamís very important victory on the road made this a very significant performance as far as the scouts we talked to were concerned. Teams that were represented included the Portland Trailblazers (Chad Buchannan), Minnesota Timberwolves (Pete Philo), Boston Celtics (Ryan McDonough), Charlotte Bobcats (Scott Howard and Rich Shuebrooks), Denver Nuggets (Simon Cote), Cleveland Cavaliers (Chico Averbuck), Golden State Warriors (Kosta Jankov) and probably others that we did not get to see or talk to.

[Read Full Article]

---
Blogging through Europe (Part Four: Italy)
December 3, 2007
Whereas the expectations from Jonas Jerebko were slim to none coming into this game, his younger counterpart born in 1988 Danilo Gallinari is already carrying the weight of the world on his shoulders. The scrutiny coming from the fans, scouts and media has been intense to say the very least, and we were able to witness both sides of the spectrum from watching him twice in the Euroleague and Italian League in just four days.

There is no doubt first of all that Gallinari is already his teamís best and most important player. When heís involved in the offense and showing his versatility, everything flows much better. The problem is that that isnít always the case, and besides a few Isolation plays at the top of the key, Gallinari was basically forced to go out and find his own offense within Milanoís disorganized half-court sets, which probably isnít the ideal situation considering the type of player he is.

Letís first start with the good things he showedÖstarting with his 3-point stroke. Gallinari is getting closer and closer to being considered a lightís out shooter, as you can see the way he releases the ball from many different situations (off the dribble, fading away, spotting up, coming off screens) that his potential here is absolutely immense. His stroke is pure, blessed with picture perfect mechanics and beautiful arch and rotation, and heís become increasingly confident in it, indeed knocking down 3 of 6 shots from behind the arc in the Euroleague game on Thursday against Maccabi. Heís also Milanoís designated technical free throw shooter, which tells you a little bit about how highly his coach thinks of his 19-year old prodigy.

Creating his own shot off the dribble, Gallinari looked pretty spectacular, using a dizzying array of head and body fakes to get his man off balance, and awesome ball-handling skills crossing his man over from left to right or right to left with excellent body control getting in the lane. He did so on a number of occasions, first going left, then right, and even finishing through contact for the And-1, adjusting his body in the air and switching hands to avoid the defender. His first step isnít what you could call explosive, but heís such a smart and skilled player that it almost doesnít matter at this level. We should note that the length of 6-9 Jonas Jerebko did seem to give him some problems in the Biella game, though.

Gallinari is used as his teamís de-facto point guard at times, bringing the ball up the floor and getting them into their offense. We saw this on at least a half dozen occasions, and he appeared to have no problem whatsoever doing so. Heís a very unselfish player, never forcing the issue, communicating well with his teammates, and already appearing to have their trust. At times you got the feel that his team even needed more out of him than he was able to provide, as he lacked a bit of aggressiveness looking for the ball in key moments that Milano just could not find a way to put the ball in the basket. He had opportunities to take his man down to the post in both games and take advantage of his superior size at the small forward position, but still lacks some refined post moves and maybe a bit of toughness to get the job done down low.

Defensively, Gallinari did not appear to be as effective as we remembered him being last year. He looked to be showing a bit more fire on this end of the floor previously, fighting through screens, being passionate about staying in front of his man, hitting the glass, etc. This might be a product of the much increased offensive role he has on the team (one player simply canít do everything and still remain effective), or it might be related to the fact that heís just returning from an injury. Regardless, his lateral quickness and the effectiveness he shows being able to guard wing players will play a huge role in the way heís evaluated by NBA teams, so this is something weíll continue to keep a close on as the year moves on.

Weíll have one last chance to watch Gallinari in person next week, in a dream Euroleague matchup on Thursday against Nicolas Batum and Le Mans. Weíll be back with another report after that.

[Read Full Article]

---
Roundup: Gallinari is Back
November 13, 2007
With Armani Jeans Milano struggling badly (firing their coach, GM , and hiring a new point guard) the team has embraced Gallinari as a hope for some visible improvement ever since he returned from his injury a week ago. Despite this weekendís victory against Cimberio Varese, we canít say thereís still much change in the direction of the team: still winless in the Euroleague, they have only been able to collect victories against the three worst placed teams in the domestic competition, and all three came at home. Not the happiest times for the former European champions.

Anyway, itís still remarkable that a 19-year-old kid becomes the leader of a Euroleague squad. Danilo had 18 points, 7 rebounds and 3 steals against Unicaja in the Euroleague, and went for 16 points, 6 rebounds and 6 steals against Varese in the Italian Lega. Weíre not talking about a guy who randomly gets points in the flow of the game, but a player who actively takes decisions on the court. Not surprising since Gallinari is arguably the best one-on-one player on the team. As we could see against Unicaja, he repeatedly attacked his opponents off the dribble. Itís a combination of his excellent ball-handling skills with both hands, great use of his body, terrific footwork, and very nice ability to finish around the rim with difficult layups. He delivered the play of the game with a wonderful coast-to-coast play, dribbling in traffic and finishing with a left-handed lay-up. With his team trailing in the last quarter, he went as far as to demand the ball and take it up-court himself.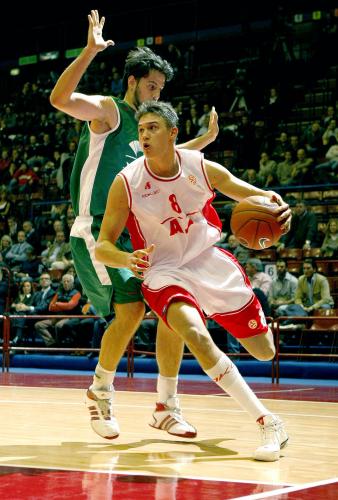 Photo: Armani Jeans Milano


A pretty decent shooter, Gallinari uses his size advantage and the slashing menace he represents to release his shot even with an opponent in front of him. However, he needs to get more consistent, and indeed he credited a combined 1/11 from behind the arc this past week. Heís also looking pretty straight forward whenever he decides to attack his opponents, in the sense that he looks for the basket himself, usually with excellent results, while passing the ball emerges as a very secondary option. Actually, heís yet to credit a single assist this season after 5 games, and by any means, itís not like he canít pass the ballÖ

The amount of steals he collected this past week was really impressive. His length on the wings becomes very annoying for his opponents and pretty helpful for him to reach the ball, while heís pretty smart attacking a playerís dribble. Still he looked a bit slower than usual in terms of lateral quickness on the defensive end, perhaps as a temporary result of his recent injury and absence from the court. On the other hand, he delivered in the rebounding department, and showed some leaping ability dunking the ball from a standstill position off an offensive capture.

Above anything, he showed character against Unicaja, despite the tough moments his team is going through, fighting throughout the game until he fouled out with a couple of minutes to go. Heís a winner, a player who steps up in the decisive moments.

[Read Full Article]

---
Roundup: Majestic Gallinari
May 17, 2007
It was a very close race, but after three consecutive victories to close the regular season, Armani Jeans Milano surged into the second position and home-court advantage in the Italian playoffs until the Finals. Some of the credit has to go to Danilo Gallinari, who led his team in plus/minus stats in both games played this past week, having 18 points and 3 rebounds against Bipop Carire Reggio Emilia, and 18 points, 5 rebounds and 2 steals in the crucial showdown against Lottomatica Roma.

Athleticism is always the concern when talking about Daniloís future potential. Letís see how heís looking right now.

Is Gallinari an athletic player? Will he be able to make the transition to the NBA? These are not easy questions to answer. To start with, this very skilled Italian forward shows different levels of athleticism depending on the situation he faces. Particularly, he doesnít seem to be very reactive. It takes him a while to get in motion. This is related to the fact that his vertical leap from a standstill position looks rather poor. Also concerning this flaw is his limited activity on court: heís not this kind of hyper-energetic guy who is all over the court and always ends up with loose balls. Thatís why he probably isnít a great rebounder despite being a very smart player with an excellent physical set.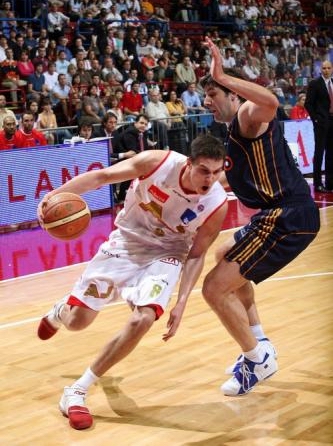 Photo: AJ Milano


On the other side of the spectrum we have his surprisingly good lateral quickness. Actually Gallinari is one of the few guys you can see consistently defending any player on court from the point guard to the power forward position, which is really impressive. His length and defensive quickness are a very tough match-up for any perimeter player, while he enjoys enough size and strength to challenge power forwards. Particularly his defensive flashes are sometimes spectacular, immediately flashing in front of the dribbler who tries to take advantage of a screen. Itís also important to note that his leaping ability dramatically improves when heís running, so he can finish above the rim after a drive.

Then we have how Gallinari makes the most out of that controversial athleticism. Itís particularly remarkable how he can beat his match-ups off the dribble on a regular basis. He might not be very reactive, but his first step is very nice, his strides long and difficult to keep up with for his defender, his footwork excellent to slalom towards the basket, and his body control effective while using his width and strength to keep his opponents away from the ball.

Itís fascinating how much Gallinari reminds of the great Dejan Bodiroga (length and perimeter skills, poise, basketball IQ, ability to beat their opponents despite their questionable quickness, low-post game), which by the way doesnít help much in terms solving any doubt about his NBA potential. Still you have to believe that a major basketball talent usually breaks through. And itís not like this kid doesnít enjoy some terrific tools to help his cause.

[Read Full Article]

---
Roundup: Danilo Gallinari, King of Cups
February 19, 2007
Gallinariís characteristics speak maturity any way you look at them, and heís still a guy with great potential. Heís really long, already in the 6-10 neighborhood, enjoys a good wingspan and a notable frame. Actually, heís a pretty strong player who holds his own against top international competition. Itís interesting to note how in both games, Gallinari shot a combined 21/22 from the free-throw line. It speaks wonders about his free-throw shooting (obviously), but particularly about his ability to force fouls. Despite being only 18 years old, heís rather aggressive in terms of attacking his rivals, precisely taking advantage of that strength and frame. He uses his body really well while slashing, which paired with his footwork, ball-handling, ability to finish near the basket, basketball IQ and even his excellent size, helps him to easier see the court, allow him to keep perfect control of the situation and take good decisions in motion.

His incisive game might come as a surprise for anybody watching Gallinari for the first time, as the very first impression he usually leaves is a bit disappointing in terms of athleticism. But as we have stated often here in DraftExpress.com, itís a deceiving impression, because and as soon as he gets into game situations, he showcases nice quickness and some hops. Heís surely not a top-notch athlete, but a very fluid one who is smart enough to maximize his athletic gifts. So at the end of the day, heís going to beat his match-ups off the dribble on a regular basis, while on the other end of the floor he proves to be a very reliable defender with nice lateral mobility.

A solid shooter, even with the ability to create his own shot, a nice passerÖeverything is in place in Gallinariís game. The fact that heís such a big perimeter player, so talented and intelligent, leads us to think that he will be able to adjust to any level of basketball heís thrown in, even in a very athletic league as the NBA.

[Read Full Article]

---
Danilo Gallinari: Another Italian Star Emerging
December 30, 2006
DraftExpress recently had the chance to take in the Italian league All-Star game at the hosts of the 2006 Winter Olympics, Turin. The expanded squad of the local Italian national team blew out the ďChampion All-starsĒ made up of some of the top foreigners in Lega Basketís Seria A 93-76 behind the strong play of MVP Massimo Bulleri, but it was the performance of 18 year old Danilo Gallinari that caught our eye in particular.

The game itself was conducted slightly more seriously than your typical all-star game. Things were fairly close for the first 25 minutes or so, as unselfish and extremely efficient play by Rimantas Kaukenas and Harold Jamison kept the legion of foreigners in the game. Eventually their lack of chemistry and poor shot selection did them in, and the Italians dazzled the sold out and extremely enthusiastic crowd of 4,000 behind a fantastic team effort that yielded spectacular results.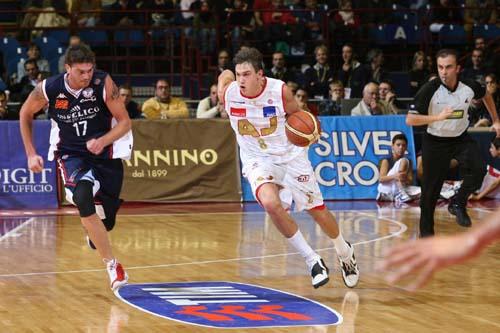 AJ Olimpia Milano



Danilo Gallinari got the start despite his status as a rookie in the top Italian league, and did not look out of place for a moment, scoring 11 points in 18 minutes on 5/6 shooting and pulling down 8 rebounds. He also won the 3-point contest by a wide margin. Gallinari might not have been the most athletic player on the floor (Slam Dunk champion Paul McPherson gets the nod here), but he certainly used his athleticism better than anyone else on the court, getting up off the floor on a number of occasions for crowd pleasing alley-oop jams and put-back dunks off offensive rebounds.

What makes Gallinari unique is just how versatile he is. Standing 6-9, he is capable of playing virtually any position on the floor. Extremely strong and physical for his age, with great proportions, he uses his excellent frame to body players up on the perimeter and around the hoop, and has no problem going right into traffic to come up with rebounds. Although he wonít out-quick or just leap over most players to come away with a rebound, he is highly instinctive in the way he positions himself and anticipates, often tipping loose balls to himself or to a teammate to ignite the fast break. If the outlet pass isnít there, Gallinari shocks with the way he can put the ball on the floor and handle it comfortably with either hand, surveying the floor accurately and weaving in and out of traffic smoothly the way youíd expect a point guard to.

If the defense lapses for even a second, heíll show absolutely no hesitation to pull up off the dribble sharply and smoothly the way a true shooting guard would, maybe even with a slight fadeaway and completing the entire sequence with highly polished and picture perfect form. The same impression is received when watching him spot up from the 3-point line after being rewarded for his excellent off the ball movement. Right now he might not be super consistent with his percentages in the Italian league (13/38 in 12 games or 34%), but from the mechanics and touch he shows and the way he absolutely destroyed the competition in the 3-point contest, it canít be too long until he develops into a capable, if not lethal, 3-point shooter.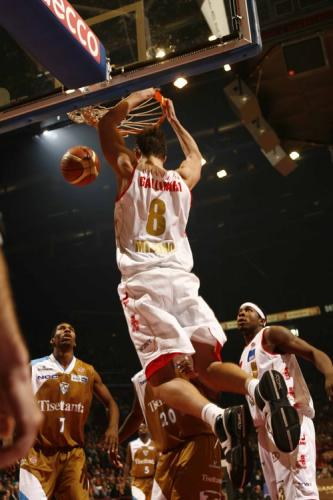 AJ Olimpia Milano



When asked to create his own shot from the perimeter, Gallinari doesnít outright explode past opponents, but rather uses his mind and terrific skill-set to maneuver his way to the basket, using strong head fakes, terrific ball-handling ability and plenty of craft to outsmart his defender and find space to operate. Once he gets in the lane, his strong body and gritty determination allow him to take contact from opponents and still finish strong. All these characteristics help him become a solid slashing threat at a very high European level from what we saw both here as well as on tape, but itís not quite clear how effective heíll be in this area once he reaches the next levelóeither the Euroleague or NBA.

What is clear is that Gallinari does not force the issue. He is incredibly poised and mature for someone this young, being highly unselfish and more than willing to play within the flow of the offense and defer to his more veteran teammates when need be. Heís a terrific passer who has indeed been hailed as a bit of a point forward, ala Dejan Bodiroga, and from what weíve seen there isnít any reason to dispute that.

A player he really reminds of at the same age (since I personally never saw Bodiroga at age 18) is Christian Drejer, now a starter with the top team in Italy, VidiVici Bologna. Unlike Drejer, known for his passive play and lack of killer instinct which has prevented him from elevating his game beyond that of a role-player, Gallinari has intangibles that cannot be taught, including a huge heart, plenty of fight and the type of confidence that leads you to believe that he will not settle for becoming anything less than a star.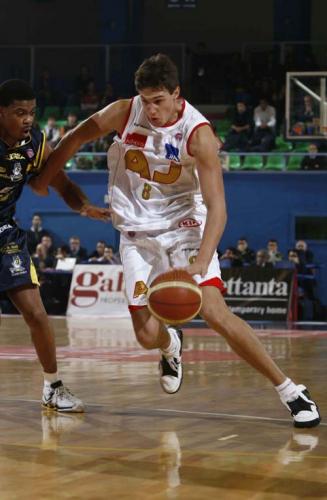 AJ Olimpia Milano



While offensively he picks his spots and only at times will look to create offensive opportunities for himself and others, defensively is where his true fighting character really comes out. Gallinari isnít the quickest guy in the world, but heís got the fundamentals down to a science, and heíll never allow himself to be outhustled. He moves his feet very well on the perimeter to stay in front of his man and can be really bothersome with his pesky aggressiveness. He understands angles and is not afraid to stick his nose into take a charge when the opportunity presents itself. When asked to switch onto a post player and throw his weight around, he doesnít seem to shy away even one bit, dishing out contact just as easily as he takes it, and as noted having no problem to go after the glass and fight for a rebound, particularly on the offensive end.

What kind of weaknesses can we expect in such a complete player at this phase in his career? The main one would be his athleticism, or rather lack thereof. Gallinari lacks great quickness and explosiveness, although as noted he does take full advantage of what he does have at the moment.

He is off to a great start in his rookie season playing for one of the best teams (Armani Jeans Milan) in arguably the 2nd best domestic league in Europeóaveraging 9.3 points per game in 24 minutes on 51% shooting from the fieldóbut heíll have to continue to produce if a spot in the top half of the first round is what heís after. Heís not the type of player who can simply expect to be drafted in the lottery based off his unlimited upside, although at age 18 heís hardly a finished product at the moment. From what Gallinari himself told us not too long ago, he isnít in a huge rush to leave for the NBA and will most likely not declare for the draft this year. If he decides to leave in 2008óas we have him projected on our current draft boardóhe does not anticipate his team Armani Milan standing in his way. Another season and a half playing at a very high levelópotentially the Euroleague next year if his team keeps it upówill benefit him greatly.

[Read Full Article]

---
The European Junior (U-18) Championships: The Small Forwards
August 23, 2005
This kid has the word star written all over him. Iím not talking necessarily at the NBA level, and I donít mean that heís a canít-miss project, but he transmits so much self confidence while featuring an impressive skill set, that this is what automatically comes to mind.

Danilo is a long player, a guy with a good wingspan and rather particular in terms of athleticism. Many times you would think that he has slow feet, but in fact heís a very mobile player with more athleticism that he first appears to enjoy. However, he still lacks a bit of quickness and explosiveness, relying more on his skills and size to make up for it.

An elegant player, always showing poise and extremely fundamentally sound, I would say that he was right there with Cenk Akyol as the player featuring the most finesse game. Like the Turkish guard, Daniloís offensive game is mostly about a face-up approach, despite his size.

He is an excellent ball handler, feeling secure dribbling the ball even in front of much smaller players; Gallinari is a slashing menace when heís in movement. He likes to put the ball on the floor first, and attack his matchup later. This way he gets to destabilize his rival enough to beat him, although he doesnít always succeed given his limited quickness. He suffers more relying purely on his first step to get rid of his defender. On his way to the basket he shows awesome footwork having the ability to easily change direction or perform reverse movements, while he enjoys a soft touch near the rim as well.

Heís a pretty solid shooter too. Displaying good range, he can create his own shot. Enjoying good mechanics, he elevates very little from the floor, though. He features quite a high basketball IQ, which is well reflected in his ability to pass the ball, taking advantage of his size to see the open teammate, whether from the perimeter or penetrating. Itís also interesting to note his character, as heís a player who steps up whenever itís necessary. He delivered his best performances in the semifinal and in the bronze medal game.

His lack of quickness shouldnít be as big of a problem on defense as you might think, as he shows surprisingly good lateral movement that allows him to deal with small forwards. Furthermore, heís quite smart regarding positioning.

All in all, Gallinari is an excellent and promising young player, although his athleticism limits his potential significantly. However, with his intelligence and array of skills, he should be able to become an important player in Europe if he keeps developing his game, while we certainly canít rule out further achievements.

[Read Full Article]

---
The Reebok Eurocamp in Treviso
June 17, 2005
Just like in the last's years camp, he's the youngest player in the camp. Looks like he's grown to 6-9 while letting his body mature in the past year. The son of a former Italian league first division player, Danilo has perfect fundamentals that players from basketball families often develop. He can play any position from point guard to small forward, and shows a perfect stroke while doing so. He's a fluid, but not explosive athlete, still looking like the kid he actually is. Gallinari was often matched up against smaller and quicker players, and didn't look to have quick enough feet to guard them at this point. He looked a bit too timid in game situations, having some bad turnovers and rarely trying to create something for the team or for himself, but the talent is there to see. Plays in the 3rd division in Italy, rumors say he could be headed in the first division to Milan.

[Read Full Article]

---