Dario Saric led his Cibona team to a historic Adriatic League Championship this past weekend, with wins over Red Star and Cedevita at Kombank arena in Belgrade. This was the first Adriatic League championship Cibona has ever won despite being inaugural members of the competition in 2001, and the first time a Croatian team has captured the title since KK Zadar won it in 2003 (back when only one Serbian team, Red Star, participated).
Saric, the reigning MVP of the league, who turned 20 years old just three weeks ago, was absolutely huge in the two game, single-elimination Final Four format, totaling 44 points, 26 rebounds, 13 assists and 5 blocks in 77 minutes, shooting a blistering 8-16 from beyond the arc. He was in turn named MVP of the Final Four as well.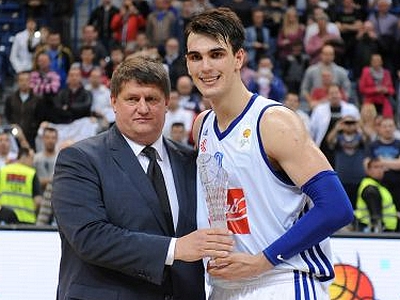 His comments after the game were telling.
"Before the game, I said that we will come here like Olympiacos did as underdogs and became Euroleague champions. You can say that I was born as a winner, but I believe that you are producing a winning mentality on your own. In my case when I was 12, I got this spirit and I believe that I will win each game.
In three to four weeks approximately, I will know where I will play next. Whatever I decide, the NBA will always be my dream. All guys who are in this draft this year, Parker, Wiggins, etc, would not be able to do with this team, what I did this season."
Saric announced he will enter the 2014 NBA Draft
exclusively on DraftExpress
two weeks ago, via his agent Misko Raznatovic.
We took a look at Saric's performance at the Adriatic League Final Four and compiled the following video analyzing his exploits there:
All of our video scouting reports this season can be
found here
.