Sebastian Pruiti takes a look at the strengths and weaknesses of
Derrick Williams
, with the help of Arizona game-film from this past season.
Derrick Williams Strengths/Weaknesses Video
Watch in full screen mode by clicking button in upper right hand corner of video
Strengths
-
Outside Shooting:
For his height,
Derrick Williams
might be one of the best shooters at his position, shooting 56.8% from the three point line on 74 attempts. He is also top six nationally in the two advanced shooting metrics, posting an eFG% of 65.0% (6th nationally) and a TS% of 69.0% (4th nationally). In terms of his form, Williams has a very smooth stroke that is easy to repeat, no matter if he is catching and shooting or taking a shot off of the dribble. He takes off and lands in the same area, and his footwork is very good.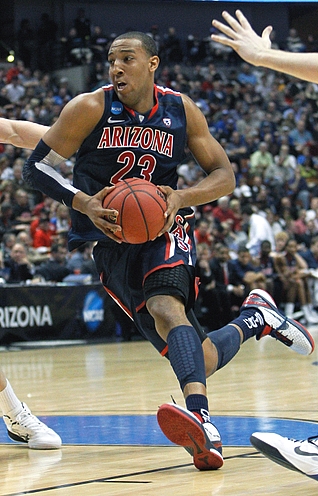 -
Isolation Scoring:
According to Synergy Sports Technology,
Derrick Williams
is in the 96th percentile in terms of points per possessions in isolation situations, scoring about 1.130 per possession. Part of the reason Williams is so successful when he isolates his man is because he is quicker than most power forwards, but his defender can't play off of him because of his shooting ability. The threat of Williams taking and making an outside jumper forces defenders to close the gap and not give Williams any space. Because of this, Williams is able to use his speed to his advantage and take the basketball to the rim. Williams is also an above average ball handler and this lets him get to the rim with ease.
-
Post Scoring:
Once again, according to Synergy Sports Technology, Williams is in the 92nd percentile in terms of PPP in post-up situations, scoring 1.065 points per possession on 50% shooting. Williams does two things very well on the block. He establishes great position without the basketball and once he makes the catch he is able to quickly go up with it before the double team can get to him or before his defender can take advantage of Williams' lack of size.
Weaknesses
-
Turnovers:
The biggest problem that I see with Williams on the offensive end is his tendency to turn it over in post up and isolation situations. Williams turns the ball over on 16% of halfcourt possessions. Where Williams runs into problems is when the defense collapses on him. Once that happens, Williams has a tendency to hold onto the basketball too long, and by the time he tries to get a pass away, there are three defenders on him.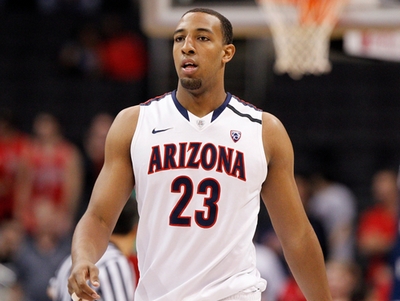 -
Defensive Rebounding:
Where Williams lack of size really hurts him is on the defensive glass. In addition to getting caught watching the basketball and not holding his box out once in a while, Williams tends to get bullied around when the ball is in the air. The biggest example of that is when Williams gives up his inside position. Too many times, Williams gives up his position and lets his man get inside of him to the point it looks like he is the one trying to grab the offensive rebound. Add this lack of size to the fact that he doesn't really hold his box-outs and that means he isn't going to be grabbing as many rebounds as he should.
---
More DraftExpress Video Breakdowns:
-
Jimmer Fredette
-
Kenneth Faried
-
Harrison Barnes
-
Marcus Morris
-
Perry Jones
---
Sebastian Pruiti (see: TrueHoop feature) is the founder and editor of NBAPlaybook.com, a blog started in January 2010 that takes a look at the Xs and Os of the NBA. In addition to NBAPlaybook.com, Sebastian is a contributor to the New York Times' Off the Dribble blog,, SB Nation, Basketball Prospectus and The Basketball Jones, and is the Editor Emeritus of NetsAreScorching. Follow him on twitter here.