Doron Lamb
Recent Tweets
All Tweets
DraftExpress: At 42, Milwaukee takes Doron Lamb. Somewhat of a slide for the national champion, but good spot for him. Like this pick for the Bucks.
2012-06-28 10:04:51
DraftExpress: Five best talents available entering the 20s (in my opinion): Jared Sullinger, Jeff Taylor, Quincy Miller, Doron Lamb, Tyshawn Taylor
2012-06-28 08:33:32
DraftExpress: DX: NBA Combine video interviews - Jeremy Lamb, Doron Lamb, Tony Mitchell http://t.co/ZUKzreq3
2012-06-11 11:02:12
DraftExpress: Interviews with Doron Lamb and Tony Wroten with video footage from a workout they conducted in front of NBA teams in LA http://t.co/HtWZoG1n
2012-06-04 09:08:14
DraftExpress: Doron Lamb joins Kentucky teammate Terrence Jones in signing w/Arn Tellem of WMG, a source informs. Still waiting on Anthony Davis' decision
2012-05-14 03:05:36
Team: Westchester
Physicals
Positions
Rankings
Salary
Misc
H: 6' 5"
W: 199 lbs
Bday: 11/06/1991
(24 Years Old)

Current: SG
NBA: SG
Possible: SG

RSCI: 25

Agent: Arn Tellem

High School: Bishop Loughlin Memorial
Hometown: Brooklyn, NY
Drafted: Pick 42 in 2012 by Bucks
Best Case: Jason Terry
Worst Case: Roger Mason

Predraft Measurements
| Year | Source | Height w/o Shoes | Height w/shoes | Weight | Wingspan | Standing Reach | Body Fat | No Step Vert | Max Vert |
| --- | --- | --- | --- | --- | --- | --- | --- | --- | --- |
| 2012 | NBA Draft Combine | 6' 3.25" | 6' 4.75" | 199 | 6' 6.75" | 8' 2.5" | 6.7 | 29.0 | 33.5 |
| 2011 | Kevin Durant Camp | NA | 6' 5" | 204 | 6' 7" | NA | NA | NA | NA |
| 2009 | LeBron James Camp | NA | 6' 3.5" | 183 | 6' 6" | NA | NA | NA | NA |
| 2009 | Paul Pierce Camp | NA | 6' 3.5" | 183 | 6' 6" | NA | NA | NA | NA |



Basic Per Game Statistics

- Comprehensive Stats - Statistical Top 25s
| Year | League | Name | GP | Min | Pts | FG | FGA | FG% | 2Pt | 2PtA | 2P% | 3Pt | 3PtA | 3P% | FTM | FTA | FT% | Off | Def | TOT | Asts | Stls | Blks | TOs | PFs |
| --- | --- | --- | --- | --- | --- | --- | --- | --- | --- | --- | --- | --- | --- | --- | --- | --- | --- | --- | --- | --- | --- | --- | --- | --- | --- |
| 2014/15 | DLEAGUE | Doron Lamb | 21 | 32.2 | 16.5 | 5.6 | 11.5 | 48.8 | 4.1 | 7.7 | 53.1 | 1.5 | 3.8 | 40.0 | 3.7 | 4.3 | 86.7 | 0.4 | 2.2 | 2.6 | 2.9 | 1.0 | 0.2 | 1.8 | 3.1 |
| 2014/15 | DLEAGUE | Doron Lamb | 14 | 39.4 | 17.7 | 5.9 | 14.9 | 39.2 | 4.5 | 10.1 | 44.4 | 1.4 | 4.8 | 28.4 | 4.6 | 5.3 | 87.8 | 0.7 | 3.7 | 4.4 | 2.4 | 0.6 | 0.1 | 1.9 | 3.4 |

Player Page&nbsp&nbsp| Player Stats | Mock Draft History | Related Articles&nbsp&nbsp| Add to My Draft Express&nbsp
&nbsp
NBA Combine Interviews: Lamb, Lamb, Mitchell
June 11, 2012
[Read Full Article]

---
Doron Lamb/Tony Wroten Workout Interviews
June 4, 2012
[Read Full Article]

---
Trending Prospects 2/27/2012
February 27, 2012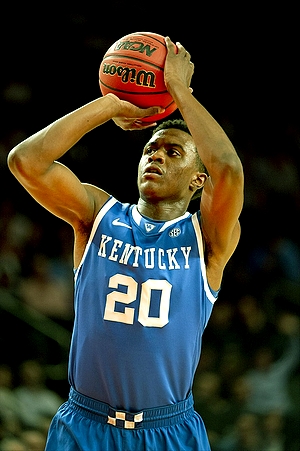 Icon SMI



Kyle Nelson

While Doron Lamb was already a major contributor as a freshman, he has developed into a key player on both ends of the floor for arguably the best team in college basketball as a sophomore. While much of his game remains similar to when we last wrote about him, he has improved his draft stock by expanding his scoring and facilitating repertoire and embracing a slightly larger role for the incredibly deep and versatile 28-1 (14-0 in SEC) Kentucky Wildcats.

Measured at 6'5 with a 205-pound frame and a 6'7 wingspan, Lamb has a good physical profile for an NBA shooting guard with the potential to continue filling out his solid frame. While he lacks elite explosiveness, Lamb is nonetheless a solid athlete, possessing a solid first step and decent quickness in the open court.

Lamb remains a phenomenal perimeter shooter, making 49% of his 5.3 three point field goal attempts per 40 minutes pace adjusted, which technically ranks him as the best shooter in all of college basketball, at least amongst players considered draft prospects. His form is flawless and he is excellent shooting from a standstill and off of the dribble.

What has changed this year is that Lamb is seeing more minutes in a role as a facilitator, in large part due to the growing pains of freshman Marquis Teague, who has been very erratic at times. Lamb looks fairly comfortable operating as a primary shot creator in Kentucky's half-court offense, embracing his expanded role by scoring out of the pick and roll and shooting pull up mid-range jump shots.

Off the dribble, Lamb is mostly a straight-line slasher, often resorting to a floater once inside the paint. Not possessing elite size, strength, explosiveness or shot-creating prowess, Lamb relies mostly on his smarts and instincts to get himself good looks around the basket. Though he is getting to the foul line more often this year and has been more aggressively seeking contact than in the past, he still struggles to get clean looks around the basket and is shooting a less than impressive 46% from inside of the arc as a result.

Lamb is still not a pure point guard, looking more comfortable seeking out his own shot and lacking elite court vision, but he's doing a very good job running John Calipari's when called upon, moving the ball quickly, simply and unselfishly around the floor. His decision-making looks improved this season and he is turning the ball over on just 10% of his possessions, one of the best ratios among prospects in our database. He looks more capable facilitating the offense in half-court sets and, as mentioned before, shows a greater comfort operating out of the pick and roll, primarily though not exclusively as a scorer.

While Lamb lacks elite physical tools, he has once again proven to be a dependable and active defender at the collegiate level. He struggles to stay in front of quicker players at times, but he shows very good fundamentals and effort, suggesting that he will be a very capable defender at the next level with continued work on his strength and added experience.

Doron Lamb once again has managed to shine despite a Kentucky rotation filled with elite talent and he has done so while being more efficient in an expanded role. While his struggles getting and finishing inside the paint suggest he may be better suited in a complementary role, his combination of elite perimeter shooting, improved shot creating abilities, and developing instincts as a facilitator in the half-court are intriguing when projecting him at the next level. So, too are his defensive abilities, which should allow him to see minutes relatively quickly whenever he chooses to play in the NBA.

Lamb has proved himself as an extremely effective shooting guard prospect at the collegiate level, and appears to have everything needed to emerge as a strong role player in the NBA.

[Read Full Article]

---
Top NBA Draft Prospects in the SEC, Part One (#1-10)
October 25, 2011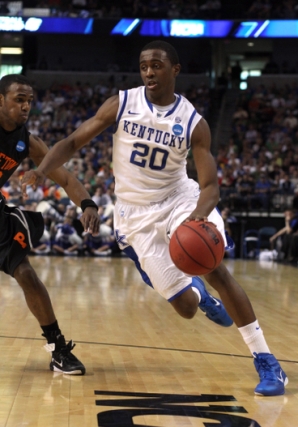 Icon SMI



Jonathan Givony

An afterthought in a bombastic recruiting class featuring the likes of Brandon Knight, Terrence Jones and Enes Kanter, Doron Lamb was a McDonald's All-American in his own right and a significant contributor on a Kentucky team that ended up making the Final Four.

With fellow backcourt mates Knight and DeAndre Liggins off to the professional ranks, Lamb will be looking to build on an excellent debut season that saw him emerge as one of the most efficient freshmen in college basketball.

Lamb lacks ideal physical tools for a high-level NBA shooting guard, standing 6-4, with an average frame and good, but not incredible athleticism. He compensates for that with his skill-level and aggressiveness, showing terrific scoring instincts and an excellent mentality on both ends of the floor relative to his role.

Watching him in high school, Lamb didn't always look like a player that would buy in to being a role player from day one, as he displayed plenty of issues with his shot selection and all-around decision making. To his credit, that was not the case at all last year, as he did precisely what was asked of him by John Calipari Ė seeing almost all of his offense spotting up on the wing or running the floor in transition-- and did so in an incredibly efficient manner at that.

Lamb's perimeter shooting alone would be enough to get him noticed by NBA talent evaluators, as he made 49% of his 3-pointers, 5th best amongst all collegiate prospects last year.

Most of his shots came with his feet set, but he was pretty effective shooting off the dribble as well. He gets good elevation on his jumper, displaying fluid, consistent mechanics with NBA range, always being ready and willing to rise and fire when called upon. Highly aggressive seeking out scoring opportunities, Lamb toed the line extremely well between assertiveness and overconfidence as a freshman, which will make it interesting to see how his role evolves this upcoming season.

Also a pretty solid ball-handler, Lamb can create his own shot fairly effectively from the perimeter, which differentiates him from most of the Jon Diebler or Ashton Gibbs type perimeter marksmen. He's not someone that can be counted on as a go-to guy necessarily, but is certainly not a one dimensional player either. Kentucky liked to bring him off a lot of short curls in the 15-17 foot area as a secondary option, where he create separation from his defender for a jumper or use one dribble to get into the paint and shoot a floater.

Lamb has a good first step and is capable of driving left or right, sometimes struggling to finish around the rim in the half-court due to his lack of size and average explosiveness. He did not get to the line very often, but posted a positive assist to turnover ratio and converted over 50% of his 2-pointers. He's extremely effective in transition thanks to his aggressive mentality and terrific scoring instincts, so it will be interesting to see how his shot-creating ability in the half-court evolves in the future.

Out of necessity, Kentucky played him some minutes at the point last season when Brandon Knight went to bench, but that didn't prove to be an ideal option, as he's not a great passer and clearly thinks shoot first when he has the ball in his hands.

Defensively, Lamb more than held his own as a freshman, which is a requirement playing for John Calipari at Kentucky. He moves his feet very well on the perimeter, doing a very good job using his length to contest shots, even if he isn't going to get his team a great deal of extra possessions. He may lack some size and bulk to help cover the most talented shooting guards he'll encounter in the NBA, but more than makes up for that with effort at the collegiate level.

Lamb may not share the same upside of some of his more highly touted teammates at Kentucky this season once again, but his value to professional talent evaluators looks quite clear. He projects as an efficient two way player who is dangerous enough from anywhere on the floor to help take the pressure off his team's primary options, either coming off the bench or alongside a couple of stars. Lamb will likely have a chance to expand his role somewhat more as a sophomore, and it will be interesting to see if he can maintain the same efficiency while showing some added wrinkles to his game.

[Read Full Article]

---
ESPN RISE National High School Invitational
April 12, 2009
Oak Hill's junior guard is one of the top players in his class, and he showed why this weekend, taking over in the Warrior's first game of the tournament. Lamb (#14 Scout, #21 Rivals, #14 ESPN) took the reins in a 19-point win over Pinewood Prep after Keith Gallon was saddled with foul trouble, scoring 26 points and grabbing 9 rebounds. He did the majority of his scoring with his jumper, which was essentially a can't miss option the entire game from both mid-range and beyond the arc. As has been mentioned in the past, Lamb's shot is still very much a work in progress and this became evident after he struggled to score in his final two games of the weekend.

Lamb shows a very smooth offensive game, particularly with his ball-handling skills, which allow him to operate comfortably in traffic. Though he wasn't too aggressive in all the games that we saw him, when he does opt to put the ball on the deck, he is able to get to the basket fairly easily at this level. He is very much a score first player at this point, but Lamb was able to make a few very nice passes this weekend that seem to indicate he may have some potential playmaking skills as his game continues to develop. With his lack of explosiveness right now, developing that skill set would help him tremendously in the long run. The biggest knock on Lamb from this weekend was his tendency to disappear for stretches of the ball game, something we also previously observed. Part of that is due to the fact that Oak Hill was loaded with talented seniors this season, but next year as the top returning player, Lamb will need to stay a consistent factor in the game, and especially improve his ability to play without the ball.

[Read Full Article]

---
HoopHall Classic Scouting Reports, Part Two
January 21, 2009
A very highly touted 2010 prospect on a deep and talented team, Doron Lamb (#14 Scout, #21 Rivals, #14 ESPN) did not manage to stand out in his lone game here in Springfield. With Derrick Favors in the middle, Lamb was unable to establish his slashing game, and instead was forced to get his production from the perimeter, where he is just average at this point. His jumper wasn't falling for most of the game, looking rushed and off-balance, but Lamb continued to force the issue, taking some questionable shots early in the offense.

He did show nice scoring instincts, primarily in transition, where he really seems to excel. He is fairly athletic and has nice body control in the lane, looking very much capable of creating his own shot, and not being bashful in the least bit about doing so. He's clearly more of a shooting guard at this point, looking first and foremost to score before attempting to create for teammates, something that should be able to translate to the college level eventually judging by the little we could see here. Defensively, he was fairly average. His intensity seemed to waver on both ends of the floor and there were large stretches of the game where his presence was barely noticed.

Still incredibly young, Lamb obviously has plenty of time to continue to work on his all-around game. Judging by the fact that he's ranked as one of the top shooting guard prospects in the nation, it's obvious that he usually plays much better than this.

[Read Full Article]

---
2008 King James Classic: Top Perimeter Players
April 28, 2008
The silky smooth Lamb is known as one of the better pure scorers in the class of 2010, and while he didnít have a huge tournament at King James, itís quite easy to see why there has been so much praise surrounding him. Playing strictly on the wing, he is incredibly creative in terms of the ways he can put the ball in the basket. Lamb has a smooth handle that allows him to create space against defenders, whether it be for his gorgeous pull-up or one of his acrobatic drives to the rim. The long guard is able to keep opposing players honest with a respectable three point shot, but the strength of his arsenal is easily his game off of the dribble.

Doron will definitely have to bulk up over the next few years, given his slender 170 pound frame. Considering his lack of size, he will likely have to either grow or transition into being more of a combo guard eventually in order to maximize his potential. While he did show off flashes of playmaking skills at King James, it was tough to evaluate him as a point guard because he was playing off of the ball his entire time on the hardwood. Any way you look at it, Lamb is one of the elite guards that the class of 2010 has to offer, and has a very promising future ahead of him.

[Read Full Article]

---