Mouhammadou Jaiteh has emerged as one of the best international prospects in the 1994 age group. We investigate his game with a video scouting report, full evaluation, and interview.
-European Roundup: Leo Westermann's Gamble Pays Off
-European Roundup: Nemanja Nedovic Evolving in Lithuania
-European Roundup: Sergey Karasev Producing in Bunches in Russia
-European Roundup: Dennis Schroeder Shredding German Defenses
-European Roundup: Dubljevic Delivering Offensively in Spain
Scouting report by Jonathan Givony. Video Analysis by Mike Schmitz
The French second division (Pro B) is a league typically dominated by undersized American veterans, which most top young local prospects (with the exception of
Evan Fournier
) decide to skip as they seek out the best route to develop their skills long-term.
With a father hailing from Senegal and his mother a native of Gambia, Mouhammadou (Mam) Jaiteh was born in France. Despite picking up the game relatively late at age 13, his outstanding physical profile made him a fixture on the French junior national teams (U16 and U18) the past three years and earned him a coveted spot at
INSEP
(the National Institute for Sport and Physical Education), a government sponsored academy for top athletes in 24 (mostly Olympic) sports.
Upon finishing his time at INSEP, the 17-year old Jaiteh elected to take the same route
Evan Fournier
did, quickly establishing himself as one of the most productive players in Pro B, where he currently ranks 3rd in PER. He briefly flirted with the idea of enrolling in college (Gonzaga even brought him to the US for a visit) but decided against it eventually, preferring to spend his summer with the French junior national team, and even getting called to train with the senior team as a body for practice, where he reportedly held his own.
Video Analysis:
Jaiteh stands around 6-9 or possibly 6-10 in shoes and sports an unbelievable frame that already looks NBA ready despite the center only having turned 18 years old six weeks ago. He has long arms and huge hands, and is fairly mobile for a player his size. He runs the court well and is extremely agile, showing very nimble feet that allow him to cover a lot of ground quickly in pick and roll situations on both ends of the floor. With that said, he's not much of a leaper, as he seemingly struggles to get very high off the ground for dunks, lobs and blocked shots opportunities.
Where Jaiteh is at his best at the moment is as a rebounder, as he shows outstanding instincts pursuing loose balls with his long arms, quickness and soft hands, ranking highly in this category in Pro B on both a per-game and per-minute basis. He seemingly has even better potential in this area, as he's doing so without ever boxing out his opponent, getting all his rebounds purely on instincts and natural tools at the moment.
Offensively, Jaiteh is fairly raw, as you might expect considering his age, not showing a very high skill-level and clearly lacking much in the ways of experience. He has the frame to establish great position inside the paint with his strong frame, but doesn't really know what to do once he catches the ball, as he sports poor footwork and lacks great balance, something he can likely improve on with added lower body strength.
Nevertheless, Jaiteh will make some very interesting moves in the paint from time to time that hint at where his offensive game could be headed, as he shows terrific touch on his jump-hook shots and is able to convert plays with either hand, something you don't see very often from a big man his age.
His soft touch lends itself to the mid-range area, where he can make an occasional jumper and knocks down nearly 70% of his free throw attempts. He still has a long ways to go to become consistent in this area, as he'll readily admit, but seems to have some potential away from the rim.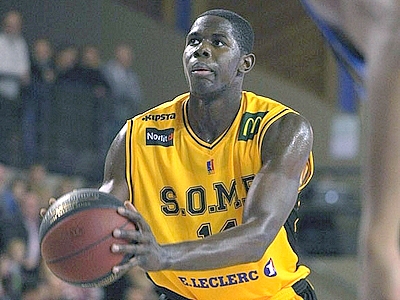 Where Jaiteh will have to improve the most to successfully make the transition to the NBA is on the defensive end, where he shows very poor fundamentals at the moment. He's rarely in a stance here, giving up post position too easily to opposing big men who know how to take advantage of his lack of experience and physicality. On the perimeter, he has a difficult time moving his feet to stay in front of skilled big men who attack him off the dribble.
Similarly, his off the ball defense is quite poor, and he rarely seems to know where to position himself to be in a spot to make a play, rotating haphazardly into the paint, or sometimes not at all. Jaiteh has the length to protect the paint much more adequately than he does at the moment, as he shows some nice instincts going after blocks at times, but it will likely take plenty of time and teaching to develop this part of his game.
What's more concerning is the lack of intensity he displays, as he seemingly looks bored at times or like he's just going through the motions. He doesn't always sprint back on defense if he sees a chance to conserve energy, and won't run up the court to join his teammates on offense if there's any chance he might not have to.
To Jaiteh's credit, this is something he acknowledges he needs to work on: "I'm working on being more aggressive. Being a killer in my mind. Playing harder every day."
Part of this has to do with the setting Jaiteh is playing in, as many games in the second division seem to lack any real intensity level, while the coaching often leaves a lot to be desired. Players with his background have a reputation for being somewhat laid back, and the bad habits he may be developing right now are the reason some younger French prospects have shied away from playing at this level in the past.
What's interesting is that Jaiteh gets great reports from everyone he's worked with regarding his character. By all accounts he's a very mature, composed, humble and well-liked by his teammates, which bodes well for his future.
According to what Jaiteh and his agents have told us, and despite being the same age as most high school seniors in the US, he plans on entering his name in the 2013 Draft and would like to come over to the NBA "as quickly as possible" in his words. Because he turns 19 in the calendar year of the draft (November 27th) he is eligible to do so if he chooses. A handful of NBA teams have already been out to see him in France, and he is reportedly on the shortlist of potential candidates to be invited to the Nike Hoop Summit in April.
Due to his extreme youth, and unique profile, there is obviously a bit of guess work involved in projecting a prospect of his nature. What he's showing in France thus far leaves a lot of room for optimism, though. Will he find a team that has the patience to develop him? And can they put a plan in place to work on his weaknesses, possibly in the D-League? Is that an intense enough setting for him?
It will be interesting to see how much Jaiteh can improve his explosiveness in the future, as it seems like he should be able to play above the rim on both ends of the floor much more frequently than he currently does.
Jaiteh suffered a stress fracture in his foot on December 23rd, which will keep him out for 4-6 weeks according to reports in France.
Video Interview: