A look at the prospects who helped themselves the most in the fourth day of games in the NCAA tournament.
Al Horford
puts together arguably his most impressive performance in a Florida uniform.
Wendell White
powers his way past Wisconsin, helping his draft stock tremendously along the way.
Julian Wright
holds serve amongst top prospects who are having excellent NCAA tournament runs so far.
Nick Young
helps take down
Kevin Durant
and Texas. And much much more.
NCAA Tournament: Stock Watch (round of 32, Sunday games)--Stock Down/Neutral
NCAA Tournament: Stock Watch (round of 32, Saturday games)--Stock Up
NCAA Tournament: Stock Watch (round of 32, Saturday)--Down/Neutral
NCAA Tournament: Stock Watch (round of 64, Friday games)--Stock Up
NCAA Tournament: Stock Watch (round of 64, Friday games)--Stock Down/Neutral
NCAA Tournament: Stock Watch (round of 64, Thursday games)--Stock Up
NCAA Tournament: Stock Watch (round of 64, Thursday games)--Stock Down/Neutral
Word on the Street: Dominic McGuire Declares for Draft
Dominic McGuire informed DraftExpress' Jonathan Givony that he will be officially declaring for the 2007 NBA draft this week. The extremely athletic Fresno State junior established himself as one of the most versatile players in the country this year-- averaging 13.5 points, 9.8 rebounds, 3.3 assists and 3.6 blocks—and putting up two triple-doubles on the season, the last of which came against Georgia in the NIT, in what could turn out to be his last game of his college career.

McGuire will be keeping his NCAA eligibility intact for now, although he states that he "fully intends on playing in the NBA next season." He will be working out over the next 9 weeks to prepare himself for the Orlando pre-draft camp, which he tentatively plans on participating in. He is currently projected as a late first-round pick on our 2007 mock draft. Despite playing power forward in college and being amongst the top rebounds and shot-blockers in the country, McGuire is considered an intriguing prospect due to his excellent frame, athleticism, passing and ball-handling skills, all of which should help him make a smooth transition to the wing. He will need to work on improving his perimeter shooting, as he made only 30% of his attempts from behind the 3-point line this year.
Stock Up:
Al Horford, 6'10, PF/C, Junior, Florida
Vs Purdue: 17 points, 9 rebounds, 3 steals, 1 block, 7-9 FG, 3-3 FT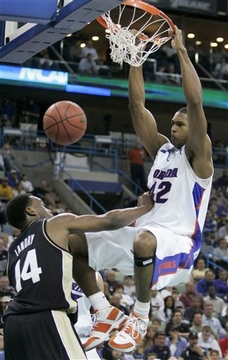 Joseph Treutlein
Al Horford had perhaps his best game ever in a Gators uniform, and it couldn't have come at a better time. In a very hard fought game that Purdue just wouldn't quit on, Horford came up big on the defensive end, on the boards, with a newfound touch around the rim, and with a little perimeter shooting as well.
Horford started the game off by hitting two mid-range jumpers, one of the spot-up variety from 15 feet out, and the next on a post-up from about 10 feet away, where he turned into his opponent and put up a quick jumper right in his face. Horford missed his next two mid-range jumpers, and then drifted out of the Florida offense for the remainder of the first half.
In the second half, Horford directed his offense to the painted area, where he really started to impress with a nice array of hook shots and a great touch around the basket. Horford started off by making a drop-step lay-up off the glass which he was also fouled on, then quickly came back down the floor to hit a fading hook shot from about eight feet out. He hit two more hook shots as the game went on, one of which he used the glass on. Horford has historically had trouble with his touch on finesse post moves outside of five feet, though he did an excellent job with that in this game.
Horford did a good job scoring the ball on offense, though his greatest contribution in this game was on the defensive end, where his versatility allowed him to make big plays for Florida both in the paint and on the perimeter. Horford and teammate
Joakim Noah
did an excellent job contesting shots in the painted area, often working together on double teams and post fronts to give the opposition fits. Horford refused to give up position in the post and did a good job getting his hands up to contest weak-side drives in the lane. His ability to step up on the perimeter was even more impressive, where he used his wherewithal, length, and lateral quickness to make steals and force turnovers, usually when stepping up to switch on screens. Horford made two key plays with the clock winding down in the game, the first coming at the conclusion of the first half where he stepped out on a screen to contest a would-be three-point buzzer-beater. Then with 25 seconds remaining in the second half with Florida just about sealing the game, Horford went on a one man full court press, sealing off Purdue's point guard and forcing the in-bounder to throw a turnover into
Lee Humphrey
's hands.
Horford also made great contributions with his tenacity on the boards, pulling down a lot of tough defensive rebounds in traffic and doing a good job boxing out on both ends. Horford did a good job in the passing game as well, kicking the ball out of the post when he didn't have anything to work with and making an excellent no-look assist out of a double team to teammate
Chris Richard
for a wide open jam.
Horford's numbers in the box scores haven't really improved much this season, but he has improved his stock as an NBA draft prospect by the way he's been getting things done, specifically in regards to his improved mid-range shooting and his touch around the basket, which has noticeably improved in the final weeks of the season and into the tournament. Horford currently projects as a mid-lottery pick in the upcoming draft, and as long as he continues playing the way he has been for the remainder of the tournament, he shouldn't have to worry about waiting long to hear his name called on draft day.
---
Wendell White, 6-6, Senior, SF/PF, UNLV
22 points, 3 rebounds, 1 assist, 1 turnover, 8-12 FG, 6-6 FT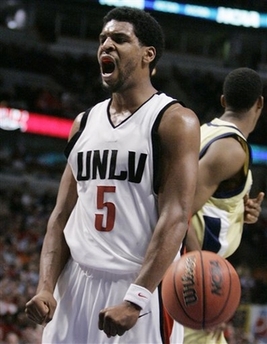 Jonathan Watters
The NCAA Tournament is a launching pad for the professional careers of a select few under-the-radar prospects every year, and one of 2007's strongest candidates is UNLV strongman
Wendell White
. Despite cracking the national polls on several occasions, the spotlight had yet to find White and the Runnin' Rebels before the first round victory over Georgia Tech. Heading into the game, many considered the Yellow Jackets' major advantage to be interior toughness – but it is now obvious that those prognosticators hadn't seen much of
Wendell White
this year.
And as it turns out,
Wendell White
, who looks and plays more like one of Sparta's "300" than your typical D1-caliber Small Forward, is quite the sight indeed. To gain better perspective on the toughness of this true warrior, all one must do is read this Las Vegas Review-Journal story describing a sequence of events that started with him being literally crushed while taking a charge. 12 stitches and a new jersey later (the old one was too bloody), White was back on the court keying UNLV to a win over conference rival Wyoming. Later, it was revealed that White also received a broken jaw from the hit. Your typical player might have hung it up for a few weeks, maybe even the season. But not White – the doctors wired his mouth shut, and he was on the court four days later. Do a bit more research, and you will learn that this was only one of a series of injuries White gutted his way through over the past four months.
The injuries explain the somewhat inconsistent playing time and production, but given what he did to a pair of fairly tough characters in Georgia Tech's
Jeremis Smith
and Ra'Sean Dickey in the first round, should his first half dominance of Wisconsin come as much of a surprise? White scored at will in the midrange, appearing equally at ease initiating a scoring attempt with his back to and facing the basket. His touch in the midrange is nothing short of superb, capable of fading away out of the post, spotting up, or facing the basket and creating his own shot with an impossible to block one dribble fadeaway. Even Wisconsin was playing a bit scared by the time the halfcourt buzzer sounded, and considering the makeup of players like
Alando Tucker
, Marcus Landry and
Joe Krabbenhoft
, this has to be considered quite the accomplishment.
While White would quiet down in the second half after several more impressive midrange scores early on, the tone was set in this one. The Badgers would make one run, but looked uncharacteristically tight the entire way, and coughed up the lead almost as quickly as they regained it. Their typical interior physicality and toughness was conspicuously absent the entire way. Now it would be foolish to equate Wisconsin's uncharacteristically soft performance with White's intimidator presence, but there is no doubting who set the tone early in this one.
Did we mention White was unable to conduct a post-game interview after the Georgia Tech win because of bruised ribs suffered before he scored the go-ahead basket with just over a minute to play?
Obviously, White still has major hurdles in front of him before a career in the NBA becomes assured. Despite being listed as a 6'6, 215 pound guard on UNLV's roster, White has the build and game of a power forward. He handles it well enough to do most of his damage facing the basket, but his shooting range is limited to a step or two inside the college 3-point line. And where his bulk helps him when it comes to the intimidation factor, it hinders his development as a pure wing. White can certainly slim down and gain a bit of explosiveness (much like
Craig Smith
did last summer), but it is hard to see him ever emerging as a true SF at the next level.
But looking at the recent success of players like Smith and
Ryan Gomes
, and the drafting of
Renaldo Balkman
in the first round a season ago,
Wendell White
may be able to find a niche in the NBA. His mastery of the midrange jump-shot is certainly a plus, and the "undersized PF" tag is a bit of a misnomer with the way he can create facing the basket. At the very least, White should have secured himself a spot in Portsmouth next month. Based on his play in the first two rounds of the tournament, it's probably safe to assume that White is dressing up his battle wounds right now, licking his chops for the opportunity to lock horns against a less than physically imposing Oregon frontcourt.
---
Julian Wright, 6'8, SF/PF, Sophomore, Kansas
Vs Kentucky: 21 points, 8 rebounds, 3 assists, 2 steals, 8-12 FG, 5-6 FT
Joseph Treutlein
Julian Wright had a very strong performance to lead Kansas into the Sweet Sixteen, showing the energy on defense and the boards that he's known for, while also having one of his better scoring games of the season.

Wright played a good game on the offensive end, scoring in multiple ways but not forcing the issue, always making a pass for an assist or a kickout to the perimeter if his lane to the basket was closed off. Wright, still pretty raw on the offensive end, is not known for his scoring abilities, but he got by well in this game, hitting a few mid-range jumpers and taking it to the basket on some strong right-handed drives. One of Wright's most impressive plays of the game was a drive down the right side of the lane in which he stopped on his pivot foot, quickly spun around, and buried a fade-away jumper from eight feet out. He also made two very athletic reverse lay-up attempts off the glass, one of which was in transition, but he wasn't able to convert either. Wright still needs to work on his perimeter shooting and dribbling abilities, but everything was clicking for him in this game.

Wright also played a good game on the boards at both ends of the court, showing off his tenacity and athletic abilities in doing so. He frequently soars over the opposition with his fully extended arms to pull down rebounds high in the air, and he did so many times in this game, while also doing a good job boxing out on the defensive end. On the offensive end he had one very impressive put-back off the glass where he seemingly came out of nowhere to out-leap the defense to get his hands on the ball.

Defensively, Wright was all over the place, showing off his versatile defensive abilities, his non-stop energy, and how he can put his physical tools to work. On one of the first plays of the game, Kentucky made an outlet pass from one side of the court to the other, and Wright tracked it down like a free safety, jumping up to pull it down in mid-air, then dribbling the length of the court to score the lay-up himself. Wright wasn't posted up much in the game, but when he was he did a good job holding his ground and getting his arms up, forcing the opposition into tough shot attempts. He was a constant force on the weakside as well, doubling in the post to force turnovers and stepping up on the perimeter to bother opposing guards.

Wright has a good chance of going in the early lottery should he declare for the draft this year, based mostly on his upside and excellent work ethic, but he may return to school to earn his degree, which he currently says he plans on finishing by the conclusion of his Junior year. This may be a risky move for Wright in terms of where he gets drafted, as his stock could decline if he doesn't meet expectations next season, but going back to college for another year could also put him in an easier environment to continue developing his offensive game, helping him become a better player in the long run. Still, with his rebounding, defense and all-around feel for the game, Wright already has a lot to contribute to an NBA team, so it's not as if he'd be glued to the bench if he came out this year.
---
Nick Young, 6-5, Shooting Guard, Junior, USC
20 points, 6 rebounds, 2 steals, 1 block, 7/12 FG, 4/4 FT
Mike Schmidt
For USC to play well in the NCAA Tournament, they needed big production from junior shooting guard
Nick Young
. Against Texas, his scoring set the pace for the Trojans, and they never looked back.
Early on, Young relied on his ball handling ability and footwork to knock down multiple fade-away jumpers from inside 12 feet. In terms of scoring, he can do it from inside and out. He knocked down a spot-up three pointer, which came as no surprise considering that he has made over 44% of his three point shots on the season. In addition, Young has the ability to get to the basket, or pull up from mid-range and knock down the jumper.
Physically, Young has a chiseled body, and good quickness and explosiveness. His combination of ball handling skilled and a quick first step make him a constant threat to slash to the basket. Defensively, he uses his size and athleticism to pressure opposing players, and rarely gets beat off the dribble. Though Young doesn't appear to have a great basketball IQ, he has a great feel for how to put the ball in the basket, in a style that looks tailor made for the NBA. He uses a series of crafty jabs and fakes to keep defenders off balance, and gives him a much better chance to finish over bigger defenders inside.
Down the stretch, Texas tried to apply full court pressure to create turnovers and try and cut into the large USC lead. Young handled the ball multiple times against the pressure, with great results. He displayed great awareness of where the defensive players were coming from, and was very tough with the ball when they tried to trap him. The mental and physical toughness Young displayed in the last 10 minutes of the game was just as impressive as his scoring barrage early on. Though his rebounding numbers have decreased from last season, he showed that he was more than willing to go inside and grab a rebound over a big guy, and he had two put-back attempts that he nearly made over multiple defenders in the paint.
Nick Young
has all the tools you look for in an NBA shooting guard, and will likely land in the mid-first round should he decide to enter his name in the draft this season. He has been inconsistent at times in the past, but his combination of physical attributes and all-around scoring ability will give him every opportunity to succeed at the next level.
---
Carl Landry, 6-7, Senior, Power Forward, Purdue
18 points, 10 rebounds, 4 assists, 5 turnovers, 3 steals, 1 block, 8-14 FG, 2-5 FT
Jonathan Givony
After having faced three major tests over the past two weeks-- Ohio State's
Greg Oden
, Arizona's
Ivan Radenovic
and Florida's duo of
Al Horford
and
Joakim Noah
—we can now say with some confidence that
Carl Landry
can match up with players who are bigger than him and still do what he does best. He's played extremely well in all three of those matchups, and has helped himself tremendously in the process. And although he might not even be the 6-7 he's listed at, Landry, that doesn't seem to bother him in particular from being productive and helping his team out.
Not a highly touted player out of high school, Landry had to go through the junior college ranks first before landing at Purdue. He clearly has a chip on his shoulder because of that, as it's clear that he is just as good of a basketball player as all the players he's matched up with lately, even if he doesn't have the size, athleticism and upside to be considered a top draft prospect.
Landry showed off his outstanding post game against two of the best defenders he's ever faced at the collegiate level. At times he had his shot blocked, but he kept going back for more and was rewarded for his efforts by his teammates on the way to an 18 point performance. He scores his points with a great combination of smarts, strength and finesse, establishing position deep in the trenches and carving out space from which to get his shot off. He has great hands, outstanding footwork and great touch around the hoop, as well as a sweet turnaround jumper he can go to if he can't back his man down. Landry also showed off somewhat of a perimeter game, coming off a screen and knocking down a one-dribble pull-up from about 16 feet out. Landry might never have to face two shot-blockers simultaneously of the caliber he went up against today in his entire career, but he still got his, mainly thanks to how patient he was with his moves and counters.
Defensively, things didn't go as well. He didn't respect
Al Horford
's mid-range jumper enough, and was punished for it on a couple of occasions. Horford also showed no mercy using his strength to just bulldoze his way through him on his way to the hoop, and Landry didn't show too much resistance, probably to avoid getting in foul trouble. Considering the fact that he was going up two projected top-5 picks, though, this is pretty understandable. He did do a good job as a rebounder against those two, pulling down an impressive 5 on the offensive end.
So where does that leave him as a draft prospect? That's a good question. The European leagues are littered with players in his mold (and he would be fantastic there), but the NBA has lately shown a fondness for the virtues of the undersized power forward as well. If we've learned
anything
over the past few years, it's that guys like this cannot be counted out. His numbers in college (19 points, 7 rebounds, 60% FG%) are similar or even better on a per-minute basis to those of
Craig Smith
's, a player he somewhat resembles, so at the end of the day it wouldn't shock us to see him doing well at the pre-draft camps and showing that he was being underrated coming out of college yet again, just like he was after junior college and high school.
---
Brandon Rush, 6'7, SG/SF, Sophomore, Kansas
Vs Kentucky: 19 points, 2 rebounds, 1 assist, 6-9 FG, 6-7 3PT
Joseph Treutlein
Brandon Rush did an excellent job knocking down three pointers for Kansas in their easy victory over Kentucky, doing a good job playing a complementary role for his team. All six of his three pointers on the game were of the spot-up variety, but one came in transition at high speed and about half of them were from NBA distance. His shooting stroke is effortless and smooth with a quick release to boot, and he did a good job drifting to open space and waiting for the ball to get to him so he could do what he does best.

You could frown on Rush for his one-dimensional performance and question why the rest of his box score looks so empty, but it's tough to take issue when his team won the game easily and he hit a remarkable six of seven three-point attempts. It's not that he didn't try to do anything else in the game, as he got the ball on the wing and attempted a few dribble-drives, but he chose not to force it into the Kentucky defense, which many times was a zone. Rush looked comfortable making strong dribbles with his right hand in the game, sometimes headed towards the basket, but aside from one badly missed floater on the baseline and one drive in which he drew a foul, he opted to pass the ball off on every drive attempt he made.

Rush is one of the most talented swingmen in this upcoming draft class should he decide to come out, but he could very well fall to the end of the first round if decision-makers buy into the notion that he won't ever be more than a complementary player. It's tough to get a gauge on whether Rush, a player with only two years of real coaching on an extremely talented team, is playing a complementary role due to his situation or because he just doesn't have that go-to player mentality. Rush would do his draft stock well to show off more dribble-creation abilities throughout the rest of the tournament, but he's in a tough situation where what his team needs most from him is just spot-up shooting from the outside, which is what he does best. If he doesn't come out of his shell more in the upcoming games, he will have a chance to do so at the Orlando pre-draft camp at the end of May, should he decide to attend it once again.
---
Mario Chalmers, 6-2, Sophomore, PG, Kansas
16 points, 3 rebounds, 6 assists, 4 steals, 2 turnovers, 5-8 FG, 3-4 FT, 3-5 3P
Joey Whelan
Mario Chalmers
put together a fantastic all around performance in helping top seeded Kansas get past Kentucky and into the Sweet 16. The sophomore showed his full array of talents on both ends of the floor, and most importantly for him, was very efficient with the basketball on offense.
Things got started almost immediately for Chalmers by hitting a pair of threes in the games first two minutes. The first one was a bomb from the left wing with a hand in his face, a shot that he has shown he is not afraid to take. Chalmers picked up a couple of other baskets thanks to his tireless work on the defensive side of the floor. The speedster did a fantastic job anticipating passes, picking off two and taking them the other way for easy points. The ball hawk would finish with 4 total steals, another great performance from the Jayhawks' top thief. He does a fantastic job sticking with his man and not getting beat off the dribble. His hands are extremely quick, which makes him one of the top players in the Big 12 in picking up steals.
With 6 assists, this was one of Chalmers' better games distributing the ball. He spread the ball in every way manageable: driving and kicking, skipping over the top to open teammates and the perimeter, and two particularly flashy alley-oops to
Julian Wright
. With so many talented teammates around him, Chalmers should have more performances of this kind, even if he has to share the ball-handling duties with
Russell Robinson
.
Chalmers really impressed with his overall contribution to Kansas's win on Sunday. He didn't overwhelm on the offensive end, but he didn't have to with big games coming from
Brandon Rush
and
Julian Wright
. He moved the ball well, and played great defense. Games like this are what make Chalmers so appealing to NBA scouts. He still needs to work on shot selection a little, and should start having assist numbers like he did against Kentucky, rather than the 3 he averaged per game this season. Only a sophomore though, Chalmers still has plenty of time to develop on improve his point guard abilities.
---
Gabe Pruitt, 6-5, Guard, Junior, USC
10 points, 8 assists, 6 rebounds, 1 turnover, 2/8 FG, 5/6 FG
Mike Schmidt
has always been known as a player with great talent, but that talent was overshadowed this year too often by inconsistent and out of control play this year. Against Texas, he played a very impressive game in terms of handling the lead guard role, something that helps his stock tremendously when considering that that will be his natural position at the next level.
Pruitt used his quickness well to get into the paint, and showed the ability to break down the defense and find the open man on more than one occasion. In the past, he has always struggled with attempting the spectacular play over the simple on, but he kept things under control against Texas, working the ball around slowly in the offense, and pushing the ball in transition only when there was a numbers advantage. Texas tried to pressure Pruitt in the backcourt on numerous occasions, but he passed it off to the open man when trapped rather than trying to dribble through it.
Pruitt didn't score the ball as proficiently as he has in the past from the field, but he has plenty going for him in this area. From behind the three point line, he can knock down the open jumper when set, and he has a crossover that allows him to create separation against anybody. At the basket, acrobatic finishes are not a rarity for Pruitt, who has an explosive vertical leap and great body control when he commits to attacking the basket, something that he at times shies away from in favor of settling from long-range jumpers.
Defensively, Pruitt did a great job staying in front of
D.J. Augustin
in this game, using his size, length and quickness to bother him into possibly his worst performance of the season. He was even matched up with
Kevin Durant
at times, and showed excellent determination trying to contain him, even though he was giving up almost half a foot in size to him. This is another area that he has been highly inconsistent in throughout his time at USC, so it was encouraging to see him put this kind of effort in.
Pruitt has the talent and athleticism to play in the NBA, but he will need to continue to polish his point guard skills. If he chooses to return for next season, he could benefit greatly from sharing ball handling duties with OJ Mayo. He has a major test coming for him next week against the speed and depth of North Carolina's backcourt, so USC will need him at his absolute best to have a chance to advance.
---
Taj Gibson, 6-9, Power Forward, Freshman, USC
17 points, 14 rebounds, 4/11 FG, 9/14 FT
Mike Schmidt
Freshman forward
Taj Gibson
has been a force on the USC front line this season, giving them an inside presence that they lacked last year. Against Texas today, Gibson displayed what he has to offer at this point, though he will still have to make a few improvements before he is ready for the next level.
Gibson used his great length effectively on the glass against USC. In addition to a great wingspan, he uses good leaping ability and positioning to make himself an effective rebounder. In terms of offensive touch, he struggled a little bit against Texas, but he has displayed some good skills in this area. He can step out and hit the mid-range jumper, and also handles the ball well enough to take slower players off the dribble. Gibson also scores points with his back to the basket, using above average footwork and coordination to get points on the block.
At this point, some people view Gibson as a guy with limited upside, largely due to the fact that he is a 21 year old freshman in college. Despite being 21, his body lacks bulk at this point, though he does have a good frame to add weight to. To help his draft stock, he will need to further polish his touch inside as well.
It would probably be best for Gibson to spend time in the weight room over the summer, and try his lucks with the draft after next season. USC is adding a strong recruiting class around an already good team, and they will have a chance to be one of the best teams in college basketball next season.
---
Deron Washington, 6-7, Junior, Small Forward, Virginia Tech
15 points, 6-12 FG's, 5 rebounds, 2 blocks
Jonathan Watters
While it wasn't exactly a pretty showing for Virginia Tech, one player who acquitted himself quite nicely isn't headed out of town quite yet. That would be third year wing
Deron Washington
, who has quietly emerged as an intriguing professional prospect. Washington will never be the smartest or craftiest player on the court, but has found more ways to contribute as his career has progressed. The core of Washington's appeal is his downright freakish athleticism; legitimate bounce realistically comparable to that of an
Eddie Robinson
or
Stephen Jackson
.
Just like Robinson, Washington's biggest issues currently show up in his lack of strength. For every play Washington is able to make thanks to his extreme length and quick leaping ability, there are two where he loses half a step because of his inability to get physical. Nonetheless, his wiry athleticism and reach allows him to make plays that the average wing athlete wouldn't even bother to attempt. His length and lift alone allowed him to average 1.2 blocks and 1.0 steals per game in 2007. He very much looks the part of an NBA wing streaking down the court and finishing over defenders in fast break situations, or slashing to the basket and hanging in the air for acrobatic half-court scores. Washington's outside jumper is still quite inconsistent, but looked very much improved in the first round win over Illinois when he knocked down two crucial 3-pointers to get the Hokies back into the game. He was the lone Virginia Tech player able to create much of anything against SIU's machine-like team defense, slashing to the rim for several nifty scores.
With Dowdell and Gordon out of eligibility, 2008 will be a major opportunity for Washington to break out. He must continue to improve his ball-handling and shooting consistency, and add enough strength that he can take a bit of contact when creating his own offense. His court sense is improved, but he still must learn to avoid the occasional mental lapse at the wrong time. It is easy to see Washington as the type of player who thrives in the supporting role he was in this year, but probably won't ever thrive as the go-to scorer Greenberg is now in search of. With that said, Washington has improved to the point where continued steps in the right direction could allow him to emerge as a standout in the ACC and a legitimate NBA Draft prospect.