Scouting reports on
Jonathan Isaac
,
Wenyen Gabriel
,
Kostas Antetokounmpo
and
Justin Jackson
(Canada).
---
More DX Nike Hoop Summit Coverage:
-Nike Hoop Summit Scouting Reports: Wings
-Nike Hoop Summit Scouting Reports: Guards
-Nike Hoop Summit Interviews: Harry Giles and Jonathan Isaac
-Nike Hoop Summit USA Junior National Select Team Measurements
-Nike Hoop Summit Interviews: DeAndre Ayton + Kostas Antetokounmpo
-Nike Hoop Summit: US Team Practice Day One
-2016 Nike Hoop Summit: World Team Practices Days Two and Three
-2016 Nike Hoop Summit: International Measurements
-2016 Nike Hoop Summit International Roster Breakdown/Preview
-2016 Nike Hoop Summit USA Basketball Roster Breakdown
---
Jonathan Isaac, 6' 10.5", SF/PF, Florida State, 2016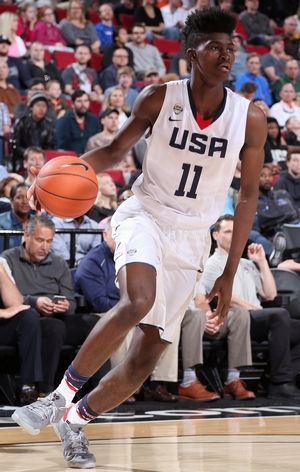 Strengths
-Great size and reach for a combo forward – 6' 10.5" with a 7' 1.25" wingspan and 9' 0.5" standing reach. Solid base considering how thin he is up top.
-Super fluid for his size. Good athlete who can play above the rim in space, especially off two feet.
-Excellent feet defensively. Can get in a stance and keep the ball in front vs PnR or switch ball screens. Fairly comfortable stepping out and guarding wings.
-Projectable shooting stroke. Solid mechanics. Range out to the college 3-point line. Can make a pull up jumper.
-Shows flashes of aggression going to the rim. Excellent ball handler for his size. Makes an effort to mix in slight hesitations.
-Improved passer.
-Made an effort to get in on the glass and rebound in traffic despite his frame. Reach and quick leaping ability allow him to go up and get boards.
Weaknesses
-Hasn't improved his upper body much in the last six months or so. Doesn't have a huge frame.
-The game is still slowing down for him. Too anxious with the ball at times. Wastes dribbles.
-Inconsistent shooting stroke. Rotation isn't always tight. Ball doesn't always come out all that smoothly. Upper body can be a bit stiff. Can improve both off the dribble and in catch and shoot situations.
-Doesn't handle contact very well around the rim. Fairly right-hand dominant.
-Gets posted up on defense.
-Not very vocal on the floor
-Very inconsistent overall.
Outlook
Isaac has about as high of an upside as any player to participate in the 2016 Nike Hoop Summit. The former guard's combination of tools and skills make him very intriguing long term, although he's still a ways away from putting it all together. Isaac had both brilliant and forgettable moments in practices, and didn't have a major impact in the game – fitting given the inconsistency that somewhat characterizes him as a prospect. But the IMG forward will certainly have a chance to shine at Florida State, and a strong season could very well vault him high into the draft come June of 2017.
Wenyen Gabriel, 6'9, Power Forward, Wilbraham and Monson HS, South Sudan, Committed to Kentucky
Jonathan Givony

Wenyen Gabriel was up and down in his week in Portland, having a difficult time finding a niche in his very first USA Basketball experience. His best moments came when he was banging inside the paint with his excellent motor and knack for coming down with offensive rebounds, but with his very underdeveloped frame (197 pounds), he wasn't always able to stay effective going up against the many bigger and stronger players he encountered.

Gabriel is particularly weak in the lower body, and his frame will likely take considerable time to fully mature. He's a good, but not great athlete, on top of that, as he's not exceptionally explosive, even if he does have solid length.

Offensively, Gabriel is not overly skilled, relying mostly on his energy to get the job done. He can make an occasional spot-up 3, showing decent touch on his jumper, but is not terribly consistent with this part of his game. He plays very sped up when forced to create his own offense, and shows questionable awareness and decision making skills at times. He seems more effective operating off the ball where his motor and length can make up for his limitations as a ball-handler.

Defensively, Gabriel has some limitations due to his frame, but plays incredibly hard to compensate. He flies around and will put his body on the line to try and make his presence felt, but at times looks a step slow with his awareness.

Highly intelligent off the court, and reportedly a superb worker, Gabriel is clearly on a different trajectory than other players his age, as he's a very late bloomer who wasn't considered a high-level prospect until very recently. He struggled at times in Portland, but has a chance to emerge as an excellent college player at Kentucky, where he'll be forced to work on his body and skill-level and learn more about his limitations.
Kostas Antetokounmpo, 6'10, Power Forward, Dominican HS, Greece, Uncommitted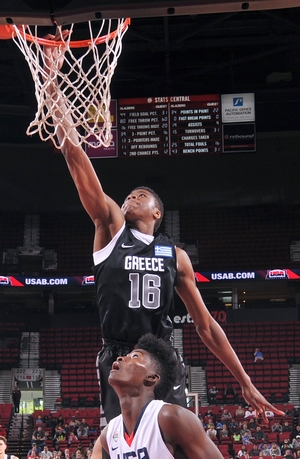 Jonathan Givony
Expected to play a minor role as the 12th man on the roster, Kostas Antetokounmpo received more of an opportunity once power forwards Lauri Markkanen and Thon Maker withdrew from the event, and combo forward Justin Jackson was injured.
Still at an early stage of his development both physically and skill-wise, Antetokounmpo has intriguing tools to build off, standing nearly 6'10 in shoes with a 7'2 wingspan and a frame that should fill out nicely in time.
Offensively, Antetokounmpo mostly fills in the blanks as a secondary option, being a pass-first player who likes to operate off the ball. He showed some potential as a shooter in drills, as the ball comes out of his hand nicely with good rotation, but is far from translating that to game-settings at this stage. His ball-handling skills are very rudimentary, mostly relegating him to straight line drives in transition, but he has some interesting passing ability he displays at times.
Defensively is where Antetokounmpo has much more of an impact at this stage. He has the size and length (but not yet the strength) to defend big men, but is quick enough to get out on the perimeter and defend most forwards and wings, which gives him tremendous versatility on that end of the floor. He's highly instinctive finding blocks and steals, and brings a solid intensity level, even if his lack of strength and experience shows at times.
Heading to college this fall, Antetokounmpo is somewhat of a project, but has very intriguing tools that can be harnessed into something really interesting with the right coaching and skill-development. It will take him time to fill out and figure out his niche on the floor, but is someone NBA teams will be monitoring due to his tools as well as his pedigree as the third Antetokounmpo.
Justin Jackson, 6'7, Small Forward/Power Forward, Hill Academy (Ontario), Canada, Committed to UNLV
Jonathan Givony

A player who has been on the radar since he was a 15-year old playing up at the U17 World Championship nearly four years ago, Justin Jackson was hampered by a nagging groin injury that relegated him to just 3 minutes in the game and made it difficult for him to show his best over the course of the week.

Jackson had some of the most impressive measurements seen from anyone at this event on either roster, standing 6'7 with an outrageous 7'3 wingspan, a 229 pound frame and gigantic hands. While not freakishly athletic, he's easily big enough to play power forward at pretty much any level, and may even be able to operate as somewhat of a small-ball 5 in the Draymond Green mold.

Jackson's perimeter shooting is one of the biggest keys to his ability to develop into a high-level NBA prospect. He shoots a set shot with a long and slow release and tons of arc underneath his jumper, but has a reasonably compact and consistent stroke that goes in at a decent rate. He still looks a ways away from developing into a prolific outside shooter, but at least has a framework to build off with the right coaching and work ethic.

Jackson has always been a solid ball-handler, and he was very aggressive looking to push the ball in the open floor and get to the basket. He has a solid first step in the half-court as well, even if he's not the most advanced ball-handler you'll find, as is still figuring out the nuances of creating high-percentage looks for himself and his teammates off the bounce. He tends to just lower his shoulder and attack the defense in a straight line regardless of what's in front of him, even though his passing ability seems to have improved over time and he can create a bit for others in drive and dish situations.

Defensively, Jackson has great tools with his strength and length, and is willing to put the effort in to get stops. He shows good instincts on the glass, in the passing lanes and even blocking shots on occasion, which could help him develop into a multi-positional defender in time as his feel for the game and experience-level improves with better coaching.

While somewhat under the radar after playing at a small school in Canada this past season, Jackson is very much an interesting prospect still who could make a significant impact at the college level as a freshman. He's currently committed to UNLV, but the recent coaching change may change things still, and there's little doubt he would get offers from anywhere in the country should he elect to reopen his recruitment.