The US team tipped off its preparation for the 2016 Nike Hoop Summit (Saturday, noon PST, ESPN2) on Wednesday with two practices, a morning session at St. Mary's Home for Boys and an evening practice across the street from the Trailblazers practice facility.
---
More DX Nike Hoop Summit Coverage:
-2016 Nike Hoop Summit: World Team Practices Days Two and Three
-2016 Nike Hoop Summit: International Measurements
-2016 Nike Hoop Summit International Roster Breakdown/Preview
-2016 Nike Hoop Summit USA Basketball Roster Breakdown
---
Head coach L.J. Goolsby and his staff heavily emphasized both defensive and offensive principles in the morning session, namely pick and roll coverages and offensive concepts. Usually a fairly loose session, the USA team practiced with great attention to detail and high intensity on both ends of the floor as this loaded roster prepares to avenge last year's loss to
Ben Simmons
,
Skal Labissiere
,
Jamal Murray
and company.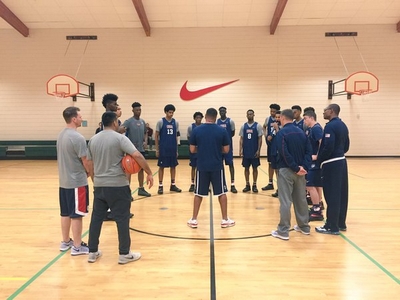 The evening session featured much more up and down 5-on-5 play, with 2016 Florida State signee
Jonathan Isaac
stealing the show. At 6-10 with a projectable jumper, impressive fluidity and explosiveness, and the ball skills of a wing, Isaac is one of the most versatile players on this USA squad.
Operating as a perimeter-oriented four man, the Bronx, New York native knocked down a handful of catch and shoot threes, displaying excellent shot preparation, balance and touch. His rotation can be a bit inconsistent overall, but he's shot the ball with extreme confidence through two sessions and continues to make great strides in that area since the first time we wrote about him in June of 2015.
Despite fairly average length (7' 0" wingspan)n Isaac was very active on the glass, leaping for rebounds in traffic and showing the ability to ignite the break. He exploded for a two-handed flush over
Josh Langford
in the half court, the highlight of a few athletic plays he made on the day. Having been a bit anxious as a decision maker in the past, Isaac seems more under control on the move and looks improved as a passer through two practices.
On the defensive end, he's very comfortable stepping away from the perimeter to hard hedge or switch ball screens. Isaac still has a long ways to go with his body as he's very thin up top, but he most definitely showed why he has about as much offensive upside as any player on the USA team.
Washington signee
Markelle Fultz
also impressed with his combination of scoring and distributing. At 6' 4" with a 6' 8.5" wingspan, big hands and a nice frame, Fultz has the tools and game to play either guard spot, although he shined most as a primary ball handler on Wednesday. He's slippery with the ball thanks to his ability to change speeds and directions on a dime, and plays with a level of creativity you don't often see among kids his age.
Fultz is a capable shooter off the catch and does a tremendous job setting up his pull ups with hesitations, sudden dribble moves and solid footwork. Although more smooth than explosive, he's crafty around the rim, often employing wrong foot floaters to keep the defense off balance. Futlz also showed impressive vision and timing as a passer, and made plays in the passing lanes with his length. He continued to prove why he's considered one of the top guard prospects in the 2016 class.
6' 10" center
Jarrett Allen
also had a nice evening session protecting the rim, holding his own against
Marques Bolden
in the post, crashing the offensive glass, and running the floor.
There's nothing flashy about Allen's game, but he plays within himself, has great hands, solid touch around the basket, a developable frame, outstanding length (7' 4.5" wingspan), and tremendous timing as a shot blocker. He's more long and quick off of his feet than vertically explosive, but Allen has all of the makings of a rim-running, shot blocking center and is most certainly an intriguing prospect moving forward.
With 11 of its 12 active players ranked in the RSCI Top 25, this group is widely considered one of the deepest and most talented classes in recent memory. They clearly hold a massive talent advantage over the World Team as both squads prepare for Saturday's game, and have brought a much bigger sense of urgency than we've seen in years past.