Three days of practices are already in the books in Portland, as the World Team gets ready for their highly anticipated matchup with Team USA on Saturday (noon Pacific, ESPN2).
---
More DX Nike Hoop Summit Coverage:
-2016 Nike Hoop Summit: International Measurements
-2016 Nike Hoop Summit International Roster Breakdown/Preview
-2016 Nike Hoop Summit USA Basketball Roster Breakdown
---
Late withdrawals by power forwards
Thon Maker
and
Lauri Markkanen
forced Nike to scramble for a replacement, which arrived today in the form of Nigerian center
Udoka Azubuike
(who has appeared overwhelmed so far).
Things looked very rough early on for the World Team, as they usually do considering the diverse nature of the roster and the distance these players traveled to be here, but the group had their best practice on Wednesday evening in front of well over 100 NBA executives, including dozens of high-level decision makers at the Trailblazers practice facility outside of Portland.
While this roster is noticeably missing much of the star power we've become accustomed to in recent years, which saw the likes of
Karl Towns
,
Emmanuel Mudiay
,
Clint Capela
,
Joel Embiid
,
Andrew Wiggins
,
Dennis Schroeder
,
Ben Simmons
,
Dante Exum
,
Dario Saric
,
Jamal Murray
, and many more, this group does seem to have some nice chemistry building already between the fairly evenly matched players. Coach Roy Rana seems pleased with the way the team has picked up the different concepts and plays he's trying to instill on both ends of the floor, so it will be interesting to see how things will translate on Game Day.
Unfortunately, the World Team is both as shallow as we've seen in years from a talent perspective, and in the unenviable position to have to face one of the most loaded US teams we've ever seen assembled for this event, which in the eyes of many neutral observers, may end up leading to a blowout on Saturday.
Any advantage the World Team finds will have to start with what they have inside, which is a group of tall and physically mature players that are both willing and able to bang inside the paint.
That will probably start with SMU commit
Harry Froling
, who while certainly not the best long term prospect, has taken the reigns as their most productive and important player early on in the practices we've been able to take in.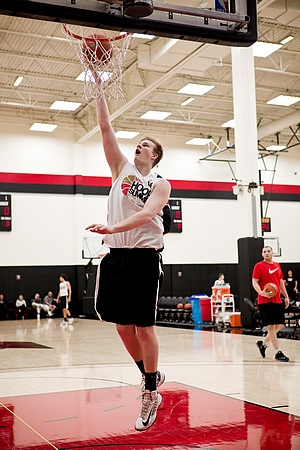 The first impression you get of Froling is that of his body, which is extremely poorly conditioned at the moment and in turn has caused him to draw significant skepticism from the NBA scouts in attendance about the extent of his long term upside. Still, you can't help but admire how effective he's been able to be thus far in spite of that. Whether it's scoring inside the post with crafty footwork and turnaround jumpers, crashing the offensive glass with terrific timing, getting in the passing lanes with excellent anticipation skills, or even creating off the dribble and tossing in nifty floaters, Froling defies initial expectations for what he should be able to accomplish on the basketball floor with his outstanding skill level, feel for the game, and competitiveness.
At 261 pounds, Froling has a long ways to go before he'll be able to play the type of defense
Larry Brown
will likely expect from him, and he has indeed shown to be somewhat on the lazy side on that end of the floor with the lackadaisical attitude he displays towards stepping out on the pick and roll, getting a hand up on shooters, or rotating over the weakside for blocks. Part of that is due to his body, part his lack of lateral quickness and explosiveness, and part simply the fact that he's young and doesn't realize how to play hard on every possession. Still, there's no question he picked the right coach to help him improve on that part of his game.
Drawing comparisons to the likes of former Hoop Summit participants
Milan Macvan
,
Enes Kanter
and
Nikola Jokic
, Froling will play a huge role in any success the World Team is able to have on Saturday.
Come back tomorrow for more on the rest of the World Team roster, as we study up on the likes of key contributors
Isaia Cordinier
,
William McDowell-White
,
DeAndre Ayton
,
Justin Jackson
,
Edin Atic
and
Martynas Varnas
and try to get a better feel for what they will able to bring on Saturday.