Justin Jackson
Recent Tweets
All Tweets
DraftExpress2: Justin Jackson has done wonders for himself recently. Not a lot of freshman prospects put it together midseason like he has.
2015-03-26 21:46:10
DraftExpress: Not really his day. But looks like he's been working on his shooting mechanics. That's huge for him. RT @_Marc_W how did Justin Jackson do?
2013-04-13 16:59:34
DraftExpress: Australian Ben Simmons is the most recognizable name but guys like Justin Jackson Lovro Mazalin Stefano Pino & Thon Maker have hype too.
2013-04-09 13:04:36
DraftExpress: Guys I interviewed: Zhou Qi, Jahlil Okafor, Dante Exum, Ilimane Diop, Justin Jackson, Tyus Jones, Damien Inglis, Moataz Hosny #fibau17
2012-07-08 05:11:55
DraftExpress: Justin Jackson tells me that UCLA is "his dream school." Here's some free advice for Ben Howland: offer this kid a scholarship right now.
2012-07-07 08:27:28
Predraft Measurements
| Year | Source | Height w/o Shoes | Height w/shoes | Weight | Wingspan | Standing Reach | Body Fat | No Step Vert | Max Vert |
| --- | --- | --- | --- | --- | --- | --- | --- | --- | --- |
| 2015 | Nike Skills Academy | NA | 6' 8.5" | 200 | 6' 10" | NA | NA | NA | NA |
| 2013 | USA Basketball | NA | 6' 7.5" | 201 | 6' 11" | 8' 6" | NA | NA | NA |
| 2013 | LeBron James Camp | NA | 6' 8" | 189 | 6' 9.5" | NA | NA | NA | NA |
| 2013 | Kevin Durant Camp | NA | 6' 8" | 189 | 6' 9.5" | NA | NA | NA | NA |
| 2012 | LeBron James Camp | NA | 6' 7" | 173 | 6' 9.5" | NA | NA | NA | NA |
| 2012 | Kevin Durant Camp | NA | 6' 7" | 173 | 6' 9.5" | NA | NA | NA | NA |
| 2011 | LeBron James Camp | NA | 6' 7" | 168 | 6' 9" | NA | NA | NA | NA |



Basic Per Game Statistics

- Comprehensive Stats - Statistical Top 25s
| Year | League | Name | GP | Min | Pts | FG | FGA | FG% | 2Pt | 2PtA | 2P% | 3Pt | 3PtA | 3P% | FTM | FTA | FT% | Off | Def | TOT | Asts | Stls | Blks | TOs | PFs |
| --- | --- | --- | --- | --- | --- | --- | --- | --- | --- | --- | --- | --- | --- | --- | --- | --- | --- | --- | --- | --- | --- | --- | --- | --- | --- |
| 2015/16 | NCAA | Justin Jackson | 6 | 29.7 | 14.7 | 5.7 | 11.2 | 50.7 | 4.7 | 7.3 | 63.6 | 1.0 | 3.8 | 26.1 | 2.3 | 3.5 | 66.7 | 1.8 | 2.7 | 4.5 | 3.7 | 0.7 | 0.5 | 1.0 | 2.3 |

Player Page&nbsp&nbsp| Player Stats | Mock Draft History | Related Articles&nbsp&nbsp| Add to My Draft Express&nbsp
&nbsp
Top NBA Prospects in the ACC, Part 3: Justin Jackson Scouting Video
October 9, 2015
Mike Schmitz continues our coverage of the top NBA prospects in the ACC with a video scouting report of the #3 prospect in the conference, North Carolina's Justin Jackson.
---
More DX Conference Preseason Previews:
-The Top 20 NBA Draft Prospects in the Pac-12
-The Top 20 NBA Draft Prospects in the Big East
-The Top 15 NBA Draft Prospects in the Big 12
-The Top 20 NBA Draft Prospects in the SEC
-The Top 10 NBA Draft Prospects in the AAC
---
Top NBA Draft Prospects in the ACC


-Top NBA Prospects in the ACC, Part One


(#1) Brandon Ingram (Scouting Video)


Top NBA Prospects in the ACC, Part Two


(#2) Demetrius Jackson (Scouting Video)
---



(#3) Justin Jackson, Sophomore, Small Forward, North Carolina



Strengths:


Weaknesses:


Mike Schmitz is the video analyst for DraftExpress. Follow him on twitter and check out his archive. He will be breaking down the NBA draft in digital format all year long for us.

[Read Full Article]

---
Nike Academy Scouting Reports: College Small Forward Prospects
July 3, 2015
Mike Schmitz

Over the course of the camp, the 6' 8.5" North Carolina wing proved to be the most offensively polished small forward out of a very talented group of wings. Jackson has excellent natural scoring instincts and is capable of getting buckets from all over the floor.

He showed his high basketball IQ with his passing ability (3.3 assists per 40 pace adjusted as a freshman), fluidity with the basketball driving in a straight line and attacking closeouts, and lethal mid-range pull up/floater game off the dribble.

Jackson played with the ball quite a bit and looked comfortable putting it on the deck going both right and left. Although he doesn't always get all the way to the rim, he uses his size to rise up over his defender and knock down contested pull up jumpers with relative ease. Jackson shows an excellent feel for the game as he rarely plays outside of himself and forces up bad shots or tries to make plays that aren't there.

While the Houston, TX native impressed with his smooth scoring ability, he didn't answer many of the questions surrounding his shooting range. Jackson is deadly as a jump shooter inside the arc but really lacks consistency when he stretches it out to the 3-point line. Jackson's mechanics get a bit stiff as he incorporates a somewhat violent dip of the ball and doesn't quite the rotation you would hope for from a player with such soft touch inside the arc. Becoming a more consistent threat from behind the arc will be an important part of Jackson's development.

On the defensive end, Jackson has some room to develop as well. Although he has solid length for his position (6' 10" wingspan), Jackson has a thin, hunched frame that limits his ability to guard stronger forwards. Jackson is also a bit hunched in his stance and struggles to consistently contain penetration versus quicker wings.

Jackson moves well enough to eventually develop into an adequate defender, especially given his 6' 10' wingspan, but it will be interesting to see how the 20-year-old's body develops as it will play a big role in his ability to defend stronger wings and finish through contact offensively. With all of that said, Jackson's size, scoring instincts and feel for the game make him an attractive option as a draft prospect, possibly as early as this upcoming year.

[Read Full Article]

---
NCAA Tournament NBA Draft Prospect TV Schedule: Saturday
March 20, 2015
Freshman Justin Jackson has been playing some of his best basketball as of late, shooting the ball well from the perimeter (14/33 for 3 in his last 10 games) after a very slow start to the season (9/52 in the first 25 games). Jackson's cold shooting and overall average play early on had extinguished any talk of him as an early-entry candidate despite coming into the year with the pedigree of a top-10 high school recruit, but continuing to perform well in the month of March could change things, particularly since he is a little older than your average freshman, turning 20 next week.

[Read Full Article]

---
2015 Basketball Without Borders Camp Roster Analysis
February 5, 2015
Jackson emerged on the radar after averaging 11.3 points per-game for Canada as a 15 year old at the 2012 FIBA U17 World Championships. A 2016 recruit out of Findlay Prep committed to UNLV, Jackson is a strong, aggressive scorer who excels in the open floor. Scouts will be interested to see how his skill level has matured in recent seasons, as he elected to skip the U17 World Championship last summer. His extremely well developed frame made him a bit of an early bloomer physically, and it will be interesting to see how his perimeter game has evolved since the last time we saw him, especially now that he is listed as being 6-8.

[Read Full Article]

---
2014 McDonald's Video Interviews: Justin Jackson and Devin Booker
April 26, 2014
[Read Full Article]

---
High School Class of 2014 Scouting Reports, Part Three- the Wings
September 5, 2013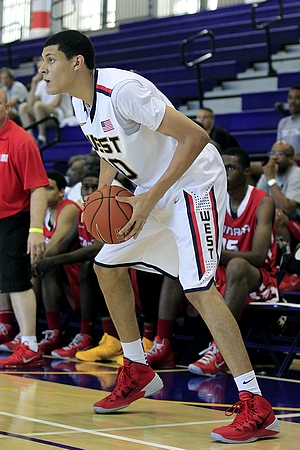 US Presswire



Jonathan Givony

Recruiting Rankings: 247: #12, ESPN: #8, Scout: #7, Rivals: #10
Committed to North Carolina

Strengths:
-Very good size for a small forward. Measured 6-8 in shoes
-Terrific scoring instincts. Can put the ball in the net from anywhere on the court. Extremely efficient
-Excellent perimeter shooter. Very good mechanics. Can make shots with feet set or off the dribble
-High release point on jumper allows him to get shot off with ease
-Can make tough turnaround jumpers inside the post
-Very soft touch on his floaters. Very effective in-between game with his crafty runners
-Highly intelligent, mature, team player
-Excellent passer. 2.5/1 assist to turnover ratio at the Nike EYBL

Weaknesses:
-Very frail frame. Weighed just 189 pounds in July. How much stronger can he get, especially in the lower body?
-Doesn't have amazing length (6-9 ½ wingspan) relative to his size
-Average athlete. Does not possess a great first step or overwhelming explosiveness
-Struggles to finish around the basket due to poor strength/explosiveness
-Lacks toughness? Avoids contact in the lane.
-Average motor on defense. Doesn't make much of an impact in the passing lanes or as a shot-blocker. Upright in his stance, and does not possess great lateral quickness
-Lacks some assertiveness at times
-A little bit old for his class. Turns 19 in March

Outlook: Extremely skilled small forward with a strong basketball IQ. Lacks the athleticism and aggressiveness you typically see from a player so highly. Did not perform that impressively in any of the settings I evaluated him, particularly compared with many of his peers at his position.

[Read Full Article]

---