Scouting Reports of the top prospects seen at the Nike International Junior Tournament in London, including
Alberto Abalde
,
Mario Hezonja
,
Damien Inglis
,
Dusan Ristic
,
Nedim Buza
,
Marc Garcia
and
Doko Salic
.
Alberto Abdale, 6-7, Shooting Guard, Joventut, Spain, 1995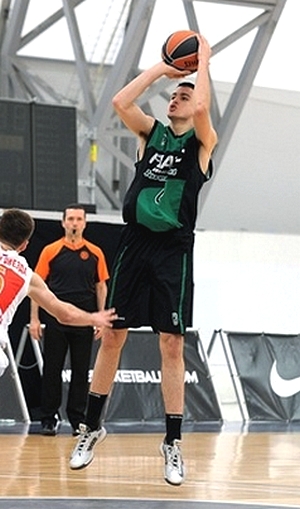 Jonathan Givony
Strengths:
-Excellent size for a wing player at 6-7. Has long arms and a strong frame that should fill out nicely in time
-Phenomenal basketball IQ for a player his age
-Very good outside shooter. Shot 18/42 (43%) from beyond the arc in nine NIJT games. Can make shots with feet set or off the dribble. Great mechanics on jumper
-Brings ball up floor and initiates offense regularly. Knows how to get teammates involved
-Can create his own shot driving left or right. Good ball-handler with a solid first step. Can play some pick and roll
-Can post up smaller defenders
-Picks his spots wisely on the floor
-Very good instincts as a rebounder. Always in the mix for loose balls
-Very aware team defender. Puts a strong effort in. Comes up with plenty of steals
Weaknesses:
-Average athlete by NBA standards
-May struggle to create shots at the rim in the half-court against better defenders. Creates mostly to pull-up off the dribble. 48% 2P% at NIJT.
-Only got to the free throw line 13 times in 232 minutes at NIJT
-Lateral quickness appears average. Can he defend quicker small forwards at next level and beyond?
Outlook:
Extremely intelligent and versatile all-around prospect. Doesn't blow you away on first glance but does a little bit of everything on the court and has great role-player potential. Combination of size, shooting and feel is hard to come by. Doesn't turn 18 until December so still has plenty of time to continue to improve.
Mario Hezonja, 6-6, SG/SF, Barcelona, Croatia, 1995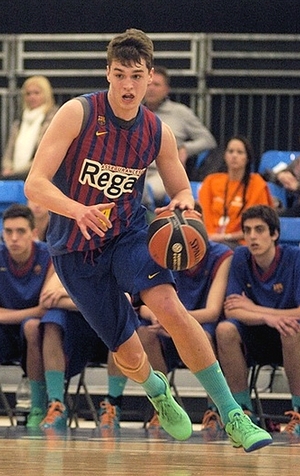 Jonathan Givony
Strengths:
-Terrific size, frame and athleticism for a wing prospect
-Can make shots from anywhere on the court, with feet set, off the dribble, and with a hand in his face
-Creates separation from defender very well and has excellent shooting mechanics
-Very good in transition
-Can beat man off the dribble in half-court with excellent first step, and then finish over the top of the defense
-Shows intriguing court vision, especially off the pick and roll. Threads needle to diving cutters with bounce passes for layups
Weaknesses:
-Looked disconnected mentally from his teammates, and from the game in general. Constantly talking to opponents. Seems to lack focus on the court
-Struggles operating within a team concept. Only really looks comfortable in isolation or pick and roll settings
-Goes too many possessions where he dribbles the ball incessantly and then settles for a contested pull-up jumper
-Needs to improve ball-handling skills in half-court. Doesn't change speeds or directions. If can't simply blow by his man, immediately pulls up off the dribble
-Struggles defensively off the ball. Shows poor awareness
Outlook:
One of the top prospects in the world in his age group based on sheer talent. Has already seen minutes in the ACB and Euroleague with Barcelona's senior team. Struggled badly with his shot-selection and all-around decision making throughout the NIJT. Shot 5/39 from beyond the arc in the seven games he played, and only got to free throw line 18 times. Averaged over 5 turnovers per-40. Showed poor body language as well. Team seemed to be much better off when he was on the bench. No one doubts his talent, but more and more doubts are creeping in as to whether his poor mentality will prevent him from reaching his tremendous potential.
Damien Inglis, 6-7, Small Forward, INSEP, France, 1995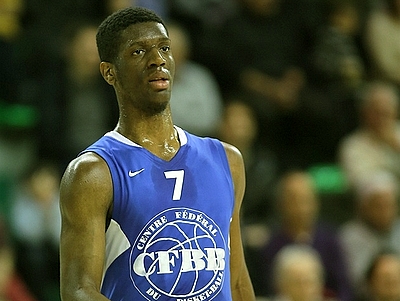 Jonathan Givony
Strengths:
-Has terrific physical attributes for the wing at 6-7, with a very mature and strong frame, long arms and excellent athleticism
-Tremendous potential defensively. Has the wingspan, frame, intensity level, lateral quickness and instincts to stay in front of virtually any player. Guarded every position in the games we saw
-Playmaker on defense who racks up blocks, steals and rebounds with regularity
-Excellent feel for the game. Reads the defense. Very good court vision. Unselfish. Makes the extra pass
-Can play some pick and roll and find the open man
-Drives both left or right
-Very difficult to stop driving down the lane at the junior level as he's just too strong to stay in front of
-Very effective in transition. Unselfish enough to pass ahead but also strong enough to take the ball himself and score
-Can make an open 3-pointer (averaged one made 3-pointer per game at the NIJT, and also in French league)
-Has a bit of a post game. Looks for contact on his finishes
Weaknesses:
-Must improve perimeter shooting. 7/26 (27%) from beyond the arc at the NIJT. Possesses poor mechanics, shooting ball on way down and giving him a very inconsistent release point
-Doesn't always defend as well as he can. Doesn't get into a stance. Lets opponents blow by him
-Lacks experience. Decision making isn't always the best
Outlook:
Likely the most interesting long-term prospect seen at the NIJT. Has ideal size for a wing, but saw plenty of time at point guard or power forward or even center depending on the matchup. Posted a triple-double in one outing and came close in others. Not quite as effective in London as he was in Belgrade due to foul trouble. Needs to improve his outside shot to continue to progress as a prospect. May need to revamp shooting mechanics. Has a very mature frame that already looks ready for senior-level basketball. Needs experience, good coaching.
Dusan Ristic, 6-11, Center, Red Star Belgrade, Serbia, 1995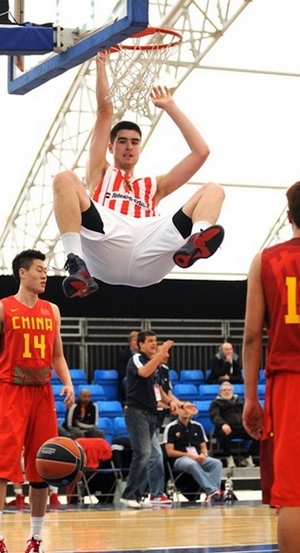 Jonathan Givony
Strengths:
-Has very good size at 6-11, possibly 7-0, with extremely long arms
-Improved frame
-High basketball IQ and excellent skill-level for a big man
-Can score with his back to the basket. Decent footwork and nice range on jump-hook
-Finishes with both hands around the rim
-Can make a mid-range jumper
-Good passer
-Presence inside the paint defensively thanks to long wingspan
-Terrific rebounder at this level of competition (14.1 per-40 at NIJT)
Weaknesses:
-Below average athlete. Lacks quickness and explosiveness in a serious way
-Poor open floor speed
-Struggles to finish around the rim in traffic due to limited leaping ability. Rarely dunks the ball
-Effort level can be questionable at times. Not a fiery or intense personality. Lets smaller players take loose balls right out of his hands at times
-Lacks toughness inside the paint. Doesn't seem to love contact
-57% FT% at NIJT. 42% in Serbian league
-Doesn't always show up in the big games
Outlook:
One of the best prospects in his age group in Europe. Big man with superb length and a very high skill-level. Has done a good job adding weight to his once-skinny frame. A relatively poor athlete who may struggle to translate his dominance at the junior level versus men. Disappeared once again when his team needed him most in a crucial game (last year versus Rytas, this year versus Joventut). Still early in his development, but will likely need to improve toughness to overcome his average athleticism and become a legitimate NBA big man.
Nedim Buza, 6-8, Small Forward, KK Spars, Bosnia, 1995
Jonathan Givony
Strengths:
-Excellent size for a small forward at 6-8. Long wingspan. Strong frame
-Solid athlete. Good quickness and agility
-Excellent perimeter shooter. 42% for 3 at NIJT on 6.5 attempts per game. Shoots the ball with ease. Quick release
-Can attack the basket with either hand in a straight line. Gets very low on drives
-Very good scoring instincts
Weaknesses:
-Average ball-handler in half-court. Right hand dominant. Doesn't change speeds or directions well.
-Not always strong with the ball. Doesn't love contact around the basket seemingly. Struggles finishing in traffic
-Does not appear to be the toughest player around
-Average scorer inside the arc. Just 45% from 2P%. Doesn't get to free throw line at great rate
-No real mid-range game yet
-Not a great defender at this stage
Outlook:
Considered one of the top prospects in Europe in his age group. Has a very good physical profile for a small forward. Very good shooter. Limited in many aspects still. Lack of experience playing against good competition was very evident. Needs to keep improving ball-handling skills and develop a tougher mindset to use his physical tools inside the arc.
Marc Garcia, 6-6, Shooting Guard, Barcelona, Spain, 1996
Jonathan Givony
Strengths:
-Solid height for a wing player
-Shows tremendous scoring instincts (17.4 points in 25.7 minutes per game at the NIJT). Very aggressive offensive player
-Outstanding perimeter shooter (47% 3P% at NIJT). Can make shots with feet set or off the dribble
-Can come off screens
-Punishes close-outs by attacking the rim hard
-Has a nice first step and a good knack for drawing fouls and getting to the free throw line
-Finishes creatively around the basket with either hand
Weaknesses:
-Very skinny at the moment. Possesses somewhat of a narrow frame
-Gets pushed around by older players. Struggles to finish through traffic at times
-Defensive potential a question mark
-Needs to improve passing skills and ability to create for others. Only dished out two assists in 231 minutes.
Outlook:
Exceptionally talented young scorer. Looks like a baby but has a killer's mentality. Comes on the floor looking to put up points, but doesn't force the issue and plays within a team concept. Lack of strength affects everything he does at the moment, but he just turned 17 two months ago so he still has plenty of time to work on his frame.
Djoko Salic, 6-10, Center, KK Spars, Bosnia, 1995
Jonathan Givony
Strengths:
-Solid height for a center at around 6-9 or 6-10. Good length. Very strong frame
-True inside player. Gets deep post position and finishes around the basket effectively
-Draws a ton of fouls
-Terrific rebounder. Great hands. Very instinctive on the glass. Pursues loose balls. Moves opponents around with strong frame
Weaknesses:
-Average athlete. Not very quick or explosive. Not a great floor runner. Needs to improve conditioning
-Struggles to score if he can't simply bully opponents and catch the ball around the rim. Doesn't have very advanced footwork. Somewhat mechanical with his decisions
-Needs to improve ability to step outside the paint and make a mid-range jumper
-Average basketball IQ. Somewhat of a black hole. Rarely passes ball. Dished out just two assists in 254 minutes compared with 37 turnovers.
-59% free throw shooter
-Poor defender. Not a presence inside the paint (2 blocks in 254 minutes). Struggles to step outside on the pick and roll. Limited lateral quickness and explosiveness.
Outlook:
Brute interior scorer. Very strong and aggressive interior player who can simply bully players around at this level of competition. Has solid potential at the senior level thanks to his strong frame and excellent hands, but must continue to round out his game by improving his skill-level, conditioning and basketball IQ.