Continuing to explore the behind the scenes world of the free agent market, we take a look at the just-as-intriguing (at times) world of the European transfer market, which represents a true hierarchy of "haves" and "have-nots". The top guns of the Euroleague continue to reload thanks to massive budgets-- rivaling their NBA counterparts at times—while we continue to see some of the top international players move to the NBA—and the players they replaced on rosters move to Europe. A more disturbing trend has to do with the recent trend of American players and their clubs buying or acquiring Eastern European passports – a true win-win situation for both parties involved, but extremely damaging for the moral integrity and competitive nature of the sport.
The Trans-Atlantic Express
Even if the trend was more prolific last summer—with players like
Anthony Parker
(Maccabi Tel Aviv-->Toronto),
Shammond Williams
(Barcelona-->LA Lakers),
Maceo Baston
(Maccabi Tel Aviv-->Indiana)
Jorge Garbajosa
(Unicaja Malaga-->Toronto), Yakhouba Diawarra (Climamio Bologna-->Denver), Vassillis Spanoulis; (Panathinaikos-->Houston), Lynn Greer (Napoli-->Milwaukee) and others taking their wares West-ward and signing (or resigning) in the NBA, there was still some notable activity to speak of on this front. This ties in well with the "NBA is full" topic we touched on in the following article, serving as one of many reasons why there are very few roster spots available this summer.
From Europe to the NBA:
-
Luis Scola
finally got his wish by signing a 3-year, 7.5 million dollar deal with the Houston Rockets—a steal anyway you look at it.
-
Kareem Rush
is back in the NBA after a short 6-month stint with Lietuvos Rtyas. He signed a one-year guaranteed minimum contract for $895,341 with the Indiana Pacers.
-Casey Jacobson is another former first round pick who found NBA guaranteed money after spending time overseas. He signed a one-year guaranteed minimum contract (for $798,328) with the Memphis Grizzlies after playing for Tau Vitoria (made the final four) and Brose Bamberg (named MVP) over the last two years. Jacobson passed up a contract offer for more than twice the money in Turkey (with David Blatt's Efes Pilsen) to play in Memphis.
-
Awvee Storey
might be one of the more unlikely stories of the summer. After being kicked out of the D-League last year for punching teammate
Martynas Andriuskevicius
in the head during practice—fracturing his skull and nearly ending his (or maybe both?) career in the process, the 29 year old Storey finished the season in Germany with Braunschweig—where he averaged 11 points per game on 41% shooting. Storey then went into summer league with the Milwaukee Bucks and played extremely well, landing himself a 2-year guaranteed contract, with a team option on the second year. Not much karma to be found in this story, even if Andriuskevicius did fall on his feet somewhat by signing on to play with Rudy Ferandez and DKV Joventut in the ACB recently, although it's still on a trial basis.
-The head-scratching signing of the summer probably belongs to the Golden State Warriors, who paid the improbable amount of 4.7 million dollars for the right to sign
Kosta Perovic
for three years, not including the $500,000 they contributed to his buyout. It doesn't appear that
Chris Mullin
has learned much from the mistakes he made signing
Adonal Foyle
and drafting
Patrick O'Bryant
. Under certain circumstances, a slow, soft and skinny 7-footer like Perovic might have been able to play as a third string center on some half-court, slow it down teams, but never for
Don Nelson
. The Warriors heard that Perovic was close to signing with Unicaja Malaga, and apparently panicked and overpaid for him.
-After seeing three solid years of continuous improvement from
Marcin Gortat
, the Orlando Magic finally decided to bring him over to the NBA, with a two year deal for the minimum. Slightly over half of the 1.13 million dollars over two years is guaranteed, and the rest becomes fully guaranteed on August 1st, 2008.
-The Pistons decided to make an investment for the future by guaranteeing super-scout Tony Ronzone's 2006 draft pick
Cheick Samb
two full years for 1.13 million dollars.
-The Miami Heat have paid $140,000 so far for the rights to bring 6-8 freakishly athletic rebounder
Marcus Slaughter
into vet camp to fight for a roster spot. Slaughter left school with a year of NCAA eligibility remaining before going undrafted in 2006…but fully made up for that with an excellent rookie season in Turkey, averaging 13 points and 10 rebounds per game with Pinar Karisyaka. Slaughter is clearly destined for European stardom if the NBA adventure doesn't work out this summer…Benetton Treviso realized that for example and offered him $500,000 net to sign with them.
-The Heat also spent $90,000 to bring
Devin Green
into camp. Green started the season off in the D-League last year, but decided to jump to Germany for the tail-end of the Euroleague season to play for RheinEnergie Koln. He's a very athletic 6-7 shooting guard with nice ball-handling and passing skills.
-Our favorite signing of the summer was Memphis trading away a heavily protected first round pick for the rights to
Juan Carlos Navarro
. Since Memphis was very close to being out of cap space at that point, they could only offer Navarro slightly under $600,000 to sign with them for one year. He also deferred most of his buyout to Barcelona for at least one year, besides the $500,000 Memphis was allowed to kick in. This is a high risk/high reward type proposition for both parties, as Navarro could have a monster year and then command the mid-level exception or more for multiple seasons—which would make him look like a genius for leaving Barcelona. Or he could fall on his face or even worse…meaning he left millions of dollars on the table for a maybe. Memphis will have to hope that they don't lose Navarro (and the first round pick they traded) in restricted free agency for nothing next year regardless.
-Just a side-note…
Andres Nocioni
showed us this summer exactly what the upside is for high-level players of his stature (like Navarro for example) to leave the Euroleague for the relative uncertainty (transition-wise culturally and in terms of playing time) of the NBA. He signed a 6 year contract with the Chicago Bulls for $45,000,000. Any way you slice it, that's far more than any team in Europe could have paid him.
From the NBA to Europe
Last year we saw a parade of players like Arvydas Macijuaskas (New Orleans--> Olympiacos), Sergei Monia (Sacramento--> Dynamo Moscow),
Mario Kasun
(Orlando--> Barcelona),
Alex Acker
(Detroit--> Olympiacos),
Jiri Welsch
(Milwaukee--> Unicaja Malaga),
Zoran Planinic
(New Jersey--> Tau Vitoria),
Tony Delk
(Detroit-->Panathinaikos) and others opt for a bigger role and more money to play for high-level teams in Europe.
While last year's theme might have been "the NBA isn't as cool as I thought" for European players, this year's theme would probably lean more towards Americans thinking "wait, so I can make more and shoot as much as I want?"
Those players who might have had that thought cross their mind include:
DeMarr Johnson [Benetton Treviso],
Lawrence Roberts
[Olimpiacos],
Pape Sow
[Rieti] P.J. Tucker [Hapoel Holon], James Singleton [Tau Vitoria],
Will Blalock
[Hapoel Jerusalem],
Bracey Wright
[Aris Saloniki],
Rafael Araujo
[Spartak St. Petersburg],
Dajuan Wagner
[Prokom],
Shammond Williams
[Pamesa Valencia],
Qyntel Woods
[Olimpiacos],
Jared Reiner
[Murcia] and the mighty
Luke Schenscher
[Brose Bamberg].
Darrick Martin
we're told will sign soon with CSKA Moscow temporarily to allow them to conduct normal practices while their four point guards Nikos Zissis, J.R. Holden,
Anton Ponkrashov
and Theo Papaloukas play at the European championships.
Amongst the "malcontent" Europeans searching for more glory back home, we find:
Ersan Ilyasova
[Barcelona],
Vassilis Spanoulis
[Panathinaikos], Zelko Rebraca [Pamesa Valencia],
Martynas Andriuskevicius
[Joventut] and
Uros Slokar
[Triumph Lyubertsy—formerly known as Dynamo Moscow Region]
The Year of the Passport
Where there are rules, there will be loopholes…and where there are loopholes to be exploited, you'll usually find seedy clubs and agents at the forefront taking full advantage. One of the biggest problems American players might have is that the European leagues just aren't opening their doors quickly enough for them, as many still have restrictions on the amount of import players (specifically Americans) that teams are allowed to sign. Consider two of the most important leagues on the European market—Spain and Greece—who both only allow two American players per team in their first division.
How can you get around that you might ask, oh unscrupulous one? With a European Union passport of course! Most leagues have nominal limitations on the amount of local and/or Bosman A (read: European Union citizens) who can sign for each team, which significantly drives up the price of local/European players and creates great competition amongst the cream of the crop. The point is to protect the local players and not create a situation where a small town in Italy, France or Spain for example is forced to get behind and cheer for a team of (gasp!) strictly Americans—making the league lose its "culture" and significantly hurting the development of local players and thus, the national teams. It comes as no surprise that last year's World Championship was played between the two countries with the strictest rules on import players—Spain and Greece.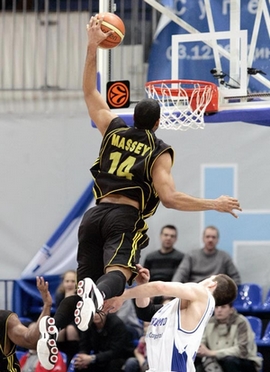 [c]Not many Slovakians jump like this[/c]
Where there's a will, there's a way, though, and the entry of 12 new countries to the European Union over the past three years—mostly from poorer Eastern Europe—created a situation where at best, passports can be had for those willing to play for a weaker national team, or at worse, one can be had for those willing to pay enough (50-80k)—often put together in collaboration with clubs, such as Aris Thessaloniki for example.
Shammond Williams
' passport from the Republic of Georgia might have opened up the floodgates, and we've since seen players such as [former Aris Thessaloniki player]
Mike Wilkinson
(Macedonia), [Aris Thessaloniki player]
Jeremiah Massey
(soon to be "Slovakian"), [former Aris Thessaloniki player]
Ryan Stack
(Macedonia), [Aris Thessaloniki player] Terrell Castle (Bosnia), [former Aris Thessaloniki player] Kevin Fletcher (Macedonia), Roderick Blakney (Bulgaria),
Henry Domercant
(Bosnia), Melvin Sanders (Georgia), Tyrone Ellis (Georgia), just to name a few, and many more to come from what we hear…for example
Mike Batiste
and
Keydren Clark
who are being discussed as candidates to receive Bulgarian passports, which
Mario Austin
refused, while
J.R. Bremer
and Lance Williams both have options to get a Bosnian passport from what we were told.
Will FIBA or ULEB put an end to this loophole by imposing tighter criteria on the way passports are handled in club play and the national teams? Or will the loophole be exposed even further, creating a scenario of haves and haves-nots...agents and clubs who have the connections, loose pockets and lack of moral integrity to pay off Eastern European government officials, and national teams who have no problem giving passports to hired guns just for the sake of winning a few more games in preliminary rounds and possibly making the European championships or the Olympics.
Look no further than the ongoing battle being conducted right now for the last spot in the European Championships, where two of the final three candidates to qualify (everyone except Israel) have essentially resorted to cheating in order to improve their chances. On FYROM/Macedonia's roster we find an intriguing player named Majkl Vilkinson, who happens to look a lot like
Mike Wilkinson
and seems to have been born on the same day as him too… The Bosnians are also relying heavily on a hired mercenary—Terrell Castle of Aris Thessaloniki (Wilkinson's told team).
Speaking of Aris, they took the interesting step of hiring former Georgian national team coach Gordon Herbert this summer. This seems to be a match made in heaven from many different perspectives, as Herbert seems to be another in a long line of Aris personnel who can acquire a passport for a player just by snapping his fingers—as he showed by making Melvin Sanders a citizen of the Republic of Georgia on demand when he needed him to circumvent the quota of Americans and play in the French League with Pau Orthez.
On that note, we'd like to congratulate Garden City, Michigan native
Jeremiah Massey
for finally receiving his Slovakian passport. Aris gets to add a 4th American player—
Reyshawn Terry
—to their roster, while the rest of the Greek league is forced to settle for two. Aris also got Massey to extend his contract for another two seasons, likely part of the agreement for helping him become a proud citizen of Slovakia. This makes plenty of sense for him, since he could be a million dollar player (or close to it) by the time he's finished with Aris, all thanks to his new paperwork. His ex-teammate
Mike Wilkinson
just did that by using his Macedonian passport to sign with Russian squad Khimky this summer.
We'll explore the traditional European market moves later this week.