We continue our coverage of the top NBA Draft prospects outside the power six conferences with scouting reports on prospects 4-7:
Zach Collins
,
William Lee
,
Malik Pope
and
Tacko Fall
.
---
More DX Conference Previews
-The Top NBA Draft Prospects in the Big East
-The Top NBA Draft Prospects in the Pac-12
-The Top NBA Draft Prospects in the Big 12
-The Top NBA Draft Prospects in the SEC
-The Top NBA Draft Prospects in the Big Ten
-The Top NBA Draft Prospects in the ACC
---
Top NBA Draft Prospects in the Rest of the NCAA
(#1) Shake Milton (Scouting Video)
(#2) Cameron Oliver (Scouting Video)
(#3) Alec Peters (Scouting Video)
---
#4, Zach Collins, 7'0, Freshman, Center, Gonzaga
Without the benefit of extensive high school footage, we prefer to wait and see how Collins performs as a freshman before adding to his DraftExpress profile.
#5, William Lee, 6'9, Junior, Power Forward, UAB
Jonathan Givony
Named Mr. Basketball in the state of Alabama as a high school senior, William Lee committed to UAB over a handful of SEC schools (and Wichita State), making him one of the most highly touted recruits to sign at the school in some time. He made an instant impact, starting almost every game as a freshman and
memorably making
the eventual go-ahead basket in UAB's upset of #3 seed Iowa State in the NCAA Tournament, catapulting him into NBA scouts' and the national consciousness.
Lee made incremental progress as a sophomore, named to Conference USA's All-Conference Third team, while being awarded Defensive Player of the Year honors. His scoring and shot-blocking improved, but his efficiency dropped, particularly as a 3-point shooter, where he was unable to sustain the blistering 45% he converted in a small sample size as a freshman, making a still respectable 35% of his attempts. UAB went 16-2 in conference play, but lost in the semi-finals of the Conference USA Tournament, which relegated them to the NIT, where they lost in the first round to BYU.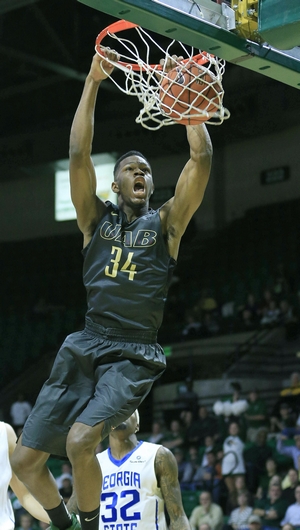 Listed at 6'9, and 209 pounds by UAB, Lee has a long lanky frame that is somewhat narrow, particularly in the lower body, which hampers him at times on both ends of the floor. He does not possess exceptional length, measured with approximately a 6'11 wingspan, although his narrow shoulders belie what appears to be a fairly good standing reach. Lee is a very good athlete, running the floor well, very light on his feet, and quick to get off the ground for dunks and blocks. There may still be some room for him to improve his athleticism even more as his frame fills out, which has been somewhat of a slow process considering he turns 22 in January.
Lee's most interesting attribute from a NBA standpoint revolves around his jump-shot, an increasingly valuable quality for a 6'9 player to possess in today's style of play. He has good shooting mechanics, complete with a smooth and high release point, making him a fairly consistent option in pick and pop situations with range out past the 3-point line.
Lee's confidence as a shooter (and as a whole in fact) comes and goes at times, as he converted just 65% of his free throw attempts last year, and will look very off-balance in his lower body on some of his 3-point attempts. Nevertheless, his touch and ability to throw the ball in the hoop is unmistakable, and represents a significant part of the equation in his NBA evaluation.
Not someone who is going to create a huge amount of offense on his own, for himself or others, Lee rarely emerges as a volume shot creator, either facing, or with his back to the basket. He flashes some ability to attack a closeout in a straight line, showing a quick first step and long strides, but doesn't really have the advanced ball-handling ability to do much more than that at this stage. NBA teams may also want to see him improve his just-average passing ability.
Capable of playing above the rim with his ability to elevate quickly and smoothly off the ground, but often preferring to toss up a floater (which he possesses very soft touch on), Lee lacks a degree of strength and toughness with his finishes. He gets knocked off his spot easily, and tends to avoid contact at times, not getting to the free throw line at a very high rate. Getting stronger will help him here, as will improving his level of physicality and aggressiveness.
Defensively, Lee has excellent tools, and is already somewhat of a difference maker at the Conference USA level utilizing his ability to cover ground, big standing reach, and quickness getting off the floor as a weak-side shot-blocker. His 4.4 blocks per-40 last season tied for the third best rate among all returning collegiate prospects in our Top-100 rankings. He shows impressive timing and pursuit as a rim-protector, often recovering from great vantage points to make plays at the rim.
With that said, outside his shot-blocking prowess, Lee still has a ways to go to be able to translate his defensive prowess to higher levels of competition, as his fundamentals, technique and overall feel for the game are still a work in progress. He falls asleep frequently in his stance operating off the ball, losing his focus and being a split-second late to react to things that are occurring on the floor. He doesn't always take the best angles guarding the pick and roll, and can be very jumpy in one on one situations, gambling for steals and blocks and getting caught out of position on the defensive glass in turn.
The NBA is increasingly focused on multi-positional defenders, and it remains to be seen if Lee has the discipline to guard much quicker forwards and wings on the perimeter, or bigger, longer and stronger big men in the post. In the short term, NBA teams will want to see him improve on his rebounding prowess, as he's under 10 rebounds per-40 for his career thus far.
Lee ticks a number of boxes NBA teams are looking for in power forward prospects with his ability to play above the rim, shoot 3-pointers and block shots, so he will certainly be monitored closely during his junior season. Despite turning 22 in January, he has quite a bit of room for growth still physically and skill-wise, and a more consistent season (and possibly a return to the NCAA Tournament) could put him firmly on NBA radars.
#6, Malik Pope, 6'10, Junior, Small Forward, San Diego State
Matt Williams
One of the most enigmatic prospects in the college game, Malik Pope averaged 5.3 points and 4.3 rebounds per game through the end of February, getting off to a very slow start before coming on a bit at the end of the regular season. Pope subsequently played his best basketball in the postseason, averaging 12.3 points and 7.3 rebounds per game in the month of March as San Diego State fell to Fresno State in the MWC championship game before making it to the NIT semi-finals. A tremendously gifted but very inconsistent prospect, the Laguna Creek HS (CA) product's play late in the year was a promising sign, but he still has a lot of room to grow to reach his lofty potential and solidify himself in the eyes of NBA scouts.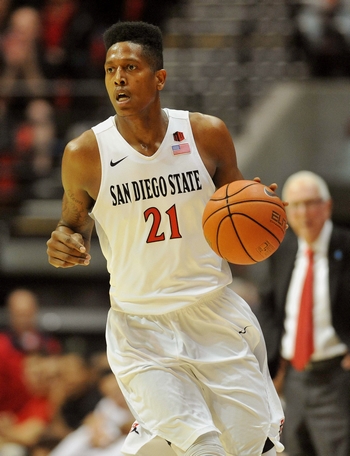 It isn't hard to see what makes Pope such an intriguing prospect, even on first glance. Listed at 6'10 with a 220-pound frame and 7'2 wingspan to go along with terrific fluidity for his size, the Sacramento native is blessed with an outstanding combination of physical tools for either forward spot.
Averaging a below average .836 points per possession over 8.5 possessions per game as a sophomore, despite his strong finish, Pope played a minor, but versatile role for the offensively challenged Aztecs off the bench for much of the year. Doing most of his damage as a spot up shooter, but also given opportunities to create his own shot one-on-one from the perimeter and in the post, Pope was an x-factor for a San Diego State team that excelled on the defensive end and benefitted immensely on the nights he was scoring the ball effectively.
The challenge for Pope was, and continues to be, putting things together consistently on the offensive end. Lacking a great feel for the game and possessing just average basketball instincts, Pope is nonetheless tantalizingly gifted from a skill perspective. Connecting on 39% of his catch and shoot jumpers and 42% of his pull-ups, Pope is a very capable perimeter shooter with good range, however, he often simply flicks the ball at the rim rather than following through, leading to some very erratic misses. Struggling through extended cold streaks as his mechanics are inconsistent and resemble more of a fling at times, Pope still flashes the ability to spread the floor, making shots off the dribble over the defense in isolation, and even score in pick and pop situations, which at his size, is certainly enough to keep the interest of NBA scouts through his ups and downs.
Surprisingly smooth putting the ball on the floor, tossing in hooks in the post, and finishing explosively above the rim in transition or for tip dunks on occasion, Pope truly does shine at times offensively. Unfortunately, his aversion to contact makes it difficult for him to make his impact felt with any kind of regularity. Shooting just 41% around the rim in the half court, Pope's lack of toughness leads to him tossing up difficult floaters on the move from the midrange instead of attempting to draw contact and score in close. Attempting a paltry 1.4 free throw attempts per game last season, Pope's ability to become more aggressive and rely less on his touch to score is a point of interest moving forward, as he has a lot of room to improve as a finisher.
Posting an assist-turnover ratio of just .72 and pulling down just 1.8 offensive rebounds per-40 minutes pace adjusted, Pope's feel for the game is a work in progress as well. The 20-year-old is still early in his development of understanding how to make the most of his unique skills and impressive athleticism, disappearing at times and making baffling decisions with the ball. Given San Diego State's dearth of reliable scorers, scouts will be paying keen attention to how Pope asserts himself as a junior, as he'll have no shortage of opportunities to emerge as their top option.
Defensively, Pope is an intriguing and impactful player when he's motivated and competing. His combination of length, quickness, and leaping ability allow him to make some impressive plays blocking shots, defending smaller players on the perimeter, and cleaning the glass. However, much like on the offensive end, his lack of physicality and inconsistent motor makes it difficult for him to defend the post and stay in front of his man as often as you'd like.
Maligned by NBA scouts at times for his poor conditioning and overall approach to the game, the 2016-2017 season will be a critical one for Pope's NBA prospects, as he looks to rebound from a disappointing sophomore season. The talent is obviously there for him to emerge as a viable prospect, but his inability to impact games consistently is a real concern. The departures of Skylar Shepard, Winston Shepard, and Angelo Chol open up a void for the Aztecs inside and whether Pope is able to fill it is worth keeping an eye on moving forward.
#7, Tacko Fall, 7'6, Sophomore, Center, UCF
Josh Riddell
Cleared by the NCAA just
a day before his freshman season started
, Tacko Fall was able to seamlessly incorporate himself back into the UCF rotation after missing nearly a week of pre-season practice to be a productive rotation player. Now the tallest player in the NCAA by several inches after UC Irvine's Mamadou Ndiaye declared for the NBA Draft, the 7'6" Fall will be looking to build on a strong freshman season,after averaging 16.7 points, 13.3 rebounds and 5.3 blocks per 40 minutes in seventeen minutes of action per game.
Born in Senegal, and only playing basketball for a few years, having crisscrossed the country before landing at UCF, Fall is clearly still at an early stage of his development.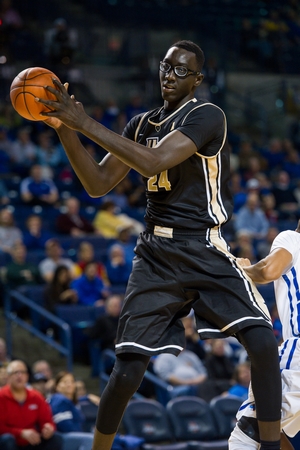 Fall has a reported wingspan that spans over eight feet, which gives him an elite reach around the rim. The rest of his physical tools raise questions about his ability to break into a rotation in the modern NBA, as he lacks a high level of lateral quickness to move in space or a strong frame to carve out space around the rim. With the NBA focusing on smaller and quicker lineups, Fall will need to show how he could make his mark at the next level using his size and length, something he has time to do with three years of eligibility remaining.
45.9% of Fall's total possessions were logged as post-ups by Synergy Sports Technology, but he struggled to score as a freshman at times, even with a clear size advantage. Although he is listed at 300 pounds, he doesn't yet have the lower body strength needed to establish position on the block and will use his off arm to push his defender back, which can result in offensive fouls.
Once he gets the ball, if he has deep position, he can turn and shoot a hook shot over his defender, but he struggles if he needs to start his move away from the rim. His footwork is rudimentary, and when he tries to make a move either with his back to the basket or from a face up position, he often gets off balance and is ineffective.
Fall's lack of high-level experience was evident as a freshman, as he was somewhat of a black hole at times once receiving the ball, averaging just 0.8 assists compared to 3.7 turnovers per 40 minutes. When he did pass out of the post, his passes were inaccurate and his teammates struggled to turn them into points. He also has a tendency to clog the lane when looking to post up and will demand the ball even when surrounded by defenders, which can bog down the offense. His size helps him score with the back to the basket, but he is by no means a dominant post player at this point and he will need to improve his footwork, passing ability and overall understanding of the game to be a more well-rounded post scorer.
With that said, Fall is nearly automatic when he catches the ball heading toward the rim, and he converted 74.7% of his shots at the rim according to Synergy Sports Technology. His 75% two point field goal percentage
ranked third among all players who played at least thirty games last season
and he was easily able to finish on baseline cuts or offensive rebounds, as he has solid hands to make easy catches and finishes, and a solid feel for rotating into space to present himself for layups and dunks.
Fall averaged 4.1 offensive rebounds per 40 minutes last season, a solid mark, especially for a raw freshman. He's not overly explosive off the ground, and can be a step slow when chasing down rebounds that fall outside his area, but his sheer length and size can make him a difference maker at times in this area.
He will step out to the perimeter and set a ball screen, but he's slow to roll to the rim, taking a wide line to the rim instead of rolling straight down the paint, which limits his effectiveness out of this play type. He would be a prime target for a lob pass with his reach, but he can be slow getting off the ground, and will get knocked off his path by contact. While there is no question about Fall's ability to score when he is right at the rim, scouts will be watching to see whether he can expand his offensive game as a sophomore and beyond, which will help him stay effective as the competition level stiffens.
Fall rarely left the paint defensively, and was able to focus solely on protecting the rim and rebounding. His 5.3 blocks per 40 minutes
ranked third in the NCAA last season
and while he was able to be a productive shot blocker, he took himself out of plays by biting on ball fakes or trying to block shots that he had no chance to block. He also has a tendency to get pushed under the rim when he doesn't engage early, as he seemingly expects to block every shot, which causes him to foul his opponent or give up easy baskets at the rim.
Fall's 9.2 defensive rebounds is an impressive mark, and improving his strength and explosiveness could help him progress in this area even more. He uses his arms rather than his body to hold off opponents at times, and is only going to get rebounds that fall right to his area when he is in rebounding position. If his feel as a shot blocker can improve and he limits the amount of shots he tries to block, he could become a more productive rebounder by being in position to be first to the ball off the rim with his reach.
Fall will have a major transition to make at the next level, as he won't be able to camp inside the paint with the NBA defensive three second rules. He'll need to get stronger to defend the post consistently and significantly quicker stepping out to the perimeter. He was foul prone even in his limited defensive role, averaging almost six fouls per 40 minutes.
Fall has already shown his value as a shot blocker and rebounder early on, but he'll need to prove he can also contribute as an all-around defender to take the next step in his development, especially when asked to move laterally in the half court.
Fall demonstrated flashes of impressive prowess around the rim on each end as a freshman, and will be monitored closely to see how he progresses moving forward. While his enormous size will keep him on the radar of NBA teams, the soon the be 21 year old Fall will need to prove how he can fit into the modern NBA game in the upcoming years to raise his profile as a draft prospect.
It's somewhat understandable why Fall is such a raw prospect considering the circuitous route he took to the NCAA, so it will be interesting to monitor his improvement and whether he's able to continue to post gaudy rebounding and block numbers as his minutes increase.