We conclude our coverage of the top NBA Draft prospects in the SEC with scouting reports on prospects 16-20:
Isaiah Briscoe
,
Matthew Fisher-Davis
,
P.J. Dozier
,
Tyler Davis
and
Tai Wynyard
.
---
More DX Conference Previews
-The Top NBA Draft Prospects in the Big East
-The Top NBA Draft Prospects in the Pac-12
-The Top NBA Draft Prospects in the Big 12
---
Top NBA Draft Prospects in the SEC
Part One

(#1) De'Aaron Fox (Scouting Video)
Part Two

(#2) Bam Adebayo (Scouting Video)
Part Three

(#3) Malik Monk (Scouting Video)
Part Four

(#4) Luke Kornet
(#5) Sacha Killeya-Jones
(#6) D.J. Hogg
(#7) Devin Robinson
Part Five

(#8) Antonio Blakeney
(#9) Isaac Humphries
(#10) Moses Kingsley
(#11) Wenyen Gabriel
Part Six

(#12) Donta Hall
(#13) John Egbunu
(#14) Brandon Sampson
(#15) Tonny Trocha-Morelos
---
#16, Isaiah Briscoe, 6'3, Sophomore, Shooting Guard, Kentucky
Jeremy Bauman
Regarded as a consensus top-15 prospect out of high school, Isaiah Briscoe has long been on the radar of NBA scouts as the result of a productive and winning prep career in which he excelled at St. Benedict's Prep and Roselle Catholic in New Jersey, on the Nike EYBL circuit and as a member of the USA team that won the U18 FIBA Americas tournament in 2014. He capped off an impressive prep career with selections to the 2015 McDonald's and Jordan Brand All-American games before to departing for his freshman season in Lexington.
With accolades come expectations, and though he flashed bursts of potential in his first season, especially as a slasher, creator, defender and rebounder, the combo-guard verified that he wasn't yet capable of sinking perimeter shots on a consistent enough basis to take his game to the next level.
Operating primarily at the small forward position, despite spending most of his life with the ball in his hands, Briscoe struggled to find his spots alongside draft picks Tyler Ulis and Jamal Murray, likely causing him to look somewhat worse than he might have on a team with less talent and a role better suited to his strengths.
Briscoe wasn't even invited to the 2016 NBA Combine in Chicago, showing just how much his draft stock had fallen by the time to spring came around, leaving him little choice but to return to school rather than risk going undrafted. He'll now
attempt to show
NBA scouts he can diversify his skill-set and take on a leadership role for a young Wildcats team, while again trying to showcase his talent with the ball in his hands among a crowded backcourt.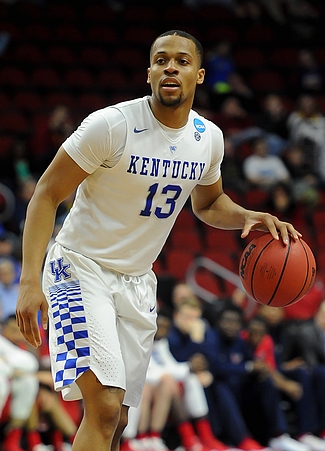 Powerfully built at 6-3 and 218 pounds, Briscoe has an exceptional 6-9.5 wingspan to go with long and strong hands, wide shoulders and a big frame, all of which makes for an intriguing physical profile from a combo-guard. He has a strong first step, is particularly tough to stop when he gets a head of steam and changes gears and directions efficiently off the bounce. Briscoe relies heavily on his strength at the college level, and plays mostly below the rim from an explosiveness standpoint.
There is no doubt that shooting remains the biggest weakness in Briscoe's game, as the first-year guard made just 5 of his 37 3-point attempts, and 46% of his free throws, contributing to his very poor 46% true shooting percentage, and the fact that opposing teams didn't even pretend to try and defend him on the perimeter by the end of the season, making things very difficult on his teammates.
His main deficiencies as a shooter are his wide base, rigid upper body, tendency to lean back when rising into his shot and inconsistent release point. He does have a knack for finding space to pull-up in pick-and-roll and isolation scenarios, and proved to be capable of making such shots once in a blue moon, but he has a long ways to go in all facets of his jump-shot, something that is imperative to fix considering he's not a freakish athlete or a brilliant passer. He looked more comfortable as a shooter in the past with the ball in his hands, oftentimes showing the skills and poise to make multiple dribble moves before pulling up, but was unable to show too much in this area last season operating strictly off the ball.
At the high school level, Briscoe proved to be far more confident, creative, strong and decisive as a ball-handler and playmaker. A righty, he's at his best when driving to his left in transition, isolation or in the pick-and-roll, where he deploys an explosive and rhythmic hang-dribble, in-and-out combo move before using straight-line drives, changes of speed and direction, long strides and quality footwork to get into the paint. The rising sophomore isn't an explosive above-the-rim threat, but has some craftiness to compensate, maneuvering to finish with either hand around the rim, though he's more daring with his left. As strong of a slasher as he is, Briscoe needs to be more patient creating, absorbing and finish through contact at the rim, along with adding more tricks to his floater game, if he's going to have success at the next level.
A solid passer with good vision in drive and dish situations, Briscoe averaged 4 assists per-40 minutes as a freshman. His value as an initiator lies in his versatility, as he proved to be an innovative threat passing out of the middle and low post for the Wildcats, along with attacking the pick-and-roll. He can pass with both hands and is equipped with the understanding and capability to hit open perimeter shooters or cutters in stride after driving the baseline.
As is the case with most freshmen guards, there were times where he should have made the simple decision but instead tried to make a big play. He's still working on becoming a more efficient decision maker and further experience should fuel growth. A key variable is how well Briscoe meshes with freshman guards
De'Aaron Fox
and
Malik Monk
, our number one and three ranked prospects in the SEC. Briscoe will have to use the experience he garnered last season to force his way into more extended backcourt minutes and playmaking responsibilities as a sophomore.
With a 6'9 ½ wingspan combined with excellent foot speed, strength and a high motor, Briscoe can defend three positions at the college level and thrives as an on-ball and pick-and-roll defender, as he doesn't mind fighting over the top of a screen when necessary and is willing to take a charge. He is active and competitive along with being disruptive in passing lanes and in loose ball situations thanks to his quickness, strong hands and basketball IQ.
Off the ball, the lengthy guard needs to be more aware of his surroundings, as he can lose track of the ball or his man, but it's possible for him to recover most times at the college level thanks to his strong close-out technique and length.
A quality rebounder considering his size, Briscoe posted 6.7 rebounds per-40 last season, as he boxes out well and hustles on the glass on both ends. Looking forward to the next level, Briscoe has the potential to become an effective option to cover either backcourt position, and his time under John Calipari has clearly made him a significantly better defender, something that was considered a major weakness of his in high school.
Briscoe, who will be 21 by the time the 2017 Draft rolls around, should have no shortage of motivation heading into a pivotal sophomore season. Taking a healthy step forward as a shooter, playmaker and leader for a Kentucky team with Final Four caliber talent would further establish his potential as a combo-guard while enhancing his pro prospects for the next level.
#17, Matthew Fisher-Davis, 6'5, Shooting Guard, Vanderbilt
Julian Applebome
Junior guard Matthew Fisher-Davis will be one of the most important returning pieces for a Vanderbilt program that underwent a great deal of change this off-season. After 17 seasons under Kevin Stallings (who departed for Pittsburgh), Valparaiso's Bryce Drew will now take over for the Commodores, and look to right the ship for a team that lost Wade Baldwin and Damian Jones to the first round of the NBA Draft.
As the leading returning scorer from last year's roster, Fisher-Davis will presumably be asked to carry a heavier load of the offensive production. Coming out of Charlotte Christian High School in North Carolina, the same school that produced Stephen and Seth Curry, Fisher-Davis had an up and down freshman season ,but found his footing his sophomore year and started 27 of 32 games for a Vanderbilt team that was bounced by Wichita St. in the first round of the NCAA Tournament.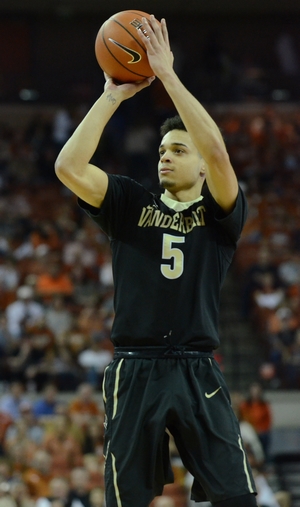 At 6'5" and roughly 185 pounds, with above average length, Fisher-Davis has just decent size for a shooting guard prospect. His frame is on the slighter side, but at just 20 years old he still looks like he has some room to fill out and could benefit from getting stronger. He doesn't stand out as being an overly explosive athlete, but he has fluid and smooth movements, and can finish above the rim if he has time and space.
What Fisher-Davis does on the offensive end of the floor, and where his potential rests as an NBA prospect, is as a knock down jump shooter. On 177 3-point attempts last season, Fisher-Davis converted 44.6%, best in the SEC. That 44.6% number was an increase from the already impressive 41.2% he shot on 170 attempts as a freshman. While most of his success came as a spot up shooter, he is adept at moving without the ball and is a threat to come off screens, hand-offs, or run to spots in transition to get open looks. He releases the ball slightly in front of his face, but it doesn't seem to effect his results. He does a good job getting his shoulders squared to the basket, and has a quick release with nice elevation which allows him to get his shot off in tight spaces. Fisher-Davis has already proven that he is capable of hitting from NBA range, and he is a confident shooter who is not afraid to take and make tough shots. He had nine games last season in which he hit at least four shots from beyond the arc, including a 20-point performance in a victory over Kentucky in what might have been the most impressive performance of his college career.
As elite of a shooter as Fisher-Davis is, the rest of his offensive game is somewhat limited. Of the 236 field goal attempts he took last season of them, only 59 of them came inside the 3-point line, with the majority of those being mid-range jump shots. His 2-point field goal percentage increased significantly from his freshman to sophomore season, which is a positive sign, but at 39%, it's still nothing to write home about. He is more than capable of attacking a closeout with a difficult one or two-dribble jumper, but anything outside of that can be a struggle. He flashed the occasional hard straight line drive out of close out situations, an aspect of his game that could become very valuable if he can improve it, but he lacks the strength or advancing ball handling to look comfortable with any sort of change of direction. He only averaged 1.2 turnovers per 40 minutes, but that's mostly due to how infrequently he was utilized as a primary ball handler. If he can improve his ball handling and his to ability to attack closeouts, it could go a long way given how much defenses have to respect his shooting prowess from deep, and might allow him to increase his extremely low number of free throw attempts (1.6 per 40).
Defensively, Fisher-Davis leaves a lot to be desired. At 6'5" with decent length and athleticism, he has the physical tools to be at least be an adequate defender, but lacks the proper technique and effort to contribute consistently on this end. His lack of strength is certainty an issue in terms of getting bullied by bigger players, but he is also regularly caught out of a stance and beat off the dribble. He doesn't fight through screens the way you would like, and he can often be out of position as an off ball defender. His length allows him to make up for some of his mistakes in close out situations, but his .7 steals and .4 blocks per 40 minutes clearly show that he has room for improvement in multiple areas as a defender.
As Vanderbilt transitions to a new era under Head Coach Bryce Drew, Matthew Fisher-Davis will be asked to fill some big shoes for a team that is in somewhat of a rebuilding situation. Fisher-Davis has an elite skill with his ability to shoot from beyond the arc, and there are only so many guys in college basketball who have put up the kind of perimeter shooting numbers that he has throughout his first two seasons at Vanderbilt. He'll need to improve his consistency on the defensive end of the floor, and expand his offensive game somewhat, but all NBA teams these days are in the market for a guy who is a knockdown threat from beyond the arc. He'll potentially have two more years at the college level to develop his game before he makes the jump to the pros.
#18, P.J. Dozier, 6'6, Sophomore, Shooting Guard, South Carolina
Matt Williams
A McDonald's All-American and consensus top-25 high school recruit, P.J. Dozier's freshman season was mostly a learning process, as he averaged 6.8 points, 3 rebounds, and 2.1 assists over 19 minutes per game for Head Coach Frank Martin's best South Carolina team to date.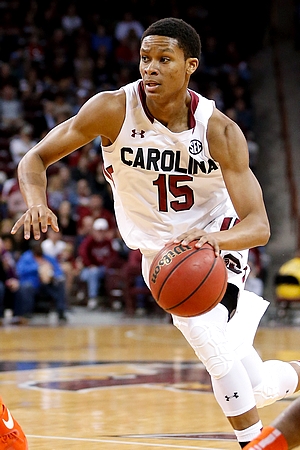 Listed at 6-6, with a sturdy 205-pound frame and nice length, Dozier certainly looks the part of a NBA shooting guard. A fluid, very bouncy athlete with decent quickness, it isn't difficult to see what made Dozier such a highly sought after recruit coming out of Spring Valley HS (SC) on first glance.
A regular starter until late in the season, Dozier finished sixth in points and third in assists for a balanced South Carolina team. Spending time playing both on and off the ball, Dozier struggled through some growing pains, scoring a dismal .636 points per possession, due to his 25% turnover rate and 23% shooting from beyond the arc. Nonetheless, he finished the year as one of just four SEC players averaging over 13 points, 6 rebounds, and 4 assists per-40 minutes pace adjusted.
The 19 year old rising sophomore is very raw on the offensive end at this stage. Though 44% of his shot came outside of the paint, he connected on just 26% of his attempts away from the rim, including 23% from beyond the arc. An unreliable set shooter who isn't too much more consistent pulling off the dribble, Dozier's mechanics don't look awful at times, but his lack of accuracy is the result of an inconsistent release point and lack of touch.
Able to use his physical tools to create a bit off the dribble, Dozier is a threat to finish impressively inside, and does show some ability to change speeds and create space, but his inability to make perimeter shots allows defenders to sag off him, making it very difficult for him to generate clean looks inside. Making 44% of his floaters and 53% of his overall half-court attempts in finishing situations, Dozier was most effective when he was able to catch his defender off balance and find lanes to the rim.
Dozier showed flashes of promise as a passer in the pick and roll, but his somewhat loose handle and unrefined decision-making limited his impact when creating offense on the whole. Seldom getting low on his drives and not showing much shake off the bounce, the young guard could stand to be more physical and patient both when slashing to the rim and when looking for the open man.
Defensively, Dozier fared far better than he did offensively in his first season in the SEC, as did the Gamecocks on the whole. An engaged defender with good size who rebounds the ball effectively, he gave up a bit more dribble penetration than one might hope, and uses his hands a bit too much on the perimeter, but played with a nice sense of urgency for stretches. His physical tools give him promising upside on this end, if he can cut down on his mistakes and improve his fundamentals.
P.J. Dozier is an interesting prospect with excellent physical tools who got the opportunity, for better or worse, to learn on the job last season. Frank Martin will look to Dozier to take the next step to help compensate for the departures of his team's entire starting frontcourt and three most efficient offensive players. It's a little early to speculate about what direction Dozier's game is heading. Whether his future is as a playmaker, or if he can take a page from the DeAndre Liggins playbook and rebrand himself as a lockdown defender who can spread the floor a bit, remains to be seen. With three years of eligibility remaining, Dozier has plenty of time to sort out those details and emerge as a viable NBA prospect.
#19, Tyler Davis, 6'10, Sophomore, Center, Texas A&M
Josh Riddell
Tyler Davis
wasn't interested in Texas A&M early on in his recruiting process
, but the 27th ranked RSCI recruit became part of an impressive freshman class that was critical in helping the team advance to the Sweet Sixteen. Davis was inserted into the starting lineup from day one, and was named to the SEC All-Freshman team after averaging 11.3 points and 6.3 rebounds per game. He'll now be looking to build on this performance as a sophomore.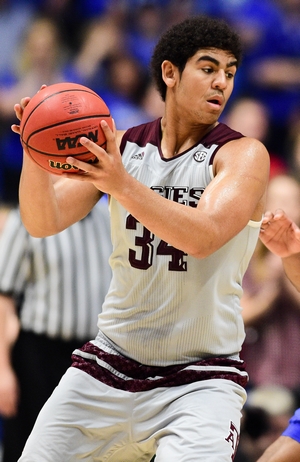 Davis is listed at 6'10", 265 pounds and doesn't have a high level of athleticism, but is an aggressive and tough-minded back to the basket center. He does need to improve his conditioning, as he seemed winded after short stretches which left him less effective and foul prone, limiting him to just 22 minutes per game. He possesses just average speed and explosiveness and getting in better shape could help him become a more dynamic athlete and keep him on the floor for longer stretches. Davis showed a good work rate in the minutes he did play, running hard in transition to get some easy buckets while being active in the half-court offensively.
He is strong around the rim and has displayed some deft touch on his way to finishing an excellent 65.5% of his two point field goal attempts. He has shown several ways to score with his back to the basket by using his strength to seal his man as well as some nice footwork on a drop step or spin move for a layup. He is extremely right hand dominant and will need to work on becoming a better finisher with his left hand to be able to score against length from all areas of the paint.
Davis is a workhorse on the offensive glass, pulling down 5.2 offensive rebounds per 40 minutes last season. He uses his strength to get to loose balls but he can struggle to finish on putbacks and will need to be able to rely on his left hand to finish in a crowd to be more efficient on these second possessions. Even when he can't finish in traffic, he is able to help his team by getting to the free throw line. His frame can handle contact and he doesn't shy away from physical play as he attempted 8.2 free throw attempts per 40 minutes last season.
A capable scorer around the rim, Davis is a little limited in his offensive production outside of baseline cuts to the basket or post-ups. He struggles to be effective out of ball screens and although he sets solid screens to free his teammate, he doesn't have the foot speed to be first to the rim on his rolls out of the screen. He took only eight jump shots according to Synergy Sports Technology and looked uncomfortable shooting from the mid-range which is evident from his poor mechanics from the foul line where he converted only 62.5% of his free throw attempts.
NBA teams will likely want to see him become a little more well-rounded as old school back to the basket centers in his mold aren't always viewed as being the best fit in modern NBA offenses.
Defensively, Davis struggled to provide the same level of engagement he did offensively and teams were able to score relatively easily against him. He didn't engage his man early on the block and let himself get backed under the rim far too easily for a player of his size. He also wasn't able to effectively guard ball screens with his below average agility, as he was beaten either by the ball handler off the dribble or by his man, being a step slow to recover.
He did block two shots per 40 minutes but doesn't project to be a big-time rim protector full time. Although he has good timing and instincts to block shots on his opponent, he doesn't show the best quickness or explosiveness rotating over on drives and protecting the rim from the weakside.
Davis was only able to average 5.8 defensive rebounds per 40 minutes, a below average mark for a center. He did put a body on his opponent, but didn't always fully engage to carve out rebounding position, which caused him to concede offensive rebounds when he was second off the ground. Defensive rebounding will be key to his role and he will need to work harder at boxing out and at least keeping his man away from offensive rebounds to help his team rebound if he can't be the first to every missed shot.
Davis has displayed a high level of skill around the basket and NBA teams will be monitoring him closely throughout his career to see how his frame matures and his athleticism evolves. If he can find more ways to help his team offensively while improving his agility to make more of an impact defensively, he will begin to build a stronger profile as a NBA prospect.
#20, Tai Wynyard, 6'10, RS Freshman, Center, Kentucky
Without the benefit of extensive international footage, we prefer to wait and see how Wynyard performs as a redshirt freshman before adding to his
DraftExpress profile
, which already features a scouting report breaking down his strengths and weaknesses, as well as an interview.
Honorable Mention:
Dazon Ingram
, Alabama
Horace Spencer
, Auburn
Aric Holman
, Mississippi State
Yante Maten
, Georgia
Derek Willis
, Kentucky
Sebastian Saiz
, Ole Miss
Nick King
, Alabama
Quinndary Weatherspoon
, Mississippi State
Kevin Puryear
, Missouri
Sindarius Thornwell
, South Carolina
Kevaughn Allen
, Florida
Craig Victor
, LSU
Robert Hubbs
, Tennessee
Kasey Hill
, Florida
Shannon Hale
, Alabama
Admon Gilder
, Texas A&M