Matt Williams
Few players in college basketball saw their circumstances change last season quite as dramatically as Wisconsin forward Nigel Hayes. An effective third-wheel of the senior-laden Wisconsin team headlined by Frank Kaminsky and Sam Dekker that made it all the way to the National Championship in 2015, Hayes returned to Madison as the obvious candidate to inherit the lion-share of the scoring load left behind in the wake of the departure of five of the Badgers' seven leading scorers. Teaming with fellow holdover Bronson Koenig, Hayes seemed like a prime candidate for a breakout year in the Big Ten.
Despite a preseason top-20 ranking, Wisconsin struggled to start the year, suffering early losses to Western Illinois and Milwaukee before Bo Ryan unexpectedly resigned after a December 15th win. With Ryan's chosen successor, Greg Gard, taking the reins and reemphasizing the swing offense, the Badgers had their highs and lows in conference play before an improbable Sweet 16 run. Much like Wisconsin as a whole, Hayes was inconsistent throughout the year, posting poor shooting numbers in his new role as the team's first option after ranking among the most efficient roleplayers in the country as a sophomore. Despite the major adjustment, the 21 year-old forward averaged 15.7 points, 5.9 rebounds, and 3 assists over 36.2 minutes per game garnering All-Conference 1st Team Honors.
Declaring for the 2016 NBA Draft and earning an invitation to the NBA Combine, Hayes took full advantage of the NCAA's new rules for underclassmen exploring their options. After a number of May workouts, the young forward struggled to make an impression in the competitive portion of the Combine, making just one field goal attempt and grabbing only a single rebound in 39 minutes of action in two games. Left with no choice but to withdraw his name from consideration and return to school, the Toledo native will look to bolster his resume for a Wisconsin team that returns every major contributor from last season.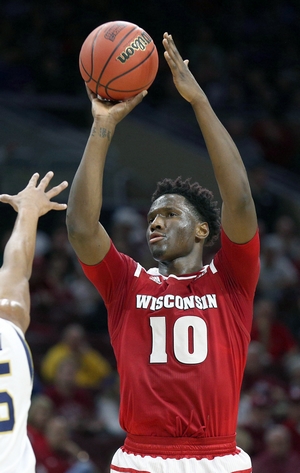 Standing 6'7.25 in shoes with a gigantic 7'3 wingspan and a 245-pound frame, Hayes's intrigue at the NBA level has long started with his length and physical maturity. He possesses decent quickness and average explosiveness, however, looking more like a true power forward than the small forward he seemed to have some potential to become early on, which probably isn't too much of an issue in today's NBA anyway.
Averaging 1.07 points over 11.6 possessions per game while shooting 48% on four one-on-one possessions per game as a sophomore, Hayes's impressive efficiency combined with his versatility and physical profile placed him one of the more interesting prospects in the Big Ten heading into last season. Without the benefit of the spacing Kaminsky and Dekker provided, though, things went downhill quick. Averaging 0.86 points over 18.3 possessions per game while shooting 37% on 9.6 one-on-one possessions per game as a junior, Hayes' shot making and ability to create off the dribble faltered badly as opposing defenses honed in on stopping him. Playing a demanding role alongside a young group, Hayes' strengths and weaknesses were magnified last season.
A strikingly effective jump shooter as a sophomore, Hayes knocked down just under 40% of his 3-point attempts and 44% of his jumpers overall two years ago. Knocking down 29% of his attempts from deep this year and 31% of his perimeter shots overall, Hayes struggled to make uncontested and contested shots alike as his tendency to lock up his body in the air hurt his results as a junior and led to a lot of ugly misses. The expansion of his role played against him as well as he knocked down just 25% of a greater sample of pull-up jump shots.
Hayes' struggles converting shots in the midrange was a symptom of the difficulties he had creating shots overall. Lacking a degree of shiftiness with the ball in his hands, Hayes excelled at scoring inside two years ago playing off the ball against weaker defenders and in lineups with far superior perimeter shooting, but saw his effectiveness off the bounce plummet against systems centered around slowing him down as a sophomore. Converting 45% of his shots around the rim in the half court according to Synergy Sports Technology, Hayes forced the issue at times as a slasher and his lack of blow-by quickness and great leaping ability led to a lot of difficult shots inside, and a number of near misses as defenders were able to recover after he beat them with his initial move.
If there was one area where Hayes held mostly steady from his sophomore to his junior year, it was as a post option. Doing a nice job using his strength and drawing fouls with his back to the basket, his combination of aggressiveness, footwork, and craftiness helped him score effectively on the block. He doesn't use the most advanced moves, but has variety to his post repertoire using hooks with both hands and mixing in some spins and face up jumpers for good measure. As much as Hayes had a hard time finding an offensive rhythm this season, he often looked most comfortable on the block.
While Hayes struggled last season after being thrust into a role as the Badgers' go-to-guy, it wouldn't be at all shocking to see him bounce back to some extent as a senior. Clearly, he's best suited for a smaller role, and scouts understand that. He'd certainly benefit from a strong year shooting the ball more consistently, which will be a huge key for him at the NBA level.
Defensively, Hayes is a mixed bag. He's solid out on the perimeter for the most part, positioning himself well, but his lack of standout quickness limits him when asked to defend smaller players. His strength and length allow him to hold his own inside, but he doesn't rebound the ball at a particularly high rate as his lack of explosiveness and average toughness and intensity level limits his productivity on the boards.
Despite all he's been through in the last year, Nigel Hayes remains one of the better NBA prospects in the senior class. His sophomore season remains a notable bright spot on his resume, even if his efficiency wasn't even close to sustainable in a bigger role. If he can re-establish himself as a shooter and make better decisions creating with the ball in his hands, he could help rebound his stock headed towards the 2017 NBA Draft.