We continue our coverage of the top NBA draft prospects in the non-BCS conferences with scouting reports on players ranked 10-13:
Przemek Karnowski
,
Alan Williams
,
Christian Wood
and
Treveon Graham
.
The Top 20 NBA Draft Prospects in the Pac-12 Conference
The Top 20 NBA Draft Prospects in the Big 12 Conference
The Top 10 NBA Draft Prospects in the AAC Conference
The Top 22 NBA Draft Prospects in the SEC Conference
The Top 10 NBA Draft Prospects in the Big East Conference
The Top 20 NBA Draft Prospects in the Big Ten Conference
The Top 26 NBA Draft Prospects in the ACC Conference
Top NBA Prospects in the Non-BCS Conferences, Part One
(#1) R.J. Hunter (Scouting Video)
Top NBA Prospects in the Non-BCS Conferences, Part Two
(#2) Rashad Vaughn (Scouting Video)
Top NBA Prospects in the Non-BCS Conferences, Part Three
(#3) Domantas Sabonis (Scouting Video)
Top NBA Prospects in the Non-BCS Conferences, Part Four
(#4) Shawn Long (Scouting Video)
Top NBA Prospects in the Non-BCS Conferences, Part Five
(#5) E.C. Matthews (Scouting Video)
Top NBA Prospects in the Non-BCS Conferences, Part 6
(#6) Ron Baker
(#7) Fred VanVleet
(#8) Keifer Sykes
(#9) Briante Weber
#10, Przemek Karnowski, 7'1, Center, Gonzaga, Junior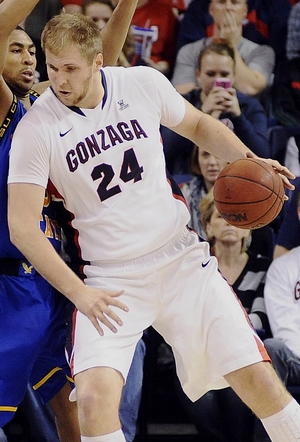 Kyle Nelson
One year ago, Przemek Karnowski sat atop our
Top NBA Prospects in the Non-BCS Conferences
preview after coming off an intriguing freshman season that hinted at sophomore dominance. He never quite met these expectations, however, struggling through an inconsistent sophomore campaign before logging his best two performances, a pair of double-doubles, against Oklahoma State and Arizona in the NCAA Tournament.
On the eve of the 2014-2015 season, Gonzaga now has arguably the best frontcourt outside of the BCS Conferences with Kentucky transfer Kyle Wiltjer and heralded freshman Domantas Sabonis joining Karnowski in the post, and is poised to make a
deep run
in March. Can Karnowski take another step forward in his development as a junior?
At 7'1 with a 7'0 wingspan and a massive 294-pound frame, Karnowski has outstanding size, but average length, for the center position. He runs the floor fairly well for a player his stature, shows solid mobility in the post, and is decently explosive around the basket. Additionally, continuing to slim down would go a long way in maximizing his athleticism. Though his movements can be a bit mechanical at times, his combination of size, strength, and athleticism puts him into a rare class of players at the collegiate level and situates him well looking towards a NBA future.
On the offensive end, Karnowski's per-minute production declined between his freshman and sophomore seasons, as his playing time increased by 150%. Becoming less of a focal point in the offense when he was on the court, Karnowski scored 16.5 points per 40 minutes pace adjusted on an efficient 59% 2P%. According to Synergy Sports Technology, nearly 60% of his overall touches came in post-up situations, and nearly all of his shot attempts came inside the paint.
Karnowski did a very good job of carving out space and receiving the ball with his back to the basket due to his width, strength and soft hands. Karnowski's post game is not particularly polished at this stage, but he already shows a solid repertoire of post moves, including a variety of hooks, drop steps, spin moves and turnaround jumpers. His turnaround jumper, in particular, is a welcome addition to his post game and is very difficult to defend. Continuing to improve his repertoire of countermoves, and becoming more explosive would help him finish even more of the many post-opportunity he's able to generate each game with his size and skill-level.
A majority of Karnowski's possessions come out of traditional post up situations, but he also does a good job of scoring off of cuts where his soft hands and touch allow him to finish efficiently. He converted a fantastic 71% of his shots around the basket in non-post up situations, despite the fact that he plays largely below the rim. Finally, Karnowski did an outstanding job of drawing contact and getting to the foul line, attempting 8.0 free throws per 40 minutes pace adjusted, even if he only made a dismal 50.3% of his attempts, which means he left a lot of points at the free throw stripe.
There are two areas in which scouts will be looking for improvement from Karnowski moving forward: as a scorer out of the pick-and-roll and as a jump shooter. Karnowski will likely see many possessions as the roll-man and will need to improve his ability to quickly set screens and then dive to the basket, as well as his finishing ability off two feet in traffic. On a similar note, Karnowski still shows very little in terms of jump shooting, still more or less confined to turnaround jumpers, while continuing to be a very poor free throw shooter, which makes him fairly predictable for defenses to scout and game-plan for. Improving in these two capacities, in particular, are essential to his draft prospects moving forward.
On the defensive end of the floor, Karnowski is more or less the same player that we wrote about
last year
. He looked a bit quicker and better conditioned as a sophomore, but he nevertheless had trouble closing out on shooters and, in a very small sample size, in defending the pick-and-roll. The latter, in particular, seems troubling, given that his difficulties seem related to both his physical tools and his overall awareness. He is still extremely foul prone, as well, averaging 4.5 fouls per 40 minutes pace adjusted, which hinders his ability to stay on the floor.
That being said, he is a load in the paint and does a good job of holding his ground, moving his feet and staying upright. His 2.7 blocks per 40 minutes pace adjusted show a significant improvement between his freshman and sophomore years and scouts will be watching to see if he can continue to develop a reputation as a rim protector as a junior. Finally, he averaged a solid 10.8 rebounds per 40 minutes pace adjusted while grabbing nearly 2 more rebounds per 40 minutes pace adjusted on the defensive end.
It will be interested to see whether Karnowski can leverage his intriguing, albeit inconsistent sophomore season into a breakout junior campaign. After all, there are few, if any, players in the West Coast Conference with Karnowski's combination of size and skill, and Gonzaga's balanced inside-outside attack should give him plenty of room to operate in the post. Likewise, matchups against Arizona, UCLA, Memphis, SMU, and possibly St. John's should give scouts a good idea of his progress against NBA caliber athletes. A productive year will do wonders for his draft stock and a big season in Spokane will help scouts and fans alike to forget about his inconsistent sophomore season very quickly.
#11, Alan Williams, 6'8, Center, UC Santa Barbara, Senior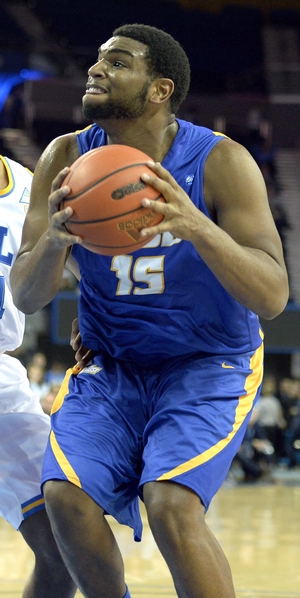 Kyle Nelson
After a strong sophomore season, Alan Williams turned the corner in a
big way
as a junior. Williams averaged 21.3 points and 11.5 rebounds per game on his way to being named Big West Player of the Year. He also looked good in early season contests against UCLA, California, and UNLV, performances that undoubtedly caught scouts' eyes. Already one of the country's most productive big men and an NBA prospect in his own right, the question is now whether Williams can lead UC Santa Barbara back to their first NCAA Tournament appearance since 2011, while showing scouts he is more than merely an ultra-productive big man against weak competition.
At 6'8 with a 7'1.5 wingspan and a massive 264-pound frame, Williams is undersized for the center position. Additionally, he is not a great athlete, either, lacking ideal quickness and explosiveness, even though he is fairly nimble offensively for his size. Perhaps the biggest issue is his conditioning, as he still visibly struggles to get up and down the court at times. Additionally and while he has already lost weight since his freshman season, he must continue to slim down in order to maximize his physical tools.
Beyond his conditioning issues, Williams has a good reason to look tired at times, as he is one of the
highest usage
players in our database, responsible for 28.7% of UC Santa Barbara's overall possessions. Many of the Gauchos' possessions begin and end with Williams, and he has made significant strides between his sophomore and junior seasons. Most notably, his 27.6 points per 40 minutes pace adjusted ranked
fourth
among prospects in our database last season, with two of the players ahead of him eventually being drafted in the lottery.
On film, Williams is a crafty scorer who does an outstanding job of fighting for and carving out space on the low block. He shows the perfect combination of soft hands, footwork, and timing, as he rarely hesitates before going to work once he has the ball in his hands. Williams' post game is not particularly advanced, but he is able to leverage his strength and spin moves into space, and shows a solid baby hook shot with his right hand. He does not have the most advanced counter moves, but he can occasionally get his man in the air with a head fake or simply clear his way to the basket thanks to his superior strength if a play breaks down. He can also take his man off of the dribble from the perimeter, mostly with straight-line drives to the basket.
There is a positive and negative to Williams's aggressive productivity. On the one hand, he was one of college basketball's most productive players and his 10.1 free throw attempts per 40 minutes pace adjusted, which ranks
third
among centers in our database. On the other hand, his 52% 2P% is not extraordinary considering the level of competition he faces on a nightly basis. He tends to develop tunnel vision, fighting through traffic to the basket or settling for a high-difficulty, low percentage looks. There are major concerns about how Williams' lack of size and athleticism will translate to the NBA, where he won't be able to simply bully his way through opponents the way he does at the college level.
One area of intrigue remains Williams's potential as a jump shooter, particularly from mid-range where he made 44.4% of his 18 attempts. He does not have the greatest mechanics, as he tends to push the ball with a slow windup and quick release. Improving here is essential to his NBA prospects as a senior. He showed an occasional flash of a mid-range game, taking a dribble into a pull up jumper, but he will have to make significant strides in this area before it becomes a regular feature of his game.
On the defensive end of the floor, Williams struggles in the areas that one would expect, looking a step slow when his man takes him outside or drives the basket and failing to close out quickly on perimeter shooters. That being said, his 3.2 blocks and 1.4 steals per 40 minutes pace adjusted show just how effective his combination of length, strength and terrific instincts are at this level, particularly as a post defender. His conditioning woes are apparent on this end of the floor, however, as sometimes his effort simply isn't there. Perhaps most concerning is the fact that he is largely post bound, clearly a undersized center on this end of the floor, and showed little ability to guard the pick-and-roll, which will be essential to his prospects at the next level.
That being said, he is an outstanding rebounder and his 14.8 rebounds per 50 minutes pace adjusted ranked
fifth
among all prospects in our database. Williams has amazing instincts on this end of the floor, showing the perfect combination of positioning, soft hands, and aggressiveness in corralling missed shots on the defensive end.
Scouts know that Alan Williams is one of the most productive players in college basketball. What Williams must prove is that some of that productivity will translate to a role at the next level by developing as a scorer out of the pick-and-roll and as a jump shooter. Likewise, given the fact that he will most likely need to transition to the power forward position at the next level, he must show scouts that he can compensate for his lack of size with hustle, particularly on the defensive end. That makes early season contests at Kansas, Oregon, SMU and Oregon State all the more important, as besides his highly entertaining matchups with Mamadou Ndiaye, Big West competition offers scouts little insight into how Williams' skill set will translate to the next level. Williams is on already on the 2015 NBA Draft radar, so a strong senior season will go a long way in boosting his stock and keeping his name in the conversation come June.
#12 Christian Wood, 6-11, Sophomore, PF/C, UNLV

Matt Williams
A consensus top-50 recruit in high school, Christian Wood's freshman season was mostly a learning process. Averaging just 4.5 points and 3.2 rebounds in 13 minutes per game, the lanky forward contributed in spurts for a UNLV program that went a disappointing 10-8 in the Mountain West Conference, flashing intriguing potential in the process.
Wood's upside at the next level starts with his tremendous size and length for a power forward. Currently listed at 6'11 with a 220-pound frame, Woods is a lanky power forward with impressive mobility who needs to continue adding strength to his excellent frame. Having gained some-20 pounds over the last two years, Woods is never likely to become a bruiser, but his ability to hold his own on the block is something scouts will be keeping an eye on as he matures.
Skill-wise, Wood has some tantalizing tools, but is still in the early stages of learning how to use them consistently. Using only 5.7% of UNLV's possessions last season according to Synergy Sports Technology and scoring 13.7 points per-40 minutes pace adjusted, the Findlay Prep (NV) product played a fairly minor role for the Runnin' Rebel's offensively, but enjoyed a fair amount of freedom, for better or worse.
Almost half of Wood's field goal attempts a year ago were 3-pointers, as he tends to float on the perimeter quite a bit for a near 7-footer. Knocking down just 17.4% of his jump shots on the year, Wood has some promise as a shooter and flashed the ability to put the ball on the floor and beat slower big men off the dribble, but is still a ways off from being an efficient, viable threat from the perimeter.
Wood's tendency to float out on the perimeter took away from his ability to use his size and athleticism around the rim. He's most effective at this stage as a finisher at the rim either on the break or in the half court, as his sheer length and leaping ability allow him to play above the rim effortlessly. His size and touch also translated into some amount of success in the post, where he shot 42.9%. His lack of strength and polish on the block was obvious at times, and on the whole, it will be interesting to see how Wood develops on the offensive end in the coming years.
As much as Wood's feel for the game offensively is an obvious work in progress amid flashes of promise, the same holds true defensively. Blocking an impressive 3 shots per-40 minutes pace adjusted, Wood is still learning how to make his presence felt consistently on the defensive end, but his wingspan ad quick leaping ability allow him to make an impact as a rim protector. Playing with a solid motor, Wood isn't afraid to be physical—in contrast to his tendency to drift away offensively—pulling down rebounds at this end of the floor at a nice clip. Though Wood still needs to get stronger and struggles not to foul at times, his length and lateral quickness gives him intriguing long-term potential on this end of the floor.
Far from a finished product at this stage, it isn't difficult to see what recruiting analysts saw in Wood, even in limited minutes as a freshman. His physical tools, coupled with his budding skill set make him a player worth monitoring in years to come to see if he can reach his lofty potential.
#13, Treveon Graham, 6'5", Senior, Shooting Guard, VCU
Derek Bodner
Spending his freshman season coming off the bench, Treveon Graham entered the starting lineup for Shaka Smart and the VCU Rams, starting every game for them during his sophomore and junior seasons, developing into a very consistent contributor, as he scored in double figures in 63 of the 71 games he has played in over the past two seasons.
Graham made a big statistical leap for VCU during his sophomore season, increasing his playing time from 16.8 minutes to 27.6 per game, while seeing a huge jump in his offensive workload, scoring 15.1 points per game and 20.9 points per 40 minutes pace adjusted, up from the 7 per game and 16.8 per 40 pace adjusted he scored as a freshman.
Graham didn't make quite the same statistical jump in his junior season as he did the previous year, with his scoring average, when adjusted for pace and minutes, remaining virtually identical. Moreover, his overall efficiency dipped slightly, dropping from a 55.4% true shooting percentage (which was a considerable improvement over the 50.4% he shot during his freshman season) to 54.4% as a junior.
The biggest area where Graham regressed was as a jump shooter. According to Synergy Sports, Graham shot 35.8% on jumpers as a junior, a slight decrease from the 37.8% he shot during his breakout sophomore campaign, with modest drops in both his three point percentage (33.7% on 4.9 attempts per game as a junior, compared to 36.6% on 3.9 attempts per game as a sophomore) and free throw percentage (69.4% as a junior, down from 73.2%).
Still, despite failing to improve upon his numbers as a junior, it's evident that he has made big strides during his time at VCU, with the jump shot representing a reliable part of his offensive game. While he doesn't get a ton of elevation on his catch and shoot shots, he has a quick, compact release, and he's able to get the shot off with little separation. He also has very good form when shooting off the dribble, something that he's increasingly comfortable doing. He does an extremely good job of getting his feet set and his body squared, allowing him to make tough, contested shots off the dribble.
Graham continues to get a sizable portion of his offense off isolation and pick and roll sets. While Graham doesn't have an incredibly explosive first step, he makes good use of hesitation and misdirection moves with the basketball in his hands, having a kind of shifty dribble drive game that can catch a defender off guard. When Graham gets into the paint, he's a below average leaper for an NBA guard, but at 6'5" he has a well-developed upper body and a willingness to initiate contact that helps him find success in the paint, leading to 6.8 free throw attempts per 40 minutes pace adjusted, a good figure for a shooting guard, particularly for one who gets a third of his field goal attempts from behind the three point line.
On the defensive side of the ball, Graham gets in a good stance, and uses his 6'9" wingspan to pester players on the perimeter. He also does a relatively good job sticking with his man off the ball, avoiding the pitfall of over-helping on defense and leaving his man too wide open. He also does a good job fighting through pick and rolls, recognizing the tendencies of the man he is defending, usually making the correct decision on when to go under or over the pick. Still, his lateral foot speed is likely to be below average for an NBA wing, which may make it tough for him to be a plus defender at the next level.
Treveon Graham has become an incredibly important cog in Shaka Smart's VCU offense as the Rams leading scorer in each of the last two seasons. Despite seeing his progress stagnate somewhat last season, Graham remains a well-rounded offensive player, with a crafty dribble drive game complemented by a jump shot, both in set shots and off the dribble, that defenders have to respect. Still, without elite athleticism that many will have at the NBA level, it would be a great boon to his draft stock if he could develop himself into a knockdown jump shooter and build off of his success in that regard during his sophomore season, as he may not have as much success in the paint at the next level.