Treveon Graham
Recent Tweets
All Tweets
DraftExpress: Players who went undrafted (#3) Dez Wells D.J. Newbill Treveon Graham Terran Petteway Ryan Boatright Keifer Sykes Joshua Smith
2015-06-26 00:23:07
Team: Idaho
Physicals
Positions
Salary
Misc
H: 6' 6"
W: 219 lbs
Bday: 10/28/1993
(22 Years Old)

Current: SG
NBA: SG
Possible: SG

Agent: Ronald Shade

High School: St. Marys Ryken
Hometown: Temple Hills, MD

Predraft Measurements
| Year | Source | Height w/o Shoes | Height w/shoes | Weight | Wingspan | Standing Reach | Body Fat | No Step Vert | Max Vert |
| --- | --- | --- | --- | --- | --- | --- | --- | --- | --- |
| 2015 | NBA Draft Combine | 6' 4.75" | 6' 5.75" | 219 | 6' 10.5" | 8' 7" | 5.5 | 28.5 | 31.5 |
| 2015 | Portsmouth | 6' 4.75" | NA | 217 | 6' 10.5" | 8' 6.5" | NA | 28.0 | NA |
| 2014 | Nike Skills Academy | NA | 6' 6" | 224 | 6' 9" | NA | NA | NA | NA |
| 2014 | Nike Skills Academy | NA | 6' 6" | 224 | 6' 9" | NA | NA | NA | NA |



Basic Per Game Statistics

- Comprehensive Stats - Statistical Top 25s
| Year | League | Name | GP | Min | Pts | FG | FGA | FG% | 2Pt | 2PtA | 2P% | 3Pt | 3PtA | 3P% | FTM | FTA | FT% | Off | Def | TOT | Asts | Stls | Blks | TOs | PFs |
| --- | --- | --- | --- | --- | --- | --- | --- | --- | --- | --- | --- | --- | --- | --- | --- | --- | --- | --- | --- | --- | --- | --- | --- | --- | --- |
| 2015/16 | DLEAGUE | Treveon Graham | 6 | 32.8 | 14.0 | 5.0 | 13.8 | 36.1 | 3.8 | 8.8 | 43.4 | 1.2 | 5.0 | 23.3 | 2.8 | 5.0 | 56.7 | 1.5 | 3.3 | 4.8 | 1.0 | 1.0 | 0.2 | 1.3 | 3.8 |

Player Page&nbsp&nbsp| Player Stats | Related Articles&nbsp&nbsp| Add to My Draft Express&nbsp
&nbsp
Treveon Graham Interview
May 21, 2015
VCU senior Treveon Graham discusses how he's been preparing for the 2015 NBA Draft.


---
More Pre-Draft Interviews/Workout Videos
-Robert Upshaw Workout Video
-Rakeem Christmasn Workout Video
-Myles Turner Workout Video
-Satnam Singh Interview
-Satnam Singh Workout Video
-Alan Williams Interview
-Stanley Johnson Interview
-Kelly Oubre Interview
-Frank Kaminsky Interview
-Chris Walker Interview
-Chris Walker Workout Video
-Cameron Payne Workout Video
-Cameron Payne Interview
[Read Full Article]

---
Portsmouth Invitational Tournament: Day Three Standouts
April 11, 2015
Treveon Graham, 6'6", SG, VCU
25 points, 2 rebounds, 1 block, 10-15 shooting (3-5 3P)

Treveon Graham struggled during the first few minutes of the game, seemingly determined to challenge Gabe Olaseni at the rim. That style of basketball is not Graham's game, and he struggled to finish inside, largely deterred by the formidable shot blocking presence of Olaseni.

After the first few minutes of the game Graham settled down, letting the game come to him and doing a much better job of playing to his strengths. He connected on his open catch and shoot shots, hitting 3-5 from three point range. Graham is now shooting 6-13 from three point range in his two games in the tournament, showing no trouble hitting from NBA three point range, an important aspect for his NBA hopes.

After establishing his jumper, driving space opened up for Graham, allowing him to be opportunistic attacking off the dribble. Graham is not a great leaper, and it showed when he challenged Olesani earlier in the game, but he has a good enough handle to be able to make defenders pay when they close out too aggressively, and he utilized his floater to neutralize the shot blocking Olesani on multiple occasions.

Graham didn't contribute in other areas like he did in his first game, as he had only 2 rebounds and a block in 26 minutes of action, compared to the 7 rebounds, 4 assists, 2 steals and a block he had in Wednesday's opener, but his scoring and in-control play are big reasons why his Cherry Bekaert team is playing in tonight's championship game.

[Read Full Article]

---
Top NBA Prospects in the Non-BCS Conferences, Part 7: Prospects #10-13
November 5, 2014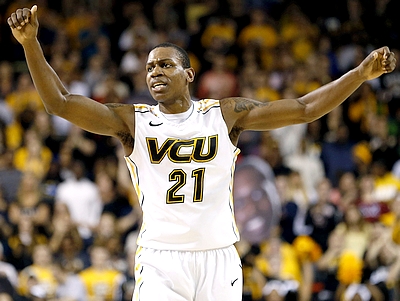 US Presswire



Derek Bodner

Spending his freshman season coming off the bench, Treveon Graham entered the starting lineup for Shaka Smart and the VCU Rams, starting every game for them during his sophomore and junior seasons, developing into a very consistent contributor, as he scored in double figures in 63 of the 71 games he has played in over the past two seasons.

Graham made a big statistical leap for VCU during his sophomore season, increasing his playing time from 16.8 minutes to 27.6 per game, while seeing a huge jump in his offensive workload, scoring 15.1 points per game and 20.9 points per 40 minutes pace adjusted, up from the 7 per game and 16.8 per 40 pace adjusted he scored as a freshman.

Graham didn't make quite the same statistical jump in his junior season as he did the previous year, with his scoring average, when adjusted for pace and minutes, remaining virtually identical. Moreover, his overall efficiency dipped slightly, dropping from a 55.4% true shooting percentage (which was a considerable improvement over the 50.4% he shot during his freshman season) to 54.4% as a junior.

The biggest area where Graham regressed was as a jump shooter. According to Synergy Sports, Graham shot 35.8% on jumpers as a junior, a slight decrease from the 37.8% he shot during his breakout sophomore campaign, with modest drops in both his three point percentage (33.7% on 4.9 attempts per game as a junior, compared to 36.6% on 3.9 attempts per game as a sophomore) and free throw percentage (69.4% as a junior, down from 73.2%).

Still, despite failing to improve upon his numbers as a junior, it's evident that he has made big strides during his time at VCU, with the jump shot representing a reliable part of his offensive game. While he doesn't get a ton of elevation on his catch and shoot shots, he has a quick, compact release, and he's able to get the shot off with little separation. He also has very good form when shooting off the dribble, something that he's increasingly comfortable doing. He does an extremely good job of getting his feet set and his body squared, allowing him to make tough, contested shots off the dribble.

Graham continues to get a sizable portion of his offense off isolation and pick and roll sets. While Graham doesn't have an incredibly explosive first step, he makes good use of hesitation and misdirection moves with the basketball in his hands, having a kind of shifty dribble drive game that can catch a defender off guard. When Graham gets into the paint, he's a below average leaper for an NBA guard, but at 6'5" he has a well-developed upper body and a willingness to initiate contact that helps him find success in the paint, leading to 6.8 free throw attempts per 40 minutes pace adjusted, a good figure for a shooting guard, particularly for one who gets a third of his field goal attempts from behind the three point line.

On the defensive side of the ball, Graham gets in a good stance, and uses his 6'9" wingspan to pester players on the perimeter. He also does a relatively good job sticking with his man off the ball, avoiding the pitfall of over-helping on defense and leaving his man too wide open. He also does a good job fighting through pick and rolls, recognizing the tendencies of the man he is defending, usually making the correct decision on when to go under or over the pick. Still, his lateral foot speed is likely to be below average for an NBA wing, which may make it tough for him to be a plus defender at the next level.

Treveon Graham has become an incredibly important cog in Shaka Smart's VCU offense as the Rams leading scorer in each of the last two seasons. Despite seeing his progress stagnate somewhat last season, Graham remains a well-rounded offensive player, with a crafty dribble drive game complemented by a jump shot, both in set shots and off the dribble, that defenders have to respect. Still, without elite athleticism that many will have at the NBA level, it would be a great boon to his draft stock if he could develop himself into a knockdown jump shooter and build off of his success in that regard during his sophomore season, as he may not have as much success in the paint at the next level.

[Read Full Article]

---
Top NBA Prospects in the Non-BCS Conferences, Part Six: (#26-30)
November 13, 2013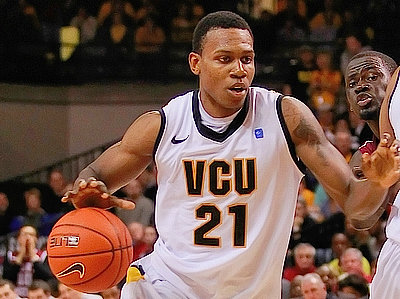 US Presswire



Jonathan Givony

A lightly recruited high school player who got only one other college offer--from Cleveland State, Treveon Graham has been an ultra-aggressive scorer from the moment he stepped on the floor for VCU. After putting up gaudy per-minute scoring lines as a freshman, he established himself as one of the best overall scorers in the A-10 as a sophomore, while helping his team make the conference championship game.

While VCU's season ended in the NCAA Tournament Round of 32 at the hands of eventual finalists Michigan, the team returns a large part of its core from last season and is being projected as a top-15 team in many national polls as the favorites to win Conference USA. Now a junior, Graham will need to take the next step in his development to help Shaka Smart make another deep run in March.

Despite standing somewhere between 6-5 and 6-6, Graham plays the power forward position primarily for VCU. He is a major key in their pressing, up-tempo style of play, as he's capable of being a real mismatch from the perimeter for opposing big men to handle, but is still strong and aggressive enough to handle himself inside capably.

Graham possesses a very strong frame, but is not an overly athletic prospect. He's largely a below the rim player, without great quickness or explosiveness, but makes up for it at the college level with his strength, smarts, savvy and scoring instincts.

Graham is a solid outside shooter, making 37% of his 3-point attempts last season, up from 31% the year before. He is decent with his feet set, prone to bouts of streakiness, but is pretty effective shooting the ball off the bounce, particularly in the mid-range area where he can create separation and just throw the ball in the basket thanks to his advanced scoring instincts.

Graham isn't asked to create his own shot in pure one on one situations very often, as he's not a great ball-handler and does not possess the quickest first step around. VCU instead likes to get him in motion off screens or running downhill in their dribble-drive motion sets, where he can bully his way to the basket using his superior strength and aggressiveness, drawing a large number of fouls in the process.

Graham is not a great finisher inside the paint when forced to deal with length in traffic, due to his average explosiveness and reluctance to use his off hand, which partially explains why he shot under 50% from 2-point range last season. With that said, he's savvy and aggressive enough to know how to use his body to get to the free throw line at the college level, and has a very effective runner and floater he can utilize from 4-8 feet away, a testament to his advanced scoring prowess.

Graham is an excellent offensive rebounder for his size, indeed ranking #1 in this category among wing prospects last season, even if that's misleading considering he spent most of his time at the 4. Still, he ranks in the top-10 in that category among all returning prospects in our top-100 rankings, as his length, strength, instincts and aggressiveness help him find a large number of extra possessions despite possessing just average size and athleticism.

Defensively is where Graham might have the biggest question marks to answer regarding his NBA potential. While he possesses good size, length and strength for a wing prospect, his lateral quickness is just average, and he frequently struggles to contain dribble penetration on the perimeter against collegiate forwards, something that will likely become even more pronounced if forced to move down a position or two, which he'll almost certainly have to do at 6-6.

A year young for his class, Graham has some very interesting characteristics with his length, strength and scoring instincts that all but assure him a bright career playing professional basketball. He'll have to shore up his perimeter skill-set and show he can defend NBA wing players if he's to prove he can do so in the NBA. Having just turned 20 two weeks ago, Graham is the same age as many sophomores like Kyle Anderson, Perry Ellis and Isaiah Austin and thus may still have more room to improve than your typical upperclassmen. NBA scouts will be watching to see what type of strides he makes, as he'll be on their radar screen all season playing for one of the most visible mid-major programs in college basketball.

[Read Full Article]

---