Players at the adidas EUROCAMP underwent the same tests administered at the NBA Combine last week. The results of those tests were released today.
You can find all the results from this year's testing in our historic measurements database

2012 NBA Draft Eligible Prospects
-French swingman
Evan Fournier
(6'5.75 without shoes, 6'8.25 wingpsan, 205 pounds) measured out quite similar to
Evan Turner
(6'5.75 without shoes, 6'8 wingspan, 214) and ranked as one of the faster players in attendance running the ¾ court sprint in 3.42 seconds.
-
Kostas Papanikolaou
(6'7.5 without shoes, 6'8.5 wingspan, 230) has solid size for a small forward, and has plenty of momentum coming off a terrific showing in the Euroleague Final Four. The Greek prospect is similar to former second round pick
Maarty Leunen
(6'7.25 without shoes, 6'8 wingspan, 222 pounds) physically.
-
Tomas Satoransky
(6'6.25 without shoes, 6'8.25 wingspan, 200 pounds) has tremendous size for a player that spends a significant amount of time functioning as his team's primary ball-handler. He ranked well in the vertical leap and the lane agility drill.
-
Andrew Albicy
(5'8.5 without shoes, 6'2 wingspan, 169 pounds) was the smallest player measured, even coming up a bit short relative to
Isaiah Thomas
(5'8.75 without shoes, 6'1.75 wingspan, 186 pounds). Albicy ran the fastest ¾ court sprint with a time of 3.32 seconds and finished fourth in the lane agility drill.
-
Dusan Cantekin
solidified his spot as the tallest prospect eligible for this year's NBA draft, measuring 7'2.25 without shoes and nearly 7'4 in shoes. His 257 pound frame and touch around the basket made him one of the most effective scorers and prolific rebounders for Mega Vizura in the Serbian League this season despite his comparatively small 6'11.25 wingspan and event –low 24.5 inch vertical leap.
-
Tornike Shengelia
measured a solid 6'8 without shoes with a 6'10.5 wingspan. His length is below average for a power forward, making the ability he showed putting the ball on the floor and attacking the rim yesterday even more significant.
-
Ilkan Karaman
was one of the more impressive prospects in attendance physically. He's in tremendous shape compared to where he was a few seasons ago, and at 6'8.5 without shoes with a 7'0.5 wingspan, he impressed by posting a top-5 vertical leap of 33.5 inches.
Future Draft Prospects
-1994-born center Artem Klimenko is considered one of the most promising prospects in Russia. He measured 6'11.5 without shoes with a 7'4 wingspan. Considering he won't turn 19 until next Januany, Klimenko's physical upside alone is intruiging.
-As we noted yesterday, Maxi Kleber (6'8.75 without shoes, 6'10.75 wingspan, 211) was one of the standouts of the first day of EUROCAMP play. He doesn't have elite length, but his 33.5' max vertical leap was one of the 5 best marks registered yesterday.
-1993-prospect
Daniel Diez
of Real Madrid II had the fastest lane agility time, an impressive feat for the 6'8 power forward.
-Though his measurements may not have been released with the rest of the participants, 1992 prospect
Rudy Gobert
stole the show at the combine portion of the EUROCAMP.
Gobert measured 7'0.25 inches without shoes on.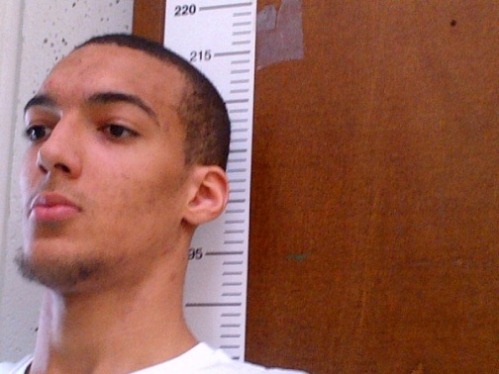 His 7'8.9 inch wingspan would be the largest ever recorded in our database.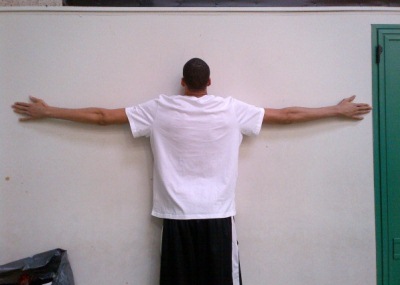 And posted a standing reach not much shorter 10 feet.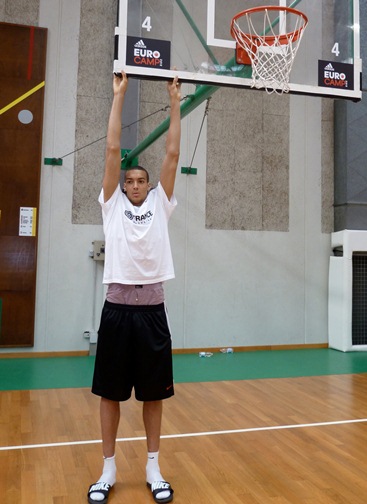 Needless to say, Gobert's numbers leave an impression and we'll look at how they helped him on the floor in our coverage of day two.