Brandon Ashley
Recent Tweets
All Tweets
DraftExpress: Top NBA Prospects in the Pac-12 #11-15 http://t.co/uCHlJVWvF6 Brandon Ashley Tony Parker Jordan Bachynski Damyean Dotson Xavier Johnson
2013-10-06 11:51:02
DraftExpress: Players released from @usabasketball U19 tryouts (cnt'd) Brandon Ashley Robert Carter Shaq Goodwin Devin Thomas
2013-06-16 14:44:15
DraftExpress: One guy who has been somewhat disappointing so far is Brandon Ashley. Just kind of floating around. Not showing much toughness or intensity.
2013-06-15 13:53:56
DraftExpress: DX McDonald's All-American Player Evaluations (Part Two) - Alex Poythress, Brandon Ashley, Isaiah Austin & Marcus Smart http://t.co/yjLpwdBG
2012-04-04 12:48:12
DraftExpress: Right now it appears that yes. But let's see how they develop. RT @dh211: Do we have a couple years of Grant Jarrett and Brandon Ashley?
2012-03-28 11:01:24
Team: Arizona, Junior
Physicals
Positions
Rankings
Misc
H: 6' 7"
W: 191 lbs
Bday: 07/15/1994
(20 Years Old)

Current: PF
NBA: PF
Possible: PF

Pick: 53 in 2015 Mock Draft
Rank 86 in Top 100 Prospects
Rank 13 in NCAA Juniors
RSCI: 17

High School: Bishop O'Dowd
Hometown: Oakland, CA

Predraft Measurements
| Year | Source | Height w/o Shoes | Height w/shoes | Weight | Wingspan | Standing Reach | Body Fat | No Step Vert | Max Vert |
| --- | --- | --- | --- | --- | --- | --- | --- | --- | --- |
| 2013 | USA Basketball | 6' 6" | 6' 8" | 223 | 7' 2.5" | 9' 1" | NA | NA | NA |
| 2013 | Big Man Skills Acad | NA | 6' 8.5" | 217 | 7' 2.5" | NA | NA | NA | NA |
| 2011 | LeBron James Camp | NA | 6' 7" | 191 | 6' 8" | NA | NA | NA | NA |
| 2011 | Amare Stoudemire Camp | NA | 6' 7" | 191 | 6' 8" | NA | NA | NA | NA |
| 2010 | LeBron James Camp | NA | 6' 8" | 200 | 7' 1" | NA | NA | NA | NA |



Basic Per Game Statistics

- Comprehensive Stats - Statistical Top 25s
| Year | League | Name | GP | Min | Pts | FG | FGA | FG% | 2Pt | 2PtA | 2P% | 3Pt | 3PtA | 3P% | FTM | FTA | FT% | Off | Def | TOT | Asts | Stls | Blks | TOs | PFs |
| --- | --- | --- | --- | --- | --- | --- | --- | --- | --- | --- | --- | --- | --- | --- | --- | --- | --- | --- | --- | --- | --- | --- | --- | --- | --- |
| 2013/14 | NCAA | Brandon Ashley | 22 | 27.7 | 11.5 | 4.2 | 8.1 | 52.2 | 3.7 | 6.8 | 55.0 | 0.5 | 1.3 | 37.9 | 2.5 | 3.4 | 75.7 | 1.9 | 3.9 | 5.8 | 1.0 | 0.6 | 0.7 | 1.7 | 3.2 |

Player Page&nbsp&nbsp| Player Stats | Mock Draft History | Related Articles&nbsp&nbsp| Add to My Draft Express&nbsp
&nbsp
USA Basketball U19 World Championship Training Camp Report
June 17, 2013
One of the biggest disappointments at this event relative to his talent level and the accolades that have followed him in his career thus far, Brandon Ashley struggled to establish himself in any way, shape or form throughout the week and was unsurprisingly part of the first round of roster cuts.

6-8, very smooth, and very much looking the part of a major prospect on first glance, Ashley has done little to improve his frame since the first time we saw him a few years back, leaving many question marks regarding how much time he's spent in the weight room. Not quite strong, aggressive or tough enough to bang with the other post players down low, but not skilled enough to spend as much time on the perimeter as he seems fond of, Ashley is very much stuck in between positions at the moment. He can make an occasional jump-shot with his feet set, but is just an average ball-handler, having a difficult time finishing around the basket through contact. Defensively, he lacks intensity in a major way and regularly had rebounds taken away from him in traffic, not being helped by his short wingspan and underdeveloped frame.

Ashely is in the right place at Arizona under Sean MIller to try and overcome his shortcomings and still make the most of his considerable talent-level, but he will have to show a better motor and apply himself more consistently on both ends of the floor if he's to reach his potential. Getting cut may have been a blessing in disguise for him, as he clearly has a lot of work ahead of him.

[Read Full Article]

---
McDonald's All-American Video Profile: Brandon Ashley
April 26, 2012
[Read Full Article]

---
McDonald's All-American Interviews: Brandon Ashley and Grant Jerrett
April 9, 2012
[Read Full Article]

---
McDonald's All-American Week Player Evaluations (Part Two)
April 2, 2012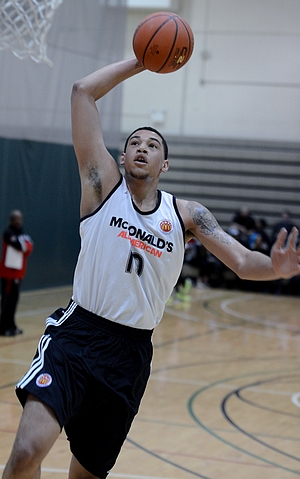 Golin Harris



Jonathan Givony

Brandon Ashley had a bit of a non-descript week here in Chicago, which has become somewhat of the norm in the occasions we've watched him play over the past few years.

From a physical standpoint, it's not difficult to see what the recruiting services like about him as he's a very fluid and mobile power forward who can play above the rim and shows very good quickness for a player his size. His frame is underdeveloped at the moment but should fill out very nicely in time.

Offensively, Ashley has terrific instincts and shows the potential to do a bit of everything. He likes to step out onto the perimeter where he can knock down shots with range or attack his matchup in a straight line and draw plenty of fouls. He can also go into the post and use his quickness, agility and soft touch to score effectively and get to the free throw line.

While Ashley's versatility is intriguing, he isn't always able to impact the game the way you'd expect a player of his caliber to. He tends to fall in love with his jump-shot at times, which isn't consistent enough at this stage, and is a little turnover prone handling the ball on the perimeter. If unable to simply beat his man off the dribble with his first step he doesn't have much of a plan of attack, showing a limited feel for passing to teammates or utilizing countermoves.

Perhaps the worst thing that can be said about Ashley is that he doesn't always show a great sense of urgency in his time on the court. His intensity level fluctuates greatly and he seems to let games come to him, which isn't rare considering his age. The place where that shows up the most right now is in his work on defense and as a rebounder. His fundamentals here aren't great, as he rarely boxes out his opponent or gets into a real defensive stance.

To Ashley's credit, he readily admits that these are issues he must address. This is one of the reasons he decided to commit to Sean Miller at Arizona, whose teams at Xavier were always known for the intensity and toughness.

If Ashley can address his shortcomings and continue to expand his all-around game over time, there's little doubt he'll emerge as a very intriguing NBA prospect, possibly similar to former Arizona power forward Derrick Williams, whose name undoubtedly came up in Miller's recruiting pitch.

[Read Full Article]

---