Beginning our coverage of the SEC, we check in on conference's top-10 returning prospects including
Patric Young
,
Terrence Jones
,
Festus Ezeli
,
Jeff Taylor
,
John Jenkins
,
JaMychal Green
,
Doron Lamb
,
Arnett Moultrie
,
Tony Mitchell
, and
Darius Miller
.
Freshmen have been excluded from these previews, as we'd like to wait and see what they have to offer on the NCAA level before we come to any long-term conclusions.
-
Top 20 Prospects in the Big Ten
-
Top 25 Prospects in the ACC
-
Top 15 Prospects in the Big 12
-
Top 15 Prospects in the Pac-12
-
Top 25 Prospects in the Big East
#1 Patric Young, 6'9, Sophomore, Power Forward, Florida
Having profiled
Patric Young
just two months ago following his performance at the U-19 World Championships, we will to see how he uses that experience back at Florida with a fresh perspective in a couple months.
#2 Terrence Jones, 6'8, Sophomore, Small Forward/Power Forward, Kentucky
Having profiled
Terrence Jones
in detail after last year's NCAA Tournament, we will wait to see how Jones adjusts to playing alongside Kentucky's talented freshman class before adding to his already comprehensive scouting report.
#3 Festus Ezeli, 6'11, Senior, Center, Vanderbilt
We will wait to see what wrinkles Ezeli has added to his game for the 2012 season rather than repeating many of the positive things we said about his development in our comprehensive report on his improvement from last winter.
#4 Jeff Taylor, 6'6, Senior, Small Forward, Vanderbilt
Having profiled
Jeff Taylor
in detail during last year's NCAA Tournament, we will wait to see how he steps up as a senior before adding to his already comprehensive scouting report.
#5 John Jenkins, 6'4, Junior, Shooting Guard, Vanderbilt
After a breakout 2011 season, we've elected to see what Jenkins brings to the floor as a junior rather than rehashing the same observations we made about his improvement last March.
#6 JaMychal Green, 6'8, Senior, Power Forward, Alabama
Having profiled Green late last season we will revisit his comprehensive scouting report with a fresh perspective in a few months when the senior looks to lead his team to the NCAA Tournament.
#7 Doron Lamb, 6'4, Sophomore, Shooting Guard, Kentucky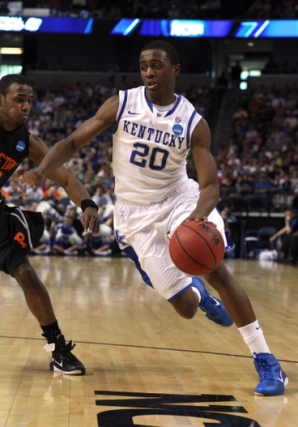 Jonathan Givony
An afterthought in a bombastic recruiting class featuring the likes of
Brandon Knight
,
Terrence Jones
and
Enes Kanter
,
Doron Lamb
was a McDonald's All-American in his own right and a significant contributor on a Kentucky team that ended up making the Final Four.
With fellow backcourt mates Knight and
DeAndre Liggins
off to the professional ranks, Lamb will be looking to build on an excellent debut season that saw him emerge as one of the most efficient freshmen in college basketball.
Lamb lacks ideal physical tools for a high-level NBA shooting guard, standing 6-4, with an average frame and good, but not incredible athleticism. He compensates for that with his skill-level and aggressiveness, showing terrific scoring instincts and an excellent mentality on both ends of the floor relative to his role.
Watching him in high school, Lamb didn't always look like a player that would buy in to being a role player from day one, as he displayed plenty of issues with his shot selection and all-around decision making. To his credit, that was not the case at all last year, as he did precisely what was asked of him by John Calipari – seeing almost all of his offense spotting up on the wing or running the floor in transition-- and did so in an incredibly efficient manner at that.
Lamb's perimeter shooting alone would be enough to get him noticed by NBA talent evaluators, as he made 49% of his 3-pointers, 5th best amongst all collegiate prospects last year.
Most of his shots came with his feet set, but he was pretty effective shooting off the dribble as well. He gets good elevation on his jumper, displaying fluid, consistent mechanics with NBA range, always being ready and willing to rise and fire when called upon. Highly aggressive seeking out scoring opportunities, Lamb toed the line extremely well between assertiveness and overconfidence as a freshman, which will make it interesting to see how his role evolves this upcoming season.
Also a pretty solid ball-handler, Lamb can create his own shot fairly effectively from the perimeter, which differentiates him from most of the
Jon Diebler
or
Ashton Gibbs
type perimeter marksmen. He's not someone that can be counted on as a go-to guy necessarily, but is certainly not a one dimensional player either. Kentucky liked to bring him off a lot of short curls in the 15-17 foot area as a secondary option, where he create separation from his defender for a jumper or use one dribble to get into the paint and shoot a floater.
Lamb has a good first step and is capable of driving left or right, sometimes struggling to finish around the rim in the half-court due to his lack of size and average explosiveness. He did not get to the line very often, but posted a positive assist to turnover ratio and converted over 50% of his 2-pointers. He's extremely effective in transition thanks to his aggressive mentality and terrific scoring instincts, so it will be interesting to see how his shot-creating ability in the half-court evolves in the future.
Out of necessity, Kentucky played him some minutes at the point last season when
Brandon Knight
went to bench, but that didn't prove to be an ideal option, as he's not a great passer and clearly thinks shoot first when he has the ball in his hands.
Defensively, Lamb more than held his own as a freshman, which is a requirement playing for John Calipari at Kentucky. He moves his feet very well on the perimeter, doing a very good job using his length to contest shots, even if he isn't going to get his team a great deal of extra possessions. He may lack some size and bulk to help cover the most talented shooting guards he'll encounter in the NBA, but more than makes up for that with effort at the collegiate level.
Lamb may not share the same upside of some of his more highly touted teammates at Kentucky this season once again, but his value to professional talent evaluators looks quite clear. He projects as an efficient two way player who is dangerous enough from anywhere on the floor to help take the pressure off his team's primary options, either coming off the bench or alongside a couple of stars. Lamb will likely have a chance to expand his role somewhat more as a sophomore, and it will be interesting to see if he can maintain the same efficiency while showing some added wrinkles to his game.
#8 Arnett Moultrie, 6'11, Junior, Power Forward/Center, Mississippi State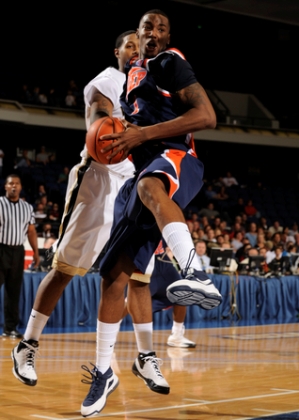 Now eligible after sitting out a season at Mississippi State, we will take a long look at Moultrie when he gets back on the floor for the first regular season action he's seen since transferring from UTEP.
#9, Tony Mitchell, 6-6, Shooting Guard/Small Forward, Junior, Alabama
Walker Beeken
After a solid freshman season, Alabama's
Tony Mitchell
continued to make progress as a sophomore, playing more minutes and providing the Crimson Tide with a second scoring weapon alongside JaMychel Green. While Mitchell is still not a big name on the national scene, he's one of the batter overall players in the SEC, and he's able to impact the game in a number of ways at the college level.
As we mentioned before, Mitchell has solid physical tools for an NBA wing prospect, and he continued to display the energy and toughness that we saw from him as a freshman. He was one of the only two shooting guard prospects in our database to average over a block and a steal per game last season, along with
Marshon Brooks
, highlighting what he brings to the table with his size, length, and athleticism on the defensive end. He also led all shooting guards in our database in rebounds per-40 pace adjusted, despite a slight dip from his freshman season.
Offensively, Mitchell didn't make any major breakthroughs as a sophomore, but he did manage to show slight improvements in most all areas. He played a larger role and picked up his scoring, while starting to show some potential creating his own shot. He still has work to do in terms of refining his moves off the dribble and tightening his handle, but he was more than just an off the ball player who scored off of cuts, offensive rebounds, and transition opportunities, like he primarily did as a freshman. Most importantly, Mitchell actually improved his overall field goal percentage, shooting an impressive 52%, while carrying a larger load for the Crimson Tide offensively.
Mitchell also made strides as a jump shooter, connecting on 32% of his jumpers as compared to only 27% as a freshman, while also improving from the free throw line and from 3-point range. He still has work to do, though, to make himself into a proficient outside shooter, which could be a big factor in his professional potential down the road.
As a 22 year old junior this upcoming season, Mitchell will need to continue to show improvement and give scouts a reason to pay attention to him as a legitimate NBA prospect. His physical tools and defensive potential on the wing give him a nice base to build on, but his offensive identity as an NBA prospect is likely still in question.
He's not a good enough shot-creator to be a guy who would have the ball in his hands creating offense, and his decision-making skills and playmaking ability are average at best. Off the ball, his athleticism and energy help him as a finisher and in transition, but he doesn't shoot the ball well enough from the perimeter to provide the spacing that NBA teams want to see in the halfcourt.
Judging from the progress he made from his freshman to sophomore season, it wouldn't be surprising to see Mitchell have a big year as a junior for what could be a solid Alabama team. He certainly has some intriguing qualities as an NBA wing prospect, and if he can continue to improve as a perimeter shooter and add polish to his game off the dribble, he'll be a player who could be talked about much more in NBA Draft discussion.
#10 Darius Miller, 6'7, Senior, Small Forward, Kentucky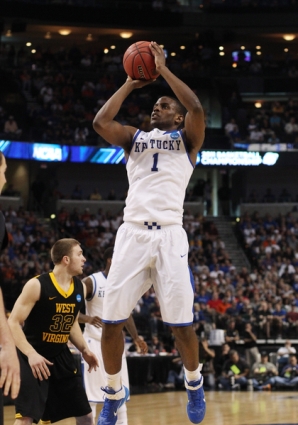 Joseph Treutlein
After playing a deferential during role his sophomore season on an extremely talented Kentucky team,
Darius Miller
broke out to some extent as a junior, nearly doubling his scoring production to a still modest 10.9 points per game, but also significantly diversifying the ways in which he was scoring the ball.
Primarily a spot-shooting role player as a sophomore (over 60% of his field goal attempts came from behind the arc that season), Miller exhibited much more versatility as a junior, having many more opportunities to show off his skills with
John Wall
,
Eric Bledsoe
,
Patrick Patterson
, and DeMarcus Cousins moving on to the NBA. While Miller still isn't lighting the world on fire offensively with his 10.9 points per-game, he made significant strides as a junior and shows solid potential in a variety of areas.
Spot shooting still makes up a good chunk of Miller's offensive game, with 3.4 of his 8.2 field-goal attempts per game coming from behind the arc, though his efficiency improved significantly as a junior, up to a strong 44.3% from just 33.6% as a sophomore. Miller still looks a bit stiff in his motions but otherwise has solid fundamentals with a high and quick release along with a good feel for getting open for the quick catch-and-shoot. His experience playing as a role player in college could ease any potential transition to the NBA, but it will be important for him to prove this season his three-point shooting bump wasn't a fluke.
While Miller showed little in terms of ability to attack the basket as a sophomore, he significantly expanded that portion of a game last season, showing the ability to score in a variety of ways with the ball in his hands.
Miller's face-up game is still somewhat limited, as he doesn't possess much in terms of advanced ball-handling and his instincts in the lane are at times questionable, but he's doing a better job taking advantage of his strong first step, rangy strides, and great size and length for his position to create opportunities. He fares very well on spot-up drives and to a lesser extent isolation situations where he doesn't face weak side help, but struggles when having to deal with a crowded lane, often throwing up weak finesse lay-ups in traffic and not doing a good enough job of utilizing his size to finish with power and draw contact.
Miller shows a decent touch with runners, floaters, and running hook shots in the lanes on his drives, but it's not a very efficient aspect of his offensive arsenal and isn't really suited to his strengths. Easing back on that aspect of his offense and better taking advantage of his physical tools would help his stock, but it's worth noting the crowded, often tightly spaced college game doesn't always facilitate those opportunities like the NBA does.
The other area of Miller's game he shows some progress with is his post-up game, where he does a nice job utilizing his size and strength to take advantage of mismatches on the block. Similar to his dribble-drive game, Miller struggles when dealing with multiple defenders and crowds here, but is very formidable when he gets isolation opportunities, having a nice assortment of turnaround jumpers and hook shots to score over his man.
Miller also is formidable finishing on cuts to the basket, but it's not something that was really emphasized with him as a junior. If he were to make it to the NBA, this would likely have to become a larger part of his game at the expense of his face-up opportunities, but it's not a transition he should have much trouble making.
On the defensive end, Miller showed some improvements as a junior, but still retains many of the same fundamental problems from his sophomore season. Despite having excellent tools in terms of size, length, and athleticism, Miller often sags off his man on drives to the basket, too easily giving up a cushion and leading to easy shots. This is contrary to his initially aggressive perimeter stance, where he does a good job using his length to pester and contest shots, only to get out of his stance too easily and give up too much ground going to the basket. He could do a better job keeping low to better move laterally, but really just needs to show more discipline and consistency once his man makes a move to the rim.
Looking forward, Miller has a nice foundation of abilities to build upon with his spot-shooting and athletic and physical tools, but continuing to improve on some combination of his defense, post game, and dribble-drive abilities would help his stock. His experience as a role player could ease a transition to the NBA, but his modest numbers and tendency to disappear at times could give some evaluators pause. Maintaining his strong three-point shooting numbers and continuing to improve his overall abilities will be critical for him as a senior, and doing so could certainly put him in second round conversations.