Kyle Wiltjer
Recent Tweets
All Tweets
DraftExpress2: Kyle Wiltjer's Dad was drafted in 1984 but never played in the NBA. He played 12 years overseas. The Wiltjers know what they're doing.
2015-04-13 21:21:47
DraftExpress: RT @GaryParrishCBS Archie Goodwin is entering the NBA Draft. Willie Cauley-Stein Kyle Wiltjer returning to school Kentucky has announced.
2013-04-01 11:35:53
DraftExpress: Yes. Did you not see what the Indiana Pacers GM (@PacersKev) just tweeted? RT @DRuskoo: Do you think Kyle Wiltjer has potential in the NBA?
2012-08-04 10:22:15
DraftExpress: Nerlens Noel, Kyle Wiltjer and Willie Cauley. RT @_LukeSmith: Who are the three Kentucky participants at #adidasnations?
2012-08-04 10:11:49
DraftExpress: Agreed. Runs the floor exactly the same way. RT @MGansey: Cant help but think of Nick Fazekas when watching Kentucky's Kyle Wiltjer...
2011-11-20 12:28:32
Team: Gonzaga, Senior
Physicals
Positions
Rankings
Misc
H: 6' 9"
W: 226 lbs
Bday: 10/20/1992
(22 Years Old)

Current: PF
NBA: PF
Possible: PF

Rank 73 in Top 100 Prospects
Rank 20 in NCAA Seniors
RSCI: 18

High School: Jesuit High School
Hometown: Portland, OR

Predraft Measurements
| Year | Source | Height w/o Shoes | Height w/shoes | Weight | Wingspan | Standing Reach | Body Fat | No Step Vert | Max Vert |
| --- | --- | --- | --- | --- | --- | --- | --- | --- | --- |
| 2015 | Nike Skills Academy | NA | 6' 10" | 236 | 6' 11.5" | NA | NA | NA | NA |
| 2010 | LeBron James Camp | NA | 6' 9" | 221 | 6' 11" | NA | NA | NA | NA |
| 2010 | NBA Top 100 Camp | 6' 9" | NA | 226 | 6' 11.5" | NA | NA | NA | NA |
| 2009 | LeBron James Camp | NA | 6' 8" | 221 | 6' 10.5" | NA | NA | NA | NA |



Basic Per Game Statistics

- Comprehensive Stats - Statistical Top 25s
| Year | League | Name | GP | Min | Pts | FG | FGA | FG% | 2Pt | 2PtA | 2P% | 3Pt | 3PtA | 3P% | FTM | FTA | FT% | Off | Def | TOT | Asts | Stls | Blks | TOs | PFs |
| --- | --- | --- | --- | --- | --- | --- | --- | --- | --- | --- | --- | --- | --- | --- | --- | --- | --- | --- | --- | --- | --- | --- | --- | --- | --- |
| 2014/15 | NCAA | Kyle Wiltjer | 37 | 27.8 | 16.8 | 6.4 | 11.9 | 53.4 | 4.5 | 8.0 | 56.8 | 1.8 | 3.9 | 46.5 | 2.3 | 2.9 | 78.5 | 1.3 | 4.8 | 6.1 | 1.9 | 0.5 | 0.7 | 1.1 | 1.6 |

Player Page&nbsp&nbsp| Player Stats | Mock Draft History | Related Articles&nbsp&nbsp| Add to My Draft Express&nbsp
&nbsp
Nike Academy Scouting Reports: College Power Forward/Center Prospects
July 6, 2015
Mike Schmitz

Kyle Wiltjer torched the Nike Academy nets in a variety of ways and was without a doubt the best scoring big man in the group. Wiltjer drilled catch and shoot after catch and shoot three, and also showed the ability to attack an occasional closeout into a step back jumper or floater in the lane.

The Gonzaga sniper was the best shooter at the camp and he consistently made opposing bigs pay for giving him any time or space to get off his jumper. Wiltjer didn't just operate as a spot-up shooter, however. He's very skilled from mid-post spots, as a he displays solid footwork, a few nifty up fakes, turnaround jumpers, and very good touch on his right handed jump hook.

Wiltjer was also very effective in short roll situations as he did a nice job either stopping and popping in mid-range spots, making the right read or using up fakes to get defenders in the air. He's not a big-time athlete or overly long or strong, but the Canadian sharpshooter has a chance to be the best offensive player in the NCAA next year as a senior.

Defensively, however, Wiltjer is still a bit of a liability. While he did appear to add some weight to his frame, Wiltjer doesn't play with great toughness on the defensive end, as he struggles defending the post versus stronger bigs. He's not very involved on the defensive glass either, making him a focal point for opposing bigs to attack on the interior. Wiltjer could probably slide by somewhat on the defensive end if he was able to contain the ball in the pick and roll and stay in front of face-up power forwards in the half court, but his lateral quickness leaves much to be desired. He's actually fairly mobile on the offensive end, but his fairly wide hips and struggles consistently getting down into a stance and sliding really hurt him as a perimeter defender.

Wiltjer will most likely never be a prolific defender given his physical profile, but his stellar offensive package could make him a strong second round pick option next year when he becomes automatically eligible for the draft.

[Read Full Article]

---
Top NBA Draft Prospects in the SEC, Part Three (#6-10)
October 28, 2012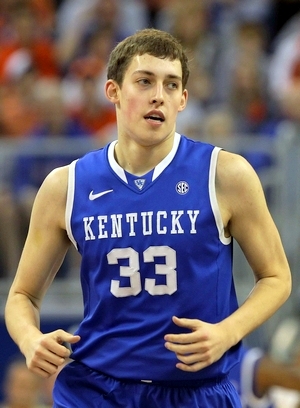 US Presswire



Joe Treutlein

One of the highest ranked players in the 2011 recruiting class, Kyle Wiltjer had a modest freshman season, but that's not at all surprising given the immensely talented team he played for. Headed into this season, Wiltjer should have opportunities to significantly increase his role, but he'll still have plenty of competition from Kentucky's perennial top recruiting class.

Standing 6'9 with a decent frame, a still developing body, and solid length, Wiltjer is just an average athlete for his size, running the floor awkwardly, but relatively well, and being coordinated in his movements, even if he's lacking in exceptional quickness or explosiveness.

On the offensive end, Wiltjer was best known for his strong outside shooting ability heading into his freshman year, and he lived up to that reputation on the floor, shooting a very good 43.2% from three-point range, and taking nearly half of his 4.1 field-goal attempts per game from behind the arc. Wiltjer has excellent form, sporting a high and quick release that benefits from his very good height and length, making him a dangerous threat for spot-up jumpers and especially on pick-and-pops. His strength in this area is ideally suited for the style of play many NBA teams use, and it will be interesting to see how significant a staple of his game this remains as he expands his playing time and role in Lexington.

Beyond his outside shooting, Wiltjer performed decently in a number of other areas, but didn't really stand out at one in particular. He rarely operated with the ball from isolation situations, though he did look solid with simple, straight-line dribble-drives on spot-up attempts when he had the opportunity. Wiltjer's face-up game was a selling point of his heading into college, but the jury's still out on whether he can continue to excel with that against the physically gifted opponents he faces in the SEC and beyond.

Wiltjer's post-up game was also largely a non-factor his freshman year, though he did look competent on simple hook shots and turnaround jumpers when he had the opportunity. His ability to finish around the basket in general wasn't particularly impressive, as he is a decidedly below-the-rim player, but he still does a decent job and has room for improvement given his skill level and feel for the game. He has developed a nice, uncharacteristic floater in the lane for a player his size, which is also something to watch for going forward.

Wiltjer wasn't able to contribute much beyond the scoring game his freshman year, showing some flashes in the passing game but being mostly a non-factor otherwise. His rebounding ability is most concerning, as he averaged an awful 6.0 rebounds per 40 minutes pace adjusted while playing exclusively at the power forward and occasionally center positions throughout the year. While his upside with offensive rebounding is somewhat limited given where he plays on the floor, putting a more concerted effort to improving on the defensive end will be very important for him, as it's difficult to find a single power forward in the last 10 years who was drafted with such poor rebounding numbers.

Defensively, Wiltjer shows a good effort level and fundamental base in the post, using his size and length well to contest shots. He is prone to being backed down by stronger opposition, but for the most part holds his own and still has the room to add more weight to his frame and bolster his strength on the block. His perimeter defense is more concerning for a power forward, as he doesn't possess good lateral quickness and can be severely outmatched by face-up oriented power forwards with his extremely high center of gravity and upward stance. He doesn't really have an ideal position on this end of the floor from an NBA perspective, but will still need to maximize his abilities to become as good of an individual defender as he can.

Looking forward, Wiltjer strongly excels with one skill in particular, his outside shooting, and that combined with his size gives him a strong foundation to build upon as a prospect. There's good reason to believe based on his pre-college performance that he still has much more to show on the offensive end, and should have opportunities to do so this season. How he expands his game offensively and how he can improve defensively will both play key roles in determining his prospects as a player.

[Read Full Article]

---
Nike Hoop Summit Scouting Reports: International Forwards/Big Men
April 15, 2011
Walker Beeken

After a solid week in Chicago for the McDonald's game, Canadian big man Kyle Wiltjer showed his strengths and weaknesses in Portland for the 2011 Nike Hoop Summit. During the first couple days of practice, he clearly had trouble with the length of fellow World Team members Bismack Biyombo and Lucas Nogueira during practice when working in the post. As the week went on, however, Wiltjer adjusted and moved his game away from the basket and took advantage of his high skill level, scoring efficiently and draining perimeter jumpers during their first scrimmage.

Wiltjer is very skilled and fundamentally sound big man, highlighted by his ability to score from the perimeter and in the post. He showed a variety of moves with his back to the basket, utilizing good footwork, and converting hook shots and using fakes leading to counter moves

When facing up, he has range out past the 3-point arc, and even showed that he's capable of putting the ball on the floor smoothly and creatively to get to the basket or free himself for jump-shots. Continuing to develop his post game at the college level and learning how to score against longer, more athletic players will be a big key for his future, as he struggled at times during the week and against the USA players in the game on Saturday night. His scoring instincts are outstanding, though, so it might be just a matter of time.

While it seems likely that Wiltjer will be able to score effectively at Kentucky, we didn't see much from him as a passer, and it will be interesting to see how he fits playing alongside other talented players and capable scorers. He shot 5-15 in the game at the Hoop Summit and went 2-6 from 3-point range in 23 minutes of action, taking more attempts from the field and from 3-point range than any other player in the game. If he can learn to play a bit more within himself and utilize his teammates better, it will only enhance what we've already seen from him as a scorer.

Wiltjer's progress on the defensive end will also be a big factor in his future development, as he lacks the lateral quickness to defend face-up power forwards, and may struggle inside to defend NBA centers. He does seem to have excellent intangibles, though, with a great attitude and terrific work ethic, so he'll be a player we'll be watching more during his career at Kentucky.

[Read Full Article]

---
McDonald's All American Game Interviews/Practice Highlights, Part Two
April 15, 2011
[Read Full Article]

---
2011 Nike Hoop Summit: International Measurements
April 4, 2011
Kyle Wiltjer
Weight: 224 lbs.
Height (w/o shoes): 6'8.25"
Height (w/ shoes): 6'9.25"
Wingspan: 7'0"
Body Fat: 11.3%
Standing Reach: 8'10"

[Read Full Article]

---
FIBA Americas U-18 Championships: Top International Prospects
July 1, 2010
Another highly touted member of the 2011 high school class, Kyle Wiltjer displays impressive skills for a 17-year-old. He's an average athlete who runs the court somewhat awkwardly and does not play above the rim, but Wiltjer makes his living by being smarter and more polished than his opponents.

He's first and foremost an outstanding shooter, showing a quick release on his jumper and excellent mechanics. He has NBA range as well as the ability to make shots both with his feet set and off the dribble. He also has some back-to-the-basket ability. He has good hands, an effective jump hook and the ability to put the ball down and get around opponents in the paint.

While Wiltjer clearly has all the makings of a terrific college player, he's a bit stuck between positions from an NBA perspective, and he does not have great potential as a defender and rebounder. He's already drawing comparisons to Luke Babbitt—and he'd be wise to take a similar path to the pros.

[Read Full Article]

---