We continue our coverage of the top NBA Draft prospects in the non-BCS conferences with part six, players ranked 6-10:
James Webb III
,
Kyle Wiltjer
,
Joel Bolomboy
,
Fred VanVleet
and
E.C. Matthews
.
---
More DX Conference Preseason Previews:
-The Top 20 NBA Draft Prospects in the Pac-12
-The Top 20 NBA Draft Prospects in the Big East
-The Top 15 NBA Draft Prospects in the Big 12
-The Top 20 NBA Draft Prospects in the SEC
-The Top 10 NBA Draft Prospects in the AAC
-The Top 30 NBA Draft Prospects in the ACC
-The Top 25 NBA Draft Prospects in the Big Ten
---
Top NBA Draft Prospects in the Non-BCS Conferences
-Top NBA Draft Prospects in the Non-BCS Conferences, Part One
(#1) Stephen Zimmerman (Scouting Video)
-Top NBA Draft Prospects in the Non-BCS Conferences, Part Two
(#2) Domantas Sabonis (Scouting Video)
-Top NBA Draft Prospects in the Non-BCS Conferences, Part Three
(#3) Malik Pope (Scouting Video)
-Top NBA Draft Prospects in the Non-BCS Conferences, Part Four
(#4) DeAndre Bembry (Scouting Video)
-Top NBA Draft Prospects in the Non-BCS Conferences, Part Five
(#5) Ron Baker (Scouting Video)
---
#6, James Webb III, 6-9, Forward, Sophomore, Boise State
Jacob Eisenberg
James Webb III came out of nowhere last season to become a focal point on both ends of the floor for the upstart Boise State Broncos, who surprised many by tying San Diego State for first in the MWC. A late bloomer who didn't garner much attention in high school, Webb eventually played a year of JuCo at North Idaho in order to fulfill his academic requirements before enrolling at Boise State last fall. In his first season with the Broncos, Webb established himself as an elite-level role-player, averaging 15.7 points and 11.2 rebounds per-40 minutes – en route to winning the Mountain West's Newcomer of the Year Award.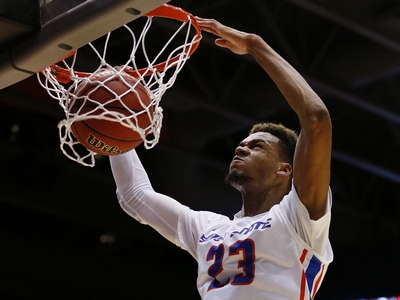 At 6'9 and with a 6'10.5 wingspan, Webb certainly possesses the height and length to play forward in the NBA. He's quite wiry, weighing around 200 pounds, but he possesses an advanced rebounding aptitude for someone his build. In fact, Webb's calling card as an NBA prospect is his unique combination of athleticism, strong rebounding, budding perimeter shooting, and encouraging defensive potential, even if his frame is something teams will want to see continue to improve as time moves on.
Webb pulled down 11.2 rebounds per-40 minutes in his first season in D1, but even that rate fails to explain just how adept he is on the boards. He grabbed 26.9% of all available defensive rebounds as a freshman – the second highest rate in DX's top 100 prospects database. Offensively, Webb was often asked to stray out onto the perimeter as a floor spacer, mitigating what may have been a similarly impressive offensive rebounding rate.
Webb is a tremendous athlete, able to get off the floor quickly and effortlessly, resulting in a number of highlight reel plays last season. Webb thrives on put-backs opportunities, simply because he can jump twice in the same amount of time it takes opponents to jump once. He combines elite athleticism with a terrific motor, as he's constantly battling in the paint for loose balls, despite not possessing a very strong frame.
Webb's offensive potential is intriguing. He made 45-of-110 (40.9%) three point attempts last season, proving he has the confidence and touch to score consistently from the perimeter. He's not the smoothest player on the offensive end, lacking the ball-handling skills needed at this point to do much off the dribble against a set defense. While he shot a very high percentage last season, his mechanics could use some tinkering, as he has a tendency to get streaky at times. After starting the season shooting 30/61 from 3-point range in the first 19 games of the season (49%), he finished shooting just 15/49 (31%) in the last 11 games.
Webb shoots a bit of a slingshot type jumper, contorting his body sideways and shooting off the side of his hand at times, which is somewhat of a concern projecting out to the longer NBA 3-point line. He doesn't always get the same elevation on every attempt, and is strictly a stand-still shooter at this point, with almost all of his jumpers coming with his feet set last year. While there is a lot to like about the way Webb shot the ball in his breakout season last year, teams will want to see another year of consistent shooting to gain a larger sample size and eliminate any potential flukiness.
More than just a floor spacer, Webb is also effective offensively on the interior as a finisher. Per Synergy Sports Technology, Webb scored on 63-of-92 (68.5%) field goals around the hoop. He runs the floor like a man possessed, and has impeccable timing on his release in traffic (attributed to his hang time in the air) and gets off clean looks against tall defenders. He puts up off-balance wild shots at a slightly concerning rate considering he only gets to the free throw line 2.7 times per-40 minutes. He will need to learn how to embrace contact down low rather than use his lankiness to avoid it.
Webb was rarely asked to create much for himself or others off the dribble last season, with his usage rate ranking just fifth on Boise State last year. He averaged just 0.8 assists per-40 minutes last season, including a paltry 4.3% assist rate – one of the worst percentages among prospects in DX's database. He's not particularly turnover prone (just 1.3 turnovers per-40) but as someone who projects to play at least some minutes on the wing at times, scouts would like to see a little more ability to create off the dribble. Boise State may need him to do that this year with senior leader Derrick Marks off to the pro ranks, so it will be interesting to see whether Webb can handle a bigger role offensively.
Defensively, Webb was inconsistent at times, but has all the physical tools to improve tremendously. Last season, Webb's defensive flaws were mostly due to his lack of experience and strength, and certainly not due to a lack of effort. He'd lose focus on rotations and often over-pursue on double teams, allowing his man to get off clean looks from the perimeter.
As expected, he gets bullied on drives and in the post against stronger players, which is a concern if asked to spend time at the power forward spot like he often is at the college ranks. Often ceding at least 30 pounds to his matchup, Webb allows deep seals and would benefit greatly by adding weight to his lower body and core. He uses his length conservatively to disrupt opponents' looks but he's not particularly foul prone, which is a pleasant surprise considering how often he's challenged in the paint.
On the perimeter, he isn't always as disciplined as you may hope. He's inconsistent with his stance and his footwork laterally isn't refined. He can use his length to catch up in certain cases but he will need to improve his mechanics to improve balance when he's matched up against faster and stronger players at the next level. With that being said, the length and quickness will always be an impressive foundational asset for his defense.
Overall, Webb's unique skill-set will catch the attention from NBA teams. He has potential to be a two-way player with enough length and perimeter shooting to play multiple positions at the next level. He will need to add significant weight to his frame and show his perimeter shooting is for real while playing a bigger role than he did as an anonymous redshirt sophomore. Nonetheless, with his combination of size, athleticism, competitiveness and budding skill-level, Webb's future certainly looks promising.
#7, Kyle Wiltjer, 6'10, Power Forward, Gonzaga, Senior
Kyle Nelson
Kyle Wiltjer entered college basketball as a McDonald's All-American and played a contributing role as a freshman during Kentucky's 2012 National Championship run. After a subpar sophomore season, however, Wiltjer decided to transfer to Gonzaga and he spent his redshirt season
attempting to transform his body and skill set
.
He hit the ground running as a junior, breaking out amidst Gonzaga's 35-3 season and anchoring the nation's sixth most efficient offense in the process. Wiltjer led Gonzaga to a two-seed in the NCAA and a run to the Elite 8, but expectations are even higher on the eve of his senior season. A pre-season All-American Candidate, Wiltjer has the opportunity to take another step forward and prove to scouts that he has what it takes to excel at the next level.
Despite Wiltjer's work in the weight room, his physical profile remains mixed. On the one hand, he has optimal size for the power forward position at 6'10 with a 240-pound frame and decent mobility. On the other, he is a below average athlete, neither particularly quick nor fluid in his movements. He does not have the length or strength to compensate, but he does play within his limitations in a way that does allow him to maximize his physical strengths.
Much of this has to do with his versatile offensive skill set and his outstanding instincts and efficiency. Wiltjer saw nearly two times as many possessions as a junior than he did as a sophomore and he responded by averaging 24 points per 40 minutes pace adjusted, best among collegiate prospects in our
top-100
. Wiltjer significantly improved his shooting efficiency, as well, making 56.8% of his shots inside of the arc and 46.5% of his shots from beyond. Despite his offensive prowess, he also proved to be a willing distributor, averaging 2.7 assists per 40 minutes pace adjusted against 1.6 turnovers.
Wiltjer is at his best as a shooter, where he showed the ability to make shots in a variety of capacities. Whether trailing in transition, stepping out in pick-and-pop sets, or spotting up on the perimeter in half-court sets, he is simply a lights out shooter with his feet set, making a remarkable 59.2% of his guarded attempts and 43.2% of his open looks. He boasts a quick release, a high release point, and NBA range, which allows him to get his shot off when he pleases, and makes him very difficult to guard at his size.
While Wiltjer excels as a shooter, his post game presents a mixed bag with an eye towards the next level. He had trouble holding his own against more athletic defenders, often getting pushed off of the block and struggling to finish through contact. His 4.2 free throw attempts per 40 minutes pace adjusted reflected his perimeter tendencies, as well as his limitations as a finisher. While he lacked standout strength, length, and explosiveness, Wiltjer did make 51.8% of his post-up looks, while showing a solid arsenal of spin moves and jump hooks. He compensates for his subpar athleticism somewhat with a combination of solid footwork, a soft shooting touch, and savvy operating around the basket, more often than not playing within his limitations.
He is also a very good scorer operating off the ball. He made an impressive 67.5% of his non-post-up looks around the basket and demonstrates top notch timing and shooting touch. He was also an outstanding scorer out of the pick-and-roll, demonstrating excellent fundamentals in both pop (72.7% FG) and roll (81.3% FG) capacities.
He is a far less effective scorer off of the dribble, however, making just 29.6% of his shots in this capacity. His average first step, handles and athleticism really limit his pull-up potential, even if does show some promise with his runner in the lane. NBA teams are unlikely to ask Wiltjer to create his own shot very frequently, which is why his ability to score operating off the ball at the frequency and efficiency he does is so intriguing.
On defense, Wiltjer's subpar lateral quickness limits his effectiveness inside and outside, as a man defender and in pick-and-roll situations. He also struggled to guard stronger offensive players, though he also did not appear to display the most consistent effort on the defensive end of the floor either. It is no surprise, therefore, that he is also an average rebounder, grabbing 6.8 defensive rebounds per 40 minutes pace adjusted and 8.7 total.
Wiltjer's body type is a significant concern here, as he struggles to get into a low stance on the perimeter, and is very susceptible to getting beat off the dribble in turn. There are real question marks about whether he will emerge as a liability on this end of the floor, a player that opposing coaching staffs will target and try to put in open space repeatedly to see if he can hold his own.
Though Kyle Wiltjer's defense call his NBA viability into question, his transformation into one of the nation's best and most versatile scorers is intriguing in today's NBA. Whether Wiltjer's physical gains are impressive as reported remains to be seen, but his stock should only improve if he can continue to develop as a senior. His physical profile likely limits his ceiling, but his offensive versatility, particularly in areas that front offices covet, nevertheless makes him a legitimate NBA prospect. In the meantime, expectations are very high in Spokane and Wiltjer should have plenty of opportunities to audition in front of NBA decision makers.
#8, Joel Bolomboy, 6-9, Senior, PF/C, Weber State
Jonathan Givony
A lightly recruited high school prospect out of the Dallas/Fort Worth area, Joel Bolomboy committed to Weber State as 6-7, 200 pound raw big man. He had offers from some bigger conference schools, such as New Mexico, Fresno State and Missouri State, but decided to head to the Big Sky in part due to the fact that Weber State was the first school to start recruiting him, when he was only a sophomore.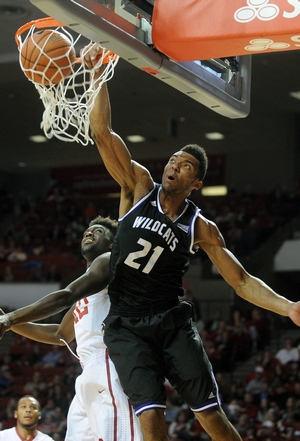 Bolomboy has a very unique background, as his mother is from Russia, his father from the Congo, and he was born in Kyiv (Ukraine), only to move to the States when he was 3 years old.
He has grown into his frame substantially, and currently possesses tremendous physical attributes by any standard of college basketball, standing 6-9, with a very long wingspan, a great frame and outstanding athletic ability. He runs the floor well, can play above the rim with ease, and is extremely quick off his feet, giving him nice upside to grow into as his skill-level catches up.
Bolomboy stepped into immediate playing time as a freshman, averaging 22 minutes per game, and responded by hauling in an impressive 13 rebounds per-40 minutes. He only scored around 12 points per-40 his first two seasons at Weber State, but saw that jump up to 15.8 as a junior, even if his efficiency took a hit, as he posted just a 47% 2-point percentage.
At the Big Sky conference level, Bolomboy sees quite a few touches operating with his back to the basket, which likely won't be the case at the pro level. He's improved his ability to operate in the post over the years, as he draws fouls at a nice rate and finishes an impressive 53% of the field goal attempts he's able to get off in these situations, but is incredibly turnover prone, coughing the ball up on a sky high 26% of his possessions.
NBA teams will want to see Bolomboy show better passing ability and overall decision making skills as a senior, as his 5.9% assist percentage and 20.2% turnover percentage leave a lot to be desired. His -6.46 pure point ratio was the third worst rate of any collegiate prospect in our Top-100, and shows just how much room he has to improve on his awareness and feel for the game. He is somewhat of a black hole when asked to make decisions with the ball, often settling for first shot he can even remotely get off, which also partially helps explain his underwhelming 2-point percentage.
Part of that is due to the role he's asked to play for Weber State, which includes quite a bit of creating and shooting off the dribble. This is likely very different than the one he'll be asked to at the pro level, as he'll have better players around him and can focus on the things he does really well, which is run the floor, grab offensive rebounds, and finish emphatically around the basket off cuts and pick and rolls.
Weber State's offense ranked 258th in the nation last year according to KenPom, and just 8th best in the Big Sky. Being forced to play as much one on one basketball as he currently does may help his skill-development in the long term, but it certainly doesn't help his efficiency. Very few of the shots he took as a junior were high-percentage looks, and he appeared downright wild at times with some of the things he tries to do.
Interestingly, the freedom that Bolomboy enjoyed offensively allowed him to show better shooting range than many would suspect. He started to shoot 3-pointers last season and connected on an intriguing 15/41 attempts. This is a small (but not tiny) sample size, but is certainly something NBA scouts will want to monitor to see if he can continue to build on this part of his game, as it could alleviate some of the positional concerns teams might have if he can legitimately develop into a floor spacing.
Bolomboy does not possess the most fluid looking shooting stroke from the waist up, as he seems to have a bit of a hitch in his jumper, sometimes holding onto the ball too long. Still, he is a career 72% free throw shooter, so clearly he has some natural touch that may serve him well if he can continue to improve on his mechanics. He tends to shoot the ball in unorthodox fashion, with two hands and from well in front of his face, sometimes elevating high off the ground and releasing it on the way down, which results in a very flat trajectory. It does go in a decent amount, even off the dribble at times, at least enough to leave some room for optimism regarding the future.
Defensively, Bolomboy has significant potential with his outstanding combination of length and athleticism. Unfortunately, much of that potential is largely unrealized at the moment, as his awareness and fundamentals leave a lot to be desired on this of the floor. While Bolomboy has a nice frame, he is prone to giving up deep post-position and getting backed down by stronger centers inside the paint.
On the perimeter, he lacks a degree of savvy and discipline trying to stay in front of quicker power forwards, as he tends to lose focus and get out of his stance quickly, causing him to get beat off the dribble far more often than you'd hope. While he is extremely athletic, that doesn't really show up in the stat sheet, as he generated just .7 steals and 1.9 blocks, as he's often a step slow with his reaction-time here. As somewhat of a late bloomer, teams will want to see what kind of strides he makes with his awareness and overall feel for the game as a senior, as his defensive potential is a huge part of his proposition as an energetic role-player. Likewise, it will be interesting to see how his rebounding numbers bounce back, as he went from being one of the best glass-cleaners in all of college basketball as a sophomore (15.1 per-40) to just a very good one (12.2) as a junior.
Coming off a disappointing 13-17 campaign, culminated with a first round exit in the Big Sky Conference Tournament, Weber State returns a very experienced team, and was picked as the early favorites by Big Sky media. With precious few opportunities to match up against other high major schools (Utah State, BYU) on the schedule, making the NCAA Tournament once again could certainly help Bolomboy's exposure level. Nevertheless, after a very strong showing at the adidas Nations college counselor scrimmages this past August, Bolomboy is certain to garner plenty of invites to show how he stacks up against other elite NBA prospect big men during the pre-draft process.
#9, Fred VanVleet, 6-1, Senior, Point Guard, Wichita State
Matt Williams
Teaming with Ron Baker to form one of the top backcourts in the country last season, Fred VanVleet's NBA outlook remained largely unchanged from when we
evaluated him
almost exactly one year ago.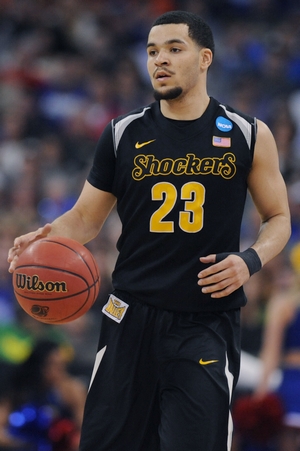 Measured at 6'1 in shoes with a 195-pound frame and a 6'2 wingspan this summer, VanVleet lacks great size or length for a point guard and isn't a freak athlete, but compensates with a unique blend of toughness, savvy, and skill that has made him one of the very best players at his position at the college level over the last two years. Opting for one more go round as a Shocker in lieu of heading to the professional ranks last spring, VanVleet will once again look to lead Greg Marshall's program deep into March.
The 2014-2015 season was a transitional year for Wichita State as they looked to build on their sudden rise to national prominence without the versatile, efficient scoring of Cleanthony Early. Seeing his usage expand from 10.7 possessions per game as a sophomore to 14.1 possessions per game as a junior, much of Anthony's burden fell to VanVleet. Posting gaudy efficiency numbers as both a scorer and facilitator as a sophomore, the additional scoring load the Rockford native carried as a junior took a toll on his efficiency, even if he continued to play at a high level.
Connecting on 42% of his jump shots and 58% of his attempts finishing around the rim in the half court as a sophomore, VanVleet looked to be more aggressive creating for himself off the dribble as a sophomore. He shot a merely average 50% at the rim this season taking it upon himself to make plays for the Shockers in key moments, only magnifying the limitations his size and athleticism can be when he ventures inside. Shooting nearly twice as many pull-up jump shots than he did a year ago and connecting on only 32%, VanVleet made a less impressive 36% of his jump shots as a junior. He remained a very reliable shooter with his feet set, but his assertiveness took an obvious toll on the quality of shots he attempted throughout the year relative to two years ago.
Making a name for himself as a facilitator who could score with terrific efficiency in a complementary role, VanVleet, to his credit, did not shy away from his new role in the slightest, upping his scoring average from 15 points per 40 minutes pace adjusted as a sophomore to 18 as a junior. Even though his efficiency numbers fell, he still ranked well above the national average thanks to his strong overall skill level. It will be interesting to see if VanVleet's shooting numbers bounce back as he adjusts to being a more prominent scoring threat.
One area where VanVleet did not take any discernable step back was as a passer. Averaging 6.9 assists per-40 minutes pace adjusted as both a sophomore and a junior, VanVleet's outstanding vision and feel at the point guard position remain has most appealing asset as a prospect. He was nothing short of tremendous making reads out of the pick and roll in the NCAA Tournament, propelling the Shockers past Indiana and Kansas on opening weekend. Finishing
third
among prospects in our top-100 in pure point rating, VanVleet's turnover percentage actually fell by a fraction of a percent despite how much more he was asked to do offensively, a testament to the impressive decision-making he brings to the table at the point guard position.
Pulling down 6 rebounds per-40 minutes pace adjusted, an extremely impressive mark for a point guard measured 5'11 without shoes, VanVleet is a gritty player whose fundamentals and competitiveness make allow him to contribute in a variety of ways at the college level. Translating to the defensive end where he ranked
third
in our top-100 in steals per 40 minutes pace adjusted, few point guards in the college game has as big of an impact on both ends of the floor as VanVleet did for the Shockers.
Despite all that he brings to the table, VanVleet will continue to face scrutiny for the things that he can't change. Come next spring, scouts will still have the same concerns about his lack of size, length, and prototypical athleticism that they did last spring, but they'll also still rave about his demeanor, the uncommon maturity of his skill set, and his ability to run a team. A strong threat to be tabbed as an All-American as well as hear his name called on draft night, VanVleet is a player worth watching as he looks to put the finishing touches on his illustrious college career.
#10, E.C. Matthews, 6-4, Junior, Shooting Guard, Rhode Island
Josh Riddell
A top 100 ranked RSCI recruit in 2013, E.C. Matthews committed to Rhode Island while turning down many BCS-conference offers. He has since developed into one of the top players in the Atlantic 10 by ranking third in the conference in scoring at 17.0 points per game while being named to the All-Conference second team last season.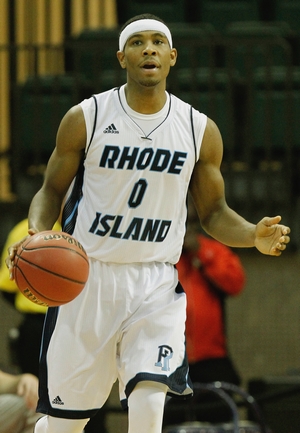 Measured at 6'4", Matthews has great size for a guard although he needs to add some bulk to fill out his frame. He has a decent wingspan, measured at 6'7", which should be sufficient enough to allow him to be able to compete on both ends against NBA level guards. His size allows him to see over the defense, allowing him to survey the floor and make the right decisions with the ball in his hands. He does not possess break-neck speed in transition for a guard but shows the ability to create shots for himself in the half-court with his savvy, changing speeds and directions impressively with strong ball-handling skills.
Matthews is a prolific pick and roll player, showing the ability to get by opponents with his first step, but also a propensity for changing speeds and mixing in advanced moves to get defenders off-balance. He can drive right or left and can get all the way to the rim, although he needs to improve his touch, strength and explosiveness around the rim to fully take advantage of his shot-creating prowess. He's a player who could create his own half-court offense at the next level, but will need to become a significantly better finisher to justify having the ball in his hands as much as he'd like.
Matthews converted just 46% of his attempts inside the paint last season, according to Synergy Sports Technology and just 49% of his overall two point attempts. While he has no issue getting to the rim, he isn't a consistent finisher when he gets there. He doesn't have a high level of explosiveness to rise above the defense, nor does he have the tenacity to drive into the rim protector and finish through contact. This leads to some wild, off-balance shots that don't have much hope of going in from the start. With his ability to get into the paint, he'll need to find a way to become a better finisher at the rim to come away with positive possessions for his team, but to his credit, he does get to the free throw line at a nice rate (6.7 times per-40).
When he drives into the lane, he has demonstrated some ability as a passer to create open looks for his teammates. He can see over the defense with his size and can make passes while on the move. He's not a high volume passer, as he totaled a pedestrian 2.4 assists per 40 minutes pace adjusted, but he has shown nice vision and instincts at times that prove he could grow into being more of a combo guard in time.
One area that he must improve upon is his turnover rate, as he averaged a sky-high 4.3 turnovers per 40 minutes pace adjusted last season. These turnovers ran the gamut from out of control drives leading to charges, being stripped on penetration due to his loose dribble or making bad decisions on passes. He has a tendency to get sloppy with the ball both off the bounce and with his passes by making either a lazy pass or trying to force the ball into a tight area. He needs to learn to play under control in the half-court and make the simple decision to keep the offense on track instead of always trying to make a highlight play. Should he end up getting drafted, Matthews' -6.66 pure point rating last season would rank as the 3rd worst rate among point or combo guard draft picks since 2002.
Matthews is not afraid to let it fly from distance, as he attempted 7.8 attempts per 40 minutes pace adjusted. He is an inconsistent shooter, however, which leads to mixed results from this spot on the floor, being more of a shot-maker than anything at the moment. He gets good elevation, can come off screens a bit, and is a threat both pulling up and with his feet set, hitting quite a few shots last year from both areas, albeit highly inconsistently.
Overall, Matthews converted on only 32% of his attempts, which is disappointing after hitting a higher rate as a freshman. He has an inconsistent release on his jumper and unorthodox mechanics overall (jumping forward significantly at times, shooting off the side of his hand, and/or staggering his feet awkwardly), and there are questions about how accurate of a shooter he can be from NBA range.
With some changes to his mechanics, its possible Matthews could become a better shooter both in catch and shoot situations and off the dribble, increasing his versatility as an offensive threat. He isn't there yet, converting 35.7% of his catch and shoot jumpers and 31.7% of his jumpers off the dribble according to Synergy Sports Technology, but there is potential for improvement.
Defensively, Matthews can develop into an asset but he isn't there yet on the court. His effort and focus level has a tendency to wander both on and off the ball. He isn't always in a defensive stance, which can leave him flat-footed against dribble penetration. He doesn't always close out hard to contest jump shots, instead lazily jogging out to the perimeter.
If Matthews can add strength, he'll have all the physical tools to be a capable defender. At this point, he can get bumped off his line and he will need to get stronger to hold off NBA guards. His size and speed combination offer a nice foundation but he will need to improve his focus level and commitment to defense to provide any value.
After a somewhat disappointing sophomore season, Matthews returns for his junior year, hoping to lead what is projected to be a very strong Rhode Island team to the NCAA tournament for the first time since 1999. He's already an intriguing draft prospect due to his size and ability to create offense and score from different spots on the floor, but if he becomes a better shooter and decision maker, his stock could certainly rise significantly this season.