Scouting Reports on
Lucas Nogueira
,
Davis Bertans
,
Dario Saric
,
Kyle Wiltjer
and
Przemek Karnowski
.
Nike Hoop Summit Scouting Reports: International Guards/Wings
Lucas Nogueira, 7-0, Center
Asefa Estudiantes, Brazil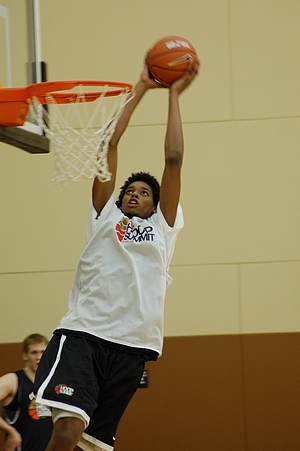 Walker Beeken
Brazilian big man
Lucas Nogueira
had plenty of NBA draft buzz coming into the 2011 Nike Summit after impressing many who saw him last summer at the U-18 FIBA Americas tournament in San Antonio, where he led the tournament in rebounds, blocks, and field goal percentage. He played less than 13 minutes during the game at the Hoop Summit, second least on the team, but he did score 4 points, grabbed 6 rebounds, and blocked a shot, and gave glimpses of why he is such an intriguing prospect.
Lucas's appeal starts with his incredible physical tools, as a 7-footer with a freakishly long 7'6" wingspan, and excellent mobility for a player his size. At this stage, his physical talents manifest themselves mainly in some jaw-dropping blocked shots, rebounds, and dunks from offensive rebounds, cutting to open spaces, and running the floor. His body is still very thin and weak, but that should come in time with the proper work ethic.
Lucas's offensive skill set is still very raw, but he shows glimpses of some promise, especially in his feel for the game, occasionally throwing some very impressive passes. He is still very limited as a scorer and has virtually no post game, but he has decent touch on his shot and is an outstanding finisher around the basket thanks to his physical tools.
Defensively, Lucas has incredible potential, as his size, length and mobility gives him the ability to cover a huge amount of ground and make a major impact as a shot-blocker. His fundamentals are fairly poor at the moment, struggling to step out on the perimeter, biting on pump-fakes and giving up ground too easily in the post, but he's often able to compensate for that with his sheer length and timing. He'll need to get significantly stronger to avoid being backed down in the paint by more physically mature big men, something that might take a few years and will surely involve plenty of hard work.
Teams will likely need to do more research on his intangibles, as that will be a big key to how close he'll be able to come to ever reaching his potential. He appeared to float at times during the practices and didn't always look very focused. In his defense, the language barrier had to have made things far more difficult for him, but his energy level was a bit inconsistent throughout the week.
Lucas is a very intriguing prospect, but the biggest question for NBA teams is figuring out how far along he is in his development, and whether they are patient enough to wait on him. If a team were to select him in the draft based on his upside, they would need to have a plan in place to develop him over the next few years, and decide where the best place would be for him to work on his game and improve.
While it's still unclear if he'll be in this year's draft, Lucas showed enough throughout the week to at least make teams start thinking about where in the draft his reward could be worth the risk. Unfortunately his situation in Spain (playing in an incredibly low-level in the 5th division) is far from ideal at the moment, something that will likely play a factor in his decision.
Davis Bertans, 6-10, Small Forward
Olimpija Ljubljana, Latvia
Walker Beeken
One of the most intriguing players for the World team at the 2011 Nike Hoop Summit was Latvian small forward
Davis Bertans
, who at 6'10", impressed immediately with his smooth stroke from the perimeter. He's a pure shooter with deep range and confidence who showed the ability to knock down shots running off screens or spotting up, and also showed some flashes creating off the dribble.
Bertans has a quick release, and shows a knack for using his size to create space to get his shot off with his pull-up jumper. He went cold in the game, shooting 3-10 from the field and 2-6 from 3-point range, but scouts likely saw enough from him in during the practices and scrimmages to realize than he's an outstanding shooter, despite his performance in the game.
Off the dribble, Bertans showed some potential, but he lacks a quick first step or great strength. He was a bit loose with the ball on occasion and turned it over more than you'd like to see over the course of the week. He showed solid court vision and threw some nice passes off his penetration, but tightening up his slashing game and improving his decision-making will help to make him much more efficient.
Part of this will come with added strength, as he has a very narrow frame that makes it difficult for him to play through contact at the moment. This makes sense considering that he grew almost eight inches (20 centimeters) over the last two years, according to what he told us, so he's obviously still growing into his new dimensions. It will be important for him to continue to refine his shot-creating ability so he doesn't get labeled as a one dimensional prospect down the road.
While Bertans clearly isn't a spectacular athlete, he did throw down some pretty impressive dunks during the practice sessions. He moves fluidly enough that he projects to be a more of a true small forward, rather than a player limited to only a stretch-four type role.
Showing the ability to consistently defend small forwards may be his biggest thing he needs to work on moving forward, as he did look to struggle a bit against the athleticism of Team USA. His lateral quickness is just average, and he doesn't have a very long wingspan either at just 6-10, so he must compensate with his effort-level and fundamentals to not become a liability in isolation situations. Part of this will again come with added strength, as it's difficult for him to deal with more physical prospects weighing just 210 pounds at the moment.
Bertans plays for Union Olimpija in Slovenia, a Euroleague team and an organization known for doing an excellent job developing young players. He's already seeing solid playing time there for a player his age, which is a very good sign considering the level of competition he's facing.
While he didn't have an incredibly impressive performance in the actual Hoop Summit game, he'll likely have many NBA scouts tracking his progress over the next few years, as he's clearly a prospect who shows great potential for the future.
Dario Saric, 6-10, Small Forward
KK Zagreb, Croatia
Walker Beeken
The youngest player at the 2011 Nike Hoop Summit, only turning 17 during the week of the event, Croatian forward
Dario Saric
showed why people are excited about his future down the road. He has an excellent feel for the game and a very high skill level for a player his age at 6'10", playing as a small forward and looking very comfortable operating on the perimeter.
His body is still filling out (weighing 215 lbs in Portland), and his age showed at times, as his thin frame prevented him from competing inside and on the glass on occasion. His decision-making hasn't quite caught up to his skill level either, as evidenced by his 3 turnovers during the game on Saturday night.
The most impressive aspect of Saric's game is his outstanding court vision and passing skills for a player his size. He really stood out in one of the scrimmages during the week, throwing multiple eye-popping passes to open teammates. Although he's not terribly explosive, he's a very versatile player who is able to handle the ball on the perimeter and play a point-forward type role, which is very intriguing.
Saric made some 3-pointers throughout the week and went 1-2 from behind the arc during the game, but his shot looks a bit ugly and has some sidespin on it. He's talented enough that he's able to make some shots in spite of that, but working on his mechanics would likely greatly benefit him in the future, and being able to be a consistent deep threat to go along with his size and ability to put the ball on the floor and make plays would make him very dangerous.
Saric's physical tools could be a bit of an obstacle, as he lacks the ideal lateral quickness to stay in front of many small forwards. His size and length (6-11 ¾ wingspan) will help to compensate for that, as will his instincts and toughness, which he showed all week on the glass and in the game, where he grabbed 6 rebounds in just 14 minutes.
While it's still very early to draw too many conclusions about Saric since he's so young, he clearly showed that he has the potential to grow into a very nice player down the road. NBA scouts will be keeping a close eye on his development in the future.
Kyle Wiltjer, 6-10, Power Forward
Committed to Kentucky, Canada
Walker Beeken
After a solid week in Chicago for the McDonald's game, Canadian big man
Kyle Wiltjer
showed his strengths and weaknesses in Portland for the 2011 Nike Hoop Summit. During the first couple days of practice, he clearly had trouble with the length of fellow World Team members
Bismack Biyombo
and
Lucas Nogueira
during practice when working in the post. As the week went on, however, Wiltjer adjusted and moved his game away from the basket and took advantage of his high skill level, scoring efficiently and draining perimeter jumpers during their first scrimmage.
Wiltjer is very skilled and fundamentally sound big man, highlighted by his ability to score from the perimeter and in the post. He showed a variety of moves with his back to the basket, utilizing good footwork, and converting hook shots and using fakes leading to counter moves
When facing up, he has range out past the 3-point arc, and even showed that he's capable of putting the ball on the floor smoothly and creatively to get to the basket or free himself for jump-shots. Continuing to develop his post game at the college level and learning how to score against longer, more athletic players will be a big key for his future, as he struggled at times during the week and against the USA players in the game on Saturday night. His scoring instincts are outstanding, though, so it might be just a matter of time.
While it seems likely that Wiltjer will be able to score effectively at Kentucky, we didn't see much from him as a passer, and it will be interesting to see how he fits playing alongside other talented players and capable scorers. He shot 5-15 in the game at the Hoop Summit and went 2-6 from 3-point range in 23 minutes of action, taking more attempts from the field and from 3-point range than any other player in the game. If he can learn to play a bit more within himself and utilize his teammates better, it will only enhance what we've already seen from him as a scorer.
Wiltjer's progress on the defensive end will also be a big factor in his future development, as he lacks the lateral quickness to defend face-up power forwards, and may struggle inside to defend NBA centers. He does seem to have excellent intangibles, though, with a great attitude and terrific work ethic, so he'll be a player we'll be watching more during his career at Kentucky.
Przemek Karnowski, 7-1, Center
SMS PZKosz Wladyslawowo, Poland
Walker Beeken
Polish center
Przemek Karnowski
impressed many who saw him at the 2010 U-17 World Championships in Hamburg, where he helped lead Poland to silver medal. He ended up playing just over 7 minutes in the game at the 2011 Nike Hoop Summit, however, which was less than any other player from either squad. The World Team was pretty deep at the big positions, and with Karnowski being so overmatched from an athletic point, it's likely that Coach Roy Rana figured his other big men gave them a better chance to compete.
Karnowski was by far the biggest player on either roster, measuring at 7'1" and 279 pounds. His body needs some trimming up (16.3% body fat), and he lacks ideal athleticism, but he has some very nice tools for such a young player at his size.
He showed the ability to comfortably catch the ball and makes plays with his back to the basket and facing up, as well as a high basketball IQ for a big man, throwing some heady passes out of the post and to open cutters when facing up on the perimeter.
Karnowski also shoots the ball very well for a big center, with range close to the 3-point line at this stage, which will likely only continue to improve. He also showed some post moves and an overall high skill level. Learning to utilize his skills against higher level athletes will likely be an adjustment for him, and will probably take some time, as he's still only 17 years old.
Defensively, Karnowski is a liability against more mobile big men, and below average length, explosiveness and conditioning prevent him from being a big factor as a shot-blocker. He seems to be a pretty smart player, and he certainly takes up space in the paint and showed some toughness on the glass, but his agility would be an issue in defending pick-and-rolls and keeping up with more mobile big men running the floor.
Overall, Karnowski is clearly a player that is worth keeping an eye on, as players with his size, girth, skills and feel are incredibly tough to come by. How he fares on his next team—be it in the NCAA (rumored to be a strong option) or as a professional in Europe—will likely tell us quite a bit about his long-term potential as a NBA player. How far he comes with his conditioning level will likely play a big factor in his future success.
Tomorrow:
Bismack Biyombo