Top NBA Prospects in the ACC, Part Seven: Prospects #11-15
October 13, 2015
Jonathan Givony

Michael Gbinije's first three years in college probably didn't turn out the way the former #28 RSCI recruit envisioned coming out of high school. He saw very little playing time right off the bat as a freshman at Duke (111 minutes total), which prompted him to transfer to Syracuse after his first year. As a redshirt sophomore, after sitting out the entire 2012-2013 campaign, Gbinije again played a fairly marginal role, seeing just 14 minutes per game for a team that lost in the NCAA Tournament Round of 32 to Dayton.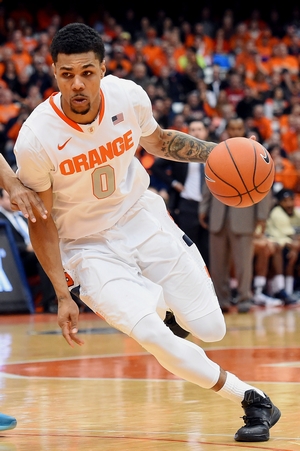 US Presswire
Things finally started to click for Gbinije as a 22-year old redshirt junior. He entered the starting lineup in Syracuse's eighth game of the season, and never looked back after that, basically never coming off the court for the Orange in conference play.
With freshman point guard Kaleb Joseph struggling badly to run the offense, Gbinije's playmaking responsibility increased dramatically. He ranked second in usage rate on the team behind now-departed Rakeem Christmas, often tasked with bringing the ball up and getting the team into their offense. This was far from a vintage Syracuse squad, hobbled by injuries and a self-imposed post-season ban, with the team posting their worst offensive efficiency in well over a decade, but Gbinije now has plenty to build on going into his fifth and final year of college basketball.
Gbinije garnered some terrific experience this summer playing for the Nigerian senior National Team, which won the FIBA Africa Championship under American head coach Will Voigt and qualified for the Olympics in Rio next year. Gbinije came off the bench and played 20 minutes a game, posting fairly similar numbers per-minute compared to what he did in college.
Listed at 6-7 by Syracuse, Gbinije has ideal size for a shooting guard. He has a good frame as well, even if his wingspan, twice measured as being shorter than his height, is certainly not ideal. Athletically, Gbinije is a fluid and smooth player, capable of getting to spots on the floor, but not showing amazing quickness or explosiveness outside of some short,
occasional outbursts
.
Gbinije was asked to play a variety of roles for Syracuse last season, but the one he was seemingly most successful in (and which would translate the best to a hypothetical NBA role) is as a secondary ball-handler/facilitator and spot-up shooter. He converted an impressive 47% of his catch and shoot jumpers last season, not on a huge volume, but enough to show potential as a floor spacer.
Gbinije is still seemingly settling on a consistent release point and overall mechanics, as at times he shoots the ball very impressively, even from deep vantage points. He tends to jump forward dramatically on many of his attempts, though, or will hop straight in the air and pull the string at the end, locking his elbow rigidly and not looking very fluid with the way he gets it off. The fact that he's only made 102 of his career 171 free throw attempts (59.6%) is concerning, as being a consistent shooter from all over the floor is imperative to his chances of reaching his full potential.
Perhaps the best part of Gbinije's profile as a prospect lies in his versatility. He played quite a bit of pick and roll last year for Syracuse (5.5 possessions per game), and even though he didn't find a great deal of success with it (.762 PPP), the court vision and ability to change speeds he displays are fairly rare for a player his size.
Gbinije is an excellent passer, regularly finding the open man unselfishly and creatively, be it pushing the ball ahead in transition, entering it into the post, using bounce passes or lobs on the pick and roll, or driving and dishing to cutters. He clearly has a high basketball IQ, and may be able to show this in a more pronounced way while being surrounded by better teammates at the pro level.
With that said, Gbinije has some limitations as a shot-creator, as he struggles to stay efficient when operating inside the arc. He is not a very good shooter off the dribble, hitting 32% of his attempts in these situations last year according to Synergy Sports Technology, displaying a somewhat slow and deliberate release that makes it easy for opponents to contest. He's also not a great finisher around the basket, either in half-court or in transition, as he lacks the combination of length, strength, toughness or explosiveness to help him finish effectively in traffic, and avoids his left hand noticeably.
Defensively, it's difficult to get a great read on Gbinije's potential playing full-time in Syracuse's trademark zone, but his time with the Nigerian national team did give us some insight into how he might look in man to man settings. Gbinije shows some potential here at times, as he's active and attentive, has good lateral quickness, and excellent instincts for getting in the passing lanes (career 2.1 steals per-40). With that said, his lack of length, occasional passivity, and underdeveloped frame will work against him as well. He gets posted up at times, and doesn't show ideal toughness fighting back. Being a plus defender is a major component in Gbinije's ability to carve out a role at the NBA level, so doing anything he can to help his cause here will be very beneficial.
Turning 24 years old just a few weeks prior to this year's NBA Draft, Gbinije will have to show teams this season that he can play a ready-made role at the pro level right away. He has some intriguing characteristics with his size, court vision and ability to spread the floor, so a strong season in the ACC as the leader of a young Syracuse squad (he's been criticized often for being too quiet) could certainly help earn him some serious looks in the draft.
[
Read Full Article
]