We continue our coverage on the top NBA draft prospects in the ACC with part seven, players ranked 11-15:
Malcolm Brogdon
,
Donovan Mitchell
,
Brice Johnson
,
Michael Gbinije
and
Tyler Lydon
.
---
More DX Conference Preseason Previews:
-The Top 20 NBA Draft Prospects in the Pac-12
-The Top 20 NBA Draft Prospects in the Big East
-The Top 15 NBA Draft Prospects in the Big 12
-The Top 20 NBA Draft Prospects in the SEC
-The Top 10 NBA Draft Prospects in the AAC
---
Top NBA Draft Prospects in the ACC
-
Top NBA Prospects in the ACC, Part One
(#1) Brandon Ingram (Scouting Video)
Top NBA Prospects in the ACC, Part Two
(#2) Demetrius Jackson (Scouting Video)
Top NBA Prospects in the ACC, Part Three
(#3) Justin Jackson (Scouting Video)
Top NBA Prospects in the ACC, Part Four
(#4) Chinanu Onuaku (Scouting Video)
Top NBA Prospects in the ACC, Part Five
(#5) Grayson Allen (Scouting Video)
Top NBA Prospects in the ACC, Part Five
(#6) Derryck Thornton
(#7) Kennedy Meeks
(#8) Theo Pinson
(#9) Chase Jeter
(#10) Luke Kennard
---
#11, Malcolm Brogdon, 6'5", Senior, Shooting Guard, Virginia
Derek Bodner
Few players in college basketball have won more games than Malcolm Brogdon and the Virginia Cavaliers over the past three seasons, posting a combined record of 83-23, including a 60-11 mark over the past two years, and back to back ACC regular season championships.
Brogdon has been a key part of that success, on both ends of the court. He has been the leading scorer on deep Virginia teams in each of the past two seasons, one of Tony Bennett's primary initiators on the perimeter, and a versatile defender on a team full of resourceful defenders.
Brogdon made big strides in his jump shot between his freshman and sophomore seasons, going from connecting on 22 three point attempts at a 32.4% clip during his freshman season to 44 made threes at a 37% clip during his sophomore season. There was a little bit of a regression for Brogdon during his junior season, as he connected on only 34.4% of his three's last year at Virginia. Synergy Sports Technology paints a similar picture on his overall jump shooting effectiveness, as he dropped from 1.036 points per possession as a jump shooter during his sophomore year to a still respectable, but lower, 0.938 as a junior.
Beyond the numbers, there is some hope for Brogdon to continue to improve down the line. The hitch we mentioned during previous write-ups, while still there on occasion, has been smoothed out somewhat, especially on catch and shoot opportunities. While his percentages fell a bit, he also got less open looks than he did as a sophomore, as Synergy logged nearly 70% of his catch and shoot attempts as having been guarded. When Brogdon was open, he was a consistent shooter from the catch.
Brogdon also continues to show the ability to shoot when coming off a screen, with good footwork and an ability to elevate over a defender. He also shows some touch shooting off the dribble, although here his form, both in his footwork and the fluidity of his release, can break down more frequently than it does off the catch. Brogdon has good touch overall, so it's possible that a coach at the next level might believe they could make some improvement in his shot down the line with minor tweaks and added repetition.
Off the dribble, Brogdon uses his 6'5.5", 220 pound frame to his advantage, with a willingness to absorb contact at the rim. Brogdon isn't a hyper-athlete, especially at the rim, and he has average quickness for the next level. Brogdon could use some more improvement in his off hand, as he can get sloppy with his dribble when going left, and can still be erratic finishing at the hoop when forced to use his left hand.
At 3.2 assists and 2.3 turnovers per 40 minutes pace adjusted, Brogdon makes good decisions with the ball and is a willing passer. Brogdon overall has a strong basketball IQ and solid court awareness, and usually plays within himself.
Brogdon's physical attributes give him a good defensive profile. He stands just under 6'6" in shoes, solidly built at 220 pounds, and with a 6'10" wingspan and 8'6" standing reach that are both good for his position, and all of this makes him a versatile defender. He moves his feet well on the perimeter, gets in a good defensive stance, fights through screens, and is engaged and attentive, both on and off the ball. There is some question about whether Brogdon can keep up with some of the elite athletes at the next level, but he won't get beat based on effort or willingness.
There aren't too many glaring holes in Brogdon's game, and that kind of versatility, coachability, and defensive effort is something that should endear him to coaches at any level. But Brogdon is one of those tricky prospects because he's sort of a jack of all trades, master of none, at least when projecting to the NBA level. Brogdon certainly has 3-and-D potential at the next level, but may not be the sure thing in either of those regards that some may hope for. Brogdon will be 23 by the time the 2016 NBA draft rolls around, but if he's able to improve his consistency in any of these facets, he has the kind of role player game that could prove valuable.
#12, Donovan Mitchell, 6-3, Freshman, PG/SG, Louisville
Without the benefit of extensive high school footage, we prefer to wait and see how Mitchell performs as a freshman before adding to his
DraftExpress profile
.
#13, Brice Johnson, 6-9, Power Forward, Senior, North Carolina
Jacob Eisenberg
Before Brice Johnson came to North Carolina as a top-50 prospect in the class of 2012, he was a track and field star at his South Carolina high school. Johnson specialized in jumping, winning two state championships in the high jump and competing in events for the long jump and triple jump. Naturally, Johnson translated those leaping abilities to the basketball court – where he also excelled.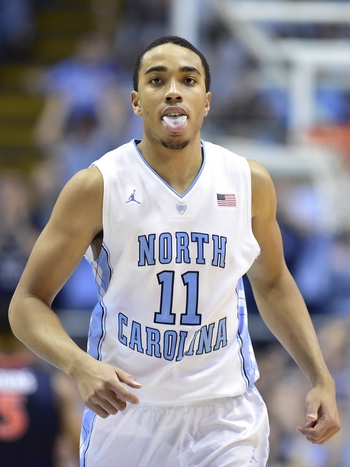 Johnson arrived at North Carolina as a lanky 6'9, 187-pound work-in-progress. Since then, he's built onto his frame significantly, maxing out at 232 pounds last season before slimming back to 225 this summer in an effort to regain some speed and agility. The added bulk seems to have affected his explosiveness to an extent—he's no longer quite as fast twitch as he was as a freshman, and struggled to maintain the same terrific per-minute offensive rebounding, block and steal rates he produced as a sophomore, seeing substantial drops in each category.
Now entering his senior season on Tobacco Road, Johnson is going into an extremely important year. The Tar Heels are considered potential Final Four candidates, and Johnson has one last opportunity to impress scouts and show he is worthy of a NBA roster spot.
Johnson possesses a coveted blend of mobility, size, and scoring instincts that simply aren't common in the college game. After he earned the starting forward job at UNC as a junior, and saw his minutes jump from 19 to 24 per game, he quickly became one of the team's most reliable players, maintaining a high efficiency (59% True Shooting Percentage) in spite of the fact that his usage remained the same.
Johnson averaged 19.7 points and 11.8 rebounds per-40 minutes pace adjusted last season, both of which ranked in the top 10 of our database's top 100 prospects. He's a skilled finisher with an impressive knack for being in the right place at the right time. His soft touch can be surprising at times considering he often looks off-balance on his attempts, but he's remained consistently efficient in his college career and clearly has excellent scoring instincts.
Last season, Johnson converted on an excellent 103-of-160 (64.4%) on non-post up attempts around the basket in the half court. He also consistently rebounds his own misses thanks to his ability to leap twice before opponents finish leaping once.
Johnson's explosiveness is also advantageous in transition, where he's extremely mobile and coordinated for a big man. Johnson regularly outran his defenders on the break, resulting in an astoundingly efficient 36-for-39 on field goal attempts (92.3%) in transition last season, per Synergy Sports Technology.
Almost all of Johnson's offense comes inside the paint, as he attempted just a handful of jump shots last season and hasn't shown much potential as a floor spacer, which is fairly common among UNC power forwards. At 6'9, without a great frame, he's undersized on the interior, so it's difficult to see him continuing to see as many touches with his back to the basket as he does for UNC. Johnson's free throw percentage has improved from 57% as a freshman, to 62% as a sophomore to 68% as a junior, which is a promising sign.
Though he shows an adequate form and a high release point on his shots from midrange, he's a reluctant shooter outside of the paint. What makes this reluctance surprising, though, is that he shows fairly nice touch in the handful of jumpers he did attempt, even using the glass nicely at times. It will be interesting to see whether Johnson gets a little bit of a longer leash as a senior, as Carolina possessed little in the way out of outside shooting last year and really struggled with floor-spacing at times.
Part of UNC's reluctance to allow Johnson to operate on the perimeter may stem from what appears to be a fairly average feel for the game. If Johnson wasn't so efficient, he would surely find criticism for being a black hole. He averaged just 1.4 assists per-40 last year, dishing out an assist on just 7.5% of his possessions, one of the lower rates among Top-100 prospects. With the amount of offense that runs through the power forward position at the NBA-level these days, scouts would probably like to see Johnson demonstrate better court vision and passing ability than he's shown up until now, although to his credit, he is far from turnover prone (career 11.5% turnover%).
Johnson was one of the better rebounders in the ACC last season, grabbing 11.8 per-40, one of the better rates among power forwards in our Top-100 rankings. Though he puts up strong numbers on the boards, Johnson actually has significant room to improve as a rebounder. He still shies away from body contact with opponents – largely due to his wiry frame – and doesn't work particularly hard with box-outs. Johnson is able to use his quickness, length and instincts to pursue loose balls impressive at the college level, but in the NBA he may not be able to solely rely on these terrific tools to make him a plus rebounder.
Defensively, Johnson has something to prove to NBA scouts still as well. He does not possess great instincts here, often biting on pump-fakes and looking a step slow to react to what's happening on the floor, particularly in terms of closing out on the perimeter. His ability to get in a low stance and stay in front of quicker opponents who draw him outside of the paint needs to improve as well, and he has somewhat of a laid back attitude on this end of the floor, not always playing with the highest intensity level.
Johnson's lack of strength is an issue here as well, as it's not rare to see stronger opponents have their way with him due to his very skinny frame, which causes him to get in foul trouble easily. His length, quickness and explosiveness gives him some potential here, though, and he moves extremely well for a player his size, and will have some very impressive possessions at times when he's fully dialed and operating at full intensity.
All in all, Johnson's combination of athleticism and scoring instincts will certainly catch some NBA teams' radars. His skillset is fairly confined, but he manages to stay productive nonetheless. Not many big men move or finish as well as him, and if he can continue to expand his shooting range and show he can hold his own defensively, he could easily convince a team to invest a few years in him to see how much further his frame, feel and skill-level can continue to evolve. Still, with this being his senior season, he will need to show improvement if he wants to advance his chances.
#14, Michael Gbinije, 6-7, Senior, Shooting Guard, Syracuse
Jonathan Givony
Michael Gbinije's first three years in college probably didn't turn out the way the former #28 RSCI recruit envisioned coming out of high school. He saw very little playing time right off the bat as a freshman at Duke (111 minutes total), which prompted him to transfer to Syracuse after his first year. As a redshirt sophomore, after sitting out the entire 2012-2013 campaign, Gbinije again played a fairly marginal role, seeing just 14 minutes per game for a team that lost in the NCAA Tournament Round of 32 to Dayton.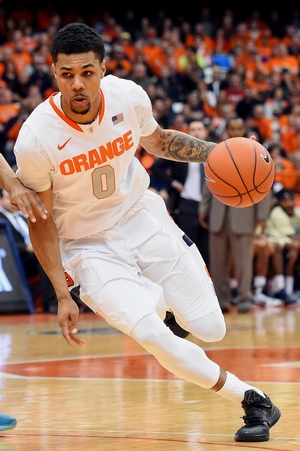 Things finally started to click for Gbinije as a 22-year old redshirt junior. He entered the starting lineup in Syracuse's eighth game of the season, and never looked back after that, basically never coming off the court for the Orange in conference play.
With freshman point guard Kaleb Joseph struggling badly to run the offense, Gbinije's playmaking responsibility increased dramatically. He ranked second in usage rate on the team behind now-departed Rakeem Christmas, often tasked with bringing the ball up and getting the team into their offense. This was far from a vintage Syracuse squad, hobbled by injuries and a self-imposed post-season ban, with the team posting their worst offensive efficiency in well over a decade, but Gbinije now has plenty to build on going into his fifth and final year of college basketball.
Gbinije garnered some terrific experience this summer playing for the Nigerian senior National Team, which won the FIBA Africa Championship under American head coach Will Voigt and qualified for the Olympics in Rio next year. Gbinije came off the bench and played 20 minutes a game, posting fairly similar numbers per-minute compared to what he did in college.
Listed at 6-7 by Syracuse, Gbinije has ideal size for a shooting guard. He has a good frame as well, even if his wingspan, twice measured as being shorter than his height, is certainly not ideal. Athletically, Gbinije is a fluid and smooth player, capable of getting to spots on the floor, but not showing amazing quickness or explosiveness outside of some short,
occasional outbursts
.
Gbinije was asked to play a variety of roles for Syracuse last season, but the one he was seemingly most successful in (and which would translate the best to a hypothetical NBA role) is as a secondary ball-handler/facilitator and spot-up shooter. He converted an impressive 47% of his catch and shoot jumpers last season, not on a huge volume, but enough to show potential as a floor spacer.
Gbinije is still seemingly settling on a consistent release point and overall mechanics, as at times he shoots the ball very impressively, even from deep vantage points. He tends to jump forward dramatically on many of his attempts, though, or will hop straight in the air and pull the string at the end, locking his elbow rigidly and not looking very fluid with the way he gets it off. The fact that he's only made 102 of his career 171 free throw attempts (59.6%) is concerning, as being a consistent shooter from all over the floor is imperative to his chances of reaching his full potential.
Perhaps the best part of Gbinije's profile as a prospect lies in his versatility. He played quite a bit of pick and roll last year for Syracuse (5.5 possessions per game), and even though he didn't find a great deal of success with it (.762 PPP), the court vision and ability to change speeds he displays are fairly rare for a player his size.
Gbinije is an excellent passer, regularly finding the open man unselfishly and creatively, be it pushing the ball ahead in transition, entering it into the post, using bounce passes or lobs on the pick and roll, or driving and dishing to cutters. He clearly has a high basketball IQ, and may be able to show this in a more pronounced way while being surrounded by better teammates at the pro level.
With that said, Gbinije has some limitations as a shot-creator, as he struggles to stay efficient when operating inside the arc. He is not a very good shooter off the dribble, hitting 32% of his attempts in these situations last year according to Synergy Sports Technology, displaying a somewhat slow and deliberate release that makes it easy for opponents to contest. He's also not a great finisher around the basket, either in half-court or in transition, as he lacks the combination of length, strength, toughness or explosiveness to help him finish effectively in traffic, and avoids his left hand noticeably.
Defensively, it's difficult to get a great read on Gbinije's potential playing full-time in Syracuse's trademark zone, but his time with the Nigerian national team did give us some insight into how he might look in man to man settings. Gbinije shows some potential here at times, as he's active and attentive, has good lateral quickness, and excellent instincts for getting in the passing lanes (career 2.1 steals per-40). With that said, his lack of length, occasional passivity, and underdeveloped frame will work against him as well. He gets posted up at times, and doesn't show ideal toughness fighting back. Being a plus defender is a major component in Gbinije's ability to carve out a role at the NBA level, so doing anything he can to help his cause here will be very beneficial.
Turning 24 years old just a few weeks prior to this year's NBA Draft, Gbinije will have to show teams this season that he can play a ready-made role at the pro level right away. He has some intriguing characteristics with his size, court vision and ability to spread the floor, so a strong season in the ACC as the leader of a young Syracuse squad (he's been criticized often for being too quiet) could certainly help earn him some serious looks in the draft.
#15, Tyler Lydon, 6-9, Freshman, SF/PF, Syracuse
Without the benefit of extensive high school footage, we prefer to wait and see how Lydon performs as a freshman before adding to his
DraftExpress profile
.