Top NBA Prospects in the Big 12, Part Five: Prospects #5-9
September 21, 2015
Jonathan Givony

After a very strong freshman season, Monte Morris took another step in his development as a sophomore, becoming a full-time starter for Iowa State, who were ranked among the top teams in college basketball for much of the season before being upset in the NCAA Tournament's Round of 64 by UAB. He was named to the Big 12's Second-Team All-Conference squad, and garnered an invite to try out for the USA Basketball Pan-Am roster this summer. Already sporting a 53-17 record over the past two years, and winning the Big 12 tournament in both seasons, Morris has already enjoyed quite a bit of success at the team level as an underclassman.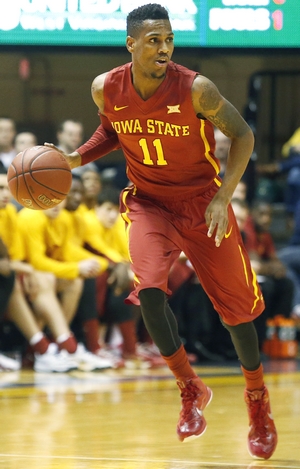 US Presswire
With beloved Fred Hoiberg off to coach the Chicago Bulls, we will get to see Morris in a different light this season, under the reigns of former Murray State head coach Steve Prohm. There is a case to be made for Morris as one of the top returning point guards in college basketball, after posting some of the best passing metrics in the country the past two seasons. Morris ranked first in the NCAA in assist to turnover ratio, by a wide margin, and came in third in Pure Point Rating (PPR), behind now graduated seniors T.J. McConnell and Brett Comer.
As a sophomore, Morris showed that his spectacular playmaking numbers as a freshman were far from a fluke, something that there was some concern about due to the inordinately small role (11.6% usage) he played offensively for Iowa State alongside the ball-dominant DeAndre Kane. He still wasn't a huge scorer, with his 13.1 points per-40 pace adjusted being among the lowest compared with other DX Top-100 PGs, but he was extremely efficient offensively with his pass-first style of play, posting a strong 59% TS%.
Morris is a prolific pick and roll player, seeing nearly 10 possessions per game in that situation, and ranking #1 among returning draft prospects with the 1.043 PPP he posted. He is a strong and steady ball-handler who does a great job of surveying the defense, evaluating his options and reacting to what's happening on the floor. He can drive and dish, find open shooters on the weak side, make post-entry feeds and also dish the ball over the top of the defense with flashy lobs. He has excellent timing on his passes, and outstanding court vision.
Perhaps the most impressive aspect of Morris' playmaking is how infrequently he turns the ball over. Iowa State played at a breakneck pace, faster than any other high-major college team besides Arkansas, LSU and North Carolina, but he regardless averaged just 1.2 turnovers per-40 minutes last season, coughing up the ball on just 10.8% of his possessions, which is lower than any point guard drafted in the last three years.
At 6-3, Morris has good size for the point guard position, although his 175 pound frame still has a ways to go in terms of filling out. He doesn't possess blazing speed or incredible explosiveness, which, when combined with his lack of strength, makes it difficult for him to get by opposing guards at times. He does do a nice job of playing at different speeds, showing the ability to change pace and use crafty ball-handling moves to keep defenders off balance, and showed progress with his frame this past summer with USA Basketball.
When asked to go out and create a shot on his own, he struggled at times last season, especially against some of the better competition Iowa State faced. As effective as Morris was in the pick and roll last season, he was extremely average in isolation situations, which is an area NBA teams will want to see him get better at, as pro point guards absolutely need to have the ability to improvise on the fly in late-clock situations.
Morris can handle the ball with either hand, but he tends to favor his right when it comes to finishing around the basket. Because of his average strength and explosiveness, he isn't always able to make it all the way to the rim and finish in traffic, and has thus developed a nice floater he can get off from 5-8 feet away that he was extremely effective with last season. Still, NBA teams will want to see Morris do a better job of creating and finishing through contact inside the paint as an upperclassman, as he doesn't get to the free throw line at a great rate.
Morris shows very nice potential as a shooter, hitting a career 40% of his 3-pointers thus far, and 80% of his free throws. 3-pointers have never made up a huge part of his offensive arsenal, though, with just 26% of his field goal attempts coming from beyond the arc last season. Considering his limitations as a finisher around the basket, this is an important trait for him to have.
Morris possesses smooth and consistent shooting mechanics, and showed potential as a shooter both with his feet set and off the dribble the last two seasons. He can still stand to improve the quickness of his release and do a better job of creating separation from defenders with his pull-ups, but he's shown improvement in this area the last two years.
Defensively is where Morris will need to improve to play the type of NBA role his skill-set says he's ideally suited for. On an Iowa State team known more for their offense prowess than for getting stops, Morris had some nice moments from time to time, but was very inconsistent overall. He has the size and length needed to defend either guard position at the college level, and will get up on opposing ball-handlers and put solid pressure on the ball at times, getting in the passing lanes at a nice rate (2.1 steals per-40).
With that said, Morris' intensity level wavers too frequently, as it's not rare to see him falling asleep in his stance, struggling to get through screens, and being a split-second late closing out on shooters. His lack of strength can cause him to get overpowered on dribble penetration at times, and his effectiveness at the end of games and in late-clock situations isn't always ideal.
Since he doesn't project to be a prolific scorer in the NBA, teams will want to see him develop into a plus defender that a coach can count on to defend his position with intensity, but considering his age and lack of experience, he has plenty of time to continue to develop that part of his game.
Only having turned 20 this past summer, Morris is one of the younger prospects in the junior class, and is in fact younger than a number of sophomores who are likely to get drafted this upcoming June. No longer an underclassman, it will be interesting to see how Morris evolves as a junior under a new head coach and in a backcourt that has lost some firepower from last season. Another strong year could absolutely propel him into strong draft consideration this spring.
[
Read Full Article
]
Top NBA Prospects in the Big 12, Part 7: Prospects #13-16
September 15, 2014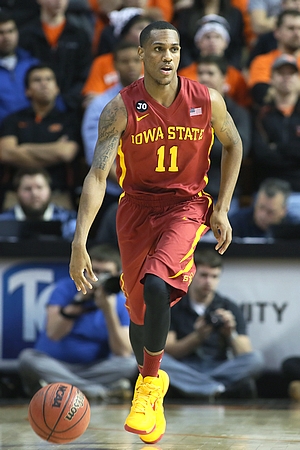 US Presswire
Matt Kamalsky
The 96th ranked player in the high school class of 2013 according to the RSCI, Monte Morris had an extremely efficient freshman year for the Cyclones in a very compact role, averaging 6.8 points and 3.7 assist per-game while shooting 41% from three-point range in just under 30 minutes per-game.
Standing 6'2 with nice length, but a narrow frame he'll need to improve in the coming seasons, Morris is a lean shooter who has the quickness to attack a bit off the dribble and the speed to be a factor pushing the ball himself in the open floor.
Skill-wise, Morris does the majority of his damage by virtue of his tremendous shooting touch. A terrific set shooter who knocked down 43.1% of his catch-and-shoot jump shots in Fred Hoiberg's NBA-style offense, Morris was the beneficiary of the attention defenses paid to Melvin Ejim and DeAndre Kane.
With Kane and Ejim moving on to the professional ranks, the onus will fall on Morris, among others, to pick up their production in other areas. Morris did quite a bit of scoring in transition a year ago, but his shot selection left something to be desired. He finished at a below average rate around the rim, and shot a surprisingly poor percentage pulling-up off the dribble against a set defense in limited attempts, two areas to keep an eye on as Morris likely transitions into a much higher usage role as a sophomore.
A capable passer, Morris averaged 4.9 assists per-40 minutes pace adjusted a year ago despite playing primarily off the ball. Lacking great explosiveness, Morris is not a prolific drive and dish threat, but he's an unselfish facilitator in the half court. Feeding the post, swinging the ball, and making the simple pass in the two-man game, Morris could provide Iowa State with some relief as it looks to replace Kane's dominant presence. His passing ability, combined with his tremendous proficiency for avoiding turnovers, helped him post one of the best pure point and assist to turnover ratios for a freshman in the past 15 years of college basketball.
Defensively, Morris plays with nice intensity and possesses solid lateral quickness, but his lack of strength is a concern long-term. He makes some mistakes from time to time like most freshman, whether it is helping or closing out too-aggressively, but he played with a desire, especially in the post season, that should help him become a very capable defender at the college level.
With players like Morris, it's ambitious to look too far past that. Playing such heavy minutes but such a small role as a freshman, Morris showed some potentially interesting tools, but he's still a ways away from being a viable draft prospect. Nonetheless, he's a player whose growth is worth monitoring.
[
Read Full Article
]