After a disappointing performance in Thursday night's scrimmage, Team USA hit the Trail Blazers practice facility floor on Friday morning with a renewed energy.
They practiced with intensity, made shots from the perimeter, pushed the ball in transition, and looked like a team of All-Americans rather than the squad that went 0-for-16 from three and struggled on both ends of the floor less than 24 hours earlier.
---
2014 Nike Hoop Summit Video Interview: Karl Towns
2014 Nike Hoop Summit: USA Practice Day Two
[url=2014 Nike Hoop Summit International Practice Day Four
2014 Nike Hoop Summit USA Practice Day One
2014 Nike Hoop Summit International Practice Day Three
2014 Nike Hoop Summit International Practice Day Two
2014 Nike Hoop Summit International Practice Day One
2014 Nike Hoop Summit International Measurements
2014 Nike Hoop Summit International Roster Breakdown
---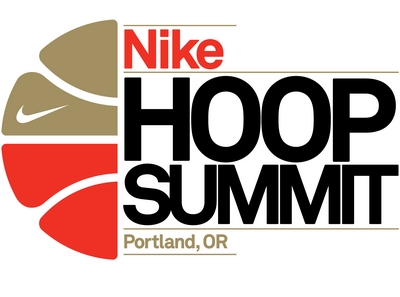 That vigor and offensive potency carried over into Friday night's scrimmage, when they defeated the same team of former college players (plus Oregon sharp-shooter
Mike Moser
), 89-78, in three 10-minute quarters.
Mike Jones' team certainly wasn't flawless, as they let up defensively and lost the final quarter 38-24. But Team USA undoubtedly took a step in the right direction with Saturday's game against the World Team less than 24 hours away.
They finished with five players in double figures scoring, led by
Cliff Alexander
and
Tyus Jones
, who each scored 12 points on 10-of-12 combined shooting. Alexander got them going early, and was perfect from the field on the night on five attempts.
Jones did an excellent job running the show. He got Team USA into its half court sets, made plays for his teammates, pushed the tempo in transition, and provided timely scoring when the team needed a bucket.
While Jones and Alexander were the standouts, it was Team USA's balanced scoring and 3-point shooting that led them to victory. They knocked down 9-of-19 3-pointers (47.4%), spacing the floor for Jones and slasher
Theo Pinson
(11 points on 4-of-5 shooting) to make plays.
Team USA had five different players knock down at least one 3-pointer, led by
James Blackmon
, who finished the game with 11 points on 3-of-5 shooting from distance.
Myles Turner
knocked down a pair of 3-pointers (one in the special situational-based quarter which we did not chart below) to emerge from the semi-slump he's been in this week.
They also played with the sense of togetherness that was expected to personify the team, dishing out 20 assists on 36 made shots.
Jones led the team with five dimes, and
Justise Winslow
was right behind him with four assists. Winslow stuffed the stat-sheet with 10 points, seven rebounds, four assists, two steals, and two highlight alley-oop finishes.
Offensively, Team USA took a major step in the right direction, shooting 60% from the field and turning the ball over just 14 times.
On the other end of the floor, Team USA showed flashes of the brand of defense it's hoping to impose on the World Team on Saturday.
Playing a small lineup with
Stanley Johnson
at center and
Kelly Oubre
at power forward in the third quarter, Team USA forced the scrimmage squad into back-to-back-to-back turnovers. They pressed in stretches, as the scrimmage team struggled mightily to even get the ball in bounds, and Team USA's elite athleticism shined through.
They also did a solid job making it tough on Moser in the half court. He finished with 30 points (4-of-7 from three), but it took him 24 shots to get there, and he went only 6-of-17 from inside the arc. The Portland local certainly had his share of impressive moments, though, hitting some tough contested jumpers, coming up with one extremely impressive dunk, and showing a solid activity level throughout the evening as he was clearly playing with a real sense of urgency.
Beating the scrimmage squad by 11 points certainly doesn't mean Saturday's game against the World Team will be a cakewalk. But there's no doubt that Team USA took a step in the right direction and has momentum that could carry it to victory against
Emmanuel Mudiay
,
Nikola Jokic
,
Karl Towns
and company.
PLAYER STATS
As charted by DraftExpress' Mike Schmitz'
Tyus Jones:
12 points, 5-of-7 FGs, 2-of-2 3FGs, 5 assists, 7 turnovers, 5 steals
Cliff Alexander:
12 points, 5-of-5 FGs, 2-of-4 FTs, 4 rebounds, 2 assists, 1 block
Theo Pinson:
11 points, 4-of-5 FGs, 2-of-3 3FGs, 1-of-2 FTs, 2 rebounds,
James Blackmon:
11 points, 4-of-8 FGs, 3-of-5 3FGs, 3 assists, 1 rebound, 1 steal
Justise Winslow:
10 points, 5-of-8 FGs, 0-of-1 3FGs, 7 rebounds, 4 assists, 2 steals
Jahlil Okafor:
8 points, 4-of-6 FGs, 3 rebounds, 1 assist, 1 block
Reid Travis:
7 points, 1-of-5 field goals, 0-of-1 3FGs, 5-of-6 FTs, 3 rebounds
Kelly Oubre:
6 points, 3-of-6 FGs, 0-of-3 3FGs
Stanley Johnson:
5 points, 2-of-5 FGs, 1-of-2 3FGs, 3 rebounds, 2 assists, 1 steal, 2 turnovers
Joel Berry:
4 points, 2-of-4 FGs, 0-of-1 3FGs, 1 rebound, 1 assist, 2 turnovers
Myles Turner:
3 points, 1-of-1 3FGs, 2 blocks
Highlight of the Night
Kelly Oubre
posterized Moser with a monster left-handed dunk over the outstretched arm of the 6-foot-8 forward.
Myles Turner Interview