Sean Williams
Recent Tweets
All Tweets
@WojYahooNBA Sean Williams was supposed to be a quick fix. They were urged to take Tiago Splitter but told me they cant wait 1 year for him
2010-01-22 14:46:33
Top 25s - Full List
Team: Selcuk
Physicals
Positions
Rankings
Salary
Misc
H: 6' 10"
W: 230 lbs
Bday: 09/15/1986
(29 Years Old)

Current: C
NBA: PF/C
Possible: PF/C

RSCI: 116

Agent: Bernie Lee

High School: Mansfield
Hometown: Mansfield, TX
Drafted: Pick 17 in 2007 by Nets




Basic Per Game Statistics

- Comprehensive Stats - Statistical Top 25s

Player Page&nbsp&nbsp| Player Stats | Mock Draft History | Related Articles&nbsp&nbsp| Add to My Draft Express&nbsp
&nbsp
D-League Showcase Profiles: Call-Up Candidates (Part One)
January 17, 2011
Matt Kamalsky

Former first round draft pick Sean Williams had a solid week on the floor, but the feedback we heard about him off it may have caught our attention most. On the court, Williams remains the same highly athletic defensive presence that he was in the college game, but word is that Williams has been a model citizen off the court for the Texas Legends. Becoming a first-to-arrive, last-to-leave type, Williams seems to have matured past the issues he had off the floor in the past to focus on his basketball career.

An effective complementary scorer thanks to his length and athleticism, Williams still hasn't developed a terribly polished post repertoire. However, he has shown that he hasn't lost a step as a rebounder and shot blocker. Whether he's rotating over from the weakside, defending the midrange, or crashing the boards, Williams makes an impact with his physical tools and energy. A top-call up candidate due to his terrific combination of size, athleticism, length and shot-blocking ability, Williams will earn himself a roster spot in the NBA sooner rather than later if he can continue to make good decisions off the floor.

[Read Full Article]

---
D-League Showcase- Day One
January 6, 2009
New Jersey's somewhat surprising decision to send Sean Williams down to the D-League (he was one of the best players in last year's Rookie-Sophomore Challenge, beating out Al Thornton, Spencer Hawes and Rodney Stuckey for a spot on the team) might signal a trend for future NBA teams. Will we begin seeing teams use the D-League showcase as their own private showcase to increase the trade value of their players?

It's not a bad idea if you think about it, considering that every NBA team is represented here in Orem, along with numerous GMs, Presidents, Directors of Scouting and Directors of Player Personnel, among other executives.

The biggest curveball here might be Williams' reaction—unilaterally deciding that while down in Colorado, he wants to play small forward. This coming from a guy who has been a center his entire life, has virtually no perimeter skills to speak of, and whom his best assets are his shot-blocking and offensive rebounding skills—which usually entail being as close to the basket as possible. The Nets publicly said "sure" but that hasn't been exactly the case in the Showcase. No one will ever question Williams' talent—it's his intangibles and on and off the court focus that have always been his worst enemy. We discussed these issues at length before the draft in his DraftExpress profile, for a more recent take, see Hoopsworld's article.

Any way you slice it, though, there is no questioning the fact that Sean Williams is the most naturally talented and physically gifted player at the D-League Showcase. As we all know, though, there is a lot more to being a successful basketball player than just being talented.

In his first game here in Orem, Williams struggled a bit with foul trouble and ended up having just a decent all-around showing considering the level of competition—10 points, 8 rebounds, 3 blocks, 6 fouls and 2 turnovers on 4-7 shooting in 28 minutes. He spent most of his time within 15 feet of the basket, putting his freakish athleticism on display literally from the opening tip, jumping to the sky like a pogo stick to tap the ball to a teammate. He was able to establish himself as a legit shot-blocking presence and also made an impact on the offensive glass, but also showed pretty vividly why he has been unable to crack New Jersey's rotation this season thus far.

His on-ball defense was pretty poor—being scored on numerous times by both Charles Gaines and Andre Brown, and committing some very silly fouls. His perimeter skills looked very raw (turning the ball over when trying to do anything advanced with the ball, bricking a mid-range jumper badly) and his entire game appears to be strictly off instincts.

At this level that can definitely work—and he made some extremely intriguing plays to back that up (some nice turnaround jumpers in the post, getting his hands on all kinds of loose balls), but the poor body language he displayed and the questionable IQ often negated some of those plays. Williams often looked like he was in his own world—not warming up with his teammates for example—and generally didn't do a great deal to show that he is "worth the hassle" considering his off-court issues.

[Read Full Article]

---
Orlando Summer League, Day Two
July 9, 2008
Sean Williams deserves a special mention in this space for the incredible job he did defending Michael Beasley today. As we mentioned previously, there are not many players in the world who are agile enough to defend the perimeter and contest every shot with his freakish length, while still being explosive enough to block shots inside and not be pushed around in the post. That combination can make him one of the premier defenders in the NBA down the road if he continues to add strength and is able to keep his head straight—which is unfortunately not a give-in. Offensively, Williams is clearly not a polished player by any stretch of the imagination, but he is so unbelievably athletic that at this level it almost doesn't even matter. He was just jumping over players for strong finishes and put-back dunks, blowing by guys putting the ball on the floor crudely, and so forth. He needs to figure out his limitations (read: not bringing the ball up the court like he did at one point) and he could be at least passable on this end of the floor in the NBA.

[Read Full Article]

---
Word on the Street: League Talk, A Week Before the Draft
June 22, 2007
A Free Pass for Sean Williams?

Sean Williams is playing hard ball with teams who would like to consider drafting him, tell us two NBA executives with picks in the second half of the first round. Williams, who only played in five ACC-conference games this season after being kicked off Boston College in mid-January due to allegedly failing repeated drug tests, is yet to conduct even a single private workout at an NBA team's facility.

Instead, he has taken the very rare strategy (even for a top five pick, let alone a troubled potential second rounder) of isolating himself in his hometown of Houston and conducting public workouts with interested NBA teams, only alongside a 7-3 Romanian player. So far, Williams has held two such workouts, on the 11th and 18th of June, with another one planned in Los Angeles. Teams that are interested in conducting an interview to dig deeper into the repeated off the court issues that Williams has had throughout his career can only do so by flying into Houston.

Only 5-6 team scouts were present at the workout conducted this past week in Houston, with the one real decision maker being the local Daryl Morey, General Manager of the Rockets. The Knicks, for example, sent a scout in Jeff Nix who they had already fired almost two weeks prior. The protocol here is usually for the scout attending to report back to the General Manger, and if the team likes what they hear, to recommend bringing him in for a workout. In a case like this, where Williams hasn't been seen by almost any GM in person (very few if any scout the non-conference portion of a weak schedule like Boston College), it seems like teams are almost being begged not to select him in the first round.

From what we're told, Williams is now scheduled to secretly fly to two select NBA cities to meet the coaching staff and work out in front of their front office—New York and Charlotte. The Knicks (picking 23rd) will be joined by the New Jersey Nets (picking 17th) as has become custom this year, followed by the Bobcats (picking 22nd) later this week. At least one team drafting in the mid-first round believes that the Knicks have zeroed in on selecting either Williams or Daequan Cook at this point.

Numerous NBA personnel we've spoken to believe that Williams' draft range is somewhere from 17-25. Making things even more difficult, though, is the fact that some teams in that range do not even have a simple physical-- including a drug test-- to allow their doctors to clear him to be picked. Teams regularly share physicals when it comes to players who did not participate in the NBA pre-draft camp, and Williams was scheduled to be examined by the doctors of the Houston Rockets, which hasn't happened, and is now supposedly getting his physical taken in New York/New Jersey.

Also missing from the picture are the psychological analyses/personality assessments that most teams conduct that could play a substantial role in the decision making process in this case in particular.

Some in the league are wondering about the message that is being sent, when a player who has barely been seen by top-decision makers and has such a troubling track record is given a free pass on being scrutinized and drafted in the first round regardless, solely off his athletic ability. "It's an absolute joke," one executive lamented to us privately this week. "For the sake of our profession, and the NBA in general, Sean Williams should not go in the first round," the executive said. "What kind of message does that send? He has done absolutely nothing to show that he's a pro, starting with the decisions he's made, picking marijuana over the obligations he had to his team, and now not being bothered to travel to NBA cities and explain himself. It's not even a matter of weed…it's a responsibility issue. Life doesn't get easier once you reach the NBA."

Williams' agent Charles Grantham did not return messages seeking comment about his client.

[Read Full Article]

---
Shooting Yourself in the Foot, by Sean Williams
January 19, 2007
ESPN's Andy Katz brought some not-so-shocking news yesterday regarding Sean Williams being permanently dismissed from Boston College for "unspecified violations," together with teammate Akida McLain. A couple of quick phone calls to sources in the Boston area confirmed the initial suspicions that we're reportedly again dealing with marijuana related issues, specifically failing a drug test once again, according to the sources.

Williams has received numerous opportunities to get his act together since arriving on college, and has seemingly burned every one he's received. All year we've been hearing that he's been hanging by the thinnest of threads academically, and that numerous strings had to be pulled by Boston College coach Al Skinner amongst the University's administration to keep him eligible. The higher ups at BC preferred not to have him around, but decided to give Skinner some leeway to keep his second most important player (after Jared Dudley) around. Instead of rewarding the people who believed in him (and conveniently, needed him) most, Williams betrayed their faith and was consequently unequivocally shown the door after refusing to change his ways.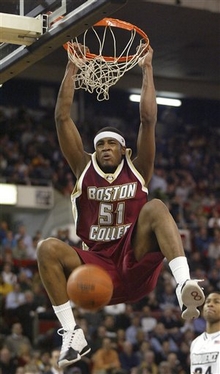 AP



He won't be welcome back at BC anymore, and basically has two options left at this point. One would be to transfer to another school in the fall, redshirt next season, and wait another year before he's able to play out his last semester of eligibility. Should he pick that option, it would mean he's currently two and a half years away from entering the draft. It's hard enough to find a college coach willing to take on a player for just one semester, let alone someone with his reputation of being unable to stay out of trouble, as talented as he might be.

The other option he has is to enter the draft this coming June, and in the meantime prepare himself either through the D-League or with a personal trainer, likely John Lucas, who he has worked with him closely in the past and is considered a big reason for the massive improvement Williams has shown this year on both ends of the floor.

Either way, things aren't looking bright for the nation's leading shot-blocker. Even before this latest dismissal, certain NBA scouts we've spoken to over the past few months were lukewarm on the possibility of recommending drafting him in the first round. Most were enamored with his considerable physical tools and upside, but all cited their disbelief in him actually being able to realize that potential anytime in the near future. He was beginning to make people forget his troubled past more and more as his performances continued to exceed all expectations, and we certainly believed that he would make a team drafting in the teens fall in love with his upside once private workouts kicked off, but question marks would always linger about whether he's going to eventually flame out a la Keon Clark or Eddie Griffin once he gets his first NBA contract.

Thankfully for NBA decision makers, Williams made things very easy on them by himself with his latest mishap. We had him projected as a top 20 pick going into today, but as of right now with the information we have in front of us, it would be difficult to see him cracking the first round, unless a team decides to ignore the potential negative PR that is bound to come with gambling on him. NBA teams have begun to shy away from taking headcase types with checkered pasts over the last few years (see Banks, Sean), and they haven't exactly been burned or proven wrong. From what NBA types have been telling us, it's their ownership in particular who have taken a hard stance against adding players who are known to be unable to stay out of trouble.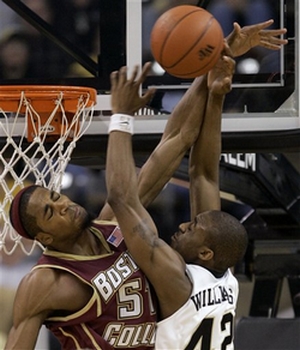 AP



Reading the report of Williams' suspension at Sioux Falls Arena and watching the news spread like wildfire amongst scouts was quite interesting. Many of the scouts and executives sitting in our immediate area were scheduled to travel from Sioux Falls to the upcoming Clemson-Boston College game to watch Williams match up with James Mays, and immediately began comparing notes on whether they had seen him enough to have a good handle on his NBA potential. The answer to that question for the most part was no, and some even mentioned frontloading Boston College's ACC schedule on their travel itinerary specifically because they were worried about something like this happening.

The next topic was what exactly Williams should do now. Some thought the D-League would be a good option for him, maybe playing in Austin close to his hometown of Houston. Others wondered whether he'd even be able to handle playing in a minor league system, or whether the D-League would even accept him, since he's shown little to no ability or willpower to follow minimal rules even when he knew that millions of dollars were at stake for him. There's really no simple answer to all these questions. The name Sean Banks came up as he was sat no more than 20 feet away in a very loud and elaborate jacket yapping off to a fellow LA D-Fenders teammate. Banks went through different kinds of issues playing for Memphis but was similarly dismissed from the team, only to go undrafted despite being projected as a potential first round pick following an outstanding freshman season. He's not quite as tall, athletic or naturally talented as Williams, but the comparisons between the two are certainly there.

This is the point in the article where you usually draw a conclusion. Unfortunately, it will be 5 months at the earliest and likely 3-4 years before there will really be any to come to. Williams is a freakish athlete with seemingly unlimited upside thanks to his size, frame, length, athleticism, and ability to absolutely change the game with his shot-blocking presence in the paint. In a league where players such as Patrick O'Bryant and Saer Sene get drafted 9th and 10th last year for example or Keon Clark and Steven Hunter can rocket their way up boards into the 13th and 15th spots of the 1998 and 2001 drafts respectively on the strength of a couple of outstanding workouts, Sean Williams looked like a lock for the first round of this year's draft at the very least. None had the kind of rap sheet that Williams is currently sporting, though, and their respective draft classes were both considerably weaker in all-around depth and particularly in the sheer quantity of quality big men. What's even more worrisome is that the people we've spoken to who have worked closest with him refuse to put their personal reputation on the line by vouching for his character.

Thankfully for Williams, though, his career is anything but over. He will get every opportunity in the world to redeem himself and make some NBA team look very very smart for deciding to roll the dice on him, wherever he might get drafted. If he decides to turn over a new leaf and take the opportunity he's granted with two hands, he'll be able to make up the money he lost almost as quickly as he gets off the floor for another one of his trademark blocks. It's up to him to make the most of his situation now.

[Read Full Article]

---
NCAA Weekly Performers (12/4/2006)--Part One
December 5, 2006
His ability to change a game through his mere shot-blocking presence really can't be understated at this point. We were all amazed at the way Justin Williams and Shawn James continued to one-up each other last season with new shot blocking exploits. Williams is currently matching James' record pace of 6.5 swats per game, has a legitimate chance to average a similar number at a much higher level on the season, and disrupts offenses at a level that Ron Everhart could only dream about getting from James.

The real news here is while Williams had been billed as a shot blocker and only a shot blocker up to this point, he has added a wrinkle to his game over the summer. In this week's action the junior showed off a much-improved back-to-the-basket offensive arsenal, displaying adequate footwork and surprisingly soft touch while using every bit of his impressive length to score over the defense. The issues we have seen with poor hands have seemingly disappeared, and Williams made very good decisions this week once he had the ball in his hands as far as when to look for his own offense and when to start looking for a teammate. If he wasn't scoring on the low block, he was looking for ways to contribute from the high post, finding fellow BC big men repeatedly on nifty high-low passes.

However, there are still a few weaknesses that must be accounted for in any evaluation of Williams' status as an NBA prospect. In terms of physical attributes, it is hard to find a player who does less with more when it comes to rebounding. Looking like a freakish combination of Amare Stoudemire and Theo Ratliff as a weak-side shot blocker, Williams is anything but when battling for a rebound. Naturally explosive and decisive in protecting the rim, he is tentative and lethargic on the glass, routinely losing loose balls and rebounds to players he shouldn't have to break a sweat to overpower. Obviously Williams' rebounding totals are going to look a bit worse than they should because he is chasing so many shots on the way up, but a total of 5 rebounds in the two games last week is simply impossible to explain or justify from a player with such formidable natural gifts.

Williams is very hit or miss with his individual post defense, sometimes gobbling up shots with jaw-dropping ease, and in others allowing marginal opponents to score with little apparent resistance at all. The same issues show up with his inconsistency in running the floor, where he can absolutely fly when an uncontested dunk is in the cards but will lollygag up and down the floor in many fastbreak situations on both sides of the ball. His shot blocking totals are even more impressive when one realizes how many potential rejections he passes up on because of his inability to consistently defend the rim in transition.

The only things Williams really has left to prove on the court have everything to do with consistency effort and motor. He is somewhat of a difficult prospect to project because he has incredible natural instincts as a shot blocker and has shown work ethic in developing his offensive game significantly, but appears as lethargic as ever in other hustle-related areas.

[Read Full Article]

---
Top NBA Draft Prospects in the ACC (Part One: #1-#5)
October 11, 2006
Williams remains one of the tougher players in the country to judge in terms of NBA potential. On one hand, he might be the most explosive big man in all of college basketball, and has good size and a very nice frame to boot. These attributes make him the most intimidating shot-blocking threat in the ACC. Williams explodes off the floor instantaneously to block shots, and has the ability to use either of his hands to send shots the other way. As proof, he averaged 2 blocks playing 17 minutes per game in both his freshman and sophomore seasons. Williams can also be dangerous on the fast break as well. He can run the court with the fluidity of a guard when he wants to, and it makes very easy for his teammates to lob or dump the ball to him for easy transition dunks.

On the other hand, Williams is indolent when it comes to running the court, and passive on the floor when he's not directly involved in the play. He could be a great rebounder due to his body and athleticism, but he only averaged 3 rebounds per game last year. This is partially due to the fact that he shows very little knowledge of how to use his body, and partially because his shot blocking often takes him out of position to get rebounds. He relies far too much of his athleticism, and thus is very much behind the curve in everything that has to do with his basic fundamentals. In addition to that, he could still stand to improve his hands and reaction time, as too many times he is simply not ready or not able to haul in airborne passes or loose balls. Offensively, Williams does very little besides the occasional dunk off of a cut to the hoop. He has the raw ability at times to create separation in the post, but lacks any type of touch inside. In addition, he barely shoots above 50% from the free throw line.

NBA scouts love to find players who possess what Williams does in terms of physical attributes, but at the same time, he seriously lacks basketball IQ. It's hard to decide if he's closer to a Steven Hunter or a Samuel Dalembert in terms of his potential, as we really don't have enough to go on at the moment to come to any definitive conclusions. To improve his NBA stock, he needs to start by playing with a lot more intensity on both ends of the floor. For a player like Williams, this will lead to more easy garbage baskets and rebounds. He could be a much more effective offensive player if he focused on setting good screens, and cutting to the hoop immediately to receive the ball and finish strong. This would be really effective in the NBA if he was playing with a high post power forward that could draw double teams, because Williams would often be open for an easy dunk on the weak side. He also needs to absorb the contact and finish when he gets fouled on dunk attempts, something that most good NBA big guys can do. Though he has a long ways to go when it comes to understanding the game, he will get a chance in the NBA regardless, due to his size and athleticism.

Questions also surround the character of Sean Williams. He was a big name player all the way back to high school, but a lot of colleges backed off in recruiting him due to perceived off the court issues. As a freshman he was suspended twice by Al Skinner for a total of three games. There was an incident last year in which Williams was kicked out of school for the first semester after being arrested for marijuana possession, and he was forced to go home to Houston to improve his grades before he was allowed back on the team. He did complete this task, and started playing for Boston College again late in December of 2005. Problems like this are red-flags for NBA scouts dealing with raw players who will have to work incredibly hard to reach their full potential, and when you combine the off the court issues with his already underdeveloped skills in many key areas, it might make it hard for teams to justify spending a high pick on Williams. On the other hand, you can't teach the incredible physical tools that Williams brings to the table, so it really won't take that much on Williams' end to make them forget about these issues.

With second team All-American Craig Smith moving on to the NBA, Williams will be expected to be a presence up front for the Eagles this season. If he has worked on his game in the off season (he reportedly spent extensive time in Houston with trainer John Lucas), and shows some semblance of improvement, it would greatly help his draft stock just by showing that he's willing to put in the time off the court. It is amazing sometimes to watch how his shot blocking can change the flow of a game despite how raw he is. It will be an interesting two years for Williams, who could catapult himself into the lottery, or just as well get drafted in the 2nd round and leave people wondering if he will ever get it.

[Read Full Article]

---
NCAA Tournament: NBA Draft Stock Watch (Sweet Sixteen, Friday games)
March 25, 2006
Williams play a huge role for Boston College down the stretch of a game for the second time in the NCAA Tournament, and though it didn't lead to a win, he showed the natural tools and raw skills that make him an attractive draft prospect in the long run. He used his awesome athleticism to get three blocks, including one on Kyle Lowry's three point attempt at the end of regulation. Williams also had another near block with his left hand on Dante Cunningham that turned into a very questionable foul call. Sean Williams has an incredible amount of athleticism and a well-built body that on their own would make him a draft prospect. Though he started to show flashes of what he can become throughout the NCAA Tournament, Williams will need to return to school, continue to stay out of trouble and take on a much bigger role for Boston College next season.

[Read Full Article]

---
NCAA Tournament: Minneapolis Bracket NBA Draft Prospects
March 14, 2006
After being ineligible for the first semester, Sean Williams was re-instated for the second semester, and played limited minutes off the bench. He is a very athletic player, with good shot blocking instincts. Williams currently uses his raw athleticism to get rebounds rather than using positioning and timing, but has a lot of potential to become very good in this area. At this point, Sean Williams is too skinny for the NBA and very raw on the offensive end of the floor. He doesn't get a whole lot of playing time after letting down his coach and teammates in the preseason, but has a super high ceiling and is a player that NBA scouts will regardless be keeping an eye on for the future.

In the NCAA tournament, Williams can be an energy guy off the bench for Boston College. His ability to block shots can provide momentum boosts for his team, as he displayed at the ACC Conference Tournament when he sent a Tyler Hansbrough dunk attempt back the other way. If Sean Williams can contribute consistently in the tournament and improve his offensive game over the summer, he is definitely a guy to keep and eye on for the 2007 or 2008 NBA draft.

[Read Full Article]

---
NCAA Tournament practices at Cleveland State University
March 17, 2005
Williams was definitely one of the most exciting players of the day. Not only did go through all of the drills hard, but he showed off his amazing athleticism every time he touched the ball. Sean had many thunderous dunks that drew numerous ooooohs and ahhhhs from the crowd. He looked to be a legit 6'10 with long arms and good stamina for a big man. The only knock on Williams is that he can not shoot, at all. Williams seriously needs to see the shot doctor as his range does not extend beyond five feet as of now. If he is able to continue to develop and improve his shot, we will probably see him in the NBA some day.

[Read Full Article]

---