Another day of practice at the Nike Hoop Summit is in the books as the World Select Team looked a bit crisper during their second day of practices.
2014 Nike Hoop Summit: International Practice Day One
2014 Nike Hoop Summit: International Measurements
2014 Nike Hoop Summit International Roster Breakdown
---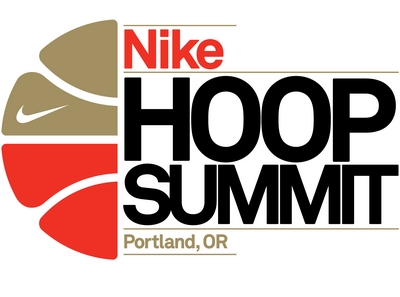 Day two of the World Select Team practices started with the 11 players splitting into two groups to work on their half court sets 5-on-0, followed by position drills, shell defense, and a four quarter scrimmage. The players seemed more in rhythm today, and with more players in sync, the competitive portions of today's practice were significantly better than they were a day ago.
The second day of practice also marked the first day that 1997-born
Sviatoslav Mykhailiuk
could be in attendance. The 6'6 Ukrainian is among the top international prospects in his age group. He's averaging 5.6 points per-game playing for Cherkassy in the Ukrainian Superleague this season after finishing as the second leading scorer and 8th leading rebounder at the FIBA U16 European Championship last summer. An outstanding shooter with a nice feel for the game and solid athleticism, Mykhailiuk is an intriguing prospect we'll be keeping an eye on all week. He was fairly quiet today, but threw a few terrific passes and shot the ball relatively well despite having only arrived in Portland a few hours before practice began, and being the youngest player in attendance.
The player that stood out the most today was
Nikola Jokic
, who shot the ball impressively from the perimeter scoring 17 of his team's 41 points during the scrimmage at the conclusion of practice. Emerging as a key player for Mega Vizura in the Adriatic League this season, Jokic has shot just 22.1% from beyond the arc during the year, but he was lights out from the perimeter this evening, hitting three 3-pointers, sticking a fadeaway from the baseline, and scoring with polished footwork inside. An old-school, ultra skilled big man who has soft touch with both hands around the rim, if Jokic can shoot the ball consistently from the perimeter, he could be a very intriguing prospect down the road, even if he is not a great athlete and still has work to do on his body.
Emmanuel Mudiay
had some impressive moments for the second straight day. He split the pick and roll for easy layups on back-to-back possessions, and his explosiveness really stands out at times. Though he may have been guilty of overpassing at sometimes (something he indicated was by design "to get his teammates going"), Mudiay's improved shooting mechanics coupled with the flashes of brilliance he has using his physical tools, particularly on the defensive end, has certainly give the scouts in attendance a glimpse of the player he may become down the road.
Trey Lyles
has been solid through both of the practice sessions we've seen here. He hasn't been overly assertive in the scrimmages, but he's a very competitive player with great size and strength and a good feel for the game. The Saskatoon native has been very impressive in drills where his polish and quickness for a big man really stand out. He may have a bit of a hitch in his jump shot, and is not an elite athlete, but his skill level, improved frame, and ability to score at and away from the rim have impressed.
Damien Inglis
and
Clint Capela
once again were able to make a few plays on both ends with their athleticism and physical tools. Inglis continues to be a menace defensively, while Capela had a few nice sequences where he was able to make a play protecting the rim before beating everyone down the floor to receive a pass in transition to score. Capela's rawness has stood out at times, as he's clearly still learning the game, particularly in terms of his skill-level, but the glimpses of talent he drops at times thanks to his tremendous explosiveness leaves a great deal of optimism for his future.
With the USA Junior Select Team arriving in Portland, we'll get our first glimpse of the American side during their practice session tomorrow morning at St. Mary's Home For Boys.