Day five of the World Select Nike Hoop Summit was the international team's last chance to get some final preparation in before the game tipped the following day at Noon
---
More DX Nike Hoop Summit Coverage
-Ivan Rabb Interview
-Nike Hoop Summit Shooting Drills: Skal Labissiere
-Nike Hoop Summit Shooting Drills: Tai Wynyard
-Team USA Scrimmage One Recap
-Cheick Diallo Interview
-Tai Wynyard Interview
-One on One Drills: Skal Labissiere vs Thon Maker
-Federico Mussini Interview
-2015 Nike Hoop Summit: International Practice: Day Three
-USA Practice Day One
-Skal Labissiere Interview
-Ben Simmons Interview
-International Practice Recap Days One and Two
-World Select Team Measurements and Analysis
-2015 Nike Hoop Summit International Roster Breakdown
---
The World Team was coming off a tough loss in their "secret" scrimmage the night before on Nike's campus, where the group was soundly defeated by a collection of current and former Division one players mostly made up from Portland State.
Jamal Murray
was hampered with an injury and didn't participate much, and the guard play of the World Team, considered the weakest link of the group, reportedly had a difficult time with the physicality of the older players.
Zhou Qi
participated in his first practice since suffering a mildly sprain in his ankle on Monday. He ran up and down the floor without any issues and looked very close to 100%, besides wearing a small brace on his ankle. The question now is how much of a factor he will be in the game considering how little he's practiced over the past few days, particularly considering the language barrier that was already in place. Does he know the team's offensive and defensive concepts? Will a lack of chemistry with his teammates be an issue?
For the first time this week, the team went straight into five on five scrimmaging, as there's no longer time to work on drills or team concepts. Murray/Peno/Simmons/Maker/Qi vs Mussini/George/Vuza/Skal/Diallo were the first lineups we saw, with Wynyard starting from the bench as team finally had their complement of 11 players to work with. Zone offense and press break were some of the things the team worked on, which could come in handy since they are likely to need both against the US squad.
The team had their best practice of the week, with the offense looking fast and fluid, far more cohesive than anything we've seen up until now. The coaches have clearly put an emphasis on attacking the defense as early as possible before they are set, and the ball was flying around with shots coming up very quickly, a style in which the players are clearly increasingly becoming more comfortable with.
Ben Simmons
looked locked in from the opening tip, handling the ball very frequently, particularly in transition off defensive rebounds. He found the open man nicely for spot-up 3s, and also did quite a bit of scoring himself for the first time seemingly this week, attacking a closeout for a beautiful finger-roll floater, knocking down a corner 3-pointer, and hitting another floater in transition.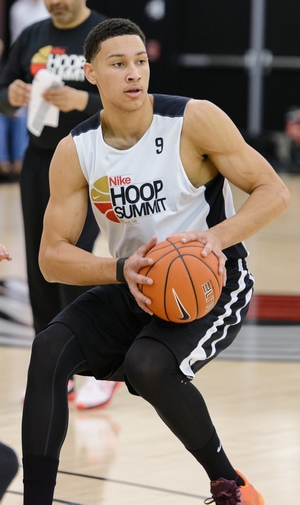 He was extremely aggressive with the ball—clearly something Roy Rana and the World Team wants to take advantage of due to his superb ball-handling and passing skills and how much they've struggled with guard play in the half-court—and was rewarded with fouls and free throws in turn. If this ultra-aggressive version of Simmons shows up tomorrow, the World Team will be in very good shape.
Nedim Buza
was as assertive and productive as we've seen him all week, which is a good sign considering how much he struggled in the days before. He made quite a few outside shots, and was constantly looking to attack the defense in the early offense off the dribble. Buza has been a pleasant surprise defensively and on the glass all week, looking much better than advertised in both departments, so it was nice to see his skill-set translate to productivity offensively. He's got good size for a small forward at 6-8, a solid frame that should continue to fill out, and a nice shooting stroke that has been fairly streaky through the week but clearly has potential.
George de Paula
also had possibly his best practice of the week and is finally starting to come out of his shell seemingly. On his very first possession of the game he drove strong into the paint for a dunk (which he missed), and he did not look bashful at all firing up shots from the perimeter all scrimmage long. Like the rest of the team, he looked to make things happen early in the shot-clock as much as possible, using his big strong frame to power his way into the lane and draw fouls. Defensively, he was a constant presence, switching seamlessly onto bigger players (like
Ben Simmons
) and not really giving up anything when he did, which gives his team terrific flexibility. Lucas is far from a finished product, but it's impossible not to see how talented he is. The only question is whether a team will feel they have the patience to let him grow through his initial struggles and develop his game through playing time and learning from mistakes, which may not be all that much fun early on.
Skal Labissiere
was relatively quiet for the most part today, not scoring his first basket until the last period of the scrimmage—a very pretty jump-hook. He followed that up with one of his best plays of the week, a terrific one-handed offensive rebound putback where Labiesserie mistimed his jump but was still able to catch it and hammer it through despite being on his way down already. Labiesserie is still somewhat of a work in progress in terms of his offensive polish and feel for the game, particularly with his ability to assert himself with his back to the basket. The effort has always been there, and that translated into some nice work on the glass tonight.
We'll see how everything comes together for the World Team tomorrow in the actual game at the Moda Center. It's being broadcasted on ESPN2 at noon pacific, 3pm EST.