Ben Simmons vs Henry Ellenson Head to Head Matchup Video Analysis
November 24, 2015
A detailed video analysis by Mike Schmitz of how LSU's Ben Simmons and Marquette's Henry Ellenson performed in their head to head matchup yesterday at the Barclays Center in Brooklyn.



[Read Full Article]

---
2015 LSU Combine Measurements and Analysis
October 13, 2015
Poked and prodded in numerous other settings, Ben Simmons measured very similarly here to how he has elsewhere, at 6'10 in shoes, with a 7'0 ¼ wingspan that is a little over an inch longer than previously reported elsewhere. He has added 11 pounds to his frame since the Nike Skills Academy in late June, and his 9-foot plus standing reach is also very solid if accurate.

Simmons also tested off the charts athletically, with a 41 ½ inch vertical, a lightning quick lane agility time, and what would be the all-time fastest ¾ court sprint number in the history of the DraftExpress database if LSU's testing results are to be believed.

[Read Full Article]

---
Top NBA Prospects in the SEC, Part 2: Ben Simmons Scouting Video
September 24, 2015
Mike Schmitz continues our coverage of the top NBA prospects in the SEC with a video scouting report of the #2 prospect in the conference, LSU's Ben Simmons.
---
More DX Conference Preseason Previews:
-The Top 20 NBA Draft Prospects in the Pac-12
-The Top 20 NBA Draft Prospects in the Big East
-The Top 15 NBA Draft Prospects in the Big 12
---
Top NBA Draft Prospects in the SEC


(#1) Skal Labissiere (Scouting Video)



#2 Ben Simmons, Freshman, SF/PF, LSU



Strengths:



Weaknesses:



Mike Schmitz is the video analyst for DraftExpress. Follow him on twitter and check out his archive. He will be breaking down the NBA draft in digital format all year long for us.

[Read Full Article]

---
Nike Academy Scouting Reports: College Power Forward/Center Prospects
July 6, 2015
Mike Schmitz

The LSU-bound freshman proved himself as the best NBA prospect at Nike Academy, further justifying his #2 spot on the DraftExpress 2016 Mock Draft.

Simmons is an extremely unique talent with an outstanding feel for the game and an ability to handle, pass, make plays with either hand, defend multiple positions and play above the rim in transition at 6' 9.5" 229 pounds.

Simmons made plays all over the floor and was far away the most talented passer in the gym day in and day out. With the ability to grab a rebound and run the break in transition, Simmons is nearly impossible to stop in the open court. His combination of strength and speed at that size makes him a matchup nightmare for opposing power forwards.

Simmons' success wasn't only limited to transition, however. He thrived as a point forward of sorts, handling the ball in pick and roll sets and dissecting the defense out of post isolations. He has elite court vision and uses different angles to deliver the ball on the money with either hand.

While he's best as a distributor, Simmons also does an outstanding job getting low to the ground on his perimeter drives as his combination of strength and a quick first step allows him to get all the way to the rim, where he's comfortable finishing with either hand.

Simmons can be prone to throwing up wild attempts at the rim and avoiding contact inside, however. While his passing instincts are tremendous, he does go for the home run play a bit too often at times.

The main area where Simmons still has quite a bit of room for growth is as a shooter. Although he does get solid rotation on the ball and has some natural touch, Simmons' shooting mechanics aren't ideal, as he sports a fairly slow windup and involved his ring and pinky finger too much on his release. The Aussie did knock down a couple of mid-rage jumpers and banked in a three, but his jumper still remains his biggest question mark moving forward.

Given his inconsistencies as a shooter at this stage of his development, Simmons is best as a playmaking power forward who would thrive in a system where he's able to handle the ball and create for his teammates.

Defensively, Simmons showed outstanding versatility, staying in front of quick perimeter players with relative ease. He's very mobile for his size and has the strength to battle on the interior as well. It's Simmons offensive talent that often has scouts and media members buzzing, but he really has a chance to be an excellent defender and two-way player. Simmons isn't overly tough and doesn't quite have elite length for a power forward, making him best defending the perimeter at this stage, but he certainly has the size and frame to develop into a better interior defender in time. Although he still has room to improve as a shooter, Simmons was by far the most intriguing talent at Nike Academy and will most certainly make a strong case for becoming the #1 pick in the 2016 NBA Draft.

[Read Full Article]

---
2015 Nike Hoop Summit Final Recap
April 11, 2015
Australian point forward Ben Simmons was the final piece to the puzzle for the World Team. The LSU-bound Simmons finished a rebound and assist shy of a triple double, posting a stat line of 13 points, nine rebounds and nine assists. He showed off his tremendous versatility and feel for the game that's unlike any other player in high school basketball.

Simmons did an excellent job moving the ball ahead in transition, finding shooters, bigs and cutters in the half court, and mixing some trademark behind the back passes in the open court. The Aussie lefty also showcased his tremendous ambidexterity with a couple of off-hand finishes in traffic. Simmons has room to improve as a shooter and as an overall scorer in the half court, and can do a better taking care of the ball (four turnovers), but overall his unique talent shined through as he played multiple positions and was a big factor in the World Team victory.

[Read Full Article]

---
2015 Nike Hoop Summit: International Practice: Day Five
April 10, 2015
Ben Simmons looked locked in from the opening tip, handling the ball very frequently, particularly in transition off defensive rebounds. He found the open man nicely for spot-up 3s, and also did quite a bit of scoring himself for the first time seemingly this week, attacking a closeout for a beautiful finger-roll floater, knocking down a corner 3-pointer, and hitting another floater in transition.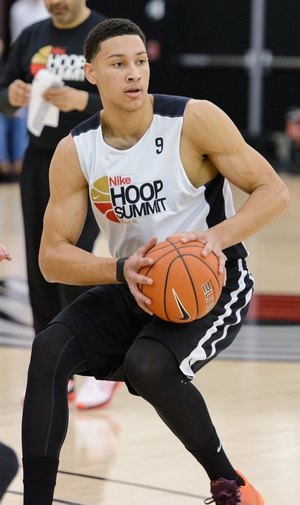 Ken Nowaczyk/USA Basketball



He was extremely aggressive with the ball—clearly something Roy Rana and the World Team wants to take advantage of due to his superb ball-handling and passing skills and how much they've struggled with guard play in the half-court—and was rewarded with fouls and free throws in turn. If this ultra-aggressive version of Simmons shows up tomorrow, the World Team will be in very good shape.

[Read Full Article]

---
2015 Nike Hoop Summit: International Practice: Day Four
April 9, 2015
It was very interesting to see the way Ben Simmons was utilized as the ball-handler in pick and roll situations in the half-court, as he's such a mismatch at his size at the small forward position, and has a tremendous feel for drawing the defense and then finding the open man. When he's focused on playing the right way and not trying to thread the needle with impossible behind the back bounce passes in transition for highlight reel plays, he's extremely impressive.

[Read Full Article]

---
2015 Nike Hoop Summit Video Interview: Ben Simmons
April 8, 2015
An interview with LSU commit Ben Simmons of the World Select Team at the 2015 Nike Hoop Summit.

(Video may not load with Internet Explorer. Use Chrome or Firefox)


---
More DX Nike Hoop Summit Coverage
-International Practice Recap Days One and Two
-World Select Team Measurements and Analysis
-2015 Nike Hoop Summit International Roster Breakdown
[Read Full Article]

---
2015 Nike Hoop Summit: International Measurements
April 6, 2015
Ben Simmons
Height (w/ shoes): 6-10
Weight: 239
Wingspan: 6-11
Hand Width: 10
Hand Length: 9
Standing Reach: 8-7
Country: Australia

Simmons measured two inches taller here than he did this past summer at the Lebron James Skills Academy. This is our first look at his wingspan and standing reach measurements, which both appear to be slightly underwhelming for a NBA small forward, let alone a power forward. Simmons' standing reach in particular is clearly that of a small forward, and his overall measurements are similar to those of a taller Tobias Harris or Joffrey Lauvergne.

[Read Full Article]

---
Ben Simmons vs Ivan Rabb Video Analysis
December 18, 2014
More Situational Videos from Mike Schmitz
-Jahlil Okafor vs Frank Kaminsky Head to Head Matchup Video Analysis
-Myles Turner vs Kentucky's NBA Frontcourt Video Analysis
-Kristaps Porzingis vs Barcelona Video Analysis
---
Take a look at our video section for a compilation of all the videos we've produced this year.
[Read Full Article]

---
Emptying the Notebook: Elite International Prospects Scouting Reports
October 19, 2012
Jonathan Givony

Strengths:
-Solid size at 6-8 or possibly 6-9
-Great frame for his age. Very mature physically
-Smooth, fluid athlete
-Very good leaper
-Excellent in transition
-Finishes well around the basket
-Lefty who shows the ability to use both hands effectively
-Can make an occasional pull-up jumper
-Good potential defensively. Moves feet well. Can guard either forward position at junior level. Makes plays at the rim
-Team player. Makes the extra pass.

Weaknesses:
-Limited offensively in the half-court
-Average ball-handler
-Poor outside shooter
-Very unconventional shooting mechanics
-No post moves
-Somewhat passive at times

Outlook: Extremely young. Only 15 years old at the U17 World Championship. Skill-level still catching up. Able to dominate players his age using his superior strength and athleticism. A little bit stuck between forward positions at the moment. Needs to improve as a ball-handler and shooter to play as a small forward. Will likely play college basketball starting in 2015.

Highlights:


[Read Full Article]

---