It's been a week since the Reebok EuroCamp finished, but there are a few interesting plot-lines related to European basketball that still we can explore, such as
Kyrylo Fesenko
,
Rodrigue Beaubois
,
Giorgos Printezis
,
Petteri Koponen
,
Tiago Splitter
, and
Jakub Wojciechowski
as a youngster to keep an eye on for the future.
A True Draft Sleeper, Kyrylo Fesenko
Luis Fernandez
If there was one player everybody wanted to see in Treviso, it was
Kyrylo Fesenko
. NBA teams, European teams, even ourselves, Fesenko was at the top of most people's agenda. The Ukrainian big man hadn't enjoyed the biggest exposure playing for Cherkassy in his homeland, and the EuroCamp was a terrific opportunity to get a first-hand look at him.
Unfortunately, it didn't happen, as visa problems restricted him from entering the country. Instead, thanks to Synergy Sports Technology, we got our hands on a Cherkassy game from the domestic league against the Ukrainian powerhouse BC Kiev. A good chance to see Kyrylo in a competitive setting (even if it resulted in a big victory for Kiev) against a high-level squad.
No wonder why everybody wanted to see Fesenko. The guy certainly looks intriguing.
It starts with a remarkable physical/athletic profile. Not only is he a legit seven footer with a nice wingspan, and it doesn't finish with his strong body and solid frame; Fesenko is a pretty athletic guy who actually uses his gifts with a notable level of activity. He's a high-energy player, even if his flame diminished a little bit in the last quarter, with the game resolved and too many minutes played under his belt.
In terms of skills, we're talking about a pure inside guy, a player who doesn't seem to look at the basket unless he's within 10 feet of it. He doesn't seem to consider the possibility of shooting the ball at all, even if he enjoys a wide open position. It's also a rare feature to see him putting the ball on the floor, unless he's evolving in the low post.
For the most part, his production comes in the form of dunks. He moves pretty well off the ball, looking for low-post looks, trying to fill spaces and rolling after setting picks. If he receives it close enough to the basket, he will try to attack the rim regardless of whether there's opposition or not, forcing some fouls in the process. He can comfortably perform one-handed dunks, and for him it seems very easy to get up for the dunk, being quick enough to get the job done before the defensive help arrives.
His obsession for the dunk becomes very obvious when he cleans the offensive glass, as he tries to put back everything that falls into his lap while in the air with a strong dunk. He's a very solid rebounder, particularly on the offensive end, where he shows nice aggressiveness and a certain ability to avoid the opponent's box-out to gain good position. On the defensive end, he sometimes is caught unfocused, not delivering the proper boxing-out effort. Still, he has the strength, athleticism and apparently solid hands to come away with the ball.
Back to his scoring skills, we could also see him once evolving in the low-post in a one-on-one setting. And it was a very solid move, putting the ball on the floor to bang his opponent a little, and then using his left shoulder while spinning to gain room and deliver a short right-handed jump-hook off the glass. Fesenko seems to enjoy at least decent footwork and nice footspeed, but still we're not sure about the quality of his jump-hooks, his soft touch and his left hand.
Defensively, he's again an active guy, but the kind of player who looks first for the block rather than to stop the rival with his body. That's particularly obvious in defensive rotations. Although for the most part, he recognizes when and where to help a teammate, he doesn't seem very willing to take charges to force offensive fouls, and goes directly for the block if he has the opportunity. In many other situations, he's a player that never avoids contact, but he just doesn't seem keen on being rolled over by a rival. Anyway, he enjoys solid lateral quickness, he intimidates thanks to his length and provides a nice effort.
Apparently, enjoying a solid understanding of the game, it's hard not to think of other international guys such as
Andris Biedrins
or
Anderson Varejao
when trying to project what kind of player he might be able to become in the NBA. Still we don't have enough elements of judgment to formulate a solid enough prediction about Fesenko, although there is more film in the mail…Considering the tools he has at his disposal, it probably wouldn't shock anyone if he ended up landing in the first round.
---
Koponen wows in workout again
Jonathan Givony
Continuing a distinct trend that has followed him to every workout he's attended so far,
Petteri Koponen
had himself another outstanding showing in front of multiple NBA teams, this time at a workout organized by his agent Marc Cornstein in New York City.
Eight Pinnacle Management clients worked out for at least ten NBA teams in separate workouts this past weekend on Saturday and Sunday. Teams that were in New York on Saturday/Sunday included Denver, Memphis, Boston (
Danny Ainge
), Houston, Utah, Portland (
Kevin Pritchard
), Toronto, Golden State, Seattle, Charlotte, Phoenix, Dallas, Milwaukee, Philadelphia, Miami, the LA Lakers, and the New York Knicks.
According to an NBA executive that was present, the workout was well run and featured a good mix of shooting drills, and competitive one on one or two on two matchups. The players that were in attendance for the first session were
Stanko Barac
,
Vladimir Golubovic
,
Marko Lekic
, and
Milovan Rakovic
—a group of big "bangers" who did a good job beating up on each other and neutralizing each other for the most part—even if
Milovan Rakovic
did well to separate himself from the pack.
The second session—featuring
Petteri Koponen
, Casey Hughes (Yale),
Zoran Erceg
and
Artem Zabelin
—was reportedly more informative. Erceg did a terrific job shooting the ball, although his flaws (rebounding, shot-creating ability, athleticism) were evident. Zabelin looks to be "oozing with potential," although he still has a "very long way to go" as his body looks years away from filling out.
According to two separate NBA people who were in the building, it was Koponen that stole the show once again, showing good ball-handling skills, an ability to change directions quickly on the fly, excellent leadership skills, great poise, a high intelligence level, terrific intangibles, and a real winning attitude that made him standout in everything he did. The same "plays like an American guard" compliment that we heard from a different scout who saw him in Orlando conducting another multi-team workout was again repeated here—meaning he doesn't suffer from the same athletic short-comings that other international guards do. His shooting mechanics were critiqued, but apparently his jumper went in at a good rate, particularly on pick and pop plays.
Koponen has a difficult decision ahead of him as the deadline approaches on Monday. Does he settle for being drafted in the late first or early second round of this year's draft, or does he instead decide to go back to Europe, join a good team in a high-level league where he can get plenty of playing time, and attempt to boost his stock into next year's lottery? That's a tough call indeed.
---
Splitter, Gasol, not conducting private NBA workouts
Jonathan Givony
As the Spanish ACB league enters its finals featuring arch-millionaire-rivals Real Madrid and Barcelona, we find all of this year's NBA draft prospects (besides possibly the likely undrafted
Marko Tomas
) finished with their season.
With that in mind, NBA teams have been calling the agent of
Tiago Splitter
and
Marc Gasol
—Interperformances, headed by Lucky Capicchioni and his partner in the US Herb Rudoy—seeking to bring the two in for a private workout. According to what Rudoy told us earlier this week, neither will be flying into the States anytime soon. "There is nothing teams can glean from a workout that they weren't able to see all season long with those two [Gasol and Splitter] playing heavy minutes in the most visible league in Europe," Rudoy told us.
Players who are under contract with other teams—such as Splitter, Gasol, and Rudy Fernandez for that matter—need their team's approval to work out privately with NBA franchises.
Gasol's buyout from Barcelona (who loaned him this past season to Girona) is affordable this summer, but whether or not he decides to leave for the NBA largely depends on the situation he's drafted into, as he's been quoted saying he's not all that enthused about returning to sitting on the bench (where he was permanently parked for two years by Barcelona).
Splitter as we've written many times has no escape clause in his contract this summer—although negotiations are ongoing—but will be able to break his contract following the 2007/2008 season by paying a one million dollar buyout. If Splitter does not fork over the one million dollar buyout next summer, Tau has an option to extend his contract until 2012.
The New York Post erroneously wrote earlier this month that Tau Vitoria lowered his buyout to $500,000, a report that was dismissed as possessing no substance by his agent Rudoy.
---
Jakub Wojciechowski, a Kid Amongst Men
Luis Fernandez
Strengthening the policy ignited last year, the EuroCamp virtually limited its recruiting to draft-able aged players, meaning guys born between 1985 and 1988. One of the very few exceptions was the Polish big man
Jakub Wojciechowski
(not by coincidence he's a Benetton player in Treviso), a 1990-born kid that we didn't include in our daily reports given his very limited impact on the court, but who deserves some attention because of the potential he enjoys.
Wojciechowski looked visibly younger at first sight. In a camp crowded with strong guys, he's still a skinny seven-foot player, although his frame promises a nice body development in the future. His athleticism looked very interesting as well, but he's yet to gain a degree of explosiveness to better take advantage of it.
That physical rawness, and even some degree of softness, might explain why Jakub wasn't very active in the paint. Instead, he looked like a face-up power forward, mostly trying to cash in off his nice-looking jumper. Wojciechowski enjoys good mechanics and a fluid release with three-point range, although he was a bit inconsistent. Besides, he seems to understand the game, and didn't look that out of place playing with and against more mature guys.
Anyway, he's a name to follow for the future.
---
Rodrigue Beaubois in for NBA workouts
Jonathan Givony
RBK Eurocamp darling
Rodrigue Beaubois
, who helped himself tremendously last week by showing intriguing upside in his short stay in Treviso, has been flown into the US for two private workouts before the NBA draft pullout deadline tomorrow.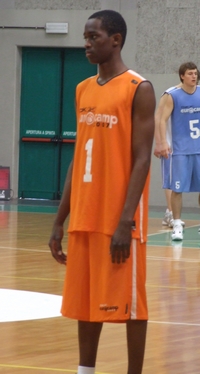 [c]Jonathan Givony, DraftExpress[/c]
The 19 year old Beaubois was in Seattle on Sunday and will be working out with Portland tomorrow—and will gauge what each team is willing to guarantee before he decides whether to keep his name in the draft at the deadline or not. He showed very nice athleticism in Treviso, an awesome wingspan (measured at 6-9), huge hands and solid poise despite his youth and lack of experience. He received only 14 minutes of playing time in ProA France with Cholet this past season.
---
Giorgos Printezis Sorting Out Visa Issues
Jonathan Givony
Giorgos Printezis
, by some accounts the player who helped himself the most at last week's Eurocamp in Treviso, is in the midst of sorting out visa issues in Greece in attempt to make his way over to the US for NBA private workouts, tells us his agent Kenny Grant of Championship Sports Group. The NBA is attempting to help expedite his visa appointment in Athens, as Printezis has a number of NBA teams interested in watching him work out. The Portland Trailblazers (always in the mix for international prospects it seems thanks to their hard-working International scouts Jason Filippi and Michael Born) are trying to bring him in next Saturday, the 23rd, in their never-ending quest to find the optimal way to spend their four second round picks.