Klay Thompson
is one of the most potent scorers in college while he made noticeable strides in multiple areas of his game this year, though he has some athletic limitations from an NBA perspective. What situation would he best be suited for in the NBA?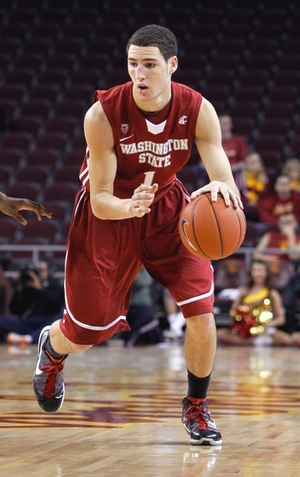 Establishing himself as a dynamic scorer early in his freshman season, Thompson continued to show flashes throughout his first two years at Washington State, but struggled with inconsistency and inefficiency often. As a junior, he took his scoring game to the next level while also making strides with his passing game, both of which gave his draft stock a considerable boost.
Still, there are many questions surrounding Thompson's game and how it will transition to the next level, namely due to his lack of great athleticism and struggles on the defensive end.
---
Klay Thompson (#1) Strengths/Weaknesses Video
Watch in full screen mode by clicking button in upper right hand corner of video
---
More DraftExpress Video Breakdowns:
-
Tyler Honeycutt
-
Justin Holiday
-
Tristan Thompson
-
Brandon Knight
-
Terrence Jones
-
Alec Burks
-
Derrick Williams
-
Jimmer Fredette
-
Kenneth Faried
-
Harrison Barnes
-
Marcus Morris
-
Perry Jones
-
Kawhi Leonard
-
Brandon Knight
-
Tristan Thompson
---
A go-to scorer at the college level who uses a good number of possessions, the biggest initial question for Thompson is how big of a transition he'll have to make in the NBA. The good news is that unlike many high-scoring college players, he isn't really a dominant ball-handler and already is used in multiple situations operating off the ball.
Relying heavily on his perimeter shot (308 jump shots compared to 123 shots around the basket in the half court this season according to Synergy), Thompson is constantly moving without the ball and coming around screens, showing a great knack for finding open areas of the floor and being multi-capable once the ball gets in his hands. Making quick decisions and showing good scoring instincts, Thompson doesn't usually have the ball for that long before it leaves his hands.
Thompson is at his most comfortable spotting up or coming around screens, showing excellent shooting mechanics with consistent balance and a high and quick release. He has cut down on bad tendencies over the course of his career and doesn't take many ill-advised shots anymore, being pretty efficient overall. He's absolutely deadly with his jumper when left open, scoring 1.46 points per shot on uncontested jumpers according to Synergy, and he should see many more of those in the NBA as he transitions to having much less defensive attention.
With many volume shooters entering the NBA, there is a large change in role in terms of how often the ball is in their hands or what types of shots they're getting, but if he lands in a good situation, Thompson's only adjustment will be the number of shots he takes, not the type. Any up-tempo team would be a good fit, though he could excel just as easily in a half court-oriented team with a lot of screening and ball movement.
Thompson's lack of great athletic tools is somewhat concerning, though his solid size at 6'7 combined with a high release and a shot that doesn't need much separation should somewhat mitigate the increased athleticism and length he'll see from defenders. Transitioning from a first to likely third or fourth option will also help, while his high motor, constant off-ball movement, and feel for getting open will likely be his biggest assets. If he continues to exhibit those traits with a smaller role, he can be a major asset for a well-run half court offense.
Thompson showed some improvements with his ability to attack off the dribble as a junior, though it is still not a great strength, as his first step is underwhelming and he lacks much in the lane of advanced ball-handling. He occasionally shows some toughness going to the rim and isn't afraid of contact, while he also has a nice floater in the lane, which he gets off easily at his size in spite of his lack of vertical explosiveness.
Thompson's biggest assets in his dribble-drive game are his decisiveness and off-ball motion, however, as he frequently gets a half step on his man before he even puts the ball on the floor due to the positions he catches the ball in. This, combined with his quick decision-making and good recognition of driving lanes make him dangerous with straight-line drives from the wing, which should at least be enough to keep NBA defenses honest.
He'll never likely be a great finisher at the rim, nor one to take his man consistently in isolation, but has the feel and skills to utilize the dribble-drive playing more off the ball, something that will likely be critical to separate him from being just a perimeter shooter.
Another area Thompson improved upon during his time in college is his passing game, something he'll likely need to continue doing at the pro level. He shows occasional prowess both on simple drive-and-dishes and operating pick-and-rolls, being a solid passer for a wing. Given his likely diminished scoring role in the pros, turning this area from adequate to a strength could definitely help him become a useful cog, and it would go well with his prowess moving off the ball.
While there are some concerns about Thompson's athleticism hurting his offensive game at the next level, the bigger concerns lie on the defensive end, where he is noticeably lacking in lateral quickness and is taken off the dribble often.
Thompson's effort level on the defensive end has improved during his time in college, and he shows solid awareness and makes good rotations off the ball, but his lack of quickness is certainly something that can be exploited. His problems can be hid somewhat on good defensive teams, and his apparent effort level and capacity for playing good team defense will certainly be useful, though he'd have a lot of work to do to even become an average NBA defender overall.
Thompson's defensive problems should be equally pronounced at either the shooting guard or small forward positions, and the questions for teams will be how much can they coach him up and whether his offensive strengths do enough to outweigh his defensive shortcomings. His progress as a junior and strong season overall definitely quell those concerns, at least somewhat.
Looking forward, Thompson's scoring versatility and the diverse roles he's played at the college level make him a potentially good fit in a variety of offenses in the NBA. His lack of great athleticism will likely always limit him from becoming an offensive focal point, and being drafted by a young team lacking go-to scorers might give him opportunities, but would likely not help his long-term development.
Currently projected as a mid-first rounder, Thompson will likely have a chance to be drafted by a playoff-caliber team, where he could find early opportunities to be an offensive cog with his off-ball movement and spot shooting ability. Being equally capable from both mid and long range while not needing the ball in his hands to score, Thompson would fit well on a team with a balanced offense that also has the defenders to make up for his shortcomings. San Antonio, Denver, and Utah are three obvious examples, especially because they're all known for their history with spot-shooting wings, though he could also excel on an up-tempo team with a penchant for pushing the ball ahead for open shots.
With his highly developed perimeter skill set and feel for the game, Thompson could contribute early in his career, and probably doesn't have a significant upside beyond what he is now due to his physical limitations. There's no guarantee he seamlessly makes the role to being a lesser scoring option, however, and he will need to stay away from the bad habits he had earlier in his college career, something being drafted onto a winning team with strong coaching would definitely help avoid.