Tobias Harris
quietly put together a strong freshman campaign at Tennessee, playing his best basketball of the season in March when he averaged 21.4 points and 5.8 rebounds. Though the Volunteers fell in the first round to the Michigan Wolverines, Harris was a bright spot, and opted to put his name in the 2011 NBA Draft permanently despite struggling with the prospect of leaving his teammates and the budding relationship he was building with new Head Coach
Cuonzo Martin
.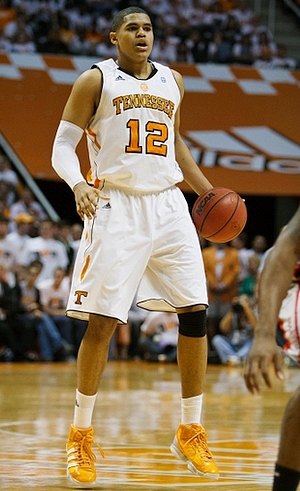 Ranked as the 6th best player in his high school class according
to the RSCI
, Harris was expected to contribute immediately at Tennessee, and early season returns were largely positive. Lauded for his versatility, Harris struggled at times to knock down jumpers, but was able to compensate with his high basketball IQ, ability to put the ball on the floor, and touch around the basket.
---
Tobias Harris (#12) Strengths/Weaknesses Video
Watch in full screen mode by clicking button in upper right hand corner of video
---
More DraftExpress Video Breakdowns:
-
Klay Thompson
-
Tyler Honeycutt
-
Justin Holiday
-
Tristan Thompson
-
Brandon Knight
-
Terrence Jones
-
Alec Burks
-
Derrick Williams
-
Jimmer Fredette
-
Kenneth Faried
-
Harrison Barnes
-
Marcus Morris
-
Perry Jones
-
Kawhi Leonard
-
Brandon Knight
-
Tristan Thompson
---
Harris's play slowly earned the attention of NBA decision-makers, with his name often being mentioned as one of the major prospects in the freshman class, but seldom amongst the top tier of lottery prospects. Not as athletic as players like
Terrence Jones
, or as dominant as players like
Jared Sullinger
, the early entry decisions of many of his peers has helped his stock gain momentum in recent weeks. Scoring less than ten points in only three games this season, Harris was a consistent contributor for a Tennessee team facing off the court distractions and forced to overcome somewhat erratic play from their leaders at key moments.
The biggest reason Harris was so consistent last season is because his role matched the versatility of his skill set, one of the reasons he chose to attend Tennessee to begin with. Seeing a consistent stream of touches out on the perimeter, as a finisher at the basket, with his back to the basket in the post, and even as the primary ball-handler in transition situations, Harris was not reliant on any one aspect of his skill set to score his points and could make an impact a number of ways.
When projecting Harris to the next level, his jack-of-all-trades, master-of-none skill-set allows scouts to pencil him into a number of different roles offensively, many of which blur the lines between the small forward and power forward positions. Harris's lack of elite athleticism and size raises some questions about his defensive potential and one-on-one scoring ability at the next level, but he's extremely crafty, plays within himself, and has a maturity about him that is uncommon in a player who won't turn 19 until July.
Though Harris saw a sizeable portion of his offense in transition in Tennessee's up-tempo system and spent most of his minutes at the four spot, he could contribute in a number of ways as a small forward on a slower-paced team with his high basketball IQ, unselfish attitude, mismatch potential in the post, and ability to convert plays around the basket with his scoring touch.
The New York native showed a nice feel for scoring in the post on the college level, finishing 42.9% of his shots in back to the basket situations and could exploit smaller forwards down low early in his career. To emerge as a high usage three for a half-court oriented team, Harris will need to improve his spot-up shooting ability and midrange game. He made just 28% of his catch and shoot and pull-up jumpers last season, but fared considerably better when left open with his feet set, leaving some room for optimism on that front.
On the defensive end, Harris fits ideally on a team that makes aggressive help-side shifts and has a capable weak-side shot blocker, as his lateral quickness could be questionable when trying to defend NBA small forwards on the perimeter.
The more likely role for Harris at the NBA level, at least at this stage in his career would be on a faster paced team that could utilize his unique floor game more effectively at the power forward position. Functioning as a face-up four on such a team would afford Harris more freedom to put the ball on the deck, use his ball-handling ability, and mask his current lack of efficiency as a pure-shooter.
By no means is Harris a going to blow past too many NBA defenders with his speed or get by on his size from the midrange, but he proved exceptionally good at taking what defenders gave him off the catch in the college game and not forcing the issue. Able to use his man's momentum against him, Harris was a very sound decision-maker when deciding when to drive to the rim or pull-up, two things that will serve him well as he polishes his scoring ability.
Long-term, Harris has the potential to fit a slew of different roles at the power forward position in the NBA. He's a tireless worker from a basketball family that simply loves to be in the gym. If he refines his consistency from the perimeter, where he already has a nice base of fundamentals to work with, he could conceivably function as a stretch-four over time.
With a young player who has a great head on his shoulder that can do a little bit of everything offensively like Harris, its entirely likely that the team that drafts him will be grooming him with something in mind a few years down the road, meaning the role he plays as a rookie will not be the same as the one he plays a few seasons from now.
On the defensive end, Harris doesn't have ideal size for a NBA power forward at 6'8 and does not rebound at an elite rate, but there are plenty of guys in the league at his size who manage to get by. Harris doesn't have the physical tools to be an elite rebounder, but he makes an effort on the boards as our highlight video suggests.
Teams may be willing to overlook Harris's lack of upside defensively considering all that he brings to the table on the other end of the floor, especially if he's placed next to a dominant rebounding center or a three with a nose for the ball.
Down the road, it will be important for Harris to learn the nuances of the game on the defensive end and make a concerted effort to maximize his presence on the glass. He's a savvy player who is capable of making an impact with his basketball IQ more so than his athleticism.
Overall, Harris is amongst the more intriguing forwards in this class. He'll impress in interviews and workouts with his uncommon maturity and skill level. He isn't a strong candidate to function as a top offensive option for a NBA franchise down the round, and won't be featured on many highlight reels, but he has a lot of raw tools team's look for in a complementary scorer and plenty of time to work on his weaknesses as he adapts to the pro game.