Top NBA Prospects in the Non-BCS Conferences, Part 6: Prospects #6-10
November 9, 2015
Matt Kamalsky

Teaming with Ron Baker to form one of the top backcourts in the country last season, Fred VanVleet's NBA outlook remained largely unchanged from when we evaluated him almost exactly one year ago.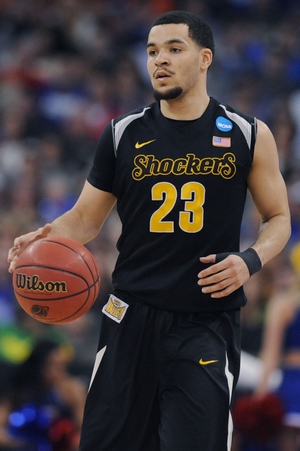 US Presswire
Measured at 6'1 in shoes with a 195-pound frame and a 6'2 wingspan this summer, VanVleet lacks great size or length for a point guard and isn't a freak athlete, but compensates with a unique blend of toughness, savvy, and skill that has made him one of the very best players at his position at the college level over the last two years. Opting for one more go round as a Shocker in lieu of heading to the professional ranks last spring, VanVleet will once again look to lead Greg Marshall's program deep into March.
The 2014-2015 season was a transitional year for Wichita State as they looked to build on their sudden rise to national prominence without the versatile, efficient scoring of Cleanthony Early. Seeing his usage expand from 10.7 possessions per game as a sophomore to 14.1 possessions per game as a junior, much of Anthony's burden fell to VanVleet. Posting gaudy efficiency numbers as both a scorer and facilitator as a sophomore, the additional scoring load the Rockford native carried as a junior took a toll on his efficiency, even if he continued to play at a high level.
Connecting on 42% of his jump shots and 58% of his attempts finishing around the rim in the half court as a sophomore, VanVleet looked to be more aggressive creating for himself off the dribble as a sophomore. He shot a merely average 50% at the rim this season taking it upon himself to make plays for the Shockers in key moments, only magnifying the limitations his size and athleticism can be when he ventures inside. Shooting nearly twice as many pull-up jump shots than he did a year ago and connecting on only 32%, VanVleet made a less impressive 36% of his jump shots as a junior. He remained a very reliable shooter with his feet set, but his assertiveness took an obvious toll on the quality of shots he attempted throughout the year relative to two years ago.
Making a name for himself as a facilitator who could score with terrific efficiency in a complementary role, VanVleet, to his credit, did not shy away from his new role in the slightest, upping his scoring average from 15 points per 40 minutes pace adjusted as a sophomore to 18 as a junior. Even though his efficiency numbers fell, he still ranked well above the national average thanks to his strong overall skill level. It will be interesting to see if VanVleet's shooting numbers bounce back as he adjusts to being a more prominent scoring threat.
One area where VanVleet did not take any discernable step back was as a passer. Averaging 6.9 assists per-40 minutes pace adjusted as both a sophomore and a junior, VanVleet's outstanding vision and feel at the point guard position remain has most appealing asset as a prospect. He was nothing short of tremendous making reads out of the pick and roll in the NCAA Tournament, propelling the Shockers past Indiana and Kansas on opening weekend. Finishing
third
among prospects in our top-100 in pure point rating, VanVleet's turnover percentage actually fell by a fraction of a percent despite how much more he was asked to do offensively, a testament to the impressive decision-making he brings to the table at the point guard position.
Pulling down 6 rebounds per-40 minutes pace adjusted, an extremely impressive mark for a point guard measured 5'11 without shoes, VanVleet is a gritty player whose fundamentals and competitiveness make allow him to contribute in a variety of ways at the college level. Translating to the defensive end where he ranked
third
in our top-100 in steals per 40 minutes pace adjusted, few point guards in the college game has as big of an impact on both ends of the floor as VanVleet did for the Shockers.
Despite all that he brings to the table, VanVleet will continue to face scrutiny for the things that he can't change. Come next spring, scouts will still have the same concerns about his lack of size, length, and prototypical athleticism that they did last spring, but they'll also still rave about his demeanor, the uncommon maturity of his skill set, and his ability to run a team. A strong threat to be tabbed as an All-American as well as hear his name called on draft night, VanVleet is a player worth watching as he looks to put the finishing touches on his illustrious college career.
[
Read Full Article
]
Top NBA Prospects in the Non-BCS Conferences, Part 6: Prospects #6-9
November 4, 2014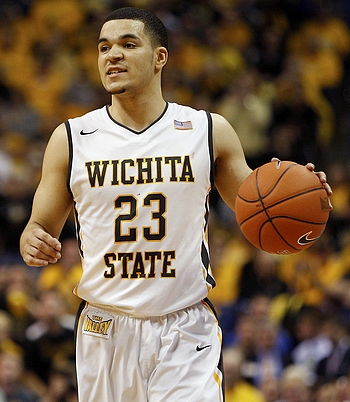 US Presswire
Matt Kamalsky
Averaging 11.6 points, 3.8 rebounds, and 5.3 assists per-game as a sophomore at Wichita State last season, Fred VanVleet's played a key role in the Shocker's 35-0 start as the steady hand steering one of the nation's elite offensive units. Invited to the Nike Point Guard Skills Academy and CP3 Elite Guard Camp this summer, the 3rd team All-American was nothing short of tremendous last season, emerging from relative obscurity after backing up Malcolm Armstead as a freshman to solidify himself as one of the top point guards in college basketball, planting himself firmly on the radar of NBA scouts in the process.
At 6'0 with a 6'1.5 wingspan, VanVleet's lacks great size, length, and explosiveness for a point guard, but he is a strong, fluid athlete with good ball-handling ability who can keep defenders off balance with his crossover and knack for changing speeds off the bounce. Despite being ranked late as a Top-100 player the high school class of 2012 by Dave Telep at ESPN (but not by anyone else), VanVleet was largely under-recruited out of Auburn HS (IL) for most of his high school career. He isn't the type of player who stands out on first glance, and will face questions about his size and athleticism when he looks to make the jump to the NBA, but it became impossible to ignore the pre-season All-American's ability to play brutally efficient, low-mistake basketball at the point guard position last season.
Averaging 16.2 minutes per-game as a freshman, The Rockford native stepped into a feature role from the start of his sophomore year as the primary ball-handler, and thrived when asked to be the main facilitator for the deep, versatile, and talented group Wichita State put on the floor in 2014.
Ranking
second
in assist per-40 minutes pace adjusted and
first
in pure point rating among top-100 prospects, VanVleet is one of the top distributors in college basketball. Posting a 6.6 assist-to-turnover ratio in transition, VanVleet combines excellent ball-handling ability with terrific pace, patience and vision. Seemingly never forcing the issue and possessing an excellent command of Gregg Marshall's offense, the 20 year old plays with a unique maturity and poise considering this was just his first season playing significant minutes at the college level.
More than just a passer, VanVleet also emerged as an efficient scorer last season as well. That efficiency starts with his terrific perimeter jumper. Shooting the ball with a smooth, compact release that looks effortless at times, VanVleet knocked down a tremendous 44% of his catch and shoot jump shots and 46% of his pull up jumpers a year. Though he only attempted 90 three-pointers in 35 games, VanVleet appears to have the ability to keep defenders honest out on the perimeter and also make them pay when he finds space in the midrange.
Though the junior ranks 1st among point guards in our top-100 in points per-play, he isn't without his flaws as a scorer. He does a nice job probing the defense with his dribble and absorbs contact well thanks to his near 200-pound frame, but his 57% shooting around the rim is only above average, as he struggles to finish among the trees when they take away his angle to the glass. Possessing just average explosiveness, VanVleet is not the type of point guard who will come down the lane and put anyone on a poster, and while he isn't a bad finisher by any means, he'll face a challenge when he makes the jump to the next level where the length and leaping ability of the big men he'll find will dwarf what he saw on a nightly basis in the MVC last year.
Averaging only 15 points per-40 minutes pace adjusted a year ago, VanVleet's lack of prolificacy as a scorer could be looked at as a weakness relative to his peer group, but it is more a reflection of his unselfishness and the tremendous balance Wichita State found offensively a year ago. With the team's leading scorer, Cleanthony Early, making the jump to the NBA, it will be interesting to see just how much of the scoring load VanVleet shoulders this season and what if any toll it takes on his efficiency.
One of the most unique attributes of VanVleet's game is his rebounding ability for a player his height. Pulling down 4.9 boards per-40 minutes paces adjusted, VanVleet is not a game-changing rebounder, which isn't a slight considering the minor contributions most players his size tend to make in that area, but he isn't afraid to mix it up inside, will try to box out big men from time to time, and will compete for the ball in traffic.
VanVleet has terrific defensive fundamentals on the whole, doing a nice job closing out shooters, keeping his feet active, and playing with consistent intensity. Though the small guard isn't a freak athlete, he does possess impressive quickness and can be a pest when opposing guards are loose with their handle away from the rim. His height limits his ability to contest shots, especially in the paint, but he won't give up on plays when his man gets a step on him and is aggressive with his hands going after the ball before his man can get into his shooting motion around the rim.
One of the most interesting stories among prospects in the junior class given his year-long rise to national prominence, Fred VanVleet has established himself as a viable draft prospect. The track record for guards his size at the NBA level is not great, but VanVleet's exceptional maturity and efficiency as both a scorer and a passer certainly puts him on strong footing in the eyes of scouts. He'll be a player to watch closely this season as he'll have the opportunity to grow his reputation on the heels of the national attention Wichita State will receive after what they accomplished last year, as he aims to help fill Cleanthony Early's shoes and fuel the Shockers to another successful season.
[
Read Full Article
]