Top NBA Prospects in the Non-BCS, #5: Ron Baker Scouting Video
November 6, 2015
Mike Schmitz continues our coverage of the top NBA prospects in the non-BCS conferences with a video scouting report on the #5 prospect, Wichita State's Ron Baker.
---
More DX Conference Preseason Previews:
-The Top 20 NBA Draft Prospects in the Pac-12
-The Top 20 NBA Draft Prospects in the Big East
-The Top 15 NBA Draft Prospects in the Big 12
-The Top 20 NBA Draft Prospects in the SEC
-The Top 10 NBA Draft Prospects in the AAC
-The Top 30 NBA Draft Prospects in the ACC
-The Top 25 NBA Draft Prospects in the Big Ten
---
Top NBA Draft Prospects in the Non-BCS Conferences
-(#1) Stephen Zimmerman (Scouting Video)
-(#2) Domantas Sabonis (Scouting Video)
-(#3) Malik Pope (Scouting Video)
-(#4) DeAndre Bembry (Scouting Video)
---
(#5) Ron Baker, 6'4, Senior, Shooting Guard, Wichita State



Strengths:



Weaknesses:



Mike Schmitz is the video analyst for DraftExpress. Follow him on twitter and check out his archive. He will be breaking down the NBA draft in digital format all year long for us.

[Read Full Article]

---
Ron Baker Pan-American Games Interview
July 21, 2015
A video interview with Wichita State guard Ron Baker at the USA Basketball training camp for the Pan-American Games.



[Read Full Article]

---
Top NBA Prospects in the Non-BCS Conferences, Part 6: Prospects #6-9
November 4, 2014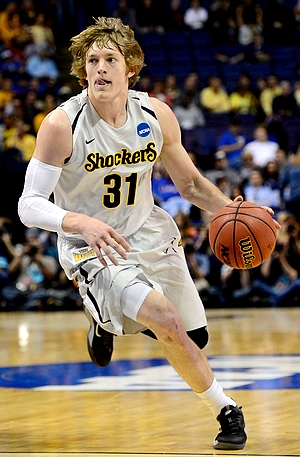 US Presswire



Jonathan Givony

A sparsely recruited player coming out of a small high school in rural Western Kansas (South Dakota State, Arkansas-Little Rock, Division II and Junior College were his best options according to reports), Ron Baker committed to Wichita State late in the game, and only after agreeing to pay his own tuition as a walk-on and redshirt his freshman year. A three-sport athlete in high school (he was also a short-stop and quarterback), Baker hit a late growth spurt that steered him towards basketball, which looks like a pretty smart decision at this point.

Baker's second year at Wichita State was derailed somewhat by a stress fracture he suffered in December of 2012, which forced him to miss six weeks right in the heart of the Shockers' regular season. He came back in time for the Missouri Valley Conference Tournament, though, and played a major part in Wichita State's eventual run to the NCAA Final Four, scoring 16 points and making some monumental 3-pointers to knock off #1 seed Gonzaga along the way.

Baker's third year at Wichita State (as a redshirt sophomore) was his big breakthrough, emerging as a First Team All-Missouri Valley Conference performer after his team won their first 35 games of the season, only to get upset by eventual NCAA Tournament Finalists Kentucky in the Round of 32. Baker made a name for himself as one of the best shooting guards in the country, showcasing outstanding versatility and efficiency for Gregg Marshall's highly disciplined and competitive squad.

Baker has average size for a shooting guard at 6-4 in shoes (measured at the Lebron James Academy this summer), but compensates for that somewhat with a solid 6-8 ½ wingspan and a strong 222 pound frame.

He is not the most prolific scorer around (17.9 points per-40), but plays extremely efficient (62% TS%) basketball on a team that likes to share the ball and didn't ask too much from any one player last season, besides their star power forward Cleanthony Early (the #34 pick in last year's draft).

Baker's most consistent weapon offensively is his jump-shot, with 57% of his field goal attempts coming from beyond the arc last season, of which he made a very solid 38%. He has excellent shooting mechanics, with great balance and a quick and compact release, making him extremely reliable with his feet set, where he knocks down 43% of his attempts in catch and shoot situations. It's not hard to see him developing into a very consistent stand-still shooter at the NBA level, even if scouts would likely want to see him improve on the 37% he's shot from 3-point range in his college career thus far, in his junior season.

Baker is far a one-dimensional shooter at the college level, as he sees a good amount of responsibility in pick and roll situations as the secondary ball-handler next to Fred VanVleet. While he does not possess an overwhelmingly quick first step, Baker is a solid ball-handler who operates at different speeds and can create his own shot effectively at the college level when called upon. He is a very good shooter off the dribble, hitting an excellent 40% of his pull-up jumpers last season, and can attack the basket nicely in closeout situations, relying on his terrific timing and footwork, rather than on pure athleticism.

Baker doesn't get inside the paint in the half-court all that often (just twice a game last season according to Synergy), but is solid when he does, as he's extremely crafty with his finishes and shows excellent touch around the rim. He draws fouls at a decent rate, and makes 85% of his free throw attempts once there.

Besides being highly skilled, part of the reason for Baker's success is how smart a basketball player he is. He's extremely mature for someone who only has 53 games of Division I experience underneath his belt, as he knows his limitations, is extremely poised, plays at his own pace, has a very good temperament and has no problem staying within himself and not forcing the issue. He executes Wichita State's disciplined offense very well, as he's extremely unselfish, and shows great chemistry with starting point guard Fred VanVleet.

Baker is an excellent passer, moving the ball crisply and without hesitation, often not needing a single dribble to find the open man impressively. He swings the ball to open shooters, is a terrific post-entry passer, regularly pushes it ahead in transition, and makes very intelligent bounce passes to cutters and rollers on the pick and roll. Baker generates an assist on an impressive 27% of his possessions, a mark that many point guards would be happy to post, which leaves some room for optimism regarding his ability to play a combo guard role at the next level.

With that said, there are some question marks regarding how Baker's shot-creating ability will translate to higher-level competition. He doesn't have a great first step by NBA standards, and seems to struggle already when dealing with length inside the paint. He's neither a prolific, nor efficient option in transition (48% FG% SST), and also is rarely asked operate in isolation situations (33% FG%, under 1 possession per game), preferring the type of slow-paced style of play that seems to work a lot better in college than in the NBA. Scouts will be watching his matchups closely this season with the likes of Memphis, Utah, Alabama and New Mexico State, to see how Baker fares against longer and more athletic competition than he normally faces in the Missouri Valley Conference.

Just as important will be Baker's performance on the defensive end, which is what will likely decide whether he's able to carve out a niche in the NBA or not. Baker lacks great size for his position, and often looks very upright trying to stay in front of opponents on the perimeter. His lateral quickness isn't great, and he can get overpowered rather easily by stronger matchups.

To his credit, Baker plays with a high intensity level, and seems to have some potential here thanks to his length, smarts and competitive nature. Baker has excellent instincts and anticipation skills in the passing lanes, getting nearly two steals per-40 minutes pace adjusted, a very good mark. He is active and attentive trying to contest shots on the perimeter, and plays on a team that was outstanding operating in tandem as a defensive unit. Even when Baker gets caught flat-footed and is blown-by on the perimeter, there is usually someone there to rotate and help get a stop. Things will be different in the NBA with a significantly better spaced floor and teams looking to isolate him regularly, so he'll need to keep gaining experience and strength and do a better job of staying in front of opponents.

The same age as many college seniors, turning 22 in March, due to his redshirt season, this will be an important year for Baker to show he can continue his upward trajectory. After an outstanding sophomore season, NBA teams will be scouting him heavily every game, and it will be interesting to see what kind of improvement he can show.

[Read Full Article]

---