We know which teams will be going head to head, but what will the most intriguing individual player matchups be this coming weekend? Who stands the most to gain or lose?
Join our NCAA Bracket Pool on Facebook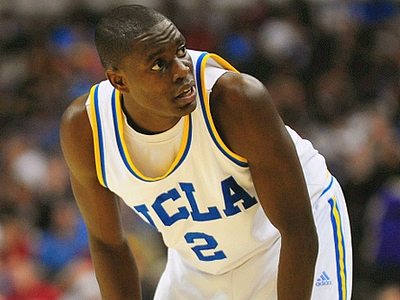 Darren Collison vs. Eric Maynor, #6 UCLA vs. #11 VCU
Clearly the top matchup of the first round from an NBA draft perspective, this is a game that will be extremely well-attended by NBA scouts, and has a real chance to operate as a "game-changer" in their decision making process.
Darren Collison
has had an excellent senior year, up until he reached the semi-finals of the Pac-10 tournament, where he really struggled badly against USC. Collison has had some issues in the big games he's been in over the course of his career, for example in the Final Four last season against Memphis, where he was badly outplayed by
Derrick Rose
. This is an opportunity for him to show that he's capable of stepping up in the clutch and leading his team a win, especially in a season like this where UCLA relies so heavily upon his leadership as a scorer and playmaker.
For
Eric Maynor
this is a rare chance to go up against a marquee point guard and show that he's worthy of all the praise he's garnered throughout his career—many consider him the best point guard in college basketball, and there is no better time to show that than right now. VCU's strength of schedule leaves a lot to be desired playing in the CAA, and therefore NBA people will likely put an usual amount of weight on his performance in the NCAA tournament, which may only be one game.
Both teams play at a similar mid-level pace, but UCLA is much more efficient shooting the ball (in no small part due to Collison) and is generally deeper and more experienced. VCU will really need Maynor to play under control and make his shots from the perimeter if they're to have any chance in this one.
Also keep an eye on the situation in the frontcourt, as
Larry Sanders
is coming off an incredibly dominant performance in the CAA finals (18 points, 20 rebounds, 7 blocks) and could really give UCLA problems inside if he manages to stay out of foul trouble.
Jordan Hill vs. Luke Nevill, #12 Arizona vs. #5 Utah
Two of the most productive big men in college basketball face-off, in the matchup that will likely decide who ends up winning this game.
On one hand we find
Jordan Hill
, an ultra explosive, but undersized center at the NCAA level who runs the floor incredibly well and is a terrific rebounder both in and outside of his area. On the other is Nevill, a huge, dominant force in the paint with an old-school back to the basket game—not particularly skilled or athletic, but extremely efficient and effective nonetheless. Both players are irreplaceable to their respective teams, meaning a few quick fouls either way could sway the tide of this game dramatically.
Will Hill be able to keep Nevill from establishing deep inside position on him, without getting in foul trouble? Will Nevill be able to contain Hill's lethal first step from the mid-post area? The contrast in styles couldn't be more evident, which should make this game all the more intriguing.
If Arizona is able to upset Utah, and Wake Forest takes care of business against Cleveland State, then there will be no question where the majority of NBA scouts will be flocking to for the second round of the tournament—as no less than five potential lottery picks will be on the floor.
Devin Ebanks vs. Chris Wright, #6 West Virginia vs. #11 Dayton
Basketball purists need to make sure they tune in for this game, featuring two young, undersized, slow-paced, defensive minded teams with all kinds of toughness and athleticism.
Both teams have a young long-armed stud manning the PF position—West Virginia's
Devin Ebanks
had a breakthrough performance in the Big East tournament this past week, while Dayton's
Chris Wright
has had a very solid all-around sophomore season. Wright is clearly of the most athletic players competing in the NCAA tournament—a force on the offensive glass, a terrific defender and an incredibly exciting player in transition. Ebanks is an excellent rebounder himself, as well as a pesky defender, and has really begun to emerge offensively with his perimeter game as of late.
Neither player is expected to be in this draft, but they are definitely intriguing prospects to keep in mind for the future. Dayton is not a very good offensive team, and considering that they are going up against one of the best-coached and staunch defensive teams in college basketball, they will likely need some major contributions from Wright if they'll have any chance at advancing.
Sherron Collins/Tyshawn Taylor vs. Ben Woodside, #3 Kansas vs. #14 North Dakota State
Fans couldn't have asked for a better first round matchup on the 3/14 line than what we have in store for us here. A young and ultra-athletic Kansas team will go up against one of the more experienced and fundamentally sound mid-major teams you'll find, who happen to have arguably the most underrated point guard in college basketball manning the helm.
Ben Woodside
will get all he can handle from Kansas' guards, as
Sherron Collins
and
Tyshawn Taylor
will surely come out of the gates amped and hunting for blood. He'll be tested from the opening tip, and just how well he's able to weather the storm and maintain his poise will play a huge part in whether North Dakota State can make this a competitive game. They've played some good teams this year already, and are extremely experienced as noted, so it's not out of the question that they make Kansas at the very least sweat this one out. They are a very disciplined and efficient offensive team, but they've yet to face the type of length, depth and athleticism that Kansas sports at all positions. It's also questionable whether they can keep up with them defensively or on the glass. Kansas will need
Cole Aldrich
to be dominant inside the paint if they want to avoid a tense finish.
Scotty Hopson vs. James Anderson, #8 Oklahoma State vs. #9 Tennessee
This game is a real coin-toss, and will probably come down to whichever team manages to shoot the ball better from the perimeter. From an NBA perspective, keep your eyes on the SF position, where Oklahoma State's
James Anderson
will match up with Tennessee's
Scotty Hopson
, in a battle of ultra-athletic and sweet shooting swingmen with great size and all kinds of upside.
Hopson is the younger and rawer of the two, he hasn't been much of a factor in the month of March—reaching double-figures just once in the last six games—but he's capable of having big games from time to time, particularly when his shot is falling from outside. This season hasn't really gone as well as some may have hoped considering his lofty recruiting rankings, but there's no question that the potential is there, on both ends of the floor.
Anderson on the other hand has been red-hot as of late—eclipsing the 30-point mark three times in the past month. He's begun to establish himself as one of the best shooters in college basketball, and could really emerge as a star on the national level if he decides to stick around next season. He's the type of player that could go off on a huge scoring barrage against a poor defensive team like Tennessee, which means this may be a very fun game to watch. If he starts heating up, look for Tennessee to switch
Tyler Smith
onto him for certain possessions, which could make for another intriguing matchup.
Other Interesting Matchups:
Tyler Hansbrough vs. Artsiom Parakhouski, #1 UNC vs. #16 Radford
Hansbrough will have his hands full with Belarussian 6-11 center
Artsiom Parakhouski
, a mountain of a man and true force inside the paint and on the glass. Scouts will get a rare opportunity to evaluate him in person, and against quality competition.
James Harden vs. Dionte Christmas, #6 Arizona State vs. #11 Temple
One of the most prolific shooters in the NCAA (Temple) goes up against arguably the most versatile player in the nation (Harden).
Tasmin Mitchell vs. Gordon Hayward, #8 LSU vs. #9 Butler
The tough, smart undersized
Tasmin Mitchell
matches up with the sweet-shooting and highly skilled freshman
Gordon Hayward
. Can Mitchell get out and guard him on the perimeter?
Lee Cummard vs. Josh Carter, #8 BYU vs. #9 Texas A&M
Cummard hasn't gotten much national attention but is an extremely versatile small forward, he goes up against
Josh Carter
, who is just as good of an outside shooter.
Jarvis Varnado vs. Jon Brockman, #4 Washington vs. #13 Mississippi State
Brockman is a beast on the glass and a load to deal with inside. We'll see how he matches up with the extremely lanky Varnado, who is the nation's #1 shot-blocker.