Top NBA Prospects in the Non-BCS Conferences, Part 8: Prospects #16-20
November 12, 2015
Derek Bodner

After being named to the Horizon League All-Newcomer Team during his freshman season, Alec Peters responded by taking another big jump as a sophomore. Peters finished his second season at Valparaiso with averages of 16.8 points, 6.7 rebounds, and 1.2 assists per game, which earned him All-Conference First Team honors.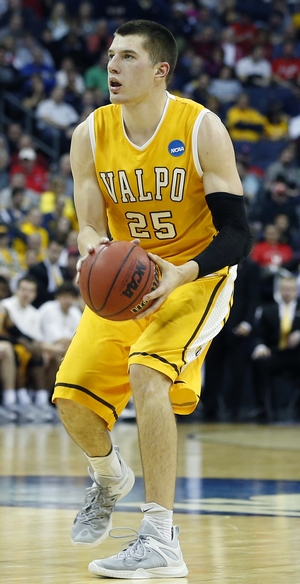 US Presswire
When Peters arrived at Valparaiso, his primary contribution was as a jump shooter, where Peters made 38.3% of his 149 three point attempts during his freshman season. That shot continues to be Peters' calling card, as he built upon that strength to become an even more dangerous shooter, knocking down 46.6% of his 178 three point attempts. To put in perspective just how prolific of a rate that was, only three players in all of college basketball who attempted at least 150 three point attempts last season did so more efficiently than Peters did.
Getting Peters open corner threes was an offense in itself for Valparaiso last season, as they did an excellent job of using screens and movement to get Peters shots from this extremely efficient part of the court, and Peters was virtually automatic from the corners. Peters moves extremely well off the ball, has impeccable footwork to step into the shot, and has a short, compact, and extremely repeatable shooting motion that allows him to get his shot off quickly and accurately with very little space.
According to Synergy Sports Technology, Peters shot 42.7% on jump shots overall, which included 44% in catch and shoot situations, 39.4% when shooting off screens, and 35.7% when shooting off the dribble. The points per possession those situations yielded (1.307, 1.149, and 0.857, respectively), were all quality marks, with both the catch and shoot (92nd percentile) and screen (84th percentile) ranking extremely high among college basketball players despite how heavily utilized they were within the Crusaders offense, and thus how much opposing defenses game-planned to take it away.
While Peters continues to make strides as one of the more diversified shooting forwards in the nation, he also added a few wrinkles to his game to make him a more diverse offensive threat.
According to Synergy, Peters posted up on 17% of his offensive possessions and was fairly efficient when doing so. His post game isn't all that advanced, consisting mainly of a jump hook over either shoulder and the occasional drop step to try to get to the basket, but for a player who Synergy logged only 27 post-up attempts during his freshman season, the diversification of his offensive game was a welcomed addition, even if his lack of lower body strength and poor lift in the lane put into question how much, if any, of it would translate to the next level.
Some driving lanes naturally open up for Peters as a result of his shooting, and he has just enough ball handling to make use of that, even flashing the occasional spin move to gain separation. Peters isn't a quick or explosive athlete, with an average first step even for his position. Once he gets into the lane, he has good touch and was able to score efficiently in the Horizon league, but seemed to struggle at times against the rare tough out of conference games Valparaiso had on their schedule. Whether or not he can score with any efficiency in the paint when he makes a jump up in competition is uncertain, but games against the likes of Rhode Island, Oregon and Oregon State this season (as well as any post-season competition) could offer some insight into this area.
Another area where Peters made some strides is as a decision maker. While the frequency with which he operated as a catch and shoot player limited the amount of decisions he had to make with the ball, his 1.9 turnovers per 40 minutes pace adjusted (and miniscule 9.8% turnover rate) was a very low number for a player who used the amount of possessions Peters did. With his offensive game expanding and seeing the occasional double team in the post, Peters seemed to make good reads out of these situations. While Peters doesn't project to be much of a shot creator at the next level, being placed in a position where he has to make decisions with the ball is always a skill that's worth being developed.
The NBA is always looking for 6-9 forwards who can stretch the floor, and Peters should be able to do that at any level. Where the biggest concern is going to come is on the defensive end, where his physical limitations present themselves with concerning frequency. He's engaged on this side of the court, but he's slow to change directions, doesn't move his feet well overall, needs to add considerable strength to hold his ground in the NBA, and isn't quick enough off his feet or with good enough shot blocking instincts to alter shots at the rim. These problems are compounded by an upright stance, a habit of biting on pump fakes, and a frequency to find himself off balance on misdirection moves. The fact that he's accumulated just 47 steals and 14 blocks in nearly 2000 minutes of action at the college level is a red flag that NBA teams will likely scrutinize.
Furthermore, Peters isn't a particularly great rebounder on either end of the court, hauling in just 2.5 offensive rebounds and 6.4 defensive rebounds per 40 minutes, pace adjusted. Valparaiso was a good defensive rebounding team, with a number of wings who could pinch down and contribute on the defensive glass, which could have impacted Peters' defensive rebounding opportunities. Peters does do a pretty good job of putting a body on his man and keeping him off the glass, so this is a concern that could fade over time, but it would be nice to see Peters rebound outside of his area with a little bit more regularity.
Peters has one certifiable NBA skill in his jump shot, and it's one that absolutely has significant value in today's NBA. The diversification Peters showed in his offensive game bodes well for his ability to continue to improve as a player, but improving his strength, quickness, and ball-handling, while continuing to make a stronger impact on defense, would go a long way to increasing the chance that Peters hears his name called on draft night when he does put his name in the mix. Valparaiso has a much tougher out of conference schedule this season, so Peters will have the chance to prove his worth against a higher level of competition.
[
Read Full Article
]