Top NBA Prospects in the Non-BCS Conferences, Part 6: Prospects #6-10
November 9, 2015
Jonathan Givony

A lightly recruited high school prospect out of the Dallas/Fort Worth area, Joel Bolomboy committed to Weber State as 6-7, 200 pound raw big man. He had offers from some bigger conference schools, such as New Mexico, Fresno State and Missouri State, but decided to head to the Big Sky in part due to the fact that Weber State was the first school to start recruiting him, when he was only a sophomore.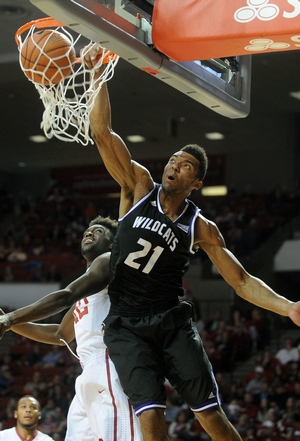 US Presswire
Bolomboy has a very unique background, as his mother is from Russia, his father from the Congo, and he was born in Kyiv (Ukraine), only to move to the States when he was 3 years old.
He has grown into his frame substantially, and currently possesses tremendous physical attributes by any standard of college basketball, standing 6-9, with a very long wingspan, a great frame and outstanding athletic ability. He runs the floor well, can play above the rim with ease, and is extremely quick off his feet, giving him nice upside to grow into as his skill-level catches up.
Bolomboy stepped into immediate playing time as a freshman, averaging 22 minutes per game, and responded by hauling in an impressive 13 rebounds per-40 minutes. He only scored around 12 points per-40 his first two seasons at Weber State, but saw that jump up to 15.8 as a junior, even if his efficiency took a hit, as he posted just a 47% 2-point percentage.
At the Big Sky conference level, Bolomboy sees quite a few touches operating with his back to the basket, which likely won't be the case at the pro level. He's improved his ability to operate in the post over the years, as he draws fouls at a nice rate and finishes an impressive 53% of the field goal attempts he's able to get off in these situations, but is incredibly turnover prone, coughing the ball up on a sky high 26% of his possessions.
NBA teams will want to see Bolomboy show better passing ability and overall decision making skills as a senior, as his 5.9% assist percentage and 20.2% turnover percentage leave a lot to be desired. His -6.46 pure point ratio was the third worst rate of any collegiate prospect in our Top-100, and shows just how much room he has to improve on his awareness and feel for the game. He is somewhat of a black hole when asked to make decisions with the ball, often settling for first shot he can even remotely get off, which also partially helps explain his underwhelming 2-point percentage.
Part of that is due to the role he's asked to play for Weber State, which includes quite a bit of creating and shooting off the dribble. This is likely very different than the one he'll be asked to at the pro level, as he'll have better players around him and can focus on the things he does really well, which is run the floor, grab offensive rebounds, and finish emphatically around the basket off cuts and pick and rolls.
Weber State's offense ranked 258th in the nation last year according to KenPom, and just 8th best in the Big Sky. Being forced to play as much one on one basketball as he currently does may help his skill-development in the long term, but it certainly doesn't help his efficiency. Very few of the shots he took as a junior were high-percentage looks, and he appeared downright wild at times with some of the things he tries to do.
Interestingly, the freedom that Bolomboy enjoyed offensively allowed him to show better shooting range than many would suspect. He started to shoot 3-pointers last season and connected on an intriguing 15/41 attempts. This is a small (but not tiny) sample size, but is certainly something NBA scouts will want to monitor to see if he can continue to build on this part of his game, as it could alleviate some of the positional concerns teams might have if he can legitimately develop into a floor spacing.
Bolomboy does not possess the most fluid looking shooting stroke from the waist up, as he seems to have a bit of a hitch in his jumper, sometimes holding onto the ball too long. Still, he is a career 72% free throw shooter, so clearly he has some natural touch that may serve him well if he can continue to improve on his mechanics. He tends to shoot the ball in unorthodox fashion, with two hands and from well in front of his face, sometimes elevating high off the ground and releasing it on the way down, which results in a very flat trajectory. It does go in a decent amount, even off the dribble at times, at least enough to leave some room for optimism regarding the future.
Defensively, Bolomboy has significant potential with his outstanding combination of length and athleticism. Unfortunately, much of that potential is largely unrealized at the moment, as his awareness and fundamentals leave a lot to be desired on this of the floor. While Bolomboy has a nice frame, he is prone to giving up deep post-position and getting backed down by stronger centers inside the paint.
On the perimeter, he lacks a degree of savvy and discipline trying to stay in front of quicker power forwards, as he tends to lose focus and get out of his stance quickly, causing him to get beat off the dribble far more often than you'd hope. While he is extremely athletic, that doesn't really show up in the stat sheet, as he generated just .7 steals and 1.9 blocks, as he's often a step slow with his reaction-time here. As somewhat of a late bloomer, teams will want to see what kind of strides he makes with his awareness and overall feel for the game as a senior, as his defensive potential is a huge part of his proposition as an energetic role-player. Likewise, it will be interesting to see how his rebounding numbers bounce back, as he went from being one of the best glass-cleaners in all of college basketball as a sophomore (15.1 per-40) to just a very good one (12.2) as a junior.
Coming off a disappointing 13-17 campaign, culminated with a first round exit in the Big Sky Conference Tournament, Weber State returns a very experienced team, and was picked as the early favorites by Big Sky media. With precious few opportunities to match up against other high major schools (Utah State, BYU) on the schedule, making the NCAA Tournament once again could certainly help Bolomboy's exposure level. Nevertheless, after a very strong showing at the adidas Nations college counselor scrimmages this past August, Bolomboy is certain to garner plenty of invites to show how he stacks up against other elite NBA prospect big men during the pre-draft process.
[
Read Full Article
]
Top NBA Prospects in the Non-BCS Conferences, Part 8: Prospects 14-17
November 6, 2014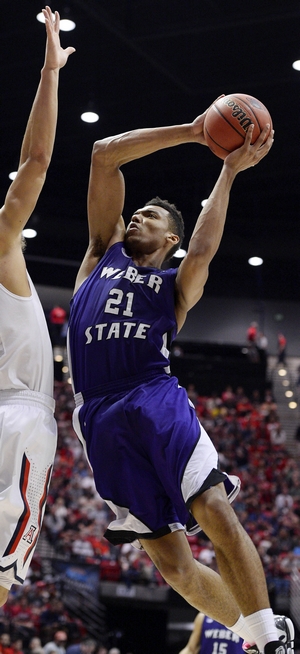 US Presswire
Josh Riddell
The Big Sky Defensive Player of the Year as a sophomore, Joel Bolomboy was invited to try out for Mike Fratello's Ukrainian National Team for the FIBA World Cup. However, a bone bruise forced him out of training, but will not be serious enough to cause him to miss time for Weber State. Bolomboy returns to the Wildcats fresh off a trip to the NCAA tournament and will look to lead them to a second straight appearance, despite losing their top two leading scorers to graduation in Davion Berry and Kyle Tresnak.
Bolomboy's strengths come from his physical skill set, as he is an explosive, high-flying and quick 6'9" power forward. He has an impressive wingspan, but is still relatively thin, which causes him to be bullied by larger opponents in the paint. He moves around the court well and has a high motor to complement his physical tools. He has a nice combination of length and quickness, which means he could likely hold his own athletically in the NBA.
Although Bolomboy has an impressive arsenal of athletic tools, his skill set hasn't quite caught up through his first two seasons. Bolomboy likes to post up but hasn't demonstrated the footwork needed to score on physically gifted defenders on a regular basis. He also isn't as physical as many players his size, which makes it difficult for him to gain position on the block. This forces him to start his moves from outside the paint, which leads to tough attempts. If he wants to become a better post scorer, he will need to get stronger and start playing more physically, while also improving his footwork.
What Bolomboy brings to the table for NBA teams is elite rebounding skill. He averaged
4.9 offensive rebounds per 40 minutes pace adjusted
last season and
9.9 defensive rebounds per 40 minutes pace adjusted
, giving him a total of 14.8 per 40 minutes pace adjusted which ranked
tied for third best among all collegiate players last season
. He is committed to rebounding on both ends and uses his combination of physical tools to chase down loose balls all over the court. While he will likely need more than just rebounding to contribute at the next level, this skill is a nice one to build on as he works to impress NBA teams.
When Bolomboy gets an offensive rebound, he is usually able to either finish or draw a foul. He converted 55.3% of his attempts around the rim, according to Synergy Sports Technology and was also able to shoot 5.9 free throws per 40 minutes pace adjusted, an impressive mark for
a power forward
. He needs to work more on finishing through contact, as his offensive rebounds and put-backs netted him only ten and-1 opportunities.
Bolomboy didn't provide much offensive value outside the paint, which he will likely need to do both as a power forward and someone who may not be able to handle the physicality of most big men at the next level. He attempted only sixteen jump shots according to Synergy Sports Technology and looks uncomfortable shooting with his long arms. While he won't need to become a true stretch four, being able to knock down a mid-range jump shot will help him draw defenders away from the rim and provide further offensive value.
Defensively, Bolomboy has the physical tools to be an impact defender, but struggled on this end of the floor last year against better competition. His court awareness and defensive IQ are below average, which puts him at a disadvantage from the start as he doesn't always see all of the action developing around him. He compounds this by not always being in a defensive stance, which takes away the impact of his physical skills, including his quickness, and leaves him vulnerable to dribble penetration. He only managed to provide 0.7 steals and 1.1 blocks per 40 minutes pace adjusted, very low numbers for a player of his length and quickness, particularly considering the competition he played against in the Big Sky. He did block 3.1 shots per 40 minutes pace adjusted as a freshman, so he did flash some potential in this area in the past. His lack of strength hurts him on this end as well, as he is easily backed down when guarding the post.
Heading into this season, Bolomboy is a player to keep an eye on because of his physical tools and his rebounding ability. However, he will need to show some skill improvements as well as an increased ability to play physical, which he will need in order to succeed at the next level. Bolomboy has a ways to go before he becomes a legitimate draft prospect but he has a nice foundation to build on going into his junior season.
[
Read Full Article
]