Wayne Selden
Recent Tweets
All Tweets
DraftExpress: As pointed out Wayne Selden was born 9\/30\/1994 not 93. I got that mixed up. He's a year younger than Muhammad. I misled @FinkelsteinNERR
2013-01-20 12:26:20
DraftExpress: RT @FinkelsteinNERR First interesting point of the day from @DraftExpress - Shabazz Muhammad is younger than Wayne Selden #hoophall
2013-01-20 12:12:12
DraftExpress: Wayne Selden definitely seems to have improved his passing and shooting. Will be a transition for him defensively at KU but effort is good.
2013-01-20 12:11:55
DraftExpress: Little bit underwhelmed by Wayne Selden athletically. Can dominate physically at this level but seems to lacks great quickness\/explosiveness
2013-01-20 12:10:54
DraftExpress: RT @jeffborzello Back at Blake Arena in Springfield for another 11 hours of Hoop Hall Classic. First up Wayne Selden and Tilton vs. Ve ...
2013-01-20 11:24:40
Team: Kansas, Junior
Physicals
Positions
Rankings
Misc
H: 6' 6"
W: 223 lbs
Bday: 09/30/1994
(21 Years Old)

Current: SG
NBA: SG
Possible: SG

Pick: 51 in 2017 Mock Draft
Rank 76 in Top 100 Prospects
Rank 15 in NCAA Juniors
RSCI: 13

High School: Tilton
Hometown: Boston, MA

Predraft Measurements
| Year | Source | Height w/o Shoes | Height w/shoes | Weight | Wingspan | Standing Reach | Body Fat | No Step Vert | Max Vert |
| --- | --- | --- | --- | --- | --- | --- | --- | --- | --- |
| 2012 | LeBron James Camp | NA | 6' 5" | 229 | 6' 10" | NA | NA | NA | NA |
| 2012 | Kevin Durant Camp | NA | 6' 5" | 229 | 6' 10" | NA | NA | NA | NA |
| 2011 | LeBron James Camp | NA | 6' 6" | 223 | 6' 10" | NA | NA | NA | NA |



Basic Per Game Statistics

- Comprehensive Stats - Statistical Top 25s
| Year | League | Name | GP | Min | Pts | FG | FGA | FG% | 2Pt | 2PtA | 2P% | 3Pt | 3PtA | 3P% | FTM | FTA | FT% | Off | Def | TOT | Asts | Stls | Blks | TOs | PFs |
| --- | --- | --- | --- | --- | --- | --- | --- | --- | --- | --- | --- | --- | --- | --- | --- | --- | --- | --- | --- | --- | --- | --- | --- | --- | --- |
| 2015/16 | NCAA | Wayne Selden | 4 | 30.8 | 16.8 | 5.0 | 9.8 | 51.3 | 1.8 | 4.0 | 43.8 | 3.3 | 5.8 | 56.5 | 3.5 | 5.0 | 70.0 | 0.8 | 1.8 | 2.5 | 2.0 | 1.0 | 0.3 | 1.0 | 1.5 |

Player Page&nbsp&nbsp| Player Stats | Mock Draft History | Related Articles&nbsp&nbsp| Add to My Draft Express&nbsp
&nbsp
Top NBA Prospects in the Big 12, Part Five: Prospects #5-9
September 21, 2015
Josh Riddell

One of the most physically developed players in college basketball at 6-5, 230 pounds, Wayne Selden has been on the radar of NBA scouts for several years, as he was ranked 13th in RSCI in 2013. Now entering his junior season for Kansas, Selden is hoping that he can show NBA teams he has the basketball skill set to match his physical tools after a somewhat disappointing sophomore campaign.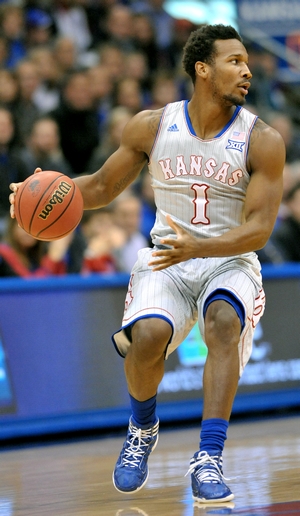 US Presswire



Selden has almost everything you want from a physical standpoint in a wing player, standing 6'5" with an impressive 6'10" wingspan to match. He has a strong frame that is already developed for a player of his age and allows him to compete physically on a nightly basis. He is not incredibly quick or explosive, but with his size, length and build has the athletic tools necessary to be a NBA player.

The key for Selden's draft stock and his NBA future is his ability to demonstrate that he can score consistently in some fashion. His 12.5 points per 40 minutes pace adjusted average as a sophomore is very poor, as he struggled badly with efficiency, posting a true shooting percentage of just 50% last season, which included making 39.5% of his two pointers.

Selden does not possess a very quick first step, as he often relies on his brute strength to shed defenders en route to the lane, often resorting to push off to get a clean look. On top of that, he's a relatively average ball-handler, showing little in the way of advanced moves or craftiness weaving in and out of traffic with change of speeds.

After being a 65% finisher at the rim in a limited role as a freshman, he tumbled all the way down to becoming only a 40% finisher according to Synergy Sports Technology after being forced to shoulder a bigger share of Kansas' offense. For someone with Selden's build, it's surprising to see how infrequently he's able to get all the way to the basket and finish strong, as he often stops short and settles for floaters, which he hits at a very poor rate. His combination of an average first step and a lack of crafty ball-handling ability made it difficult for him to get off too many clean looks as a sophomore. All in all, Selden converted just 25 of the 75 shots he attempted inside the paint in the half-court last season, which is nothing short of disastrous. NBA teams will want to see a player with Selden's build show a much higher degree of toughness as a finisher around the basket at the college level as an upperclassman.

While Selden struggles quite a bit as a creator inside the arc, he has proven to be a capable passer through his career, showing a very strong basketball IQ and a willingness to make the extra pass. His 3.5 assists per 40 minutes pace adjusted is a strong mark for a shooting guard. He delivers accurate passes to his teammates and has nice vision to find the open man. He doesn't always make the flashy play but he plays within himself and makes the simple, unselfish pass to keep the offense flowing.

Selden has also shown promise as a perimeter shooter, displaying a fundamental, consistent form that could make him an outside threat at the next level. He has improved slightly as a three point shooter in his two seasons at Kansas, seeing his percentage rise from 32.8% to 36.5%. He has a high release point that allows him to shoot over the defense and he looks comfortable shooting with his feet set from outside the arc. Increasing his consistency will be a big selling point for him as a prospect, as he already struggles to score inside the arc at the college level and will have an even more difficult time in the NBA. The foundation is there for him to be a perimeter threat, but he needs to show better shot-selection and consistency with his mechanics, which appear to be a bit stiff at times.

While Selden is no doubt capable as a catch and shoot player, he has also shown some flashes of ability shooting off the dribble as well. When he can put the ball on the floor and get into the lane, he has the strength to shed his defender with the potential to control himself and rise up for a pull-up jump shot. His execution on these attempts was inconsistent last season, making just 32% according to Synergy Sports Technology and an improved mark to support his catch and shoot ability will be key going forward, providing him with a secondary way to score.

Defensively, Selden puts in a high amount of effort and is a fierce competitor. He throws his body around the floor and is always moving and looking to make an impact for his team. With that said, he too often gets beat on dribble penetration with his lack of lateral quickness, which leaves his team exposed. Selden's career .9 steals and 3.6 rebounds per-40 is a below average mark for a player with a 6-10 wingspan, particularly someone with his build.

After an impressive stint in the World University Games over the summer, expectations are high for Selden's junior season. On a talented Kansas team, Selden will need to find his role and work on his skills that can translate to the NBA. He was pegged as a NBA prospect already in high school with his strong combination of size, strength, length and high basketball IQ, but rounding out his skill-set will see his stock rise before next year's NBA Draft.

[Read Full Article]

---
Wayne Selden 2015 adidas Nations Interview
August 27, 2015
An interview with Kansas wing Wayne Selden at the 2015 adidas Nations in Los Angeles.
---
More adidas Nations Content:
-Center Prospect Scouting Reports
-Power Forward Prospect Scouting Reports
-Wing Prospect Scouting Reports
-Point Guard Prospect Scouting Reports
-Brice Johnson Interview
-Jake Layman Interview
-Devin Robinson Interview
-Joel Bolomboy Interview
-Troy Williams Interview
-Amida Brimah Interview
-Simi Shittu Interview
-James Webb III Interview
-Udkoa Azubuike Interview
-Zach Auguste Interview
-Nickeil Alexander-Walker Interview
-Wenyen Gabrien Interview
-Markelle Fultz Interview
-Dennis Smith Interview
-Kobe Paras Interview
-Tim Quarterman Interview
---
[Read Full Article]

---
Top NBA Prospects in the Big 12, Part 4: Wayne Selden Scouting Video
September 12, 2014


Mike Schmitz is the video analyst for DraftExpress. Follow him on twitter and check out the DraftExpress Video section. He will be breaking down the NBA draft in digital format all year long for us.

[Read Full Article]

---
McDonald's Interview/Practice Highlights: James Young, Selden, Bird
April 13, 2013
[Read Full Article]

---
HoopHall Classic Scouting Reports: Elite 2013 Prospects
January 24, 2013
Wayne Selden, 6'5, SF, Tilton, 2013
Committed to: Kansas

Recruiting Rankings: ESPN: 16, Rivals: 26, Scout: 14

Strengths:
-Physically developed prospect. Great frame
-Long arms
-Can create his own shot driving left or right
-Finishes powerfully through contact
-Capable of making shots with feet set
-Can create separation nicely on mid-range jumper
-Plays with solid effort. Tried to take a charge. Dove in crowd for loose balls
-Improved passer and teammate.

Weaknesses:
-Looks a little more athletic than he actually is. First step is good but not great
-Struggles to fully beat opponents off the dribble
-Likes to get his shoulder into the defender and power his way to lane. May not work as effectively at college level
-Doesn't show great lift elevating around the basket in the half-court unless he has a head of steam
-Must continue to improve the consistency of his jump shot
-Awareness defensively is average, particularly off the ball.

Outlook: Declassified this year to return to his original class of 2013. A power wing with tremendous strength and solid scoring instincts. Interesting prospect if he continues to develop his skill-level.

[Read Full Article]

---
2011 National Prep Showcase: Elite 2013/2014 Prospects
November 29, 2011
Joe Treutlein

One of the most highly touted prospects in attendance this year, Wayne Selden (#10 ESPN, #9 Scout, #12 Rivals) has no problem fitting in among players two and three years older than he is, having comparable physical maturity to everyone else on the court even at his young age.

In the one game Selden played this weekend, he looks to be largely the same player and prospect we saw just one year ago, though he played more of a deferential role this time around on his very talented squad. Selden wasn't able to get his three-point shooting going here, having few attempts to do so, but looked good with his form and did a solid job spacing the floor and playing within his team's offense.

Selden did show a little more with some opportunistic drives to the rim both in the half-court and transition, displaying nice speed and bounce to get by and above defenders around the basket. He struggled finishing when dealing with weak-side help, however, and still is relatively unpolished in this area of his game, usually relying on his strength to bail him out.

Selden clearly didn't have one of his best games from what we saw, but still managed to make solid contributions to his team's blowout victory by spacing the floor, making solid flow-of-the-offense passes, and committing himself to defense and getting out in transition.

Still an incredibly young player, it's tough to make any confident projections about Selden at this stage, especially given the role he plays on his immensely talented team, but he's definitely someone we'll be watching closely for the next few years.

[Read Full Article]

---
2010 National Prep Showcase: Best of the Rest
November 28, 2010
Jonathan Givony

One of the youngest players in attendance at the National Prep Showcase, you would have never guessed that Wayne Selden is just a freshman in high school based on the way he carried himself at this event. Standing around 6-3, with a nice frame, good length and solid athleticism, Selden looked like he fit in comfortably from a physical standpoint with players who were as much as four years older than him.

Selden's biggest contribution in his lone outing in New Haven had to revolve around his perimeter shooting ability, knocking down an impressive six 3-pointers in the lone game we saw. He has somewhat of a slow and flat-footed release, but was deadly with his feet set, knocking down shots from well beyond the arc at times, and doing so confidently at that.

Selden also showed some shot-creating ability, driving the ball both left and right with a nice first step and even finishing around the rim emphatically when given the opportunity to do so. He appears to have solid court vision as well, making some very heady, creative passes to teammates that demonstrated a pretty advanced feel for a game.

Selden certainly isn't a bashful freshman, he talks quite a bit with his teammates, directing traffic confidently and showing far more maturity than you would expect from your average freshman. His lack of experience showed on a couple of occasions in the form of some bad decisions, but all in all it was tough not to be impressed with he handled himself on the court.

While it's certainly way too early to be drawing any long-term conclusions about a player this young, Selden looks like a guy to keep an eye on for the future based on his performance at this tournament, particularly if he continues to grow and develop his skill-set.

[Read Full Article]

---