Sports Aptitude takes a look at Will Barton using their proprietary methodology that utilizes Personality and Situation Factors to help better quantify the probability of success.
Will Barton came into the NBA with the same mindset that many players do: "Nothing has changed since I was six-years-old," Barton told Sports Aptitude. "Obviously my goal was to play in the NBA and be a star in this league."
---
More From Sports Aptitude
-
Opportunity Knocks: What's Trending in Development
-
Opportunity Knocks: Fitting In vs Fitting Out
-
Opportunity Knocks: The Pluses and Minuses of Success
-
The DeAndre Jordan Rules
-
DeMarre Carroll's Long and Winding Road to Stardom
-
The Unbearable Lightness of Patrick Beverley
-
Everybody Loves Draymond Green
-
Jimmy Butler's Rise to Stardom
-
How Situation Impacts Success, Part Two
-
How Situation Impacts Success, Part One
-
The Thin Line Between Busts and Steals
---
However, opportunity is like oxygen for Barton, the dynamic 25-year-old guard who is enjoying a career-best season with the Nuggets. It's been an unconventional road to get to this point, but it's one that had many signposts favoring his current direction.
INDIVIDUAL STORY & ANTICIPATED ROLE
Barton was the ninth-ranked high school recruit in his class and played two years at Memphis, a program with a strong reputation at the time. But his accomplishments as a sophomore didn't translate into success on draft night, falling to the second round and being selected with the 40th pick by the Blazers.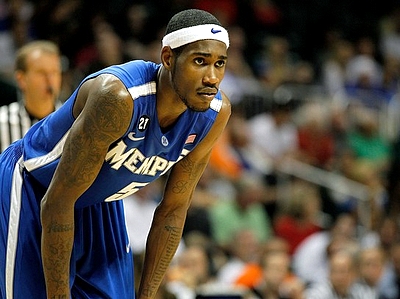 Despite sizable improvements from his high school days, Barton wasn't a deadeye shooter by the time he left school, at only 34.6 percent from the college three-point line. And was he was slight of build, weighing just 174 pounds at the 2012 NBA Combine, which raised concerns about his ability to finish against size - all viable potential
physical
roadblocks.
However, the common theme among NBA executives was that Barton "wasn't realistic" about his game. There were concerns he wasn't ready to embrace necessary change and leave the past behind.
This does make sense reviewing Sports Aptitude's data. Barton is 12% more emotional, 11% more independent-minded and 10% more impulsive than the average NBA player. Couple that with an elevated risk-taking tendency (+21%), and it might seem like there's a potential recipe for disaster.
In truth, these traits carry a connotation of risk if viewed in a vacuum. Off the court, they can indicate a stubborn and possibly irrational resistance to internalizing advice or criticism; especially when those voices are relatively new. A non-conformist like Barton, who leads with his heart, is going to need time surrounded by those voices before they hold as much sway as more well-established influences.
But these are also the
exact
same combination of personality traits that define the
most
successful players from his personality comparison group, the "HIGH-MID" SA Plus/Minus (SAPM) category. Players in this group typically find long-term success and rate well in three Critical Core Dynamics that reflect self-control, desire to compete, and the ability to manage stress effectively.
The average person has around 60,000 thoughts per day. Which of these thoughts are turned to action is a byproduct of our tendencies when having internal dialogue on what to do. Collectively, we can surmise, 54% more of Barton's thoughts are given to passion, persistence, and a desire to prove himself.
That translates into over 32,000 more "personal pep talks" than the average NBA player, based on measurable data. Clearly a boon for staying prepared, this competitive mentality also carries over when on-court as well. If you estimate the average NBA game to last about two hours, that's 2,700 more self-affirmations in the face of adversity than the average player – enough to make
Stuart Smalley
proud.
These attributes made Barton well equipped to learn from his up-and-down years in Portland. After functioning as a deep bench reserve for much of his rookie campaign, Barton shined at the end of the year, averaging 16.3 points with heavy minutes in six games.
"Portland saw something in him when they drafted him," Barton's agent, Brian Elfus, told Sports Aptitude. "They deserve a lot of credit, [assistant coach] Dale Osbourne specifically, keeping him really focused, keeping his head in the game."
It seemed like Barton had set himself up for an increased workload volume for the upcoming season, but that summer everything changed. Damian Lillard took a step towards stardom, and Robin Lopez and Mo Williams were acquired. The inexperienced, thrill-seeking Barton was suddenly buried on the bench over the next year and a half.
Despite the early frustrations, this limited role may have been a blessing in disguise. Barton is not only a strong match to the traits of the most successful players from his HIGH-MID comparison group, but also the circumstances leading to their success.
Players in this category tend to fall in the draft with more undrafted players than any other group. But that lower draft position translates into a greater rate of improvement and level of impact once seasoned professionals surround them. Barton's willingness to take-risks to stand out is balanced by a very high level of personal accountability (+33%) to others and a strong awareness of expectations (+24%).
"It started with practice, day in and day out and trying to push the starters, staying after to get extra reps in, coming in early to get a sweat, and just gaining respect from my teammates and the coaching staff," Barton said of his time as a reserve in Portland. "I didn't play that much, but it worked out for me as far as earning a good reputation as a guy that puts in a lot of work. I just needed the chance."
Elfus added, "It's all about situation where you're drafted...I think he grew as a player while he was there. He was around good veterans who helped him mature and understand what the NBA is all about. He embraced that, but he also was hoping to get more playing time going into his third year."
Barton was fortunate to be immersed in an atmosphere that surrounded him not only with high performance standards, but similarly aged peers with whom to compete. Having "good examples to follow" is more effective with some players than others. Barton's key traits strongly suggested that he'd get more out of his time spent with Damian Lillard, Wes Mathews, and C.J. McCollum than others may have.
TEAM ENVIRONMENT & OPPORTUNITY GIVEN
However, players with similar situations sometimes fall through the cracks and never get the chance they need to show what they have learned. HIGH-MID SAPM players tend to suffer more than most when it comes to earning increased opportunity over time. For whatever reason, these players tend to stay in the roles they enter the league in, despite having the highest rate of improvement and greatest statistical production relative to the role they are assigned.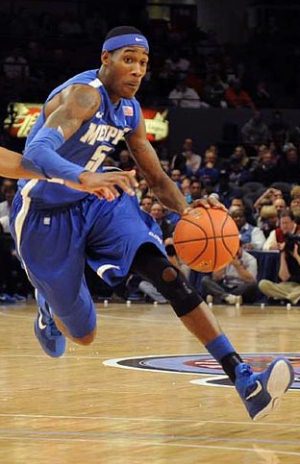 But Barton bucked this trend and found a new lease on life when the Blazers general manager Neil Olshey worked with Elfus to find a new home for Barton, and traded him to the Nuggets at the 2015 deadline.
Baton immediately became a nightly rotational player, more than doubling his minutes to over 24 per game. His per 40 pace adjusted averages of 17 points, 7.1 rebounds, and 3.0 assists were encouraging for a player who had lived on the fringe of an NBA playoff roster, earning a mere 10 minutes per game.
"Coming into this situation, I knew they were going young and I would be getting an opportunity to play," Barton said of his chance in Denver. "I just wanted to take advantage of it from day one, and that's what I tried to do. I did some good things and had momentum, so I attacked my summer workouts knowing that I could come in and play right away in this season."
Barton spent the summer hard at work in the gym with Baltimore trainer Dan Connelly and Memphis trainer JeVonte' Holmes. They collectively broke down the mechanical intricacies of his jumper with the goal of solidifying his motion and extending his shooting range.
"Will is a real student of the game. He watches his own video each night, positive and negative. I think that's helped him tremendously to identify what he needs to work on in the gym," Elfus said. "He spent a lot of time with the three-ball, from a repetition standpoint, and improved that dramatically."
THE END RESULT
That work has translated into a career-best scoring season for Barton, who's shooting 35.1 percent from three and hitting consistently from all areas behind the arc for the first time in his brief career.
Barton is nicknamed "Will The Thrill" for his dynamic style of play, but his improvements as an efficient scorer in half court situations shows that he can be a reliable scorer his team leans on when they need a bucket.
Only nine NBA players
average more points per game in the fourth quarter, and eight of them were All-Stars this season.
"He loves the game, you can't say that about every player. He loves hooping," Elfus said of Barton's reputation. "People joked about him that it always looks like he's playing in a YMCA game. That's what he loves to do, more than anything. That comes from his heart."
Barton's ambitious personality was the perfect match for molding early frustration from his situation in Portland into an experience that helped him to learn and grow. The performance outcome of this combination of Personality and Situation Factors has led him from the status of a reserve into that of a true contender for Sixth Man of the Year, which is reportedly one of his goals, in addition to turning Denver into a playoff contender.
Barton's progression as a player may surprise some, but there have been subtle clues hinting that the possibility of such success would come from greater opportunity. Barton's "overconfidence," the trait that once turned off many execs, still continues to drive him today.
"You have to set high expectations for yourself. I feel like that's what I've done," Barton said. "I never gave up on myself. Going from a guy who never played on a 15-man roster to a guy that's second-leading scorer on the team and a key contributor, it all comes from hard work and dedication."