Khem Birch, 6'9, PF/C, UNLV, Junior
---
Latest DX Scouting Reports:
-Jordan Clarkson
-Devyn Marble
-DeAndre Daniels
-Spencer Dinwiddie
-Adreian Payne
-Jordan Adams
-Isaiah Austin
-LaQuinton Ross
[url=
-Jabari Brown
-Jerami Grant
-James Young
-Kyle Anderson
-Patric Young
-Russ Smith
-Dwight Powell
-Gary Harris
-Lamar Patterson
-Jarnell Stokes
-Jahii Carson
-Nick Johnson
-Cleanthony Early
-P.J. Hairston
-Zach LaVine
-Artem Klimenko
-Keith Appling
-Tyler Ennis
-Markel Brown
-Jordan McRae
-Rodney Hood
-Doug McDermott
-Juvonte Reddic
-Jordan Bachynski
-Andrew Wiggins
-Elfrid Payton
-Aaron Craft
-Marcus Smart
-C.J. Wilcox
---
Kyle Nelson
After entering college basketball as the 11th ranked high school recruit in the class of 2011, Khem Birch surprisingly transferred from Pittsburgh to UNLV only ten games in to his freshman season.
As a sophomore, Birch showed an intriguing combination of physical tools and defensive versatility and entered his junior year considered as the
second best returning NBA prospect playing in a non-BCS conference
. UNLV ultimately underachieved, however, and Birch did not develop as much as scouts would have liked, but he nevertheless won Mountain West Conference Defensive Player of the Year in two consecutive years while averaging a double-double as a junior. Now having decided to
enter a loaded 2014 NBA Draft
, scouts must determine whether Birch can reach the significant potential that many believed he had in high school.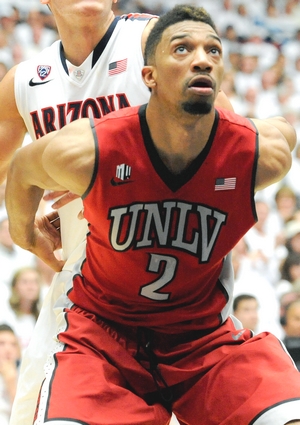 At 6'9 with a slim 220-pound frame and a 7'0 wingspan, Birch has solid size for an NBA power forward, even if his skill set is more oriented to the center position. He is noticeably stronger than he was as a sophomore, but he must continue to add bulk to his wiry frame, particularly in his lower body. He is an outstanding athlete, however, extremely explosive and quick off of his feet around the basket, as well as capable of running the floor very well due to his long strides. In short, there is little not to like about Birch as a prospect from a physical perspective.
On the offensive end of the floor, however, Birch is still more-or-less the sum of his physical tools. He once again ranked as one of the least prolific scorers in
our top-100
, even though he was able to increase his meager sophomore-year production of 12.5 points to a more-respectable 14.6 points per 40 minutes pace adjusted as a junior. His remained a fairly underutilized player, as well, seeing a mere 18% of UNLV's possessions (up from 16%). The team looked dysfunctional at times and struggled to emerge from mediocrity for much of the season on both ends of the floor and ended up finishing 10-8 in the Mountain West and without an invite to the NCAA Tournament or NIT.
Birch is still at his best off of the ball, where he can make the best of his solid hands, length, and explosiveness to finish off of cuts, clean up his teammates' misses, and run the floor in transition. He finished an impressive 61% of his non-post up attempts around the basket, showing the ability to catch-and-finish with the best of them and a better than average court awareness in terms of spacing and movement off the ball.
Combined with his athleticism and aggressiveness, Birch emerged as a scrappy, hustle player, unafraid to chase loose balls or fight for offensive rebounds in traffic. His 5.0 offensive rebounds per-40 minutes pace adjusted rank second overall among prospects in our
top-100
, and he shows very good instincts as soon as the ball comes off of the rim, as well as the explosiveness to empathically put back his teammates' misses.
While almost all of his shot attempts come inside the paint, only around a third of his offense come via post-ups—the reason which became clear as soon as he catches the ball with his back to the basket. The most significant problems lie in his lack of strength and fundamentals. Birch does not always post up strong, but when he does, defenders do not have that much trouble pushing him off of the block. Likewise, even if he does receive the ball in the post, he oftentimes looks as though he does not know what to do next. In fact, if he can't turn the corner and use his superior quickness and athleticism to finish, he is left backing his man down for a contested look, throwing up an often-wild running jump hook, or attempting a short jumper.
Birch struggled with his post game this season, making just 37% of his attempts, which goes to show just how raw he is at this point. His footwork is still very underdeveloped, while his shooting touch leaves a lot to be desired, and he simply hasn't improved much with his skill-level compared with how he looked earlier in his career. Likewise, he does not look particularly comfortable as a screen-setter out of the pick-and-roll, partially due to the quality of guards around him, which is something he will have to develop as a NBA big man.
On the positive side, however, his passing instincts out of the post improved considerably and, while makes his share of mistakes and averages more turnovers per 40 minutes pace adjusted (1.7) than assists (1.5), he did a better job of finding his teammates when he was overmatched. He also does a very good job of using his quickness to draw contact around the basket, attempting 7.2 free throws per 40 minutes pace adjusted, which situates him well among all prospects in our
top-100
.
It's worth mentioning, too, that Birch took twice as many jump shots as a junior, though he made only 4 of his 20 attempts. On film, he looked more confident and he showed a fairly quick release, but his mechanics are truncated and he gets very little lift on his shot. Given his 69% FT% (up from 64% as a sophomore), it is clear that Birch has a lot of work left to do as a shooter.
On the defensive end, Birch once again excelled as a shot blocker, ranking third among all prospects in our
top-100
, to the tune of 4.7 blocks per 40 minutes pace adjusted. He is capable of blocking shots both on and off the ball due to his combination of length, explosiveness and timing, and gradually gets inside of opposing players' heads as the game progresses.
He also improved his defensive rebounding prowess this year, and his rebounding in general was an area he seemed to put bigger emphasis on, which is important considering his offensive limitations.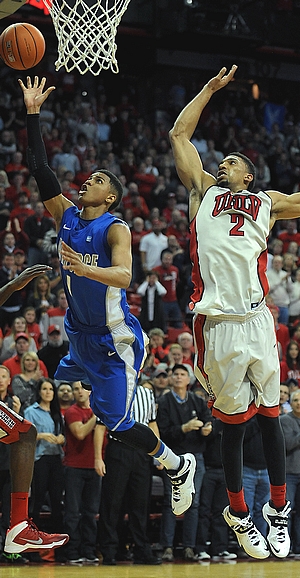 Elsewhere, however, he remains unpolished. On the one hand, his lateral quickness is excellent for his size and he is likely quick enough to stay in front of most big men at the next level. On the other hand, he lacks the bulk to stay in front of his man on the block and his fundamentals need significant development. His instincts guarding the pick-and-roll, in particular, and in his team defense, more generally, are just not very good at this point.
Although he is 21 years old and the same age as some seniors in this draft. Birch only played 69 games of college basketball and his appeal as a prospect still largely stems from his physical tools and potential. His combination of quickness, length, and athleticism is well above average with an eye toward the next level, but what exactly he can contribute to an NBA team in the near future is not. For instance, he will likely have to play power forward at the next level, but he lacks both the offensive skill set and defensive fundamentals to thrive in an NBA system. Additionally, his lack of strength hurts him on both ends of the floor at the collegiate level and he will have to get much stronger to play in the post at the next.
With that said, big men do develop at their own pace, so it wouldn't be surprising at all if a team decided to invest a roster spot on him for a few years with an eye on developing him in the D-League, as he does possess some coveted tools that are hard to come by. With continued development and improved fundamentals, Khem Birch could still turn out to be a solid NBA player in time. Just how long that might take, however, remains to be seen.